Kansas City Chiefs vs. Buffalo Bills: Live Score, Video, and Analysis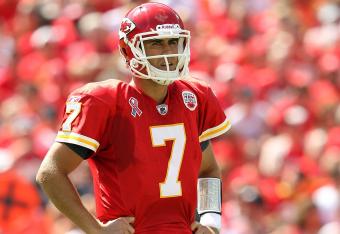 Jamie Squire/Getty Images
Final: Buffalo 35, Kansas City 17
The Buffalo Bills thwarted any hope of progress that the Kansas City Chiefs wanted to accomplish today.
Kansas City appeared undisciplined and devoid of emotion throughout the game, and Buffalo pounced on every opportunity afforded to it.
Unlike Week 1, the Kansas City Chiefs were never in this game.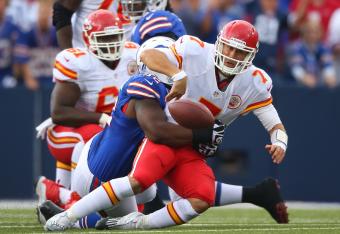 It's a wrap.
Buffalo found itself a new playmaker in C.J. Spiller, and the defense looked reinvigorated after last week's slump.
Kansas City looked like a team with no identity. The line struggled on both sides of the ball, Cassel provided a sub-par performance before Buffalo's reserves took the field and the pass rush was nowhere to be found.
As the Chiefs travel to New Orleans next week, things are likely going to get worse before they get better.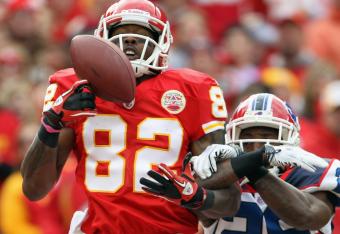 Score: Buffalo 35, Kansas City 17
The Chiefs march down the field, and Cassel connects with Bowe for the second touchdown between the pair this quarter. Nothing to get excited about, though, considering most of Buffalo's first-team defense didn't participate in the drive.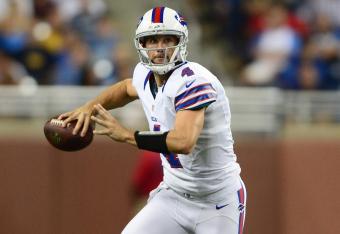 If ex-Chiefs quarterback Tyler Thigpen puts points up against his former team, aspirin sales are going to go through the roof in the Kansas City area.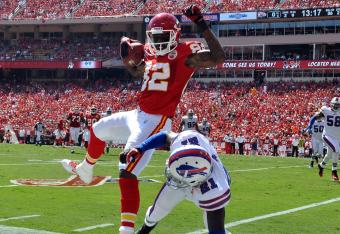 Score: Buffalo 35, Kansas City 10
Dwayne Bowe fights and hauls in a touchdown pass from Cassel.
It's telling that Romeo Crennel is choosing to leave his starting quarterback in.
When down by 32 points in the fourth quarter, most coaches would pull their passer out in fear of a potential injury. However, Crennel seems to be trying to build Cassel's confidence before Week 3.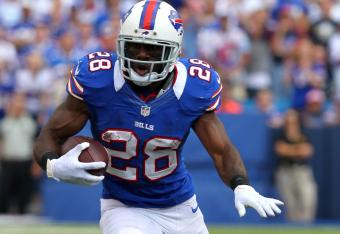 The Bills have currently out-gained the Chiefs by 87 yards on the ground.
Somehow, both clubs have amassed the same number of first downs. However, Buffalo has averaged 9.9 yards per pass. Kansas City? 4.9 yards per pass.
Click here for the updated box score.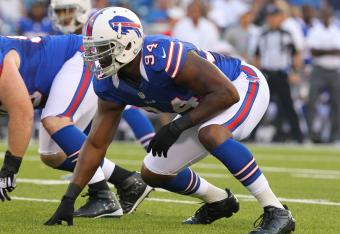 The Chiefs' will looks completely broken at this point. The team that bench-pressed the bar of expectations in Week 1 of the preseason has been M.I.A. ever since.
Buffalo, on the other hand, seems to have plugged any defensive leaks it suffered last week.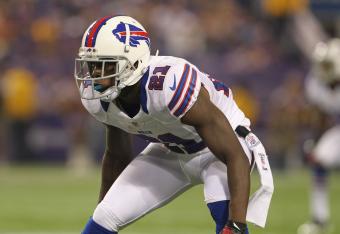 Score: Buffalo 35, Kansas City 3
Kansas City looked anemic offensively (again).
Leodis McKelvin makes use of exceptional blocking on his punt return. 88 yards later, he's celebrating in the end zone.
The Chiefs are going to leave with more questions than they came to Buffalo with. Romeo Crennel won't be looking forward to the podium.
Score: Buffalo 28, Kansas City 3
Fitzpatrick hit Scott Chandler for a large gain past midfield. Jovan Belcher was beaten on the coverage.
Miscommunication in the Chiefs secondary then allowed Stevie Johnson to take it to the house.
Ryan Fitzpatrick's numbers will, somehow, compete with Matt Ryan's from Week 1 before the day's over.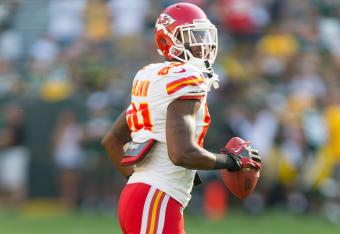 Score: Buffalo 21, Kansas City 3
Kansas City crept closer to the end zone, and Jon Baldwin—whose name is attached to lofty expectations—recorded his first reception of the year. But the drive was punctuated after Cassel couldn't find any separation by the receivers and eventually scrambled short of the first-down marker.
Ryan Succop puts three on the board for the Chiefs.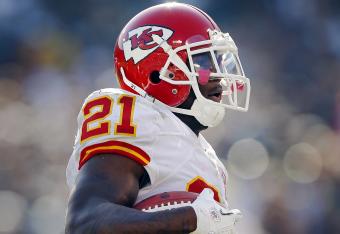 Another three-and-out for the Bills.
Following a fumble in the backfield, Buffalo played it safe on 3rd-and-long with a draw.
Javier Arenas gives the Chiefs excellent field position with his punt return.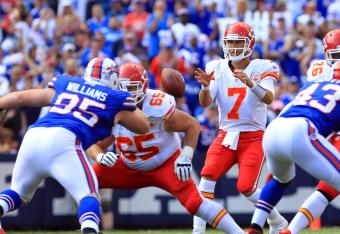 The good news: Jamaal Charles returned to the field.
The bad news: The Chiefs offense resembles the Tin Man after a week without oil.
Cassel ends the drive by misfiring on a pass to Tony Moeaki.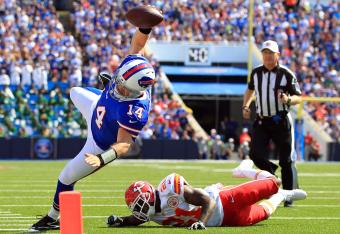 Buffalo begins the second half with a three-and-out, concluding with a duck by Fitzpatrick that fell short of his intended receiver.
If Kansas City hopes to get back in this game, its most likely going to need a turnover forced by the defense. If Charles is sidelined for the rest of the game, the offense will have a tough time racking up at least 21 points without favorable field position to start the drives.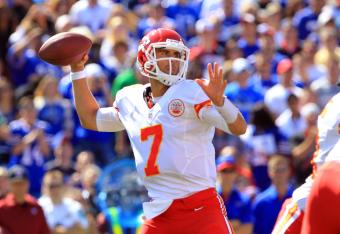 The opening two weeks of 2012 mirror the slow start of last season, where Kansas City was outscored 89-10 by the Buffalo Bills and Detroit Lions.
The Chiefs need points in the worst way, and Cassel looked much sharper on the last drive.
But Hillis fumbled on Buffalo's 1-yard line, and it was recovered by the Bills in the end zone.
Penalties and mistakes have continued to fall from a nimbus cloud that has lingered over Kansas City's head today.
The worst news?
Jamaal Charles limped off of the field after he was tackled from behind—a type of play that has been a precursor to hyperextensions in the past. While there is no official word from the Kansas City sideline, No. 25 didn't line up for another snap heading into halftime.
A lot of fingers are crossed throughout the 913 area code.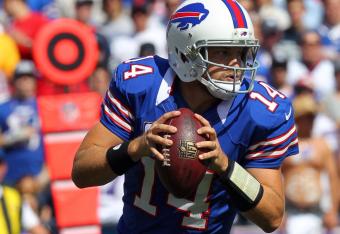 Score: Buffalo 21, Kansas City 0
A drive that started with promise ended in disaster.
Peyton Hillis bulldozed his way for a nice gain, shoving Buffalo defenders off like a high school bully. Cassel then converted a third down with a sideline strike to Bowe.
However, Kansas City's scrutinized quarterback was stripped as he attempted to avoid pressure. Buffalo recovered.
Spiller weaved his way down to the KC 2-yard line. Fitzpatrick finishes the job through the air, splitting the coverage of Travis Daniels and Abram Elam.
Throughout the first two weeks of 2012, C.J. Spiller looks like Buffalo's own version of Jamaal Charles.
Cassel started the drive off well, completing a 20-plus-yard pass to Dwayne Bowe down the middle. However, Cassel's next pass sailed over McCluster's head on the sideline, and he was eventually sacked on third down.
The Chiefs defense finally throws a kink in Buffalo's offensive machine and forces the Bills to punt.
Kansas City's in desperate need of a big play to jump-start the team right now.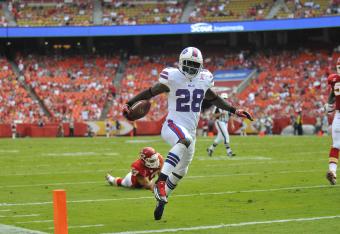 Score: Buffalo 14, Kansas City 0
After breaking a would-be tackle in the trenches, Spiller gashed the Chiefs with a 37-yard run. He follows up with a score on a sweep to the left.
The defense looks equally as bad (if not worse) as its offensive counterparts. While Kansas City's secondary is putting Buffalo's receivers on lockdown, C.J. Spiller and Ryan Fitzpatrick—primarily by scrambling—are exploiting the Chiefs defense.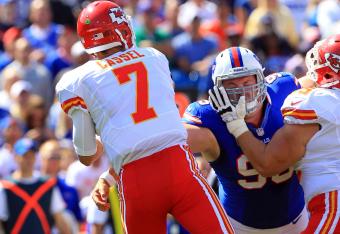 Three-and-out for the Chiefs.
Hillis' rushing attempt was stuffed, McCluster snatched a short reception and Cassel—who was pleading for a defensive-holding flag—threw a pass that wasn't in the same zip code as any of his receivers.
At end of the first quarter, Kansas City looks out of sync offensively. Excluding the first play from scrimmage, the passing game has provided little reward.
The defense doesn't look much better.
Score: Buffalo 7, Kansas City 0
C.J. Spiller scores as he cuts it left and bolts through a hole big enough to park a small yacht.
It's going to be interesting to see how Spiller fares throughout the day. He posted career-highs last week, but Kansas City's front seven stonewalled Atlanta's rushing attack.
So far, Spiller's getting the better of matchup.
By his own standards, Fitzpatrick engineered a solid drive.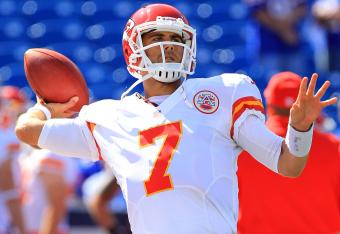 For two consecutive possessions, Cassel dumped it off to his safety valve, Charles, on third-and-long.
Kansas City punts.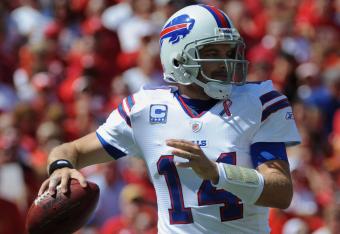 On a 3rd-and-1, Ryan Fitzpatrick rolled out right and threw a pass that would make even Tim Tebow roll his eyes.
Javier Arenas had a decent punt return—he needs a lot more of them to keep his job for the long haul this season.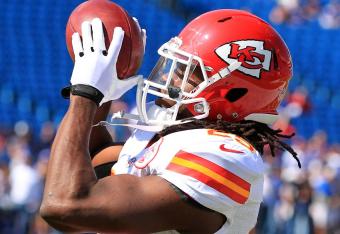 Kansas City was initially off to a quick start.
Peyton Hillis racked up 15 yards on a pass from Matt Cassel, Bowe followed up with a four-yard reception and Charles moved the chains on the ground.
However, Charles was wrapped up in the backfield for a loss on Kansas City's fourth play from scrimmage. The drive eventually stalled at midfield, and Kansas City was forced to punt.
The defense's chance to redeem itself starts now.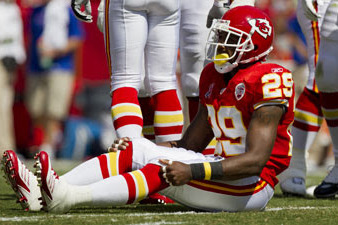 While there is no shortage of story lines coming into today's matchup, the juiciest pertains to Eric Berry sharing the field with Stevie Johnson. Every Chiefs fan remembers opening day of 2011 for all the wrong reasons—headlining that list is Berry's ACL injury that stemmed from a low block by Johnson.
As ESPN's Bill Williamson reports, Johnson maintains his innocence:
It is going to be interesting. We will see what happens. However he feels is however he feels. I already said it before that I have never been a dirty player and I never try to take somebody out. I know the work put in to get where he is and where I am. I have said it before but it is enough already. We will meet up on Sunday.
Berry—who questioned Johnson's intentions—has been tight-lipped on the subject this week. One thing is certain: No. 29 hasn't forgotten.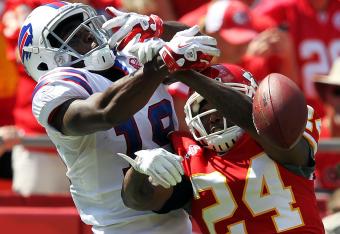 Here's a look at the injury report for each team:
Kansas City Chiefs
DE Bailey, Allen (Out)
DB Brown, Jalil (Questionable)
CB Flowers, Brandon (Questionable)
DB Lewis, Kendrick (Out)
DT Toribio, Anthony (Out)
WR Wylie, Devon (Out)
Click here for the Kansas City Chiefs' official report.
Buffalo Bills
DT Dareus, Marcell (Questionable)
RB Jackson, Fred (Out)
WR Nelson, David (Out)
Click here for the Buffalo Bills' official report.
It should be noted that Brandon Flowers and Marcell Dareus are expected to play.
This article is
What is the duplicate article?
Why is this article offensive?
Where is this article plagiarized from?
Why is this article poorly edited?