Before the start of Sunday's Week 2 NFL games, we took a quick look at how each of the underdogs could pull upsets in their respective matchups.
More so than any of the major sport leagues, upsets can and do happen at a high rate during the NFL season.
All 15 of these upsets will not happen—in fact, only two or three are likely—but we do know that not every favorite will win. Here's a case for each underdog to be one of the upsets.
(Note: Underdog is underlined)
Tampa Bay Buccaneers at New York Giants
The Bucs have a disruptive defensive line, anchored by defensive tackle Gerald McCoy. If McCoy is as active as he was in Week 1 against Cam Newton, Tampa Bay can rattle Eli Manning. Running back Doug Martin also gives the Bucs' offense a DeMarco Murray-like (131 yards vs. New York in Week 1) weapon.
Houston Texans at Jacksonville Jaguars
It's hard to make a case for the Jaguars, who let a win slip through their fingers in Week 1 and now welcome one of the best AFC teams to Jacksonville for their home opener. The Jaguars' best chance probably involves Blaine Gabbert avoiding mistakes and the defense forcing an uncharacteristic performance from the Texans offense. Jacksonville needs help to pull off the upset.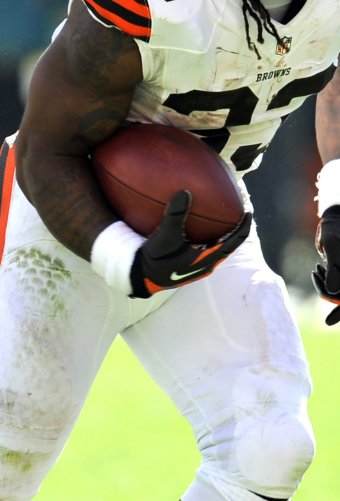 David Richard-US PRESSWIRE
Cleveland Browns at Cincinnati Bengals
Browns rookie running back Trent Richardson has to play well for Cleveland to have a chance. Brandon Weeden can't beat a team by himself, so Richardson needs to be the offensive engine. 39 yards on almost 20 carries won't cut it. The Browns defense can keep this thing close if the offense shows up.
Kansas City Chiefs at Buffalo Bills
The Chiefs recovering defense has to play better in Week 2. Without Tamba Hali and Brandon Flowers in the opener, Kansas City was run over at home by the Atlanta Falcons. They get both players back against the Bills. Both need to play well against a Buffalo offense that wants to forget Week 1, too.
Baltimore Ravens at Philadelphia Eagles
The Ravens are a slight underdog. To complete the minor upset on the road, Baltimore has to keep Michael Vick uncomfortable and speed up his decision-making. When Vick turns the ball over, the Eagles throw away games they should win.
Minnesota Vikings at Indianapolis Colts
Believe it or not, the Colts are a home underdog in Week 2. To win its first game in the Andrew Luck era, Indianapolis has to get better play from the offensive and defensive lines. The Chicago Bears simply pushed around the Colts in the trenches last Sunday. The Vikings could run away with this one if the Colts are poor again up front.
Oakland Raiders at Miami Dolphins
For the Dolphins to "upset" the Raiders at home, rookie quarterback Ryan Tannehill has to make better decisions. We know he has limited options in the passing game, but decision-making is much more than a receiver winning his individual matchup. If Tannehill can avoid turnovers, the Dolphins will be right in it.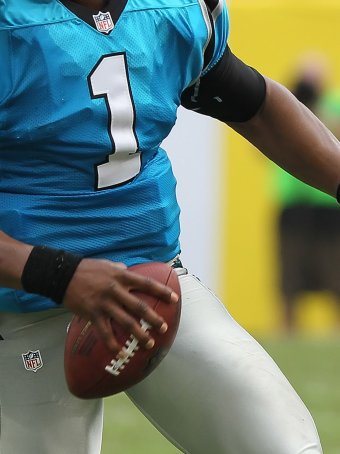 Kim Klement-US PRESSWIRE
New Orleans Saints at Carolina Panthers
Robert Griffin III and the Washington Redskins gave the Panthers their blueprint for beating the Saints: Disrupt Drew Brees' timing with pressure, run the football to control possession and keep their quarterback on the move. Carolina has the pieces to make the game plan work.
Arizona Cardinals at New England Patriots
A lot of things have to go right for the Cardinals to win in New England. An injury to Tom Brady might top the list. Overall, Arizona has the toughest test of any underdog this week.
Washington Redskins at St. Louis Rams
Jeff Fisher and Jim Fassel will have a game plan for RG3 and the Redskins offense. Can the Rams execute it? On offense, St. Louis needs to protect Sam Bradford. Washington's pressure schemes harassed Drew Brees for 60 minutes last Sunday.
Dallas Cowboys at Seattle Seahawks
Seahawks rookie quarterback Russell Wilson didn't play poorly against the Cardinals last Sunday, but they need more from him at home in Week 2. You can guarantee Rob Ryan and the Cowboys will have an exotic blitz package ready for the rookie. He needs to make plays with his legs to beat the blitz.
Tennessee Titans at San Diego Chargers
A good start for the Titans would be getting more than four yards rushing from running back Chris Johnson. If he's limited again, the Chargers can pin their ears back and get after Jake Locker. A couple of turnovers from Philip Rivers would certainly help the case, too.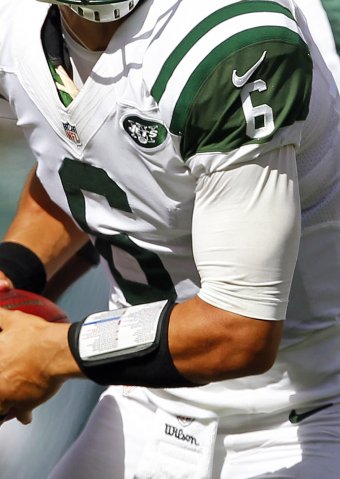 Rich Schultz/Getty Images
New York Jets at Pittsburgh Steelers
Mark Sanchez needs to replicate his Week 1 performance on the road in the Pittsburgh. He'll get a helping hand from the Steelers' injury woes defensively, but this won't be a cakewalk. Scoring half of their 48 Week 1 points Sunday might equal a win.
Detroit Lions at San Francisco 49ers
The Lions have to pressure Alex Smith. If he's comfortable, the 49ers have the weapons offensively to hurt Detroit's back four. The only time Green Bay stopped San Francisco's offense last Sunday was when Smith received pressure. Detroit is plenty capable of providing that up front.
Denver Broncos at Atlanta Falcons
The Broncos need another smart performance from Peyton Manning, especially on the road where the home team rarely loses. They might need to turn over the high-tempo Falcons offense, too. The more opportunities created for Manning, the better the Broncos' chances.