Arizona Cardinals vs. New England Patriots: Live Score, Video, and Analysis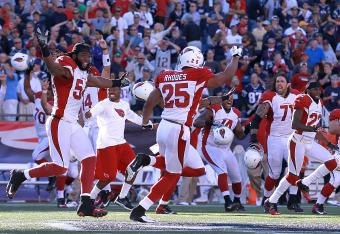 Jim Rogash/Getty Images
FOXBOROUGH, Mass. — Kicker Stephen Gostkowski missed a 42-yard field goal wide left, and the Arizona Cardinals (2-0) beat the New England Patriots (1-1), 20-18.
Arizona's defense played a near-perfect game considering the opponent, sacking Tom Brady four times—including two from defensive end Calais Campbell. Cornerback Patrick Peterson picked off Brady early on and set the tone for what would be an impressive performance unit-wide all game.
Game Stats
Tom Brady: 28-of-46 for 316 yards, one touchdown, one interception, 79.6 QB rating
Kevin Kolb: 15-of-27 for 140 yards, one TD, 82.3 rating
Stevan Ridley: 18 carries for 71 yards
Beanie Wells: 14 carries for 44 yards
Wes Welker: Five receptions for 95 yards
Rob Gronkowski: Six receptions for 75 yards, one TD
Todd Heap: Five receptions for 62 yards
Early Doucet: Three receptions for 21 yards
Gostkowski missed it!
A bad hold from Zoltan Mesko ruins the Brady fourth-quarter comeback.
Cardinals shock the Patriots, 20-18.
Setting up another Gostkowski field goal.
This one would win the game for New England.
Holding on New England negates a touchdown run from Danny Woodhead.
Holy Toledo. It's getting good.
Fumble!
Ryan Williams fumbled the ball on third down. Patriots recover with 1:01 remaining.
Enter Brady.
Snapping the ball with five seconds left on the play-clock is moronic. Kevin Kolb needs to run that thing as close to zero as possible before calling for the snap.
That's pee-wee football stuff.
Massive drive from Kolb here. Must gain first downs.
Huge gain up the middle from Ryan Williams with no Wilfork in the game.
Two sacks from Campbell now after Sam Acho came off the edge and forced Brady to step up.
Then a completely horrible spot on a completion from Brady to Edelman. Should have been fourth down.
Next play: Touchdown. Brady to Gronk.
Brady and the Pats offense on the move once again. Cards' defense has held them when the field gets short.
It's getting short.
The ruling on the field stands. Incomplete pass.
They now have one timeout remaining.
Challenge flag by Whisenhunt on a Fitzgerald catch ruled incomplete. May not be enough to overturn the call.
Cards will be left with just one timeout if the call is not reversed.
ILB Daryl Washington nearly intercepted a Brady pass. Falls incomplete.
Fourth FG from Gostkowski.
Brady comes out firing. Two consecutive completions for big yards.
Deep into Arizona territory already.
Patriots defensive tackle Vince Wilfork limps off the field. Could be big loss if he is unable to return.
Cards' run game is starting to take its toll on the NE defense. Beanie Wells gaining yards in chunks now.
13 carries for 42 yards and counting.
The drive stalls, however, and the Patriots get the ball back with 7:56 left in the game. Cardinals up two scores.
Cardinals defense continuing to play inspired. Another punt from Mesko, and Arizona will start from its own 9-yard line.
Touchdown Cardinals!
Kevin Kolb with a quarterback sneak up the gut and scores from five yards out.
What is happening in Foxborough right now?
Catch is confirmed; Pats lose a timeout and are left with just two for the fourth quarter.
Bill Belickick challenging a catch by Cards' TE Rob Housler on the sideline. It was a catch.
Announcer Dick Stockton yells "NO!" as he sees the replay.
It was a catch, Dick.
Then Kolb with another roll-out throw to Heap, who runs down the sideline for 28 yards.
Then Heap is hit out of bounds; add 15 yards to the end of it.
Cardinals deep in NE territory at the end of the third quarter.
Holding by Cards' right guard Adam Snyder negates a good throw-and-catch from Kolb to Fitzgerald. Second and 18 now.
Yet another great defensive series for the Cardinals there. Keeping Brady on his toes and starting to close running lanes.
Darnell Dockett with an impressive tackle of Ridley for a nine-yard loss.
No intentional grounding call from the replacement referees despite Brady throwing the ball away from inside the pocket.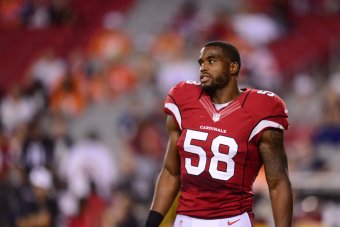 Mark J. Rebilas-US PRESSWIRE
Cards' inside linebacker Daryl Washington is playing very well today. Has a game-high nine tackles already and is throwing his weight around.
This score is going to be shocking to many people, but I'll bet the Arizona coaching staff and players are not the slightest bit shocked. They are really confident right now.
This article is
What is the duplicate article?
Why is this article offensive?
Where is this article plagiarized from?
Why is this article poorly edited?