WWE Night of Champions 2012 Live Results: Review and Analysis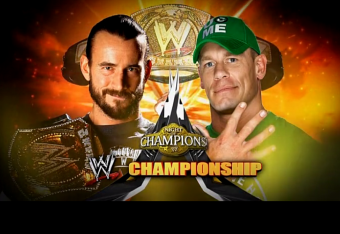 Photo: WWE

Keep it glued here as Night of Champions continues.
If you like to keep up on WWE news and occasionally chuckle then you can follow me on Twitter @BR_Doctor.
I gotta say that I enjoyed Night of Champions as a whole, but it had ups and downs.
It will be hard to say if Ziggler vs. Orton or Cena vs. Punk was the better match, but in the end having both of those matches on one card made it worth the money to me.
Seeing Bryan and Kane win the belts was expected but the way it was done was pulled off well.
I am glad to see Miz and Cesaro both retain in what were decent matches and Eve and Layla actually surprised me with their match which saw Eve win the belt.
All in all I would say that this was a PPV that everyone should be happy with.
Thanks for joining me for the Night of Champions live blog. Feel free to share your thoughts and keep the conversation going in the comments section below.
Voice you opinion on the outcome of the main event.
Wait. The ref grabs the belt and Justin Roberts says both men had their shoulders on the ground for the three count and the match is a draw.
Punk is overjoyed as he clutches the title. Cena turns around and Punk lays him out with the belt. I guess that rules out AJ restarting the match.
I gotta give them credit. That was a great way to make Cena look awesome in his hometown and still allow Punk to keep the belt.
I am not sure I like the decision seeing as it almost ruins what was an incredible match, but I understand it and think it might have been the right call in the end.
Heyman and Punk leave up the ramp as Cena lays in the ring.
Cena vs. Punk Part 4
Punk rolls out of the ring and Cena goes out to roll him back in. Cena climbs up to the top ropw and misses the leg drop.
Punk lays him out with a kick and Cena still kicks out. Punk is really upset now as he picks Cena back up. He slaps Cena a few times and then hits a running knee for another near fall.
Punk pulls Cena to the middle of the ring and the climbs to the top but he misses a moonsault without Cena really needing to move.
Even Cole calls it a clumsy monsault. Punk hits the GTS again and Cena kicks out again. Punk is enraged but he sets up again and then he hits The Rock Bottom for another two count.
Punk is beside himself that Cena keeps kicking out. This is a really great match. Cena runs over and hits the AA out of nowhere and Punk kicks out.
This might just be their best match to date in terms of story telling. Cena puts Punk up on the top turnbuckle and Punk hits him with elbos to knock him off.
Cena runs back and hits a German suplex from the middle rope with a bridge for the pin and the win.
That was awesome.
Winner: John Cena
Cena vs. Punk Part 3
Punk gets a boot up during the Five Knuckle Shuffle and follows up with a neckbreaker for another near fall.
Cena catches Punk in a springboard and rolls over, picking Punk right up with him. He goes for the AA but Punk pulls himself out of the ring.
Wow! Cena hits a suicide dive on Punk and then rolls him in the ring for the Five Knuckle Shuffle again, but Punk reverses it into an Anaconda Vise.
Cena rolls Punk over and turns it into the STF. This has been a really good match so far. Punk manages to squeeze out of the STF and he locks in the Cross Face on Cena.
Heyman looks on as Cena lifts Punk right off the ground again and slams him down to break the hold. Heyman looks a little worried.
A well-deserved Cena chant breaks out as the two struggle to get up. They trade punches and kicks in the middle of the ring.
Punk finally hits a heel kick followed by the high knee in the corner, but a clothesline instead of a bulldog. Punk hits the Macho Man elbow drop for another near fall.
Punk calls for the GTS as Cena struggles to get up. Punk lifts him up and Cena catches his leg on the way down and he locks in the STF again.
Punk drags himself towards the ropes and breaks the hold. Cena rolls off at the four count and Punk hits the GTS out of nowhere.
Cena kicks out and Heyman and JBL are both shocked. Punk lays in with kicks to the back of Cena as he ponders what to do.
He pulls Cena up and runs him down with a clothesline for another near fall. Punk is pissed. Cena and Punk each miss their finisher and CEna finally hits the Five Knuckle Shuffle and the AA but Punk kicks out.
The crowd goes nuts.
Cena vs. Punk Part 2
Punk avoids another exchange and tries to pull Cena in but Cena gets the better of him and suplexes him over his head.
Punk hits a big elbow to knock down Cena and he lays in with knees before taking him back down with a headlock.
Cena pushes him off and hits a back drop but Punk avoids him in the corner and it gives him a chance to kick Cena in the face for a near fall.
Punk hits a few more elbows to Cena's head then whips him into the corner. He climbs the ropes and poses but Cena lifts him up for an electric chair only to see Punk roll it into a DDT for a two count.
This match has a somewhat slow pace, but they could be holding off since the match is going to last for awhile. Heyman watches as Punk holds Cena in a headlock.
Cena gets locked into a nice bridged submission from Punk that resembles and upside down STF to me. Cena rolls out of it and acts like his leg is hurt.
Cena rolls to the outside and holds his leg. Punk runs out and hits a suicide dive and then he sees Cena's dad in the crowd.
He rolls Cena Jr. back in the ring and blows a kiss to the crowd before turning into Cena hitting a sliding dropkick into him.
Cena throws Punk into the crowd and then slams him back into the ringside area and then the ring. He tries for the AA but Punk breaks out and kicks him in the head.
JBL puts over Cena's strength as Punk locks in a Camel Clutch-like hold. Cena lifts Punk up but Punk keeps pounding him until he gets him back down.
Punk tees off on Cena with some rights and then misses big time with a running punch for a two count. JBL says Punk is wrestling a perfect match.
Punk leaps off the ropes with an axe handle to Cena and then he tries for the GTS bu Cena fights outs and starts hitting his signatures.
Punk reverses and rolls into a near fall.
Punk vs. Cena Part 1
Coming out of a video into a close up of Paul Heyman is more jarring than it sounds. Punk and Cena both get pretty mixed reactions from the crowd.
During the intros it sounds like Cena has more of the support, but it could easily swing at any time. Punk holds up his title for a solid 2 minutes before handing it to the ref.
Punk kisses the belt, I wonder if it is for the last time. Did John Cena's dad catch the shirt he threw?
The bell finally rings and they lock up. Punk gets backed into the corner and Cena takes him down with a headlock.
They end up back on their feet and square off again. JBL points out how Punk has on Yankee colors to piss off Boston.
CM Punk vs. John Cena
I am going to update every ten minutes during this match because it might be a long one.
That was one of their better matches, but I kind of hoped Del Rio woul get the clean win. I guess I should have known.
I am also a little upset that we didn't see Ziggler cash in tonight. Maybe it'll happen on Raw tomorrow after an attack by Del Rio to Sheamus.
We get some videos for WWE and the National Guard. The next match is the WWE title match and it is only 10:09 Central. This match might go 45 minutes unless they are following the match with a long post-match segment.
Del Rio vs. Sheamus Part 2
JBL bad-mouths Mil Mascaras for some reason as Del Rio runs Sheamus into the steel post to work on his arm for the Cross-Arm Breaker.
Del Rio jumps off the ropes with an axe-handle for another near fall. This has been a decent match so far.
Del Rio climbs up to the top again but Sheamus hits him on the way down with an axe-handle of his own. The ref yells at Ricky to back up as he counts both men down.
They get up and Sheamus starts running all over Del Rio. Del Rio tries for an arm breaker but Sheamus avoids it and plants him with a slam for a two count.
Del Rio and Sheamus are on the apron and Sheamus pulls him over the turnbuckle for the Irish Hand Grenades.
Del Rio breaks out of White Noise and hits a Back Stabber for another near fall. Del Rio sets up for the CAB but Sheamus lifts him up and hits White Noise.
I heard some people chant we want Ziggler. Sheamus misses the BK and Del Rio hits a nice enziguri for a near fall.
Del Rio and Sheamus both miss their finishers. Del Rio almost locks in the CAB and Sheamus almost turns it into a Clover Leaf. Del Rio kicks him off.
Sheamus' arm gets caught in the ropes and Del Rio starts kicking the arm to add punishment. The ref gets pissed at Del Rio.
Del Rio locks in the CAB and he has Sheamus in the middle of the ring. Sheamus rolls Del Rio over and picks him up, dropping him to break the hold.
Both men are down and the ref starts the count. Sheamus makes it up and he signals for the BK. Del Rio counters again and locks in the CAB.
Sheamus almost taps but he gets his legs to the ropes to break the hold and Del Rio is furious. Del Rio misses an enziguri and Sheamus hits the BK for the pin and win.
Winner: Sheamus to retain
Where is Ziggler?
Sheamus vs. Alberto Del Rio for the World title Part 1
Del Rio is out first with Ricky and Otunga with him. Sheamus is out next in some new green and white attire. Lots of new attire tonight.
Ricky holds the longest Albertoooooooooooo I have ever heard during the intros. JBL says he wishes he had thought of having his own announcer when he was wrestling.
Booker's music hits right before the ref can call for the bell and he comes out on the ramp. Book says he has news on his investigation.
He says that people should know the risks involved with wrestling and the Brogue Kick is no longer banned.
The bell rings and Sheamus kicks Otunga off the apron and Del Rio grabs him in a headlock. They run the ropes and Del Rio bails when Sheamus goes for the kick right away.
Ha! Cole brings up JBL losing to Rey Mysterio in 23 seconds and JBL makes some excuses about being sick. Del Rio gets back in the ring and Sheamus gets the better of a slug-fest.
Sheamus hits a neckbreaker for the first near fall. Del RIo runs towards Sheamus on the apron and Sheamus moves, sending Del Rio to the outside.
Sheamus hits a running shoulder block off the apron. Sheamus climbs the ropes but Del Rio meets him up there and drops him over the top turnbuckle.
He shoves Sheamus off the steps into the Spanish announce table, which JBL calls appropriate.
Lillian announces some women in the audience who are survivors of breast cancer in honor of their partnership with Susan G. Komen and then we get a video from the organization.
Daniel Bryan is then shown walking around saying "I am the tag team champions!"
He runs into Dr. Shelby and then Kane walks up saying the same thing. Shelby freaks out and AJ runs up out of nowhere and freaks out too.
She says it is messed up that they can win the titles together and still be mad at each other. Bryan congratulates Kane and Kane just walks away.
He comes back and dumps Gatorade on Bryan and yells that he is going to Disneyland and runs off yelling her is the tag team champions.
That was a bit strange, but kind of funny. JBL is absolutely shocked at what he has just seen.
The next match will be Del Rio vs. Sheamus for the World title.
Layla vs. Eve for the Divas title
Following that match with the Divas match will kill the momentum they just built. The crowd seems dead for both women.
The bell rings and Layla gets quick roll up for a near fall. Eve grabs her in a headlock and takes her down. I love how JBL is admonishing Cole like he used to when they were a regular team.
Layla and Eve trade offense until Layla ends up with a near fall after another roll up.
Layla jumps over a prone Eve a couple times and hits a low dropkick. Eve looks hurt but says she is OK. They shake hands and Eve kicks Layla and throws her out of the ring.
Eve slams Layla on the outside and the runs her into the apron twice. The ref gets to 8 when Eve rolls Layla in the ring.
Eve pulls Layla up pushes her into the middel rope with her knee. Eve climbs to the top and holds Layla up by her neck.
She deos it twice and releases at the four count each time to avoid the DQ, which JBL thinks is smart.
Layla kicks out of a pin and Layla wraps her in a leg scissors. Ha! JBL makes a Von Erich reference and Cole gets it wrong.
Layla hits a DDT to reverse the momentum to her side and she hits a running dropkick to Eve's face.
Layla tries for a cross body and Layla moves. She grabs Layla and hits her neckbreaker for the pin and the win.
Winner and new Divas Champion: Eve
That turned into a pretty good match after awhile. Both in brutality and execution by both women.
Now I am three for five, but the match changed competitors after I made the predictions, so maybe I can say I am still three for four.
Orton vs. Ziggler Part 2
Ziggler knocks Orton off the top rope and hits a missile dropkick for a near fall. Duelling chants break out as the two get up and start slugging it out.
Ziggler holds Orton's arm as he leaps over the top rope and causes him to wrench his shoulder. Ziggler runs in and gets a near fall.
Ziggler hits several elbows before dropping the big jumping elbow for a near fall. JBL says he is showing off too much.
Ziggler locks in his headlock/headstand and bridges over to add a lot of pressure. He holds the headlock on and squeezes as Orton turns red.
Orton fights to his feet and hits a side suplex to break free. Orton runs into and elbow and clothesline from ZIggler for another near fall.
JBL incorrectly called Ziggler a former WWE champion, but I didn't have a chance to mention it til now. Ziggler locks in another headlock.
Orton hits a headbutt and a nice dropkick. Both men are down and as they both get up Ziggler hits a big jumping DDT for another near fall.
This is a really good match, but I think the ending will determine the overall quality.
Ziggler climbs up and Orton crotches him on the turnbuckle. Orton lays in with big rights and then climbs up for the superplex I was talking about before.
Orton gets a near fall as Ziggler sells like only he can. JBL says these guys are stealing the show, and I can't disagree but it is still early.
Orton and Ziggler trade blows in the middle of the ring and they slug it out for over a minute. I am loving this. Orton gets hits with a fame-asser for a close two count.
The crowd is very pro-Ziggler right now and JBL loves it. Ziggler tries for the Zig Zag and Orton shakes him off.
They fight to the outside and Orton throws Ziggler into the barricade. He picks up Ziggler and sets up Ziggler on the barricade for the DDT. Did they censor him saying something or did the sound cut out?
He hits the DDT and the ref is at an 8 count by the time they get back in the ring. Orton gets a two count after ZIggler gets his foot on the rope.
That DDT to the floor looked awesome. Orton gets riled up and sets up for the RKO. ZIggler avoids it and rolls up Orton for a two count.
Ziggler ends up getting launched into the air and Orton grabs him for an RKO for the pin and the win.
Winner: Randy Orton
That was a great match and the ending was pretty cool, but I really wish Ziggler would have won. I gues I am three for four now.
After that RKO the crowd was back on Orton's side. Both men deserve props for a great showing and hopefully Ziggler cashes in later and leaves as champion.
Dolph Ziggler vs. Randy Orton Part 1
I predicted a ZIggler win so lets see what happens. Orton is out second to a nice pop from the crowd.
They lock up and fight for control. They hold the lock up while pushing each other all over the ring. Ziggler gets the headlock and follows up with a shoulder block.
They lock back up and Orton gets the headlock this time. Orton hits his own shoulder block and follows up with a big clothesline. The crowd seems mixed.
Orton stays on Ziggler and drops him with a European uppercut. I think the crowd is chanting "Ziggler's better" but it is hard to hear them since it is only a small section.
Ziggler gets a near fall of a neckbreaker as JBL puts over Vickie and acts as if Cole hates Vickie. When has Cole ever been anything but her biggest fan?
Ziggler stays on Orton until Orton hits a slingshot suplex for a near fall. He has used that in every match since returning from injury, as well as a top rope superplex.
Orton gets fired up and hits two clotheslines and a powerslam. Ziggler rolls to the apron but when Orton tries to bring him in for the DDT he rolls him up for a two.
Orton counters a Fame-asser with a powerbomb for a two count. This is a good match so far, but it could get better.
We get a plug for Saturday Morning Slam after the match. Del Rio is backstage with Otunga and Ricardo walks in without his neck brace on and he gets yelled at.
Otunga says he needs to play up the injury more.
Vickie comes out to bring Dolph Ziggler out for his match with Randy Orton. I have been looking forward to this one.
Antonio Cesaro vs. Zack Ryder for the US title
Aksana brings out Cesaro, who JBL puts over really well. Aksana has him say "unfair" in five languages. Ryder is out next to face him.
Ryder chants break out as the two lock up. Cesaro gets the early advantage with a shoulder block. Ryder hits a flapjack for a two count.
Cesaro drops Ryder over the top rope with a stun gun and follows it up with stomps and chin lock.
Good lord. Did JBL just reference Frank Gotch? This guy is an encyclopedia tonight.
JBL hits a clothesline for a near fall as Aksana looks amazing cheering him on from ringside. Cesaro lifts Ryder like he is nothing and hits a delayed gut-wrench suplex for a near fall. That always looks impressive.
The crowd is not reacting to Cesaro the way you would expect, but they are behind Ryder.
WOW!!! Cesaro launches Ryder into the air and hits a nasty uppercut on the way down for a near fall. I can't believe that is not his finisher. It looks so brutal.
Cesaro stretches Ryder over his back by his neck for a submission hold, but Ryder breaks out and hits a facebuster followed by a clothesline.
Ryder gets a roll up for a near fall. He follows up with a missile dropkick for another two count. Ryder holds on during a suplex and hits a beautiful neckbreaker for one of the better counters we have seen in awhile.
Cesaro knocks him down with a big right hand before climbing the ropes, but Ryder crotches him and hits a hurricarana from the top rope.
Aksana pulls Cesaro out of the ring so Ryder can't hit the Broski Boot. Cesaro is able to hit his finisher for the pin and the win.
Winner: Antonio Cesaro to retain
Three for three.
Booker and Teddy are in back and Eve comes in and says Kaitlyn twisted her ankle. Booker assures her that he will make it right for Kaitlyn.
Eve acts like she doesn't know who should face Layla, but Booker says she deserves the title shot because she beat Katie and has been doing a good job as his assistant.
She says she will manage to compete somehow. We go to ringside and JBL and Cole plug WWE supporting Susan G. Komen for the Cure.
Lillian says the US title match is next.
Bryan and Kane are both saying they are the tag team champions at each other for some reason. Do they both have multiple personality disorder.
Kane signals for his pyro and it goes off a second late. That looked funny because Bryan looked surprised that it didn't go off, and then again when it did go off.
Tag title match Part 2
Kane and Bryan screw up a double team and Bryan shoves Kane and they start yelling at each other. The crowd chants for the to hug it out.
Bryan slaps Kane and then backs off and then says they should hug it out. Who would have thought a WWE show would see a hug it out chant.
They hug and Bryan gets on Truth, but he can't stop him from tagging in Kofi. Kofi comes in off the hot tag and hits all his signatures on Bryan.
Kofi hits the Boom Drop and sets up for the Trouble in Paradise. Kane pulls Bryan from the ring to save him bu Kofi takes them both out with some high flying moves. Kofi leaps into the ring and Bryan catches him into a No Lock.
Truth breaks it up and the crowd boos. Kane takes out Truth outside the ring. The crowd chants Yes and Bryan yells No as he hits a running dropkick to Kofi.
Kane tags himself in and goes to the top. Kofi runs up the ropes and tries to hit a big hurricarana, but Bryan holds Kane's foot down to save him.
Kane leaps off the top rope and hits Kofi for the pin and the win.
Winners: Kane and Bryan to becomes the tag team champions.
So far I am 2 for 2 on my main show predictions. I wonder if I can make a clean sweep.
Daniel Bryan and Kane vs. Kofi and Truth for the tag titles Part 1
JBL says Bryan deserves more respect than the crowd is giving him as he comes out first for the match. I like ho Justin Roberts calls Kofi and Truth "The current tag team champions."
He is almost foreshadowing a loss by adding the word current. Kane and Kofi start off and they trade offense. Kofi dropkicks Kane to his corner and he tags Truth and the double team Kane.
Truth's new white pants look stupid with all the Little Jimmy stuff in bright yellow and blue.
Daniel Bryan tags in and goes to work on Truth with Kicks in the corner. Truth comes back with an arm drag and Kofi tags in to hit a huge cross body to Bryan for a near fall.
The champions are tagging often and effectively at the moment. Truth hits a dancing leg drop for another near fall. JBL calls him a hot dog.
Kane gets the blind tag and surprises Truth with a clothesline. JBL talks about how Farooq (Ron Simmons) and he being friends helped their team.
Kane pounds Truth and the tags in Bryan for a double team. Bryan hits several hard kicks to Truth's chest before finishing with a running dropkick for a two count.
I liked that ending. It was unique.
Eve is backstage talking to PTP when they hear Kaitlyn scream. She was attacked and cannot compete tonight. Eve says she will get her title match eventually but she needs to keep herself safe for now.
Katie says the person who hit her was wearing a mask. This sort of resembles the Nancy Kerrigan incident.
We get a video package for Kane and Daniel Bryan, which must mean their tag title match is next.
Miz vs. Rey Mysterio vs. Sin Cara vs. Cody Rhodes Part 2
I am shocked to hear JBL actually say AAA while talking about the similarities between Rey and Cara. WWE should have their announcers be this way more often.
Rhodes comes in and hits Cara with a Disaster Kick to get him for a near fall. Rey is stuck on the top turnbuckle and Rhodes climbs up as a "Lets go Cody" chant breaks out.
Miz comes up and hits the three man suplex from the top for two near fall on Rhodes and Rey. Miz gets rid of Cara and Rhodes before focusing on Mysterio.
Miz hits a DDT on Rey for the near fall as JBL talks about how he has come around to liking the Miz from hating him when he first showed up.
Cara comes back in and hits a missile dropkick to send Miz out of the ring. He hits a suicide dive as Rey hits Rhodes with a headscissors to send him into the barricade.
Cara hits a corkscrew splash on Miz for a two count. Miz follows up with his corner clothesline but Rey dropkicks him while he is still in the ropes.
Rey hits a nice springboard moonsault for a near fall and Rhodes come in to drop him on his face. Cara breaks up the pin and he sets up Rhodes on the ropes.
Rey knocks Miz into the ropes and hits a 619 to Miz while Rhodes moved. Rey drops the dime bu Rhoes pulls him off Miz.
Rhodes tries to steal the win but Cara breaks it up, infuriating Rhodes who attacks him and tries to take off the mask.
Rey saves Cara but Rhodes throws him out of the ring with ease. Cara hits a kick to Rhodes and then he pulls a mask from his pants and tries to put in on Rhodes.
Miz hits him with a back/neckbreaker combo for a near fall. Miz lifts up Cara for the powerbomb but Cara puts the mask on him.
Miz can't see and he ends up hitting Rhodes with the Skull Crushing Finale to retain his title.
Winner: Miz
Miz vs. Rey Mysterio vs. Sin Cara vs. Cody Rhodes Part 1
Miz is on the mic complaining as he makes his way to the ring. He says he is filing a complaint against Booker T for the decision to put him against three other people.
Rey's music cuts him off and he comes out in a pink shirt with red attire to go with the Susan G. Komen for the Cure theme of the night.
JBL plays the heel a bit, agreeing with Miz that he doesn't deserve to be in the match. Rhodes is the third man out in a new ring jacket. Sin Cara is out last in new blue and silver attire.
It looks like they went in a flashier direction with his mask. The bell rings and Miz goes after Rey while Rhodes attacks Cara.
Miz and Rhodes try to team up but Cara and Rey work together to send them out of the ring. The two luchadors circle each other but Miz pulls Rey out of the ring and the heels team up on Cara.
JBL acknowledges more of Sin Cara's real life wrestling accolades while calling the match. Nice to see.
We are back to Rey and Cara in the ring and they trade kicks. Cara takes Rey down with a headscissors. JBL makes mention of Chris Jericho and Ultimo Dragon. I like what he is doing on commentary.
I think Vince must have yelled or something becasue both announcers went silent for about ten seconds. Rhodes and Miz come in and take control of the faces.
Miz and Rhodes lock up and Rhodes misses a Disaster Kick allowing Miz to throw him over the top.
Rey almost rolls up Miz but Cara rolls up Rey for a two count.
And we are live with Night of Champions. The show opens with a video package highlighting how every title will be defended tonight.
Michael Cole welcomes us to the show and the seat next to him is empty. He informs us about the good news regarding Lawler's condition.
Justin Roberts introduces JBL as Lawler's stand in to a nice pop from the Boston crowd. JBL looks great. I think he is in better shape than he has been in years.
Lillian announces that the first match will be the fatal-4-way for the IC title.
Battle Royal for US title Number One Contender
After Clay Rosa brings out Epico and Primo next followed by Justin Gabriel. The participants who enter after are Tensai, Tyson Kidd, a surprising Michael McGillicutty appearance, Zack Ryder to a big pop, both Prime Time Players, Jinder Mahal, JTG, Drew McIntyre, Ted Dibiase in his first match in a long time, Heath Slater and Santino.
Slater talks trash to every single person in the ring and as the bell rings everyone grabs him and throws him over the top.
Michael McGillicutty is eliminated followed by Dibiase. Primo gets dumped out by Clay and Clay follows up by throwing Mahal out.
Clay presses Epico and throws him into the other guys he just eliminated. Tensai launches Gabriel over the top and he follows up by powerbombing Kidd out of the ring onto a big pile.
Clay and Tensai go at it PTP come over and throw Clay out. Santino knocks JTG off the apron to eliminate him.
D-Mac gets dropkicked out of the ring by Ryder. PTP throw out Santino and it is down to both members of PTP, Ryder and Tensai.
Ryder low bridges Titus over the top and Tensai helps eliminate Young. Tensai gets eliminated by Ryder to end the match.
Winner: Zack Ryder
This article is
What is the duplicate article?
Why is this article offensive?
Where is this article plagiarized from?
Why is this article poorly edited?