Cleveland Browns vs. Cincinnati Bengals Live Blog: Play-by-Play and Analysis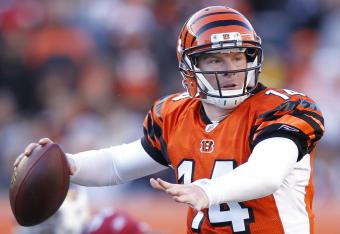 Joe Robbins/Getty Images
Week 2 of the NFL season is upon us and my first thought about this game is that both teams are looking to bounce back. Cleveland was absolutely awful against Philadelphia, and Cincinnati was even worse against their division foes, the Baltimore Ravens.
However, today is a new day for both teams and someone is going to get back to .500. The big key to this game is going to be how well Brandon Weeden can perform against what is now a questionable Cincinnati defense. Last week, he was going up a couple of top-notch corners, but that's not the case against Cincinnati.
In addition, Andy Dalton showed a tendency to overthrow his receivers last week, which became a more common theme in the last stretch of last season. While I think this is a habit he will eventually break, he can't do that today against a Cleveland defense that is intensely under rated, even without Joe Haden.
We're a mere two and a half hours from kickoff, so get your wings and pizza ready for a good one!
Cincinnati 34, Cleveland 27 Final

The first battle of Ohio is in the books, with this round going to the Cincinnati Bengals by a score of 34-27. This game had a surprisingly good offensive aspect—both teams struggled in that area last week, but Andy Dalton and Brandon Weeden came out firing this week.
Next week, Cincinnati will be traveling to Washington D.C. to visit RG3 and the Redskins, while the Browns will be welcoming Buffalo to town.
Player of the Game: Andy Dalton. He threw for over 300 yards and three touchdowns, bouncing back from a rather so-so performance in Week 1. Signs are looking up in the Queen City, as they move to 1-1 on the 2012 season.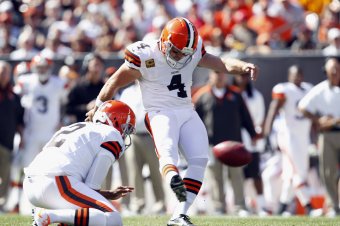 Matt Sullivan/Getty Images
Live Score Update: Cincinnati 34, Cleveland 27 0:20 Q4
Cleveland is in desperation mode, but they are within striking distance. Phil Dawson nails the chip shot to give Cleveland one last shred of hope.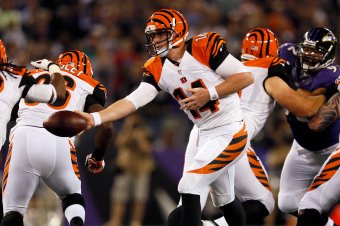 Rob Carr/Getty Images
Lots of positives to take away from this game for both teams. Both quarterbacks performed very well, as did both running backs.
As of this moment, Bengals' defensive end Jamal Anderson is down, a scary moment for Mike Zimmer's defense. Carlos Dunlap is hurt already and linebacker Thomas Howard is already lost for the season.
Live Score Update: Cincinati 34, Cleveland 24 2:09 Q4
Big time field goal by Mike Nugent to make this a two-possession ball game for the Browns.
Perhaps the biggest play of this game, Gresham's catch should be one of the top ten plays tomorrow on Sportscenter.
Joe Robbins/Getty Images
Excellent concentration for Jermaine Gresham to make that catch—play is under review, but regardless of the outcome, he had a defender all over his back and juggled the ball.
Based on initial replays, it looks like a catch, and what a big one it can prove to be.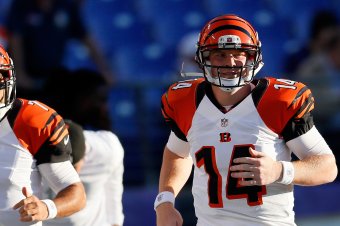 Rob Carr/Getty Images
Andy Dalton is silently having one of the better games in the league this week—currently sitting on 280 yards with three touchdowns and an interception.
Jonathan Daniel/Getty Images
Live Score Update: Cincinnati 31, Cleveland 24 7:11 Q4
And again—across the middle, no Bengals' defenders anywhere near the receiver. Greg Little bounced right off Nate Clements and caught the touchdown, pretty much uncontested.
Weeden may surpass 300 yards today.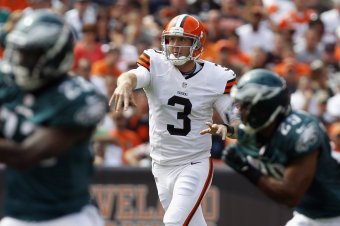 Matt Sullivan/Getty Images
Good bounce back game for Brandon Weeden—17/26 for 208 yards and a pair of touchdowns. Got to tip your hat to the rookie quarterback.
Really good game for the rookie, Trent Richardson. He's gathered over 100 yards of rushing with two touchdowns. He's been the one to figure out the Cincinnati defense throughout the game.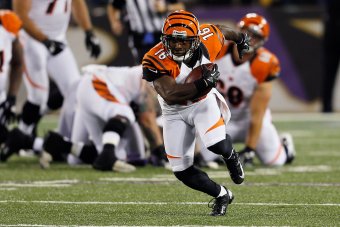 Rob Carr/Getty Images
Live Score Update: Cincinnati 31, Cleveland 17 10:44 Q4
God in Heaven! Is Andrew Hawkins one of the most underrated guys in the league or what?
Took the pass and juked out the entire Browns' defense en route to a stellar 50-yard touchdown reception. Big kudos to Brian Leonard for the blocking efforts.
What a show by Hawkins on that one.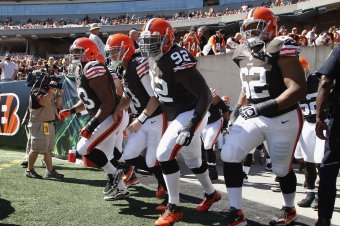 John Grieshop/Getty Images
Just when you think Cincinnati is going to get going and put this one to rest, Frostee Rucker comes in and makes Andy Dalton suffer. Cleveland will not go away.
Rick Stewart/Getty Images
Other NFL Action
I'm finding it hysterical that the over-rated Chiefs are getting pummeled
Arizona over New England? The Pats will survive.
I guess Sean Payton was more important than we anticipated.
Greg Schiano for Coach of the Year?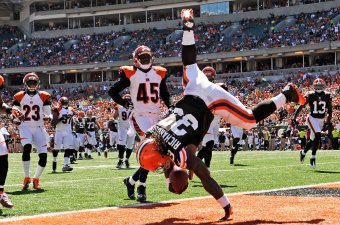 Jamie Sabau/Getty Images
Live Score Update: Cincinnati 24, Cleveland 17 0:07 Q3
Cleveland made a good decision in trading up to get Trent Richardson. The stats will say "23-yard touchdown reception" but he broke FOUR tackles inside the ten yard-line. And this is a Bengal defense that knows how to tackle.
Good day for the rookie out of Alabama—I wish he was on my fantasy team.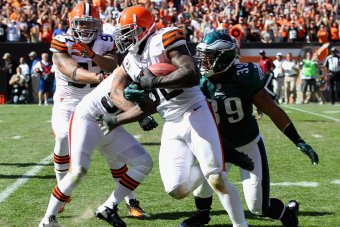 Matt Sullivan/Getty Images
Another bad throw by Dalton leads to a pretty darn good interception by D'Qwell Jackson. Overall, a good day for Dalton, but this tendency needs to stop soon.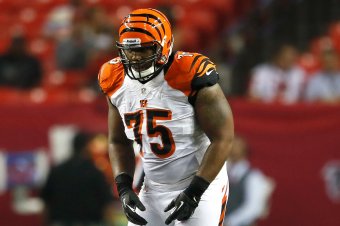 Kevin C. Cox/Getty Images
As evenly matched as these two teams were in the first half, it's kind of weird to watch the Browns suddenly be so out-manned. All of a sudden, the receivers look over matched and the defensive line is closing in on Weeden faster and faster with every drive.
Bengals take over with 4:05 left in the third quarter.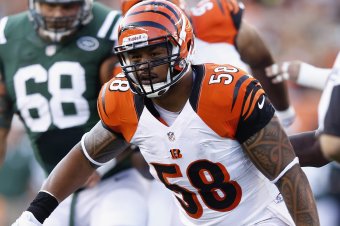 Joe Robbins/Getty Images
Rey Maualuga once again falls down on his assignment covering the middle of the field. He watched that pass go right into Alex Smith's hands—guy cannot defend against the pass.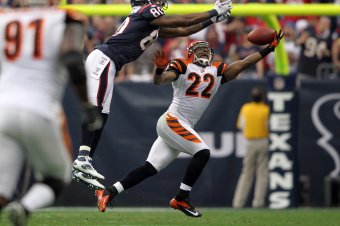 Jamie Squire/Getty Images
Good play by Nate Clements to stop Trent Richardson in the open field.
Maybe he'll start being as effective as he was during the Bush administration.
The false start penalty on Binns proved to be costly for Cincinnati—Dalton was sacked and then there was no conversion on third down. Clint Boling looked awful on those two plays, unable to block in any sort of effective manner.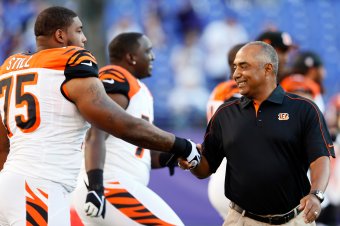 Rob Carr/Getty Images
It seems that Marvin Lewis and Jay Gruden have learned where Andy Dalton's strengths are—short throws, roughly five yards from the line of scrimmage. The receivers are good for yards after the catch, so those short plays have been working all day.
Cleveland offense just couldn't get it going on this drive. Weeden had no chance, particularly on third down when he was being chased by Jamaal Anderson.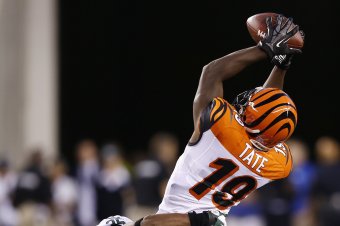 Joe Robbins/Getty Images
Live Score Update: Cincinnati 24, Cleveland 10 11:58 Q3
Finally, Dalton throws a downfield ball on the money! From 44-yards out, Brandon Tate takes the toss from Dalton to the house, straight up burning Eric Hagg down the right sideline. It's Tate's first touchdown as a Bengal.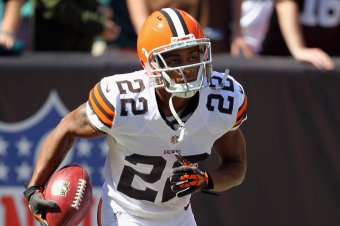 Matt Sullivan/Getty Images
Buster Skrine, who's filling in for Joe Haden, has had a really rough day. No matter who he's covering, whether it's Binns, Tate or Green, he can't seem to interrupt the pass.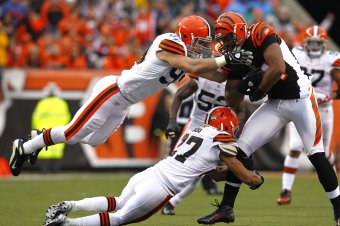 Tyler Barrick/Getty Images
Dalton was just sacked by Scott Fujita as his offensive line watched. Something seems a little off about that.
Cleveland has 208 total yards, while Cincy has 143. It concerns me that the Bengals can't outdo a young, inexperienced team like the Cleveland Browns.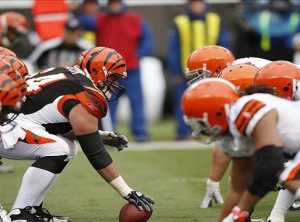 Live Score Update: Cincinnati 17, Cleveland 10 Halftime
Overall, a decent half of football for both teams. Brandon Weeden looks much better this week, while Andy Dalton also has decent stats. The difference has been the Pacman Jones' punt return.
So far, we've been pretty evenly matched. Andy Dalton needs to stop over-throwing his receivers down the field—if he can start making better throws, you'll see the Bengals pull away.
This article is
What is the duplicate article?
Why is this article offensive?
Where is this article plagiarized from?
Why is this article poorly edited?