Redskins vs. Rams: Final Report Card, Player Grades for Washington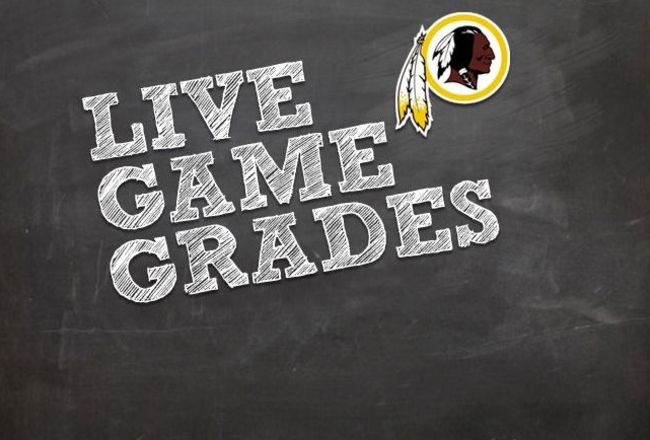 In a back-and-forth affair, the Rams upset the Redskins, 31-28 in a game that had more than it's fair share of drama. Whether it be calls from the stripes that had 'replacement' written all over them, or the unstoppable force that is the 5'11 Danny Amendola, this game had plenty of storylines and emotion.
Let's take a look at the Redskins' final postgame grades and evaluations.
Quarterback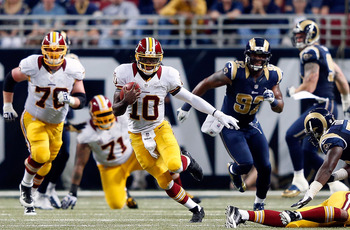 Jamie Squire/Getty Images
Robert Griffin III -- B+
Even in a game that wasn't as electric as his rookie debut, Robert Griffin III had a solid performance. He showed good awareness and found eight different receivers in the game.
Behind a line that was suspect in pass-protection -- especially in the first half -- Griffin demonstrated good pocket presence. Beyond his designed run plays, Griffin was effective at scrambling out of the pocket and making his rushing skills a true weapon.
Griffin did commit his first interception of the year when right tackle Tyler Polumbus couldn't handle the rush, Griffin was tipped off balance and a lazy throw down the middle intended for Fred Davis was picked off by Cortland Finnegan.
Griffin finished the game 20-of-29 for 206 yards, one touchdown and one interception. He also added 11 carries for 82 yards (most for a Redskins QB since the merger) and two scores on the ground.
Running Backs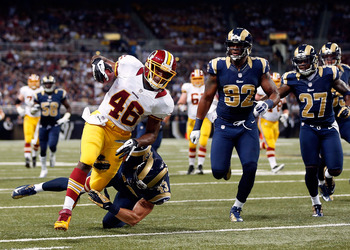 Jamie Squire/Getty Images
Alfred Morris -- A
Although not a receiving threat out of the backfield, rookie Alfred Morris is earning respect as a bull-head rusher. He keeps his head down, his feet are quick in traffic and he makes the most of second effort opportunities.
The offensive line seemed to block more effectively in the ground game than in pass-protection. More notably, Morris found his holes with ease against the Rams. He talked all week about improving his vision and cutting lanes, so it was good to see his studying translate on the field.
Morris still needs to improve as a pass-blocker. At the end of the game when the Redskins leaned towards the pass, Morris was spelled by Evan Royster for added blocking.
Morris finished the game with 89 yards on 16 carries.
Evan Royster -- B
Pretty much a non-factor in the Redskins running game (four yards), Royster was inserted mainly for late-game pass-protection. With Roy Helu still lacking explosiveness, Royster seems like the solid No. 2 option behind Morris.
Wide Receivers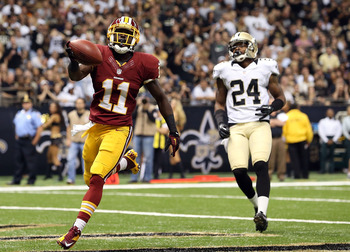 Ronald Martinez/Getty Images
Aldrick Robinson -- C+
Filling in for the injured Pierre Garcon, the speed of Aldrick Robinson was an asset in the offensive gameplan against the Rams today. Unfortunately, only two catches for 40 yards won't cut it.
Robinson finished the game with 40 yards and a touchdown, but he also had a huge drop in the second half that likely cost the Redskins a touchdown. Robinson was able to get behind the defense, but he let the ball get into his face mask/high chest and it resulted in lost opportunity.
Josh Morgan -- C
Although Morgan led the team with five catches for 50 yards, his final catch was enough to cost the Redskins a shot at the tie.
On the final offensive play for the Redskins, Morgan caught a pass about four yards short of the marker on third down. Morgan turned towards the sidelines rather than turning up-field and he was tackled just shy.
After the play, Rams corner and known instigator Cortland Finnegan gave Morgan a small slap to the helmet. In an undisciplined and unprofessional reaction, Morgan threw the football at Finnegan and drew a 15-yard unsportsmanlike conduct penalty that pushed Cundiff from a 48-yard attempt to 63.
Regardless of Morgan's effective separation and reliability today, his final play was bonehead enough to slap him with a poor grade. He'll hear a lot from Shanahan and might even lose a start next week to Leonard Hankerson.
Leonard Hankerson -- A
Given his touchdown and team-high 68 yards, Leonard Hankerson had one of the better games of his short career.
After a hard-selling play-fake from Griffin (set-up from a fake earlier in the game), Hankerson suddenly found himself all alone behind a biting Rams secondary. Griffin put his cannon arm on display, hitting Hankerson perfectly. Hank appeared to bobble the ball a bit -- probably in shock of being so open -- but held on for a score.
Santana Moss -- B
I expected more of a presence from Santana Moss tonight after watching the Rams struggle to cover the middle last week. Instead, he finished the game with three catches for 14 yards and no real significant contribution.
Tight Ends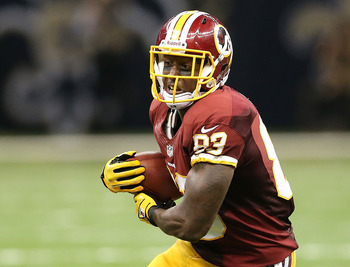 Ronald Martinez/Getty Images
Fred Davis -- C
Like Santana Moss, more was expected out of Fred Davis in today's game. He finished with just two catches for 14 yards.
Once again, Davis wasn't great as a blocker today. That is still a work in progress that must improve with the way the offensive line is performing in pass-protection.
Davis also appeared confused on one play where he went in motion between the center and RG3, eventually being hit with the snap and causing a botched play.
Niles Paul -- C
Three catches for 13 yards wasn't enough in the passing game to help the Redskins today and Niles Paul's blocking was far from stellar. That, however, doesn't change the fact that Paul is an intriguing project at the position that is improving every game.
Offensive Line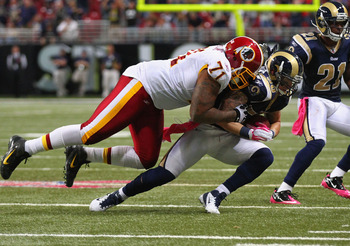 Dilip Vishwanat/Getty Images
Trent Williams -- B-
A grade based more along the lines of inconsistency, Trent Williams showed well and poor against the Rams today. On most plays, Williams demonstrated good leverage and speed, engulfing the edge-rusher and performing like the tackle the coaches planned for.
But on two particular plays, Williams looked outmatched. He was tormented by Robert Quinn for most of the game, one time allowing a sack and another time being called for a costly holding penalty.
Kory Lichtensteiger -- B+
The Redskins' ground game, as expected, was most successful on the left side. Kory Lichtensteiger appears to be holding up well after returning from ACL surgery and his play remains a crucial part of the Redskins' potential success.
Will Montgomery -- B
Unless the botched snap that hit Fred Davis was his fault (which appears unlikely), Will Montgomery was better against the Rams. He's getting a good push off the line and he's contributing at the second-level for Alfred Morris' steam runs.
Chris Chester -- C+
Like usual, Chris Chester is more effective in the passing game, but he's improving on the ground. Chester also is commanding the offensive line during the pre-snap -- looking back at Griffin and confirming with center Will Montgomery that the quarterback is ready.
Tyler Polumbus -- C
Arguably the weakest piece of the Redskins offensive line, right tackle Tyler Polumbus is something that the team will have to work with.
It's not that Polumbus doesn't want to be good, but he's not an NFL starter. His tenacity and attitude are nice characteristics of his game, but his skill isn't beyond a second-stringer.
Defensive Line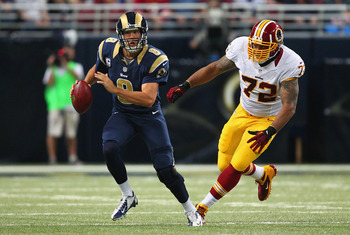 Dilip Vishwanat/Getty Images
Stephen Bowen -- A
Continuing his disruption in the passing game, Stephen Bowen had another pass deflection against the Rams. He also added one tackle and a sack.
Bowen is so effective in containing the quarterback and forcing the left tackle to work, he's a perfect fit in the 3-4 scheme. He penetrates deep into the backfield and doesn't allow for a comfortable pocket for the opposition.
Barry Cofield -- A
Like his side partner, Barry Cofield provides the pocket penetration and disruption to force the opposing quarterback to shuffle and slide.
In the Redskins' scheme, solid production from the nose tackle is key. And Cofield gives 110 percent every game.
Adam Carriker -- N/A
A big blow may be coming for the Redskins, as defensive end Adam Carriker went down in the first half with an undisclosed knee injury.
Carriker was slow to get up and he was immediately wrapped with ice when he got to the sidelines. Following the game, Mike Shanahan said that it didn't look good. I would expect surgery.
Jarvis Jenkins -- C
It still doesn't look like Jarvis Jenkins has regained his explosiveness from last year's preseason, but he's coming along.
In the case that the Redskins need to move on without Adam Carriker, Jenkins would be the next man up. With an increased role, let's hope Jenkins can find his groove quickly.
Linebackers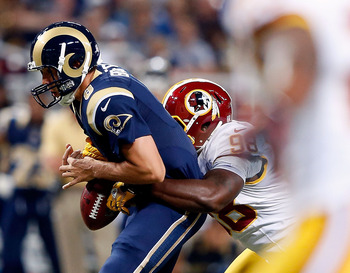 Jamie Squire/Getty Images
Ryan Kerrigan -- B
Ryan Kerrigan continues to be the Redskins best at applying pressure. He's generally the better player in a battle with right tackles and he also poses a threat in coverage.
On a long run by rookie Daryl Richardson, Kerrigan turned in coverage and was late in recognizing the run play. As a result, he was slow getting over to the sideline and Richardson was able to run for an additional 10-15 yards.
Kerrigan finished with two tackles and no sacks.
Brian Orakpo -- B
With one of only two sacks against the Rams, Brian Orakpo made the most of it by also forcing Sam Bradford to fumble. Orakpo appeared irate after the play and it was later discovered that he had re-aggravated his pectoral muscle.
It's not clear whether Orakpo will miss any time, but the Redskins can't afford it. Rob Jackson and Chris Wilson aren't nearly the threat.
London Fletcher -- A
In addition to his five tackles, the ageless London Fletcher came up with two incredible plays in the second half. First, an interception late in the third quarter in the endzone to extinguish a threatening Rams drive. And then, a forced fumble late in the fourth quarter on Daryl Richardson to give the Redskins their final hoorah.
Perry Riley -- B+
Perry Riley seems to get better every game and he was all over the place today.
Riley made his presence felt early on when he forced Danny Amendola to fumble on the first play of the game. Josh Wilson would return it for a touchdown to give the Redskins a 7-0 head start.
He finished the game with four tackles and a nice pass break-up, too.
Defensive Backs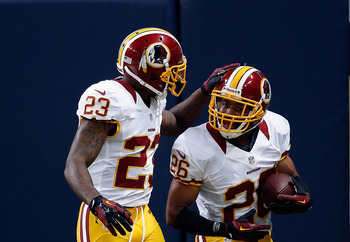 Jamie Squire/Getty Images
Josh Wilson -- B+
After starting the game with a returned fumble for six points, Josh Wilson wasn't too significant after that due to the Redskins play-calling for the rest of the game.
Wilson would eventually leave the game early with a mild concussion and his status for next week is uncertain. As the team's best cover-corner, losing Wilson would be a huge blow.
DeAngelo Hall -- B-
Even as the Redskins' leader with eight tackles, DeAngelo Hall's mouth continues to be one of his biggest flaws. In a game that was kept out of control by officials, it was shocking not to have Hall flagged for at least two non-football penalties.
Hall was also the man on the spot to recover Daryl Richardson's late-game fumble.
DeJon Gomes -- B+
Gaining valuable experience with every start, DeJon Gomes was everywhere today. He's still working to improve his angles and body position during coverage, but he's moving in the right direction.
Gomes finished the game with seven tackles and a pass break-up.
Cedric Griffin -- C+
The verdict is still out on Cedric Griffin. After a miserable preseason, Griffin played incredibly well against the Saints last week. And then today against the Rams, Griffin was wishy-washy. He made a good play here, and a bad one there.
At one point, Griffin was aligned to cover Danny Amendola and didn't have a chance. That, however, isn't his fault. He follows instructions and it's unfortunate that the Redskins defense needs to rely on him so much.
Also, following the Wilson injury, Griffin was a starting corner. Not cool.
Madieu Williams -- C+
Much like last game, Williams appeared late on most coverages. He did finish with seven tackles, but the Redskins are still looking forward to Brandon Meriweather's return.
Special Teams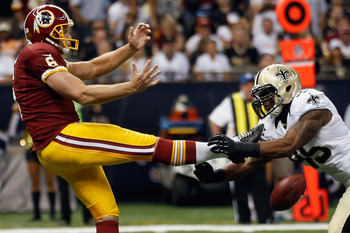 Chris Graythen/Getty Images
Billy Cundiff -- B
Not nearly as much action for Billy Cundiff this week, but he did nail all four of his extra points.
The Redskins' decision to go for a field goal at the end of the game was a 63-yarder that Cundiff had no business making. However, that was a kick that Graham Gano could've probably gotten to the cross-bar. Not saying he would have made it, but Gano had the leg.
Sav Rocca -- C-
To me, the blocked punts aren't Sav Rocca's fault. But regardless of who gets blamed, the Redskins punt team is a huge failure. For the second consecutive week, the Redskins suffered a blocked punt that made for a costly turnover.
Brandon Banks -- B-
Finishing the game with three kick returns for 53 yards, Brandon Banks was solid in that category. On punts, however, he was a slight disappointment.
After fielding a booming punt that actually carried him backwards, Banks ran hard right with no vertical moves that resulted in a loss of three yards.
Admittedly so, the punt was made for a tough return. Fact is, the Redskins were heavy on blockers and Banks had time. No results.
Niles Paul -- B+
I will continue to praise Niles Paul on special teams. As the gunner on punt team, Paul is the always the first one down and he's a reliable tackler.
Perry Riley -- F
Perry Riley was the inside man on the left side that was eaten alive and allowed the Redskins' blocked punt. Last week it was Chris Wilson, this week it's Riley. Perhaps Danny Smith needs to get into these linebacker's heads a little bit more?
Coaching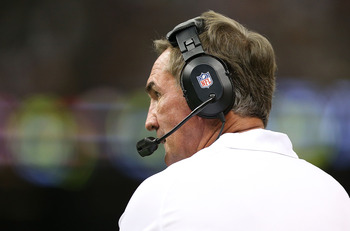 Ronald Martinez/Getty Images
Offense -- C+
Abandoning the run in the second quarter was a very frustrating part of the game. Alfred Morris had chugged along just fine in the first, but Mike and Kyle Shanahan appeared to become infatuated with Robert Griffin III and Morris received just one carry in the quarter.
That said, the Rams did have a very long clock-killing drive to start the quarter that put the Redskins behind the eight ball before half.
Thankfully, the Redskins came back to the run following halftime and Morris remained strong. The offensive line and their inconsistency as pass-blockers forced Griffin to get creative and think on the fly, which is more on the part of the rookie passer and not the coaching staff.
Defense -- D
The Redskins started in zone-coverage that the Rams treated like a sausage at the tailgate. They cooked Jim Haslett and the Redskins defense, spewing grease all over a hot gridiron.
Rams receiver Danny Amendola was a freak of nature and seemingly unguardable. He would eventually finish the game with 15 receptions for 160 yards and one touchdown. By the time the second half rolled around, the Redskins were able to at least contain him. Kind of.
It's hard to believe that -- even with the Redskins' lack of talent in the secondary -- the Rams are a tough cover. Their offensive line was dented and bruised and the Redskins are suppose to have one of the better front-sevens in football. Neither of those things were apparent today.
Keep Reading

Washington Redskins: Like this team?