BCS Championship Picture 2012: Title Game Candidates After Week 3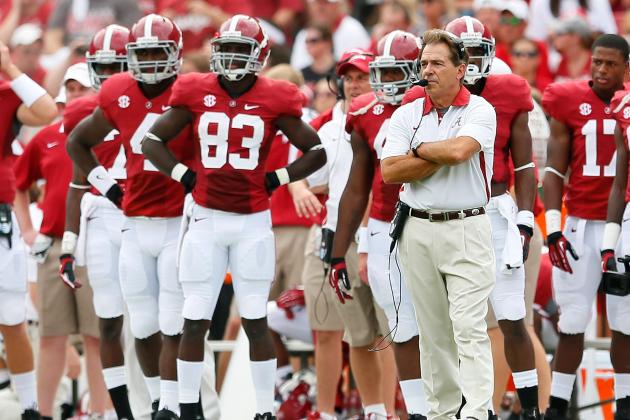 Kevin C. Cox/Getty Images

We're three weeks into the 2012 college football season, and it is safe to say that the more we think we know, the less we actually do.
We can say with some level of comfort that Alabama is the best team in the country. The Crimson Tide have allowed 14 points in three games, and have defeated Michigan and Arkansas by a combined score of 93-14.
After the Tide, there are a few teams you can make a case for as being No. 2. Everyone will point to LSU, as they should. The Tigers have yet to play a quality opponent and are flying under the radar thanks to what Alabama is doing, but Les Miles has a really, really good team.
So what does all this early season madness mean for the BCS Championship Game? Things are going to change precipitously over the next two months, but now that we have games to judge teams by, we can at least separate the wheat from the chaff.
Here are the teams that have made the most noise in the BCS title picture thus far. These are only based on what has happened through Week 3, so if you don't see your team, it's not a slight against them. It just means we need to see a little more out of them before putting them in this class.
Begin Slideshow

»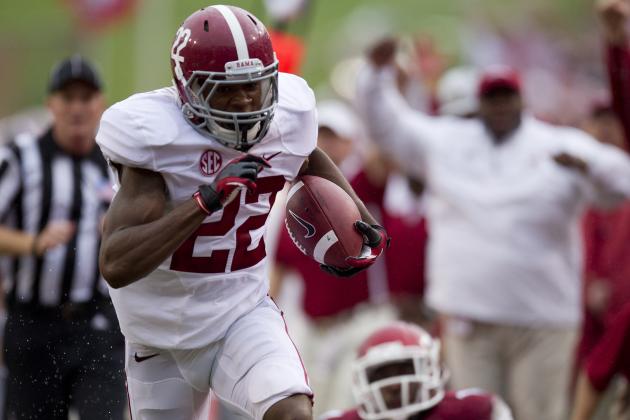 Wesley Hitt/Getty Images

There comes a point where you are just beating a dead horse, but the Crimson Tide somehow manage to lose immensely talented players to the NFL every year and still contend for titles year after year.
Nick Saban and his staff have done an amazing job of getting talent on this team at every position. It's not just the superstar players they get, it's the depth all over the field. They could use their reserves for an entire season and still win nine games.
Right now, the only questionable game on the schedule appears to be at LSU on Nov. 3. Other than that game, the only way this Alabama team loses is if it beats itself.
A second consecutive trip to the BCS Championship Game certainly appears to be in the works for the Crimson Tide.
| DATE | 2012 RESULTS/REMAINING SCHEDULE |
| --- | --- |
| Sept. 1 | def. Michigan, 41-14 |
| Sept. 8 | def. Western Kentucky, 35-0 |
| Sept. 15 | def. Arkansas, 52-0 |
| Sept. 22 | vs. Florida Atlantic |
| Sept. 29 | vs. Mississippi |
| Oct. 13 | at Missouri |
| Oct. 20 | at Tennessee |
| Oct. 27 | vs. Mississippi State |
| Nov. 3 | at LSU |
| Nov. 10 | vs. Texas A&M |
| Nov. 17 | vs. Western Carolina |
| Nov. 24 | vs. Auburn |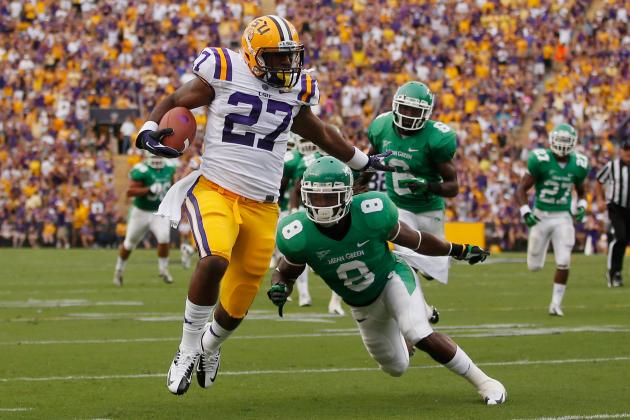 Chris Graythen/Getty Images

LSU is an interesting case. Everyone loves its talent, especially on defense, and the Tigers can run the ball extremely well.
However, quarterback Zack Mettenberger is going to have to win at least one game in the regular season to get the Tigers back to the BCS title game. Since they have yet to be challenged, we have no idea what he can do.
Besides the Alabama game on Nov. 3, that matchup at Florida on Oct. 6 is suddenly looking a lot more appealing after the Gators throttled Tennessee in Week 3. After that, having to play a really good South Carolina team could see the Tigers slip up if they aren't careful.
| DATE | 2012 RESULTS/REMAINING SCHEDULE |
| --- | --- |
| Sept. 1 | def. North Texas, 41-14 |
| Sept. 8 | def. Washington, 41-3 |
| Sept. 15 | def. Idaho, 63-14 |
| Sept. 22 | at Auburn |
| Sept. 29 | vs. Towson |
| Oct. 6 | at Florida |
| Oct. 13 | vs. South Carolina |
| Oct. 20 | at Texas A&M |
| Nov. 3 | vs. Alabama |
| Nov. 10 | vs. Mississippi State |
| Nov. 17 | vs. Mississippi |
| Nov. 23 | at Arkansas |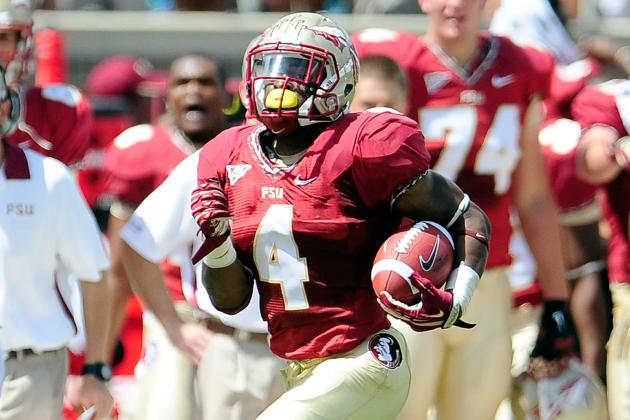 Stacy Revere/Getty Images

The Seminoles are a team to which I am giving the benefit of the doubt. We can all see the talent they have on both sides of the ball, yet we have not seen them go up against anything even resembling quality competition.
Having said that, to only give up three points in three games is impressive. Plus, we will find out what Jimbo Fisher's team is made of on Saturday against Clemson.
Looking at the schedule after Clemson, there really doesn't appear to be anything standing in Florida State's way until Virginia Tech. But even that game lost a lot of luster thanks to the Hokies' embarrassing performance at Pittsburgh.
Imagine the scene in Tallahassee on Nov. 24 if both the Seminoles and Gators are battling for BCS positioning. That used to be one of the biggest rivalries in college football, but it has been a long time since both programs were battling for anything big.
| DATE | 2012 RESULTS/REMAINING SCHEDULE |
| --- | --- |
| Sept. 1 | def. Murray State, 69-3 |
| Sept. 8 | def. Savannah State, 55-0 |
| Sept. 15 | def. Wake Forest, 52-0 |
| Sept. 22 | vs. Clemson |
| Sept. 29 | at South Florida |
| Oct. 6 | at NC State |
| Oct. 13 | vs. Boston College |
| Oct. 20 | at Miami (Fla.) |
| Oct. 27 | vs. Duke |
| Nov. 8 | at Virginia Tech |
| Nov. 17 | at Maryland |
| Nov. 24 | vs. Florida |
Brett Deering/Getty Images

Life in the Big 12 suddenly doesn't look so cozy for the Oklahoma Sooners. They have a brutal stretch of games starting on Saturday against Kansas State, although they do catch a bit of a break against Texas Tech (don't be fooled by the record or stats).
After the game against the Red Raiders, the Sooners will have four games against teams that could be ranked in the Top 10-15 at the time of the matchup. They will have earned their shot at the BCS title if they can make it through that.
As for that season-opening struggle against UTEP, I like to see how a team responds when it doesn't have its best stuff. Bob Stoops is still one of the best big-game coaches in the country, and he will have this team in it until the end of the year.
| DATE | 2012 RESULTS/REMAINING SCHEDULE |
| --- | --- |
| Sept. 1 | def. UTEP, 24-7 |
| Sept. 8 | def. Florida A&M, 69-13 |
| Sept. 22 | vs. Kansas State |
| Oct. 6 | at Texas Tech |
| Oct. 13 | vs. Texas |
| Oct. 20 | vs. Kansas |
| Oct. 27 | vs. Notre Dame |
| Nov. 3 | at Iowa State |
| Nov. 10 | vs. Baylor |
| Nov. 17 | at West Virginia |
| Nov. 24 | vs. Oklahoma State |
| Dec. 1 | at TCU |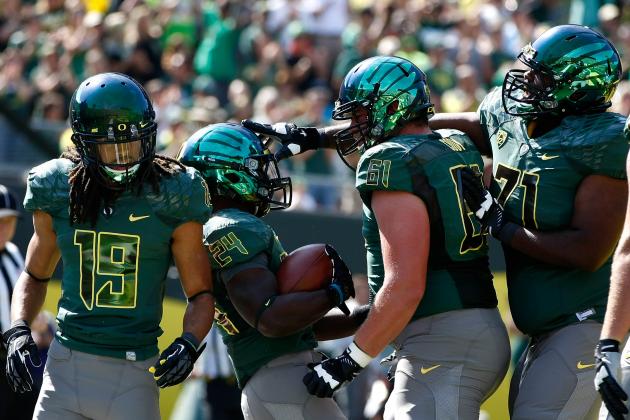 Jonathan Ferrey/Getty Images

The final rock-solid team on this list actually got a big boost from a game it had nothing to do with in Week 3.
As soon as Stanford beat USC, the door opened right up for Oregon to capture its fourth consecutive Pac-12 championship. The Ducks would have been able to take care of business on their own since they have games against both those teams later this year, but now they can just solidify what a lot of people already thought.
If you want to call the Ducks a finesse team, that is your prerogative. Certainly they can't match the power of the top two teams in the SEC, but they can run with anyone in the country. Chip Kelly has done a masterful job turning this program into a consistent BCS contender.
| DATE | 2012 RESULTS/REMAINING SCHEDULE |
| --- | --- |
| Sept. 1 | def. Arkansas State, 57-34 |
| Sept. 8 | def. Fresno State, 42-25 |
| Sept. 15 | def. Tennessee Tech, 63-14 |
| Sept. 22 | vs. Arizona |
| Sept. 29 | at. Washington State |
| Oct. 6 | vs. Washington |
| Oct. 18 | at Arizona State |
| Oct. 27 | vs. Colorado |
| Nov. 3 | at USC |
| Nov. 10 | at California |
| Nov. 17 | vs. Stanford |
| Nov. 24 | at Oregon State |
Justin K. Aller/Getty Images

Georgia Bulldogs
I think the offense has finally caught up to the defense, thanks in no small part to quarterback Aaron Murray. The fact that the Bulldogs avoid both Alabama and LSU can only increase their chances.
West Virginia Mountaineers
The best thing that could have happened to West Virginia was getting out of the Big East. The Mountaineers do have to play Texas, Kansas State, TCU and Oklahoma in a six-week span starting next month, but Geno Smith looks like a man on a mission.
South Carolina Gamecocks
Steve Spurrier's team is still searching for an answer at quarterback, but Marcus Lattimore is showing no ill effects from his knee surgery, and the defense is running all over the place. A three-game stretch with Georgia, LSU and Florida will determine the fate of the Gamecocks.
TCU Horned Frogs
There are a couple of Big 12 teams ranked ahead of TCU right now, though that can easily change in November when the Horned Frogs end the season with West Virginia, Kansas State, Texas and Oklahoma.
USC Trojans
I am not completely giving up on the Trojans yet for two reasons:
One, Stanford still has a really good football team, and it was a road game for USC.
Two, the Trojans have marquee games against Oregon and Notre Dame left. They have to run the table, but it is far from over for this team.