WWE Night of Champions 2012: Preview and Predictions from B/R's Evolution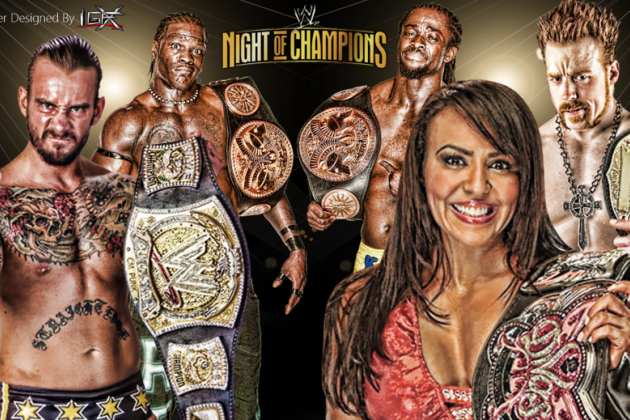 Night of Champions 2012
In mere hours, WWE presents its sixth annual Night of Champions pay-per-view event, live from the TD Garden in Boston, Mass.
Since its inception, Night of Champions has always been one of my favorite pay-per-views on WWE's annual event schedule. Its theme consists of every active championship in the WWE being up for grabs, which means almost anything is bound to happen.
For the first time since last year's SummerSlam event, John Cena will battle CM Punk for his WWE Championship live on pay-per-view. The night will also see Sheamus defend his World Heavyweight Championship against Alberto Del Rio (again) and a handful of other title bouts.
This year's installment will feature a variety of highly anticipated matches, solid action and a sure sense of unpredictability, making this month's prediction piece all the more difficult to construct.
Although we were absent for last month's SummerSlam, the past, present and future of Bleacher Report have since returned better than ever better to help me analyze tonight's electric pay-per-view with their intelligence on all things wrestling.
Without further ado, please allow me to introduce the recognizable talent of SiD, Daniel Massey and Nate Scaccia, otherwise known as the Evolution of Bleacher Report, for the most jam-packed prediction article ever conducted!
Begin Slideshow

»
Who will challenge Antonio Cesaro for the United States Championship?
GSM: I'm liking the approach they're taking with this match by announcing it on Raw and furthering it on SmackDown. Although Santino Marella utilizing his rematch clause for the United States Championship here would've made sense, it saves up from seeing Marella on pay-per-view yet again. That being said, I hope Santino doesn't win here.
My picks range from a returning Ted DiBiase to Zack Ryder to Christian to even Big Show, but I'll have to go with Tyson Kidd after what transpired on Friday night. Regardless of who wins the battle royal, I definitely see Antonio Cesaro leaving Boston still the United States Champion.
SiD: For those who don't know, usually, a 30-minute pre-show takes place right before the actual show with a special attraction match. For Night of Champions, we have a small Battle Royal, in which the winner will get a title shot against Cesaro later in the show.
While this is extremely unpredictable, I'm going to take a wild guess and predict that Santino Marella wins the Battle Royal and faces Cesaro later in the show. Santino and Cesaro have a long history, and thus it will make for a good match.
Once again, while this is extremely hard to predict, I have to make a prediction here. Antonio Cesaro, WWE's newest entity, has been impressing one and all with his flashy wrestling move-set and his knowledge of five languages. Also, he has Aksana by his side, who guarantees distractions for Cesaro's opponents.
As I predicted before, I think that Marella will be the victor of the Battle Royal, and thus, he will face Cesaro here. This will be a short, 10-to15-minute match, with Cesaro retaining his precious gold, much to the dismay of the WWE Universe.
Massey: This battle royal is an easy way out for the WWE. They have failed to set a contender up for Antonio Cesaro's US title, so they are just shoving a load of wrestlers in the ring that have nothing to do and one will get the chance to fight on the PPV.
I'm hoping it will be Tyson Kidd. Tyson Kidd is a hell of an athlete who just cannot seem to get a break on mainstream WWE television.
It doesn't matter how the WWE book him; he is still regarded as an unimportant, low-card wrestler. A man who has such technical prowess should be given a chance to get his hand on a WWE championship.
The U.S. title, which is arguably the lowest ranked title in the business at the moment, would be the perfect for the guy. He is small, and I don't expect him to ever get any higher than this championship, but that is not taking away from the guy's amazing skills in the ring.
It would be brilliant to utilise the US championship as a surrogate Cruiserweight championship. I wrote this before I watched SmackDown, and after watching it just now, I am happy to see Tyson Kidd challenge Cesaro for that title—this hopefully means he will win the Battle Royal. I pray it isn't the Funkasaurus.
It depends who wins the Battle Royal on who I pick. If it is Tyson Kidd as I predict, I think Cesaro will lose as he doesn't need the U.S. title really, nor does it suit him.
Scaccia: Winner will more than likely be Brodus Clay. Possible winners could be Santino or Tyson Kidd, but Brodus is my favorite.
Overall Consensus: Kidd-2, Marella-1, Clay-1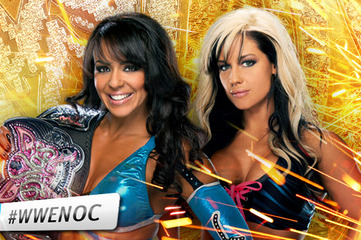 Divas Champion Layla vs. Kaitlyn
GSM: I'm glad they've built some sort of story around the Divas Championship in the last month, even if it hasn't been all that great.
Nonetheless, Kaitlyn is a fresh face whose in-ring skills are slowly improving, so I, for one, am happy to see her getting a shot at the title.
After all the momentum Eve has gotten in recent weeks, I wouldn't be surprised to see her entered into this match, and if she is, I expect her to win. If not, then I'll predict Layla to successfully retain here.
SiD: Layla, the current Divas champion, has had a marvelous run on the top of the food chain. Since returning from injury, Layla has been unstoppable as she, like the other champions, is on top of her game. After defeating the likes of Eve, Alicia and more, Layla is alone at the top, as she waits for competition, but not anymore.
Kaitlyn, regarded as the hottest diva in WWE today, is set to combat Layla for her beautiful butterfly. This match might not last long, but judging by the talents of the competitors involved, this match can sure be one of the best divas matches we've ever seen.
As far as the winner goes, I predict Kaitlyn defeats Layla in shoddy fashion to win her first ever Divas championship!
Massey: I don't really care for this match. The Divas division is the last remaining section of the WWE roster that needs improvement. If they have managed to revive the tag team division, they should not find it difficult to revive the Divas division. The Divas on NXT are much better than those on mainstream television.
Erm...Layla will retain. Next.
Scaccia: Since Kaitlyn winning the Divas Batte Royal was a mistake, I think Layla retains. Eve will be the next in line diva for the belt, and she can begin feuding with Layla. Eventually, Eve will win the championship.
Overall Consensus: Layla-3, Kaitlyn-1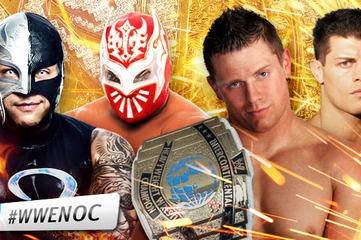 Intercontinental Champion The Miz vs. Rey Mysterio vs. Sin Cara vs. Cody Rhodes
GSM: I've been loving the way they've built up over the last month, but it's a shame they waited until the last possible minute to make the match official for Night of Champions.
Nonetheless, it should be a fun contest and will probably open the show. Sin Cara isn't championship material, so he won't be winning, but it'll be interesting to see him clash with Mysterio.
Speaking of Mysterio, he's had far too many injuries to win a title this stage in his career. Rhodes shouldn't be brought back down to Intercontinental title level, which leaves Miz to retain since he's only had the belt for only two months.
SiD: The loudmouth, Miz, has been Intercontinental champion ever since the thousandth episode of RAW. After soundly crushing Christian on the show, he has become our IC Champion, as he has defeated every man who came in his way.
But as they say, in the WWE, the challengers never end, and it's the same in this case. A young, talented Mexican is gearing up to face the Miz, and it's none other than the Mexican Sensation, Sin Cara! Also, Cody Rhodes, the American Dream and Rey Mysterio face Cara and Miz, in a Fatal Four Way!
This match is going to be good. I expect this bout to be longer than seven minutes, with Sin Cara somehow managing to pick up the all-important victory and the IC Championship.
Massey: This was an extremely good decision by the WWE, and it was only made Friday night! The Miz will face three men who are involved in their own little rivalry surrounding masks. If they all distract each other, the Miz could escape with his title here and he probably won't have to do a lot of work.
The Miz probably has the biggest beef with Cody Rhodes after he was blindsided on Monday Night Raw. However, Mysterio has also pinned the Intercontinental Champion.
If Miz is to lose his title on Sunday, then I would hope that it is to Rhodes as he put in a lot of groundwork to make that Championship prestigious again. If either of the luchadores gets their hands on it at this stage, I fear that it may have all been in vain.
The Miz and Rhodes are the only superstars suited to the title at the moment, but I believe The Miz is due a win.
Scaccia: I think Miz retains here. Taking the belt off him this quickly would only start to devalue the belt again. I think Rhodes has done everything he possibly can with the IC championship, so it would just be a re-write to give it to him.
Sin Cara and Mysterio should be feuding with each other soon. Adding this belt to the feud would only complicate things. Miz will hold the belt until a credible rising star needs a push.
Overall Consensus: Miz-3, Cara-1, Rhodes-0, Mysterio-0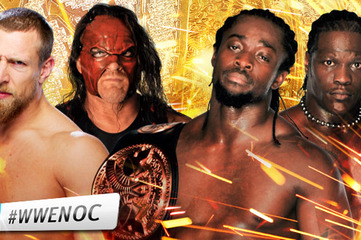 WWE Tag Team Champions Kofi Kingston and R-Truth vs. Daniel Bryan and Kane
GSM: Without a shadow of a doubt, Daniel Bryan has been the most entertaining act in WWE throughout the course of 2012, and throwing Kane into the mix has made it even more hysterical.
I wasn't a major supporter of them feuding, but I am extremely excited to see them forming a tag team together. Their in-ring styles should mesh nicely and will make for a nice match.
Kingston and Truth have been boring champions since capturing the titles in April, so I think this is where they finally drop the straps. Team Friendship could bring back interest to the dying division, especially if it meant Dr. Shelby was their permanent manager.
SiD: On one side, we have the two most athletic superstars in the WWE today, Kofi Kingston and R-Truth, taking on the formidable team of the Big Red Monster Kane, and the "YES-man" Daniel Bryan.
Kingston and R-Truth have been dominating champions, since winning the gold. They have defeated the likes of the Prime Time Playas, Epico/Primo and even the Usos.
Now, they face an unlikely team of Bryan and Kane, who have had their issues in the past but have seemingly put those issues on the back-burner to face these guys.
After being dumped at the altar, Bryan seemingly became angrier and angrier day by day, and thus was put into Anger Management classes, along with the Big Red Machine. Having hard times with Dr Shelby, Bryan and Kane managed to control themselves, and have fought back incredibly against anger.
As far as this match goes, Kane/Bryan vs. Kingston/Truth will be a great match, with both the teams having their moments to shine. In the end, I predict the Anger Management Kane and Bryan to win the match in dominant fashion and win the tag team championships to a huge pop.
Massey: If you'd have asked me one or two months ago, I would never have predicted that Kane and Daniel Bryan would make such an amazing team. This anger management skit has been extremely successful in my eyes, and the fragile relationship between Daniel Bryan and Kane could prove extremely interesting on Sunday.
I think they will take the titles from Kofi Kingston and R-Truth, because let's face it, they haven't made much of an impact since gaining the titles and I figure they were set to lose to the Prime-Time players before AW was released from his contract.
With Kane and Daniel Bryan taking their place until they can make an impression without AW, I believe the tag team titles can only grow in prestige as they will be featured on television more often and hopefully defended more often.
Scaccia: I am really hoping Kane and Daniel Bryan win here. I think both superstars deserve a championship, and they are both working together well with their storyline. Finally, comedy and wrestling that is actually good. I'll go with Kane and Bryan.
Overall Consensus: Bryan/Kane-4, Kingston/Truth-0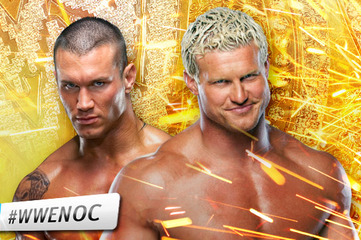 Randy Orton vs. Dolph Ziggler
GSM: The build-up to this match has been pretty standard, but also one-sided as well. Sure, Ziggler was able to score a (fluke) victory over Orton on Raw a few weeks ago, but that was just about all the momentum Ziggler has gotten up to this point.
Don't get me wrong, these two will presumably have a fantastic match per usual, but I'm afraid the Viper might go over here. He has nothing to gain, whereas Ziggler could really use the win going into his eventual run with the World Heavyweight Championship.
Therefore, Ziggler is my pick to win for this contest.
SiD: This is a perfect case of the present facing the future. The Apex Predator of the WWE, Randy Orton is set to battle the future, the Show-Off, Dolph Ziggler in a five-star match.
Dolph Ziggler has come a long way after being in the Spirit Squad. He is the current SmackDown Money in the Bank winner, and he was the man who sent Chris Jericho packing.
Also, Randy Orton has a long history with injuring people. These men have a long history, and their feud culminates at Night of Champions, where their credibility is on the line. Is Dolph Ziggler really as good as he thinks he is? Or is Orton going to RKO Dolph out of nowhere? We'll find this out on Sunday.
As far as this match goes, it has the potential of being a five-star match, with Dolph Ziggler and Orton putting their best foot forward. As far as my prediction goes, I expect Orton to pick up a victory here, to set him up for the World Title in the future.
Massey: This match will be extremely refreshing in an event that revolves around title matches. I love watching Dolph Ziggler. The man rarely puts a foot wrong in the ring. He is extremely impressive, and he is destined to make the top of the mountain one day.
Beating Randy Orton will do nothing but help this quest. I think the Show-Off will win as I think it will be better for extending the feud, especially after his win over Orton on Raw.
Randy Orton doesn't seem as bothered about putting people over if it is for the good of the company anymore. Everyone knows Randy Orton could become champion anytime he desires as he is used to being in the spotlight.
However, Ziggler is in the process of being built ready for his Money in the Bank cash-in. Beating Orton will, in my eyes, show that Ziggler is ready to carry the championship although I would like to see him cash it in at the Royal Rumble against Wade Barrett.
Scaccia: Orton has looked really dominant, but Ziggler must get a win here or he will practically be pushed back down to midcard level. Great match. Both stars will shine, and Ziggler will steal the win.
Overall Consensus: Ziggler-3, Orton-1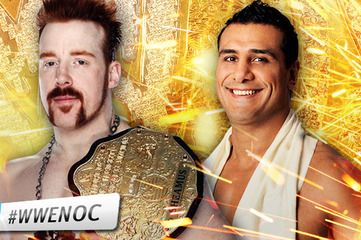 World Heavyweight Champion Sheamus vs. Alberto Del Rio
GSM: Needless to say, this feud has stretched on far too long by this point. Unlike Christian during his feud with Randy Orton last summer, Alberto Del Rio has yet to defeat Sheamus in any meaningful match. Don't get me wrong, all of their matches together have been good thus far, but the ending result is never in doubt.
The recent banning of the Brogue Kick hasn't done much to help the feud either since Sheamus has still looked strong without having to use it.
If Del Rio doesn't score at least one win in this never-ending feud, then it'll be completely pointless, so I expect the Mexican Aristocrat to finally win the belt here with some help from Ricardo Rodriguez and/or David Otunga.
SiD: For the third time in a row, Alberto Del Rio has received a World Heavyweight Championship shot. A man of royalty and class, Alberto Del Rio has always fell short in his matches against the the Celtic Warrior, but this time, he proclaims to change his destiny, and finally win the big one.
Sheamus, on the other hand, has been World Champion since WrestleMania 28 and is having a strong reign.
He has defeated the likes of Daniel Bryan and Dolph Ziggler and is continuously climbing the ladder to success. Since the Brogue Kick has been banned, Sheamus has no other option. Being clever, he has three different finishers he can use, but none are as effective as the Brogue Kick.
Their match will be the opening bout, in my humble opinion, and last about twenty minutes, with the obvious result: Sheamus wins, and Del Rio is steamrolled into obscurity.
Sheamus will then go on to be a dominant champion and might hold the title till next year's WrestleMania.
Massey: Sheamus really had better win this match and put this feud to bed. I'm not going to lie, Alberto Del Rio has become a lot more charismatic in the ring, but his promos still make me want to stick a needle in my eye.
I would like to see Alberto Del Rio take a back seat for a while. I don't think he would be able to carry the World Heavyweight Championship, and I would like to see Dolph Ziggler or Randy Orton or even Wade Barrett challenge for the championship next.
Barrett would probably make the most sense out of that small selection as he has just returned from injury, and matches with him and Sheamus would be absolutely fantastic. The two big brawlers would make for a great main event at Hell in a Cell and Survivor Series.
I expect Alberto Del Rio and Sheamus to put on a decent match, but Sheamus will retain despite not being able to use the Brogue Kick.
Scaccia: No way Sheamus loses here. Brogue Kick is banned, but Sheamus has been using one of my favorite submissions lately, the Texas Cloverleaf, to achieve victory. Del Rio and his posse of injured superstars will continue to pick on Sheamus, maybe leading to Wade Barrett eventually feuding with Sheamus.
Finally, Ziggler cashes in and wins. Sheamus and Barrett go off and do their own thing while Ziggler becomes a transition champion and loses a few months later.
Overall Consensus: Sheamus-3, Del Rio-1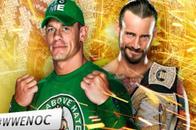 WWE Champion CM Punk vs. John Cena
GSM: Although the first few weeks of the buildup to this match felt insignificant, their recent promo this past week on Raw is what really got me excited for the match. Given their storied past together, this match should be treated as a major deal, especially given the stipulations attached.
CM Punk has been WWE Champion for over 300 days, John Cena hasn't held the belt in nearly a year, and the event is emanating from Cena's hometown of Boston.
All that being said, this match will undoubtedly be closing the show. Despite originally predicting that Cena will regain the title here, I have a feeling the Straightedge Savior will somehow pull out the victory to garner major heat from the pro-Cena crowd, whether it be from the help of Paul Heyman or whatever.
SiD: In what can be officially called the best match on the card, the WWE Champion faces the face of the WWE, John Cena, in a match where two things are on the line: the WWE championship and respect.
For CM Punk, respect is a driving force. But John Cena firmly believes that respect should be earned, not demanded.
A man who's been in the WWE since 2001, John Cena has worked his way to the top in order to receive respect from his peers and bosses, and while CM Punk is more talented than Cena, Punk feels that he's been neglected, and he will prove to his haters that he deserves respect.
As for the match, I predict that unlike other CM Punk matches, this bout will be the main event, and it will last a good 30 to 40 minutes, with the current WWE champion, CM Punk retaining his WWE championship in a valiant effort.
Massey: CM Punk vs. John Cena again. However, this doesn't feel repeated to me. They have managed to keep it fresh, showing that repeated feuds can work if they are handled properly. Punk has been trying so hard to be a heel, but I can't help but still cheer him along with most of the WWE Universe.
I would like to think CM Punk will gain a win over John Cena and keep the title until the Royal Rumble where he can face The Rock. I believe that Punk will find Cena a tough challenge, but he will look more in control than he did do a year ago—he will have to or else it will look like he hasn't improved since he first became WWE Champion.
I also wonder whether we will see a new WWE Championship debut at this event. We know it has been in development, and Punk bringing it out on Sunday would make perfect sense and give the match a little more weight and tension. I think the match will steal the show, and due to the amount of hype, the crowd should be hot for it as well.
Scaccia: Great build for this match. On Raw, Cena had his best promo of the year, in my opinion. He really helped drive home the idea that Punk has left all of his fans down. Cena looked really strong after that, and Punk looked really weak.
This is exactly why I am picking Punk to retain. Punk just added Paul Heyman to his resume; there is no way he is losing with Heyman now in the storyline. Also, Punk has been mocking The Rock a lot lately, even using the Rock Bottom in his Steel Cage match with Jerry Lawler.
Punk wins, and the storyline continues, eventually leading to a Punk/Rock matchup.
Overall Consensus: Punk-4, Cena-0
Overall, this year's Night of Champions installment looks to be excellent in a night filled with unpredictable outcomes and exciting action. Following last year's lackluster event, I'm confident that tonight's show will exceed expectations and prove to be one of the more enjoyable events of 2012 thus far.
With eight matches confirmed for the card, I don't expect to see many filler bouts (if any at all) on the show. Of course, don't be surprised to see Ryback make an appearance, squashing whoever may cross his path.
Almost every match advertised for the show has the potential to be great, so I'm hoping it sure doesn't disappoint. Since WWE Television has been at its best since the start of September, my fingers are crossed that they keep up their major momentum going forward as well.
I'd like to thank SiD, Daniel Massey and Nate Scaccia for collectively participating in my Night of Champions preview. All of them put in valuable time and thought into making their respective predictions.
Drop a comment with your thoughts going into the Night of Champions event, and be sure to tune in Sunday night for a night filled with challengers, defenders and champions!
GSM out.
Visit my website at Next Era Wrestling, and listen to my SAVE US GSM radio show every Wednesday night at 10/9c for more of my thoughts and writings, along withWWE/TNA news, reviews, recaps and more.
Listen to internet radio with Spoilerspodcast on Blog Talk Radio