Florida Football: 10 Things We Learned from the Gators Win vs. the Volunteers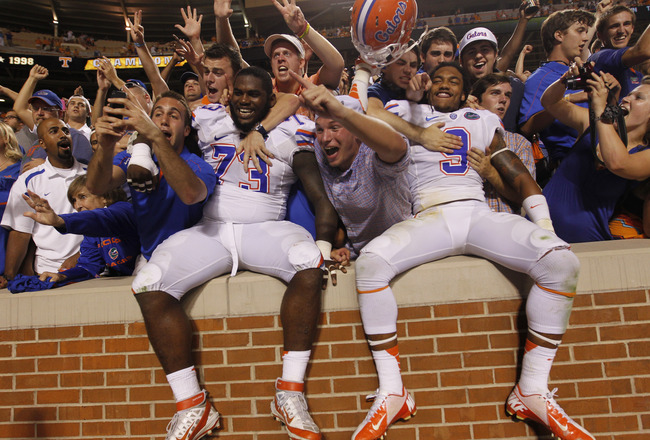 John Sommers II/Getty Images
The 2012 Florida Gators are full of surprises.
They came out flat and merely survived against a team in Bowling Green that they should have run off the field. Fans everywhere were preparing themselves for another long season and there was still unease about the quarterback situation.
The Gators followed that up with a lackluster first half at Texas A&M. Through six quarters the Gators looked like the same team making the same mistakes as they did a year ago. Then they came out for the second half and shut the Aggies out in their stadium, and came away with win number two.
The Gators looked alright but were hurting themselves with penalties against Tennessee in the first half. They entered the locker room at halftime trailing for the second week in a row.
Whatever Will Muschamp is saying to his team at halftime is working. The Gators came out, held the Vols to just six points in the second half and won the game 37-20.
This team is growing up and learning how to win, but what did we learn about the Gators after their 37-20 victory in Knoxville? Let's find out.
10. Penalties Continue to Be an Issue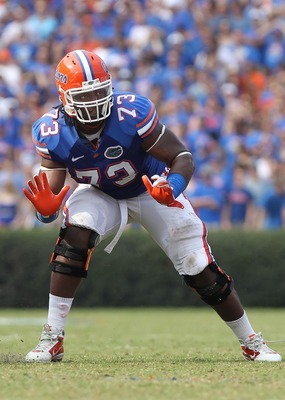 Kim Klement-US PRESSWIRE
Alright, let's get the negative out of the way.
Florida had nine penalties for 59 yards.
Xavier Nixon was called for two separate personal fouls. That is something that should never happen from a four year starter on the offensive line. ESPN cameras got a good view of Muschamp letting Nixon know how he felt about those penalties on the sideline.
The corners struggled to contain Tennessee's two, tall, physical receivers and were penalized with a couple of holding and pass interference calls. Some of that can be brushed off due to the tight man-to-man coverage Muschamp asks his cornerbacks to play and there really wasn't a good pass rush in the first half.
The coaching staff will continue to harp on playing smart football and the team should continue to get better and decrease the penalty totals.
9. The Gators Are a Much Deeper Team Than a Year Ago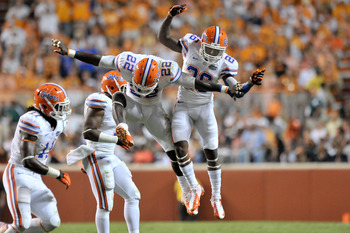 Jim Brown-US PRESSWIRE
The injuries to Chaz Green, Jelani Jenkins and Cody Riggs would have crippled the 2011 Florida Gators. After just two recruiting classes Will Muschamp has already improved the depth of his football team.
For as critical as I was of Kyle Koehne during the week, he played a good game against Tennessee.
Filling in for Riggs was made a little easier by the return of De'Ante "Pop" Saunders, and the secondary stood tall, especially in the second half, against a very explosive Tennessee passing attack.
The two interceptions were a sight for sore eyes.
Filling in for Jelani Jenkins would have seemed to be the biggest task for the Gators. Jenkins has developed into a leader on the defense and it is hard to replace what he means to the team. With that said, Antonio Morrison played an outstanding game. Morrison has played so well in Jenkins' absence that you really don't notice a drop in the level of play from the Will linebacker.
Morrison is not playing like a freshman, and is a player Gator fans should be getting excited about.
8. Trey Burton Finds a Place in Any Offense
John Sommers II/Getty Images
Somebody forgot to tell Trey Burton the Gators weren't playing Kentucky this week.
The junior ran the ball three times for 91 yards, two touchdowns and caught two passes for 38 more yards.
Burton's versatility amazes me. He has gone from calling plays as the wildcat quarterback, to playing everything from receiver to tailback, to full back to tight end.
Oh yeah, he also volunteered to be on special teams and has made several tackles on that unit as well.
This guy is the ultimate team player and a jack of all trades. No matter what offensive scheme he is put in and no matter where you line him up, he's making plays that change the course of football games.
His 80 yard touchdown run shifted the momentum of the game in Florida's favor, and he was also responsible for the Gators' first touchdown of the game.
7. Antonio Morrison Is the Real Deal
John Sommers II/Getty Images
Antonio Morrison is a big, strong, physical linebacker who is playing like anything but a true freshman.
Filling in for Jelani Jenkins is no easy feat, but the freshman was inserted into the lineup last week and he hasn't missed a step.
Morrison is a sound tackler and has shown some ability in coverage. The more he plays the more confident he will get. The sky is the limit for this young linebacker.
6. Mike Gillislee....Still as Good as Advertised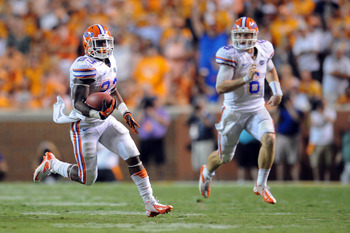 Randy Sartin-US PRESSWIRE
This may become a weekly slide, Gator Nation probably hopes it does.
Mike Gillislee is living up to the lofty goals and expectations he set for himself at SEC Media Days.
Gillislee has rushed for 346 yards and four touchdowns in three games. He's averaging 6.17 yards per rush and is the force that drives the Gators offense. While Gillislee didn't seem to be at full speed after injuring his groin against Texas A&M, he was still able to carry the ball 18 times for the Gators.
Gillislee should be able to get a little rest against Kentucky next week, and Florida has a bye the week after that.
Keeping Gillislee healthy should be the Gators goal and if he is healthy, I'll be reserving a spot for him in this weekly article.
On top of Gillislee running for over 100 yards again, the Gators were able to amass 355 yards on the ground. That's a ton of rushing yards.
During the now eight game winning streak over Tennessee, the Gators have out gained the Vols on the ground by 758 yards.
5. Will Muschamp Can Coach 'Em Up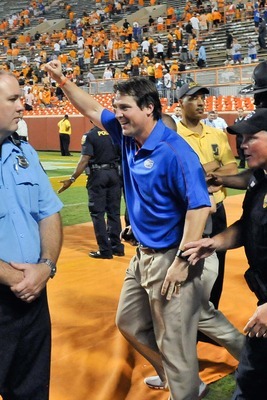 Jim Brown-US PRESSWIRE
Two weeks in a row the Gators entered the locker room at halftime behind in the ball game. Both of those first halves could be described as lackluster and mistake filled.
The Gators came out of the locker room a changed football team in both games. Whatever Muschamp is saying at halftime, he should try a little of that before the game.
The Gators are making halftime adjustments and executing brilliantly in the second half of games. If Florida can put a full game together, this team could have the potential to play with just about any team in the country.
4. The Gators Showed Some Big Play Ability
John Sommers II/Getty Images
During the Gators championship runs there were players like Percy Harvin, Brandon James, Tim Tebow, Riley Cooper and Louis Murphy, who you felt could score on any play. The Gators had lightning in a bottle and they could strike from anywhere on the field, at any time.
You saw a little bit of that from this Gators team against Tennessee.
Jeff Driskel hit Jordan Reed on a 23 yard strike with defenders in his face. Frankie Hammond took a pass 75 yards and a massive stiff arm to the end zone. Trey Burton took a wildcat snap and scampered 80 yards for his second score of the game.
It may be just for a night, but on Saturday night the Gators looked like they had some of that old magic back.
3. Brent Pease Is Opening Up the Offense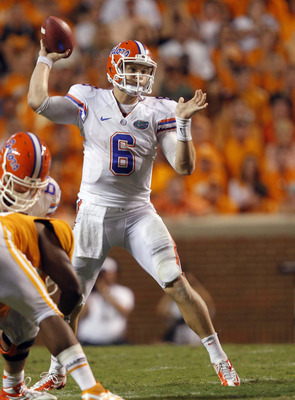 John Sommers II/Getty Images
The Gators were accused of "showing nothing" against Bowling Green by Kevin Sumlin. They showed a little more against the Aggies and even more against Tennessee.
Jeff Driskel played his best game of the season by far Saturday night, and that will undoubtedly give his coach the confidence to continue opening up the playbook.
This offense already looks much better than what Gator fans had been watching the past two seasons under Steve Addazio and Charlie Weis.
I'm sorry for mentioning Steve Addazio.
2. The Defense Has the Potential to Be One of the Best in the Nation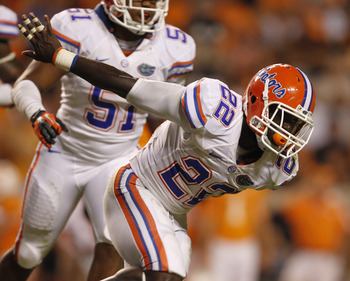 John Sommers II/Getty Images
If the Gators defense can put four quarters together, watch out.
While the Gators allowed 257 passing yards, they forced Tyler Bray to throw the first two interceptions of his season, and should have forced a couple more. The pass rush was able to get pressure on Bray in the second half, and the Gators held the Vols to just 83 yards rushing on a three yard per carry average.
The unit took a couple hits with the loss of Jelani Jenkins and Cody Riggs, but they didn't miss a beat against Tennessee.
1. Jeff Driskel Is Growing Up Before Your Eyes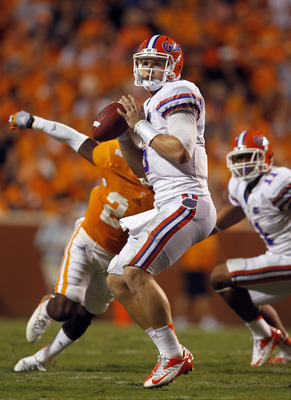 John Sommers II/Getty Images
The Gators quarterback competition took a toll on Gator fans. The fan base seemed to be split between both quarterbacks and formed "Team Driskel" and "Team Brissett."
If there are any Jacoby Brissett guys leftover, they need to get behind the Gators starting quarterback because he is maturing with every snap.
Driskel was given more of the offense to run than he had the previous two games, and he excelled. Driskel finished the day 14-of-20 passing for 219 passing yards and two touchdowns. He added 81 rushing yards on top of that.
Driskel looked calm in the pocket, was able to go through his progressions and make quick decisions. When the pocket collapsed or he didn't have an open receiver, Driskel was able to scramble for extra yards and make plays with his feet. He should have the green light from the coaching staff to take off whenever he feels he can make a play with his feet.
Driskel progressed as a passer a lot in this game as well. The touchdown pass to Jordan Reed showed great maturity as Driskel hung in the pocket with two defenders in his face and put the ball where only Reed could go catch it.
Driskel is showing you a little more with each offensive series that the coaching staff made the right choice when they named him Florida's starting quarterback.
Keep Reading

Florida Gators Football: Like this team?