Notre Dame vs. Michigan State: Live Scores, Analysis and Results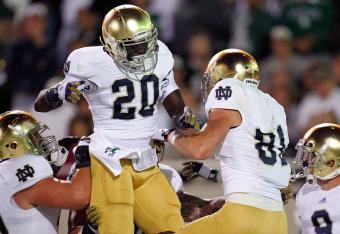 Score: Notre Dame 20, Michigan State 3 (FINAL)
Good evening college football fans. Tim Bielik here and we will be looking live at Spartan Stadium in East Lansing, Mich. as the Notre Dame Fighting Irish take on the Michigan State Spartans.
Everett Golson had a rushing and passing touchdown already and the Irish defense was strong, allowing the Irish to take a 14-0 lead. Dan Conroy hit a 50-yard FG to get Michigan State on the board late in the first half.
Notre Dame's defensive line was great as well, as they sacked Andrew Maxwell three times in the first half.
Feel free to get involved in this game either by commenting at the bottom or by Tweeting at me @bielik_tim.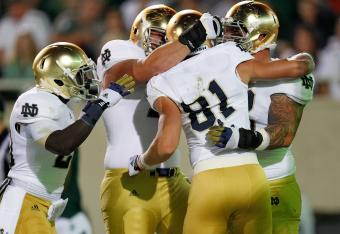 It's all over in East Lansing as the Irish physically dominate the Michigan State Spartans 20-3.
Tonight's gameball goes to the Michigan State defense, holding Michigan State to just 50 yards rushing and only three points. The defensive front stole the show and is a group that will be watched for a long time.
More than anything, it looked more that Notre Dame won this game rather than Michigan State losing it.
Is Notre Dame back? We will see next week when they host Michigan.
Until next time, Tim Bielik for Bleacher Report signing off saying goodnight and enjoy the rest of the football weekend on an NFL Sunday!
And so begins the mass exodus of Spartan fans to the exits, likely stunned as to what they have just seen. Notre Dame holding Michigan State to just 3 points and just 50 yards rushing is as unexpected an outcome as you could have had in this game.
Much credit goes to defensive coordinator Bob Diaco.
A "Let's Go Irish" chant can now be heard through the stadium.
That last play, Stephon Tuitt teeing off on Andrew Maxwell, sums up the entire night for Michigan State. Their offensive line has been horrible and hasn't helped Maxwell get comfortable at all tonight.
Kyle Brindza drills yet another field goal, this one from 47 yards out and that clinches it for the Irish, who now lead 20-3 with just over 3 minutes left in this game.
It's official: Manti Te'o has his first career interception and Tommy Rees will come in to finish the game for Notre Dame. And to make it sweeter for Irish fans, USC just lost at Stanford 21-14.
That should do it, folks. Michigan State tries a checkdown on 4th down but it obviously goes nowhere and the Spartans turn it over on downs. Notre Dame is going to go to 3-0 for the first time in a decade. What a job Brian Kelly has done up in South Bend.
That's been what the MSU passing game has been reduced to all night: only two passes further than 20 yards all night long. That has to change at some point, but Andrew Maxwell just has no time to find a guy that far down the field.
Mission accomplished for the Spartan defense as they force a field goal attempt. Golson smart to throw the ball away and save Kyle Brindza a few yards. And the kick from 29 yards is...GOOD.
Notre Dame 17, Michigan State 3
MSU takes a timeout with a 3rd down inside their red zone. They have to force a field goal to even have a chance to tie this game. A touchdown by the Irish pretty much ends this game.
Cierre Wood converts 4th-and-1 and might have put this game away. Another Irish touchdown all but ends this game, especially with how tough it's been for Michigan State's offense all game long.
The fact that Notre Dame is now only 1 of 11 on 3rd down is really the only reason Michigan State even has a fighting chance left in this game.
The Irish have moved back into Michigan State territory and they are going for the kill, rather than waiting for Michigan State to do something offensively. Have to admire the killer instinct Brian Kelly's team is playing with.
Cierre Wood has single-handedly taken Notre Dame from danger territory to one first down from midfield. He looks like he's ready to put the dagger into this game.
Michigan State goes 3-and-out yet again as they just aren't able to give Andrew Maxwell enough time to throw routes beyond the sticks. That front four for Notre Dame has kept Michigan State from doing much of anything all day long.
The funny thing about this game is that ND is only outgaining Michigan State by 5 total yards of offense. The difference has been that the Irish have finished their drives with points, and Michigan State just hasn't done that.
The Spartans are at their 34 after a not-so-good punt from Ben Turk. Someone on Michigan State needs to step up on offense big time. But that's been easier said than done tonight.
Darqueze Dennard being helped off the field for Michigan State. With the way this game has been going, this is a loss they can't afford if he's out for a significant portion of this game.
Following a punt, Michigan State called for pass interference and the Irish now closing in on midfield once again. It just doesn't look like Sparty's night.
And we are off to the fourth quarter with Michigan State facing a critical third down trailing the Irish 14-3. No scoring since Dan Conroy's 50-yard FG with 3:43 left in the 1st half.
Everything they've showed on TV looks like it should stand and indeed it does. Humongous call in favor of the Spartans.
Michigan State still struggling to do anything offensively and now time is running out. Keith Mumphery just pulled off an amazing catch on the sideline that looks like a completion. It's under further review and if it stands, that gets Sparty out of a big hole as the 4th quarter looms.
And we have another Sun Belt team beating an SEC team as Western Kentucky tops Kentucky 32-31 in OT thanks to a double pass on a two-point conversion. The SBC has officially taken over.
Tyler Eifert is closing in on three quarters without a catch for Notre Dame. Very stunning considering the type of player that he is. And Sparty called for roughing the kicker as they went all out on a punt block and missed. Ben Turk the punter hurting for Notre Dame.
Bell with a big hurdle of a Notre Dame's Zeke Motta draws the largest applause from the home crowd for this offense all game.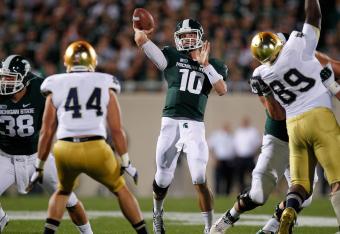 Maxwell now has this offense moving as they're picking up the tempo. With the way their D has stepped up, an up-tempo attack would be a smart decision right now to grab momentum.
This article is
What is the duplicate article?
Why is this article offensive?
Where is this article plagiarized from?
Why is this article poorly edited?

Notre Dame Football: Like this team?