Oakland Raiders vs. Miami Dolphins: Live Score, Analysis for NFL Week 2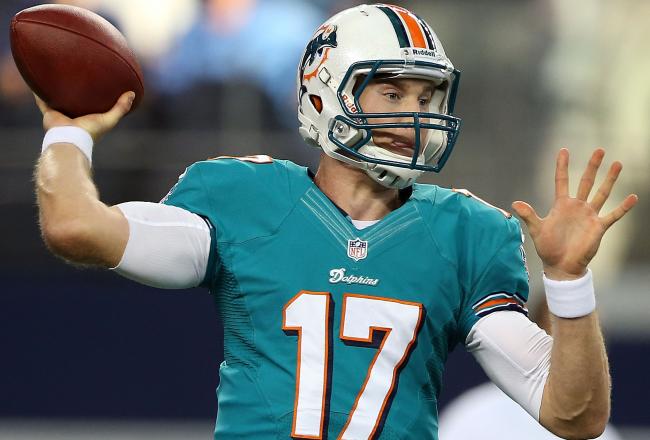 Ronald Martinez/Getty Images
Ryan Tannehill and Joe Philbin couldn't have asked for a better home debut—even if it was in front of a depressing crowd of just 54,245.
The Miami Dolphins toppled the Oakland Raiders by a score of 35-13.
After an ugly, sloppy and tightly-contested first half, the Dolphins pulled away thanks to the otherworldly efforts of Reggie Bush and Lamar Miller, who combined for 237 rushing yards on 36 carries. As a whole, the Phins accrued 257 rushing yards on 42 carries.
Ryan Tannehill was at his finest in the fourth quarter, when he tossed his first NFL touchdown pass and looked in sync with Davone Bess and Brian Hartline.
The Raiders, meanwhile, failed to generate offense throughout the afternoon.
Carson Palmer completed 24 of 48 passes for 373 yards, but failed to generate a consistent offensive attack. Also, Darren McFadden was thwarted by Miami's front seven. He managed just 22 rushing yards on 11 carries, and caught just two passes.
Overall, this was a dominant effort by the Dolphins that suggests they might not be as bad as advertised, and the Raiders may, in fact, be as bad as advertised.
Final Score: Dolphins 35- Raiders 13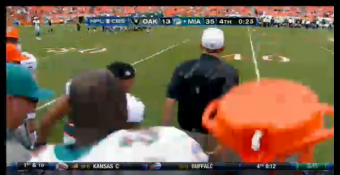 Philbin gets the gatorade bath!
Tannehill: 18 of 30, 200 yards, 1 TD (plus 1 rushing TD), 91.0 passer rating, 1 pass tipped at line of scrimmage
— Ben Volin (@BenVolinPBP) September 16, 2012
4th Quarter - 2:20
On third-and-eight, Lamar Miller slips through a crack for a 20-yard gain, putting the Dolphins over the 250 yard rushing mark.
Miller was inactive last week, but he earned himself a permanent spot on the active roster today. He has accrued 65 rushing yards and one touchdown on just 10 carries.
When Daniel Thomas returns from his concussion, the Dolphins could have a three-headed monster at running back that can help compensate for the passing game's shortcomings.
4th Quarter - 2:35
The Dolphins are relentless.
Reshad Jones intercepts Carson Palmer, giving the Dolphins their first turnover of the season.
Jones enjoyed a great game today, justifying some of the hype he generated this offseason. In total, Jones registered three tackles (one for a loss), one pass deflection and an interception.
Does Joe Philbin deserve a gatorade shower?
4th Quarter - 5:20
TOUCHDOWN DOLPHINS
The Dolphins give Reggie Bush a play off and Lamar Miller picks up where his teammate left off.
Miller breaks off a 15-yard touchdown run for the first TD of his NFL career.
This is the dagger.
Dolphins 35 - Raiders 13
4th Quarter - 7:11
On third-and-one, the Raiders send the house and Ryan Tannehill responds with a beautiful play-action fake and dump off to Reggie Bush, who racks up 25 yards.
Brian Hartline makes his presence felt in running game, laying a key block on Raiders cornerback Pat Lee.
The Dolphins are now inside the redzone and threatening to bury the Raiders for good.
"Reg-gie! Reg-gie!" scream the fans. 161 yards on 23 carries
— Ben Volin (@BenVolinPBP) September 16, 2012
Reggie Bush has already run for 156 yards, second most yards in a game for his career. 203 at BUF last DEC is his career-high.
— Jesse Agler (@finsjesse) September 16, 2012
4th Quarter - 10:38
The Dolphins' defense continues to assert its dominance over the Raiders' defense, forcing another three-and-out. Shane Lechler boots his tenth punt of the afternoon, which is a baffling high number.
With a two-score lead and just under 11 minutes left to play, the Dolphins should start taking chunks of time off of the clock.
Expect to see the Phins keep things conservative on first and second downs, but they won't—or, at least shouldn't—get complacent yet. Mike Sherman should keep the Raiders in check by throwing in a few conservative passing plays.
Dolphins crowd: 54,245. Lowest home-opening crowd since '69. But: Shula's 1st home crowd in 1970 was 54,412 vs Oak. ("A young Don Shula?")
— Dave Hyde (@davehydesports) September 16, 2012
Some interesting notes about Tannehill's first NFL touchdown pass:
As @acohenfins points out, Tannehill's first TD pass to a TE with the number 80. Marino's first career TD pass? To a TE with the No. 80.
— Alain Poupart (@apoupartFins) September 16, 2012
Back to the Tannehill/Marino note. Marino's first TD pass also was against the Raiders.
— Alain Poupart (@apoupartFins) September 16, 2012
On a more depressing note:
Today's paid attendance at the Dolphins-Raiders game is 54,245. Yikes.
— Omar Kelly (@OmarKelly) September 16, 2012
4th Quarter - 11:45
TOUCHDOWN DOLPHINS
Ryan Tannehill completes back-to-back double-digit passes to Brian Hartline and Davone Bess, and then throws his first career touchdown pass to Anthony Fasano.
After a miserable two quarter stretch, Tannehill looks like he's in a groove.
The Dolphins are now in control with just under 12 minutes to play.
Dolphins 28 - Raiders 13
Brian Hartline is having a career day. He just reeled in his eighth reception of the day, and he now has 100 yards receiving for the first time in his NFL career.
The chemistry between Hartline and Tannehill is extremely impressive given how little time they've had to develop a rapport.
4th Quarter - 14:44
Following a Raiders field goal, the Dolphins take over at their own 20 yard-line.
This is a huge test for Ryan Tannehill as he looks to close out his fist NFL victory.
Wow. Replacement refs didn't know the quarter was over. #Dolphins coaches were going wild telling the refs to stop the game.
— James Walker (@JamesWalkerESPN) September 16, 2012
3rd Quarter - 1:16
Brandon Fields boots a 50-yard punt, but Raiders' return-man Phillip Adams breaks a big return and brings the ball to the Dolphins' 25 yard-line.
The Dolphins' special teams coverage units have been very hot and cold today, and it's coming back to haunt the team as a whole.
Tannehill absolutely drilled by Phililp Wheeler on third down. Untouched on a blitz. Lamar Miller blew the pass pro
— Ben Volin (@BenVolinPBP) September 16, 2012
Miller's pass protection inefficiencies are one reason why he can only see a limited role in the offense. Once he becomes a formidable pass blocker, then he can become a regular contributor.
This is the second consecutive week the Dolphins have shut down an elite running back.
Last week, the Phins held Arian Foster and Ben Tate to just 85 yards on 31 carries. Today, Darren McFadden has just 22 yards on 10 carries.
This is not a coincidence.
Not only does Miami boast one of the league's best front sevens, but both Houston and Oakland run zone-blocking schemes. The Dolphins' offense also utilizes a zone-blocking scheme, so this defense is accustomed to practicing against it.
If the Raiders want to get McFadden in a rhythm, then they'll have to mix up their rushing attack.
The Dolphins fans begin to chant "Reggie, Reggie, Reggie" after Bush's 6th 100-yard rushing performance.
— Omar Kelly (@OmarKelly) September 16, 2012
3rd Quarter - 4:15
TOUCHDOWN DOLPHINS
Reggie Bush tears off another huge touchdown run, this one a 65-yard scamper. Bush is playing like a man possessed today. He now has 129 rushing yards on 17 carries and a pair of touchdowns.
The Dolphins' offense may be struggling, but Bush is putting the team on his back and carrying it into the win column.
Dolphins 21 - Raiders 10
3rd Quarter - 6:05
Reshad Jones finally showcases the playmaking ability he displayed in training camp, flying into backfield and forcing a loss of six yards on first-down.
Sean Smith then puts textbook coverage on Denarius Moore on third-down, forcing another Raiders punt.
It's great to see Miami's defensive backs make plays after a disappointing preseason and lackluster Week 1 performance. And, it's even more impressive considering Jimmy Wilson and Richard Marshall are injured.
If Bush's touchdown doesn't convince Joe Philbin to resort back to the running game, then I don't know what will.
The Dolphins now have 101 rushing yards on 22 carries compared to 108 passing yards on 22 attempts.
From here on out, Reggie Bush and Lamar Miller should be the focal points of Miami's offensive attack.
3rd Quarter - 7:57
TOUCHDOWN DOLPHINS
Finally, somebody makes a play.
Reggie Bush breaks four tackles on 3rd-and-1 and flies into the endzone for a 23-yard touchdown run.
Dolphins 14 - Raiders 10
This article is
What is the duplicate article?
Why is this article offensive?
Where is this article plagiarized from?
Why is this article poorly edited?