After losing two games all of the 2011-12 season, Real Madrid have now matched that number this season through just four games into the season.
After another crushing loss, this time to Sevilla, Madrid already find themselves eight points behind Barcelona at the top of the table. Jose Mourinho's team has looked out of place all season, and their performance in the Estadio Ramón Sánchez Pizjuán didn't make anyone think things would get better anytime soon.
Whether it's something on the outside distracting the team, new players failing to gel or the team suffering from a championship hangover, Real Madrid does not look like the team that dominated La Liga last season. Case in point, after shattering the goals scored record last season, Madrid have registered just five goals in four games and that includes three goals against an extremely poor Granada side.
Last season, Madrid scored six goals in the opener, and Cristiano Ronaldo had personally scored seven goals after five games. Throw in Karim Benzema's struggles, Mesut Ozil's lackluster performances, Kaka's inability to get on the field and the continuing inconsistencies on defense. Mourinho faces his biggest challenge during his time at Madrid.
With English champion Manchester City coming into Madrid next week for a big Champions League clash, Mourinho and Madrid don't have much time to analyze what is going on and must solve their problems on the fly.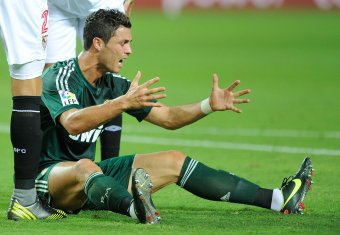 Denis Doyle/Getty Images
Political problems in the front office certainly aren't helping the team either as Madrid seems to be surrounded in a cloud of questions. The best cure for all of these issues would be to win on the field, but at this moment that seems easier said than done for Real.
Whatever the reason behind this extended slump to begin the season is, Mourinho better find out soon otherwise Madrid will be looking at Barcelona hoisting up the La Liga trophy Real worked so hard to attain last season.
An eight point lead isn't insurmountable, especially at this stage of the season, but after watching Real Madrid and Barcelona play over the past three seasons, it certainly begs the question—is the title race already over?