The circumstances of the WWE's Night of Champions is pretty obvious. Five title belts will be on the line, with 10 singles (and two tag teams) competing for pay-per-view glory.
Some champions will emerge victorious from Sunday night's bout and hold onto their title, but others won't be as lucky.
This is a secondary event on the PPV schedule, but that doesn't mean it has to be uneventful. With much larger events looming on the WWE slate, this is a chance to build, at least, a few storylines for the coming months.
I'm expecting a few titles to change hands Sunday night. Let's see which ones.
Tag Team Title
R-Truth and Kofi Kingston currently hold the tag team championship, but newly formed tag team Kane and Daniel Bryan will wear the belts before Sunday night is over.
Kane and Daniel Bryan just make sense here. They are two headline names, and the "new" factor comes into play here. Making things official prior to Night of Champions makes winning a championship the only possible outcome on Sunday.
Kingston and R-Truth have had a solid run, but the tag team division desperately needs a marquee team. It hasn't been given much attention lately, and it deserves to receive more.
Look for Kane and Bryan to start their reign on the right foot by winning the championship Sunday night.
WWE Title
Paul Heyman's presence seems to make a CM Punk loss impossible, but I think John Cena finds a way to get it done in front of his home crowd.
Boston is the perfect stage for Cena to take his title back. Punk's new role as a heel and his alliance with Heyman certainly stacks the deck against the former champion, but it's been far too long since he has worn the gold.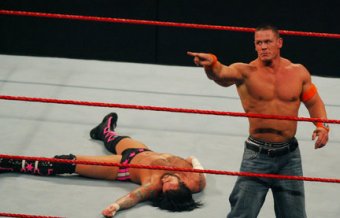 I do expect this match to face some sort of interference. Heyman is notorious for meddling in his allies' affairs, and this is a prime spot. It's hard to say who will storm the ring, but expect one of Cena's pinfalls to be broken up.
However, Cena will prevail. This is a secondary PPV event, but the WWE has a chance to ignite the crowd with this main event.
This match will take multiple twists and turns, but Cena's reputation and home-field advantage will provide the edge. He's one of the greatest champions in WWE history, and the company will give him another shot for the time being.