USC vs. Stanford: Live Scores, Analysis and Results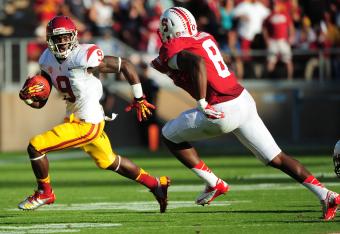 The USC Trojans will no longer be the No. 2 team in the country Monday. They fell to the Stanford Cardinal tonight in Palo Alto, Ca.
In a battle of quarterbacks, Josh Nunes was able to show up for the big win while Matt Barkley was unable to land a touchdown throw. The Cardinal also relied a lot on the running ability of Stepfan Taylor who had a huge day.
The Stanford line kept constant pressure in the USC backfield giving them the win.
USC 14, Stanford 21 -- Final
Stanford has defeated the No. 2 USC Trojans in an unbelievable back and forth defensive battle.
Josh Nunes was the quarterback of the day and Stepfan Taylor stole the show with his unbelievable running ability.
Game ball goes to Taylor.
This was a very surprising outcome. The Stanford Cardinal played strong defense and have USC on their heals.
The front four were too strong for the USC line to handle.
It is a third down and long for USC as they look to stay a live with less than a minute left to play.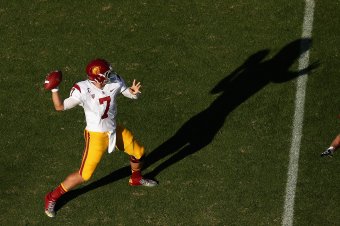 Ezra Shaw/Getty Images
USC can't make the fourth down coversion and with less than two minutes left in the fourth quarter, USC turns the ball over on downs to Stanford.
The play is under review, but was called a no catch on the field.
This is a crucial point in the Trojans 2012 season.
Matt Barkley has had a very bad game. Not the type of performance that was expected.
Key Stats for Matt Barkley:
18-of-37 for 215 yards and two interceptions.
USC will have its shot with one more possession right now. There is less than three minutes left in the game, and Stanford defense has stood tall. Can Matt Barkley have a Heisman Moment?
Stanford just connected on a critical first down. The Cardinal are taking this game away down by down from USC. Stepfan Taylor is a big part of that gain for the Cardinal. He is a major workhorse.
USC drops the ball on third down and is forced to punt. The Cardinal are taking over this game handily.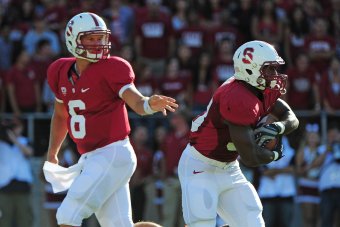 Kyle Terada-US PRESSWIRE
TOUCHDOWN STANFORD
A huge pass from Josh Nunes goes for the touchdown against USC. Stanford is taking over this game, now leading the contest.
Nunes is turning it around.
Stats:
12-of-29 for 205 yards, two touchdowns and two interceptions.
Stepfan Taylor is a guy that deserves a look for offensive MVP of the game. Taylor has 18 carries for 112 yards and one rushing touchdown.
Taylor also has four receptions for 61 yards and a touchdown.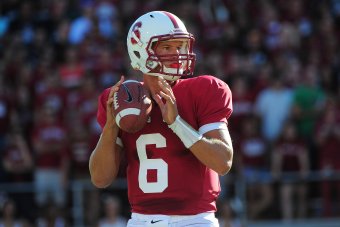 Kyle Terada-US PRESSWIRE
Stanford has to make a big play or two on this offensive drive. They need to take the lead as soon as possible if they want to win this game. The longer that USC has to play this game even, the better off they are.
The Cardinal can't afford to lose the grip of this momentum.
With the fourth quarter looming, both teams have to step up their game. This game has been a battle throughout the first three quarters. Stanford is really pushing for a big win.
Key Stats:
USC 3rd down: 0-for-8
USC 4th down: 2-of-3
Stanford 3rd down: 2-of-10
Cardinal with the ball and driving inside USC territory. This game has been up and down for both teams.
Josh Nunes just made his play of the game with a 24 yard pass completion, getting the ball inside the 20 yard like of USC.
Josh Nunes is going to give this game away for the Cardinal. He is not playing well at all. Cardinal to punt.
Stepfan Taylor is the playmaker for this Stanford offense. He has made the majority of their big plays and has scored the only touchdown for the Cardinal.
Stanford has to keep integrating Taylor into the game plan.
Ezra Shaw/Getty Images
Stanford needs a big series here from Stepfan Taylor and Josh Nunes. The Cardinal have to get a score here soon to regain some of the momentum as the third quarter winds down.
USC tries a fake field goal for some reason, and turns the ball over on downs. Attempting a kick and landing three points makes more sense at this point in the third quarter.
Very questionable call by Lane Kiffin right there. Stanford has been able to move the football. Giving them momentum is not what you want to do.
The Trojans are moving the football very well in the second half.
Matt Barkley is really utilizing Marquis Lee in the passing game this half.
The Trojans are are on the 20 driving in.
Would this be the sealing score?
Stanford marches out its kicker for a 51 yard try. This is the same kicker that has missed two previous field goal attempts.
What they expected to accomplish there is beyond me, but there was no way that kicker was making that one.
USC came through with the blocked kick, but it wouldn't have split the uprights anyway.
These teams continue with there stupid and sloppy play. Not sure why they can't stay away from the amateur penalties.
Questions for the second half:
Can the quarterback play get more efficient?
Will Stanford's front line continue to pressure Barkley?
Will Stepfan Taylor get more carries?
Both quarterbacks are having very inconsistent games tonight, and it is causing issues for their teams.
The Trojans lead by seven at the half, but the score could be much worse, in favor of both teams. A number of miscues have led to a very sloppy showing by both teams.
USC has lost Silas Redd to an injury, and there is no information as to his ability to return.
Key Stats
Stanford Cardinal
Josh Nunes: 6-of-17 for 78 yards and two interceptions.
Stepfan Taylor: nine carries for 75 yards and one touchdown.
Levine Toilolo: three receptions for 47 yards.
Time of Possession - 12:52
USC Trojans
Matt Barkley: 11-of-20 for 149 yards and two interceptions.
Curtis McNeal: four carries for 33 yards.
Nelson Algholor: one reception for 48 yards.
Time of Possession - 17:08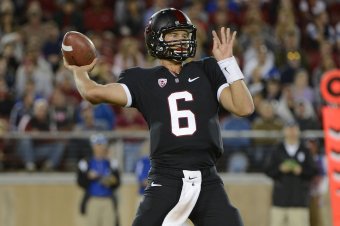 Thearon W. Henderson/Getty Images
Major interception by USC closes out the first half with USC still firmly in the lead by seven.
Nunes simply can't catch a break in this game. He is looking rough.
Back to back, to back interceptions with Barkley giving the ball right back.
This is unbelievable.
Stanford now has the ball with a little over a minute left, and a personal foul from USC to cap onto the end of the interception return.
Back to back interceptions.
Barkley tosses one away, and Nunes follows up with an interception of his own on the first play.
Awesome job guys. What is happening to this quarterback play?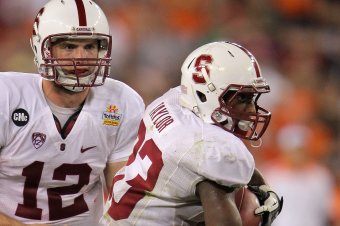 Doug Pensinger/Getty Images
Can the Cardinal hand with the Trojans after the half? They have to earn a stop here first, but they look like they can make the back half of this game just as interesting.
These guys are battling through every whistle.
Stanford can't make the play to get the touchdown against USC. They make a few mistakes mixed with a few miscues keep them from the seven points.
Field goal kicker Jordan Williamson missed his second kick of the game.
Stanford has to capitalize on its opportunities. They simply aren't.
USC is not really capitalizing either, which is keeping Stanford in the game. The Stanford defensive line is also pounding away at the USC line, consistently pressuring Barkley.
Heading into the close of the first half, Barkley is trying to get more points for the Trojans.
This article is
What is the duplicate article?
Why is this article offensive?
Where is this article plagiarized from?
Why is this article poorly edited?