Boston Bruins: With NHL Lockout Looming, Providence Roster Takes Solid Shape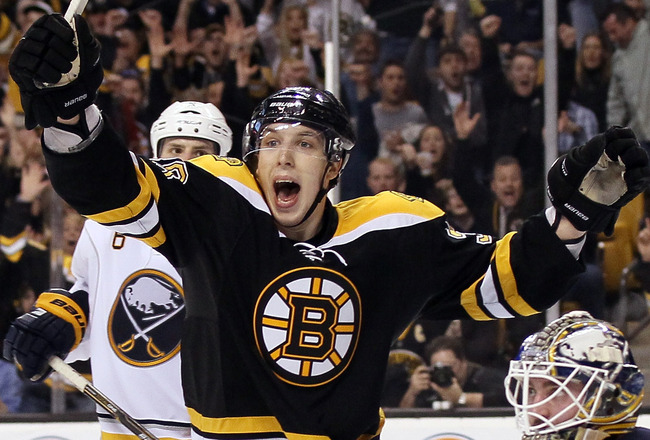 Elsa/Getty Images
There was brief speculation Friday that reigning Boston Bruins top scorer Tyler Seguin might pass the time over the virtually inevitable NHL lockout in Providence. However, a report in USA Today has since held that general manager Peter Chiarelli will not juggle torches and put his budding superstar through the requisite waivers.
With that said, a multitude of notable names were doled out on Friday as the Bruins braced for the work stoppage and assigned more than a game night's worth of players to Providence. The top three headliners are rising third-year professional Jordan Caron and touted rookies Jared Knight and Ryan Spooner.
While he played a mere 17 games in the AHL last season, not the most reliable quantity to gauge a performance, Caron did post the P-Bruins' best point-per-game rate at 0.76 with a 4-9-13 scoring log.
The most logical assumption is that Caron will be a staple in Providence until normalcy is restored in the parent league. At that point, he should be ready to shed his training blades and pursue a full-time spot on Claude Julien's third line.
Until then, he should be banked on to copilot a Providence offense with the likes of Knight and Spooner as well as the team's reigning top gun Carter Camper, Craig Cunningham and Max Sauve.
Based on those mentioned in Friday's press release, here is a deeper position-by-position look at the 2012-13 P-Bruins, who could be the best bet for black and gold buffs to get their hockey fix indefinitely.
Offense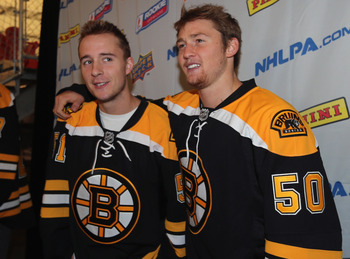 Bruce Bennett/Getty Images
Notable departures include Josh Hennessy, who placed second on last year's team with 19 goals and 41 points, as well as multi-year veterans Jamie Arniel, Zach Hamill and Kirk MacDonald.
But with players bearing the pedigrees of Caron, Knight and Spooner―all top-50 NHL draft choices―filling in, the upper echelon of the depth chart ought to be better on paper.
Consistent health for the likes of Sauve and continuing progression for sophomores Camper and Cunningham will be pivotal for secondary scoring. All three should at least be in the thick of the 20-goal range by season's end.
Head coach Bruce Cassidy will likewise lean on the veteran presences of captain Trent Whitfield, Jamie Tardif and the newly acquired Christian Hanson.
The 27-year-old Tardif will look to rebound in his second year as a P-Bruin after being limited to 57 games and seeing his output drop from 27-27-54 to 15-15-30. The 35-year-old Whitfield, who once tallied 33 goals and 78 points for Peoria in 2007-08, will vie to finally stay healthy and replenish his March 2011 form.
The P-Bruins will also have at least four forwards, including two returnees, laboring under AHL contracts in Justin Courtnall, Alden Hirschfield, Bobby Robins and Kyle MacKinnon.
As a rookie out of nearby Providence College last year, MacKinnon placed fifth on the team with 14 goals. But what he along with his fellow returnees can do for a follow-up will depend heavily on how much the defense has grown.
On that note…
Defense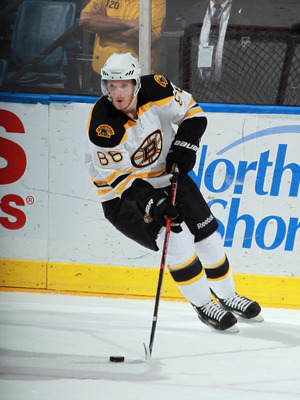 Bruce Bennett/Getty Images
Friday's press release mentioned six blueliners who saw regular action with the Baby Bs in 2011-12. Four of them are rising professional sophomores, while Matt Bartkowski and Colby Cohen will each enter their third campaign.
With that collective modicum of seasoning, it was ultimately little surprise that the P-Bruins had trouble cultivating their own scoring chances as the youthful rearguards struggled to keep the puck off their own property.
The returnees, plus NHL/AHL veteran Garnet Exelby, who will replace Andrew Bodnarchuk and Nathan McIver as the primal veteran, have ample room for improvement in the coming campaign.
The lone player under pressure to keep doing what he did before is sophomore Kevan Miller, who last year ran away for the team lead with a plus-20 rating, tallied 21 assists and placed third in penalty minutes.
Additional aid can be expected from rookies Torey Krug, who saw a few slivers of action in Boston last April after dropping out of Michigan State; and Tommy Cross, who joined in for the final weekend of last season after captaining Boston College to its second NCAA title in three years.
Goaltenders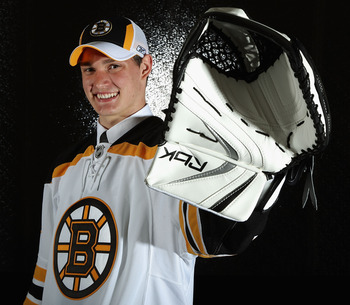 Andre Ringuette/Getty Images
Like Seguin, Anton Khudobin will be conspicuously absent in Providence due to Chiarelli's wise reluctance to risk losing him through waivers.
Unlike Caron, Khudobin is already a permanent NHLer, filling Tuukka Rask's old slot as Boston's backup, lockout or no lockout. Accordingly, the starting role in Providence is Michael Hutchinson's to lose.
Not unlike Rask in Boston, Hutchinson is coming off a year that saw him post the team's best goals-against average (2.36) and save percentage (.927). Those were his best numbers at any level since he was a rookie with the OHL's Barrie Colts in 2006-07.
At the same time, not unlike Rask, he must now smoothly translate that output from a 29-game workload to somewhere in the 50-game range. If that does not materialize punctually enough, the P-Bruins will lean on Swedish import Niklas Svedberg, whose is similar to Rask in size and stature, to swiftly acclimate to North America.
Adam Morrison, fresh out of an altogether unspectacular major-junior career, figures to be an AHL third-stringer and to see most of his game action with the Bruins' new Double-A partner in South Carolina.
Keep Reading

Boston Bruins: Like this team?