Florida vs. Tennessee: Live Score, Analysis and Results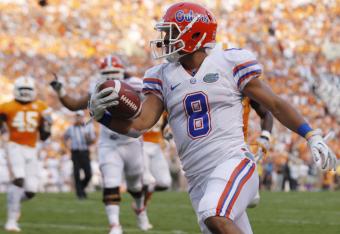 FINAL Florida 37 Tennessee 20
Much like they did a week ago, the Gators came out for the second half a different football team. Florida outscored Tennessee 27-6 in the second half and looked like a completely different team.
Will Muschamp needs to figure out what he is saying to his team at halftime and try it during his pregame speech.
The Gators move on to a 3-0 start and will be back in Gainesville to take on Kentucky next week. Tennessee starts their season at 2-1 and will host Akron in a week.
Thanks for tuning in and following the game with us here at Bleacher Report.
That's all for us here on this live blog.
A big thank you to everyone who showed up and followed the game with us. I'll stick around and try to answer any questions in the comments section.
Have a safe weekend and enjoy some more football tomorrow.
FINAL Florida 37 Tennessee 20
Gators line up in the victory formation and this game is final.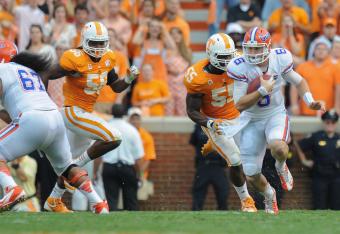 What appeared to be a rushing touchdown for Jeff Driskel is coming back after the replay showed he stepped out of bounds.
I don't know if you can consider this a coming out party for Driskel but the sophomore quarterback was more than a game manager for the first time this season.
The last couple runs on this drive have pushed the Gators over 300 yards rushing for the game.
That is going to make Will Muschamp a very happy coach.
Nice catch by coach Dooley on the sideline.
Florida 37 Tennessee 20
Caleb Sturgis compiling a pretty impressive resumé this year for the Lou Groza Award. He hits from 49 yards out and the stands are starting to clear in Neyland.
No such luck on that drive.
The Gators will get the ball with 8:55 left and will look to take as much off of that as they can.
There is still plenty of time for Tyler Bray to get the Vols back into this game. Bray needs to settle down and take control of his offense.
Florida 34 Tennessee 20
WOW.
Frankie Hammond.
75 yards.
A monster stiff arm.
Touchdown.
Awful time to drop a pass there for Justin Hunter.
This is becoming a battle of the punters.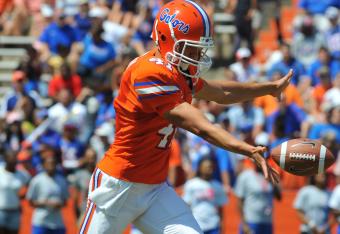 Kyle Christy has been digging the Gators out of some pretty bad field position holes this entire game.
Remember, punters are people too.
4th-and-short, Tyler Bray doesn't look happy about the decision to punt here.
Those are the kind of throws that put Tyler Bray on a ton of pre-season award watch lists.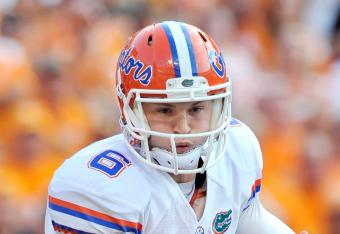 Florida 27 Tennessee 20
Jeff Driskel is growing up before your eyes.
He bought time as the pocket started to collapse and found Jordan Reed in the endzone for the go ahead touchdown.
Tyler Bray throws his second interception of the game.
Lerentee McCray put some serious pressure on the play and Elam was able to come up with the INT.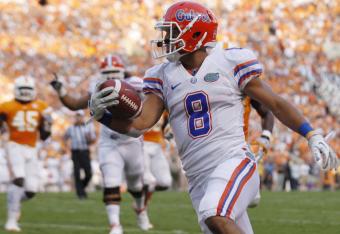 Florida 20 Tennessee 20
Trey Burton takes a wildcat snap 80 yards to the house.
Um, about that momentum I was talking about before.... let's forget I said that.
The Gators force a three-and-out that was aided by an intentional grounding.
The punt flies into the endzone and the Gators will start at their own 20.
Florida tries a fake punt but it gets stuffed by Tennessee.
The Volunteers will take over on the Gators side of the field and take a huge momentum swing with them.
This is a big play for both teams coming on the other side of a timeout.
Florida 13 Tennessee 20
The Gators scored on a wildcat play in the first quarter and the Vols match them with one of their own.
The extra point was missed and that is HUGE.
A seven point lead is MUCH different than an eight point lead.
Dominique Easley gift wraps a first down for the Vols.
The Vols show a wildcat formation for the first time this game and pick up a 3rd-and-2.
Matt Elam lost his helmet and will have to come out for a play. Let's see if Bray takes advantage of that and takes a shot deep.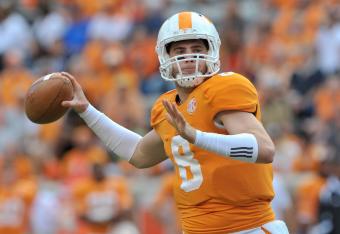 Bray to Rogers for 27 yards.
Those are the type of plays Tennessee needs to keep hitting on and the plays that will drive Will Muschamp nuts on the sideline.
Florida 13 Tennessee 14
The pocket crumbled around Driskel on third down. Tennessee was able to get some pressure on that drive. Florida settles for another field goal.
The Gators are knocking on the door to start the third quarter. They've struggled in the redzone the past two seasons.
This article is
What is the duplicate article?
Why is this article offensive?
Where is this article plagiarized from?
Why is this article poorly edited?