USC vs. Stanford: Post Game Grades and Player Analysis for the Trojans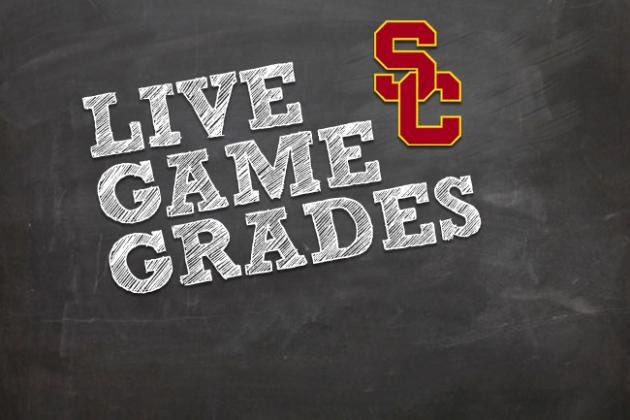 It feels like a nightmare. USC fell to Stanford 21-14 for the fourth straight year. However, that score doesn't really tell the whole story. Stanford really won this game by a score of 67-14.
USC's ineptitude on both sides of the ball – most markedly on the O-line and in the rushing game – marked them as failures from nearly the opening kick off.
The Trojans played sloppy, never looked sharp and certainly didn't look like a No. 2 team. They've fallen to No. 13 in the most recent AP poll and frankly, that seems too high.
Clearly Stanford has USC's number and USC cannot mount an effective game plan against the system the Cardinal runs. Also missing – any sort of second half adjustments. Kiffin and his staff seem incapable of adjusting the game plan to suit the actual game.
Let's take a look at Post Game Grades.
Begin Slideshow

»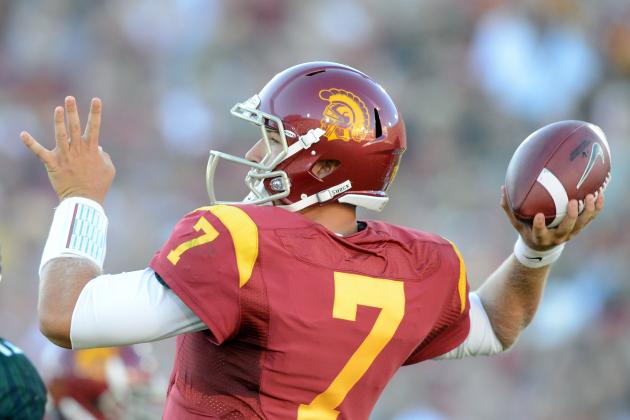 Harry How/Getty Images

Matt Barkley threw 2 interceptions, had zero touchdown passes and was sacked five times- further adding to his discombobulation. He was 20-of-41 for 254 yards and two interceptions, including 9-of-21 in the second half.
He is the senior. Sure, the O-line completely fell apart and offered him zero protection, but he is the leader.
He did not lead last night.
I remarked that whomever was sticking the pins in the Matt Barkley voodoo doll needed to stop. At times it really felt like that. This was not USC's golden boy last night. This was not a four-year starter with unfinished business.
Clearly the USC offense does not work without Khaled Holmes holding down the line.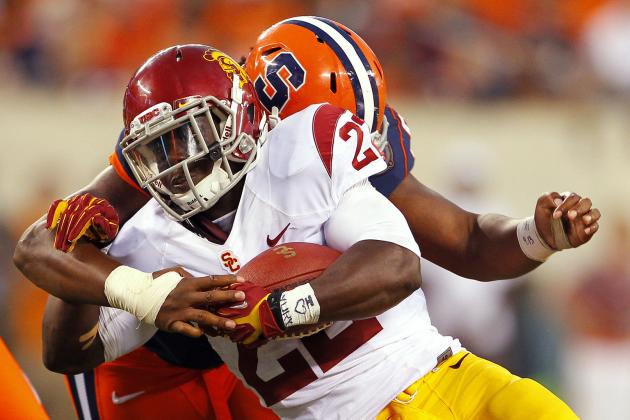 Rich Schultz/Getty Images

Silas Redd is not impressive. He's fumbled too often for Trojan fans to be comfortable with him holding the ball. While Redd had two touchdowns last night, they were on short runs. Speaking of short runs, all of Redd's runs last night were short.
Curtis McNeal showed more life when he was on the field. Though he was frequently stuffed by the oppressive Stanford defense, McNeal made valiant efforts to break tackles and advance downfield. He missed much of the game due to a hip injury, only coming back in when Redd went down and USC had to turn to FB Soma Vainuku to take over at tailback.
USC had only 26 net rushing yards. That figure included the yards Matt Barkley lost when he was sacked as well as a 30-yard Curtis McNeal gain at the end of the half.
Depth is going to be a bigger issue than previously thought. This was only game three.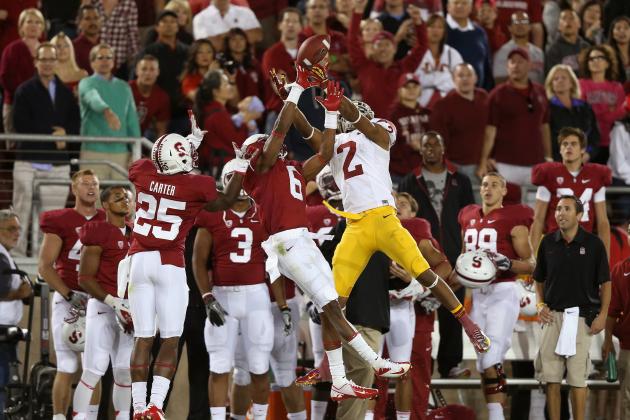 Ezra Shaw/Getty Images

For some bizarre reason, Kiffin chose to call rushing plays against Stanford's elite rush defense. With Barkley's badly thrown balls last night, Woods and Lee were largely ineffective – and who would have thought prior to last night that an offense featuring arguably the best quarterback and wide receiver tandem in the nation could be rendered so impotent?
One bright spot yesterday - the emergence of freshman wideout Nelson Agholor who had three catches for 76 yards. Early in the game a gorgeous 48 yarder made it look like USC stood a chance. Late in the game a 20 yard reception breathed a little bit of life into the offense. Until Matt Barkley was sacked. Repeatedly.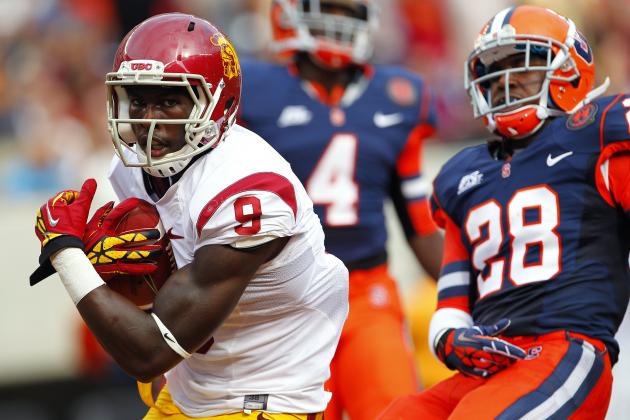 Rich Schultz/Getty Images

USC's tight ends Randall Telfer and Xavier Grimble didn't see a ton of action due to the relative ineptness of the Trojan offense yesterday.
Grimble had one catch for 19 yards. Telfer had four catches for 20 yards.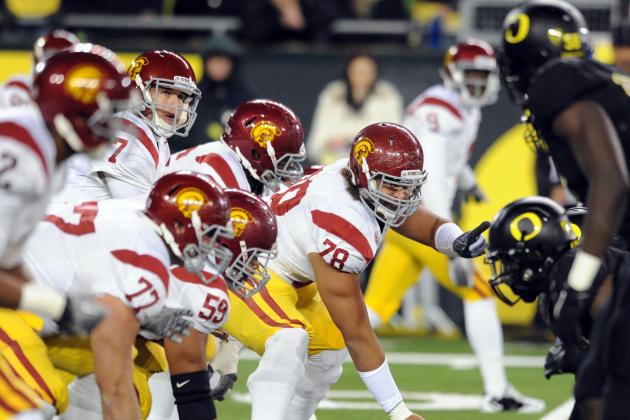 Steve Dykes/Getty Images

The failure in this game rests heavily on USC's o-line. They were, frankly, offensive.
The loss of senior center Khaled Holmes to injury highlighted how woeful the line is without his presence.
Redshirt freshman Cyrus Hobbi had an atrocious debut in his Trojan career. He looked lost, couldn't block a fly and provided no protection for Barkley. He looked so awful, I found myself wondering how he was so highly ranked out of high school. He looked like he was playing his very first football game ever.
But make no mistake, it wasn't just the poor play of Hobbi. The left side of USC's line had trouble all day. Left tackle Aundrey Walker, left guard Marcus Martin and Hobbi struggled to maintain their positions for more than a few seconds at a time.
There was no one to step up for the injured Holmes and the line played like they'd lost their leader rather than stepping up their game.
If I could give this unit a grade worse than F, I would. They deserve it. Their shoddy play completely neutralized USC's elite passing offense. And that is not easy to do.
S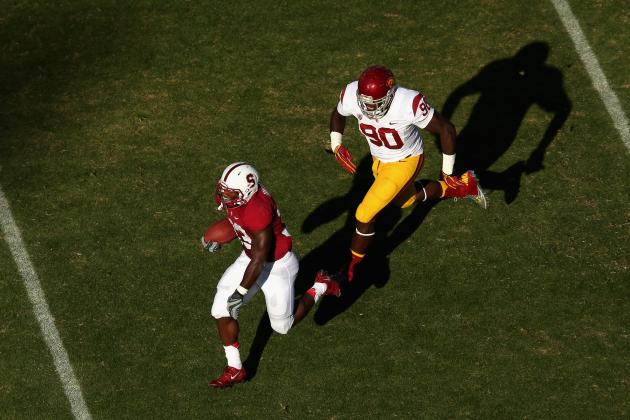 Ezra Shaw/Getty Images

Stanford only scored 21. Stepfan Taylor is an elite running back who was able to break through the front seven at will, with 213 yards in the game.
Given the situation, the USC defense didn't play badly at all. They started to fall apart in the second half, but still managed to hold the Stanford offense to only 21 points.
USC's offense failed to produce. The defense can only do so much.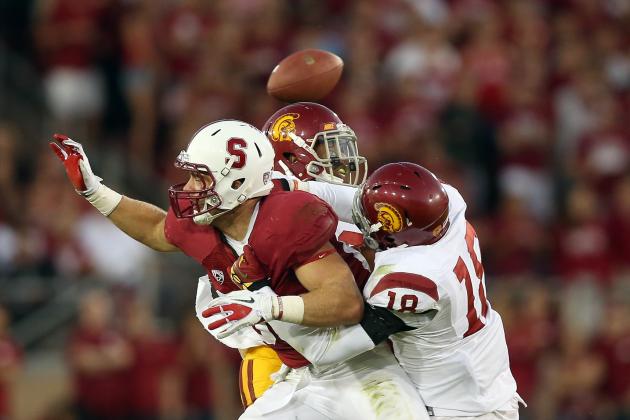 Ezra Shaw/Getty Images

Dion Bailey is a stud. He has had interceptions in back-to-back games now and has emerged as the go-to linebacker with his physical style.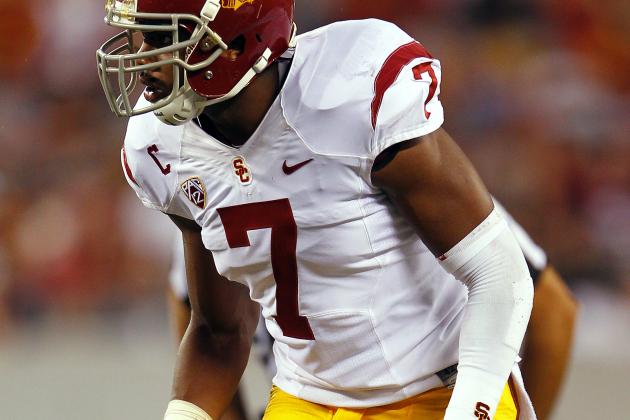 Rich Schultz/Getty Images

TJ McDonald blocked a 51-yard field goal attempt leading to one of Bailey's interceptions. Otherwise, USC continues to be weak in tackling on the secondary.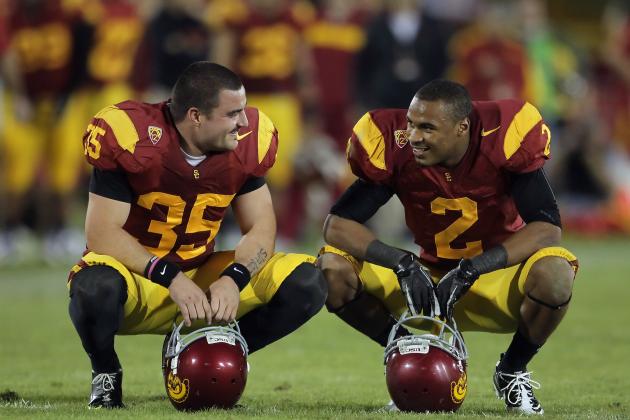 Jeff Gross/Getty Images

Punter Kyle Negrete was just average.
USC's kick coverage unit was subpar all day.
Due to USC's failure to get an offense going, there weren't any other chances for this unit to make an impact.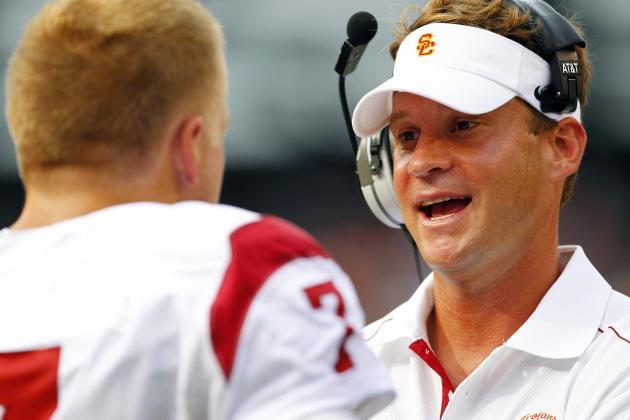 Rich Schultz/Getty Images

The visor-ed one was simply outcoached from opening kickoff to final play. Kiffin and his staff clearly had no clue how to keep the pressure off Barkley throughout the entire game.
Kiffin and his staff are also proving to be horrible at making half-time adjustments. USC's opponents exploit this.
Kiffin's play calling was subpar with the most glaring call when he sent the filed goal unit onto the field with freshman walk-on kicker Alex Wood set to kick a 30-yard FG. Instead the offense lined up in the shotgun and Barkley faked a handoff to Alex Wood, rolled to his right and passed to Soma Vainuku in the end zone. Vainuku could not hold onto the ball.
If USC had made the field goal there, we might have seen a different outcome to the game.
The question begs to be asked: If Kiffin doesn't trust Wood to make a 30-yard field goal, what will the USC kicking game look like going forward as we wait for Andre Heidari to heal?