Cowboys vs Seahawks: Final Report Cards, Player Grades for Dallas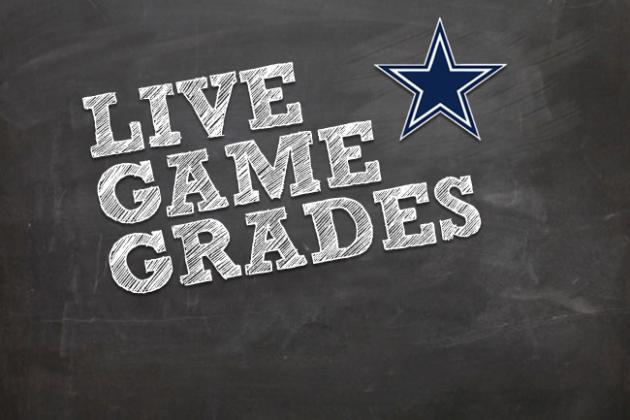 The Dallas Cowboys may have been guilty of looking past the Seattle Seahawks dropping their second game of the season. After giving up 10 points early due to special teams miscues, they never got back into the game. The Seahawks defeated the Cowboys 27-7 improving their record to 1-1 while dropping Dallas to 1-1.
Tony Romo never got on track and only managed to throw for 251 yards and running back DeMarco Murray was held to only 44 yards.
Let's take a look at the Cowboys' final postgame player grades and evaluations.
Begin Slideshow

»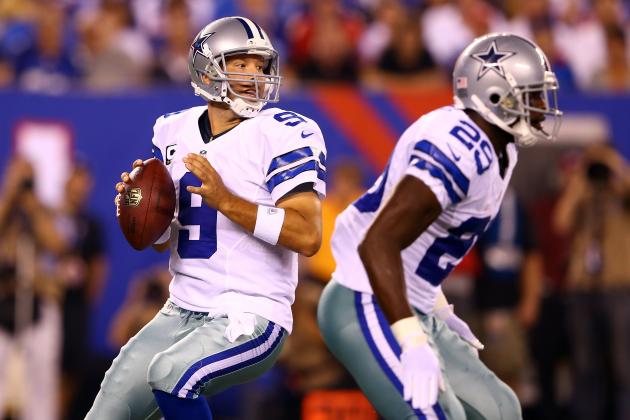 Al Bello/Getty Images

Tony Romo: C+
Tony Romo never got comfortable in this game. Even though he managed to evade the pass rush and was only sacked once, he was constantly scrambling around in the back field. Romo finished the night completing just over 57 percent of his passes going 23 of 40 for 251-yards and one touchdown with one interception.
Tony Romo has got to be one of the best (if not the best) quarterbacks in the NFL to use the spin move to get away from defenders. He used it four times in this game and made defenders miss on every occasion.
The bad news is that Romo's accuracy was all over the place, as he either overthrew or under threw his receivers. Most of what happened against the Seahawks cannot be blamed on Tony Romo, but he certainly did not look like himself on the field in Seattle.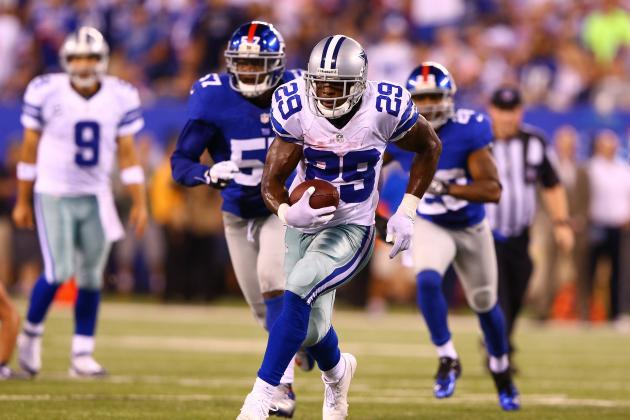 Al Bello/Getty Images

DeMarco Murray: B
DeMarco Murray only gained 44 yards on 12 carries. His average was cut in half from a week ago as he only averaged 3.6 yards per carry. Murray never got on track as he was constantly getting hit near or at the line of scrimmage.
Murray added another four catches for 31 yards but he was never really effective throughout the game.
We are not down grading Murray here as the Cowboys cannot expect huge production from a running back that only gets 12 carries.
Felix Jones: B-
Felix Jones did not see much playing time on the offensive side of the ball. He only managed one yard on one carry although he did have four receptions for 40 yards. However those catches are a bit misleading as two of those catches came in garbage time at the end of the game.
Lawrence Vickers: C-
Lawrence Vickers did not appear to be opening any holes for Murray today. Vickers was constantly getting stuck in the hole and never got good blocks on Seattle defenders that were long enough to free Murray. Vickers did not have any carries or targets today.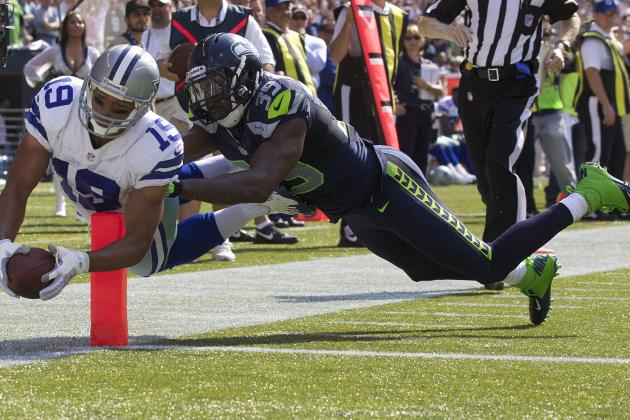 Stephen Brashear/Getty Images

Miles Austin: B+
Miles Austin led all receivers in catches and yards. He had 63 yards on five receptions and the only touchdown of the game. Austin was the most reliable receiver on the field against Seattle as he caught half the balls thrown his way.
Dez Bryant: C-
Quarterback Tony Romo threw the ball seven times at Dez Bryant and Bryant only caught three passes. He dropped three passes that hit him in the hands and also fumbled in the third quarter. He was fortunate that Doug Free bailed him out and recovered the ball. Bryant finished the night with a mere 17 yards on his three catches. That is not the kind of production you want, nor expect, from your star wide out.
Kevin Ogletree: C+
Kevin Ogletree pulled off the best disappearance act since Harry Houdini. One week after busting on the scene, Ogletree only had one catch for 26 yards. In Ogletree's defense, it was the only pass Romo threw his way. Ogletree will have to become more consistent if he is going to be considered a legitimate threat in the passing game.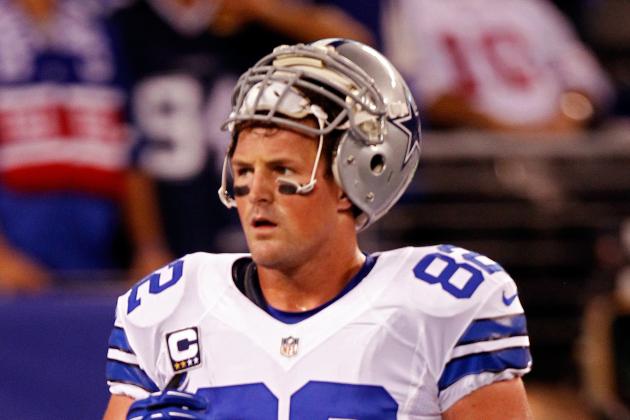 Jeff Zelevansky/Getty Images

Jason Witten: C-
Although Jason Witten had four catches for 58 yards, it is clear that he is still not 100 percent healthy. Quarterback Tony Romo threw 10 passes in Witten's direction and he only completed four of them.
Witten uncharacteristically dropped two passes and lost the ball on another two plays. It might be possible that Witten is hurting the Cowboys more than he is helping them.
John Phillips: B
Phillips continues to be an effective blocker for Dallas and this week he added two catches for 16 yards. In light of Jason Witten's current play, the Cowboys might be better served playing Phillips more on offense over Witten.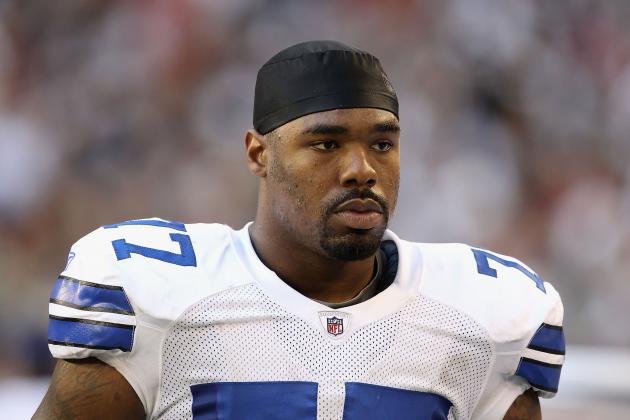 Christian Petersen/Getty Images

Tyron Smith: C
Tyron Smith was called for another false start against the Seahawks. He is starting to look eerily like Larry Allen. Allen was a great blocker but was constantly called for penalties during inopportune moments in the game and Smith is starting to gain that reputation. Smith has to work on his footwork to provide better protection for quarterback Tony Romo.
Doug Free: C-
Free is getting beat often at the line of scrimmage. The only sack of Tony Romo came at Doug Free's expense. He continues to struggle and had it not been for Romo's ability to escape defenders, there would have been two or three more sacks attributed to Free.
Ryan Cook: B-
Ryan Cook continues to play at center despite only have been with the team for two weeks. He had one bad snap that hit Romo in the stomach when the quarterback was not expecting the snap. For a guy that has not been with the team long, he continues to hold his own in the center of the line.
Nate Livings: B
Nate Livings was able to provide solid protection for Romo, but had some problems in the running game. More often than not, Livings was unable to get to the second level to hold his blocks on defenders trying to clog the running lanes.
Stephen Brashear/Getty Images

Jason Hatcher: B-
Jason Hatcher was neutralized against Seattle. Unlike last week when he was all over the field, he only managed four tackles in this game and did not apply any pressure on rookie quarterback Russell Wilson.
Sean Lissemore: B+
Sean Lissemore continues to be a force in the running game finishing the game with 10 total tackles. It appears that he will continue to plug running lanes but he needs to get stronger as the game goes on. He appeared to run out of steam near the end of the game.
Josh Brent: C
Brent was also kept out of most of the plays against Seattle. Brent did manage to get credit for a QB hit on Wilson but he finished the game with three tackles. Brent needs to be more disrupting in the running game than he was against the Seahawks.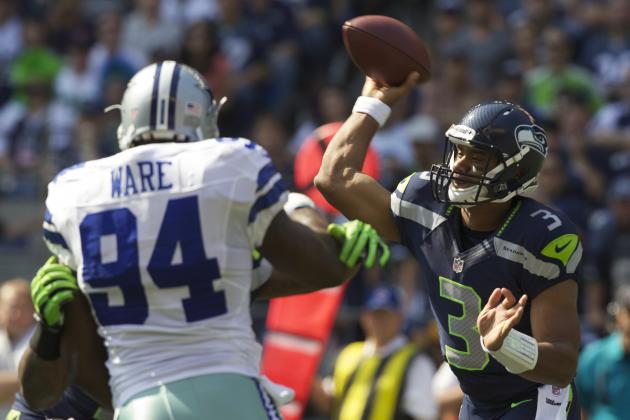 Stephen Brashear/Getty Images

DeMarcus Ware: B
DeMarcus Ware was limited against the Seahawks quick passing game. Although he finished the game with no sacks, Ware did have eight total tackles including one for a loss and one hit on quarterback Russell Wilson.
Ware was double teamed throughout the game and was never able to become his usual disruptive force.
Sean Lee: A-
Usually Sean Lee is the one putting licks on running backs and wide receivers, however Golden Tate was able to put a huge hit on Lee that knocked him off his feet. Despite taking the hit, Lee showed just how tough he is by going back into the game. Lee finished the game leading all defenders with 14 tackles.
Bruce Carter: B-
Carter had a solid game against the run but was up and down in coverage. Carter finished the game with 10 total tackles and one pass defended but he also had a bad unnecessary roughness penalty that gave the Seahawks 15 yards early in the fourth quarter. In Carter's defense, the penalty was a bad call by the replacement officials.
Anthony Spencer: A
Spencer was the only player to consistently apply pressure on the rookie QB. Spencer finished the game with two sacks, two QB hits and seven total tackles including one tackle for a loss.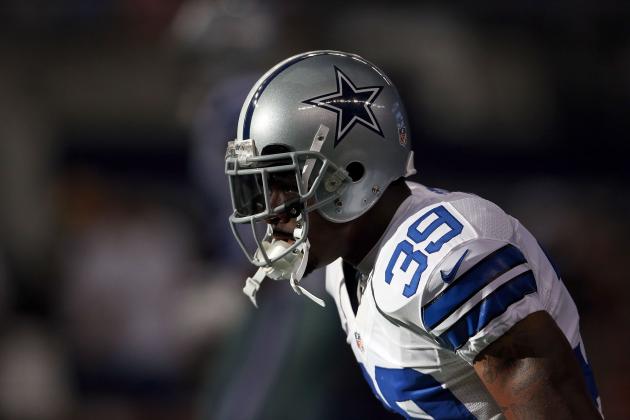 Ronald Martinez/Getty Images

Brandon Carr: B
Teams continue to attack Carr's side but are not having much success. He did give up a couple of passes but did not give up a big play breaking up the only deep pass attempted to his side. Carr finished the game with two total tackles. Carr continues to show his acquisition is one of the best this offseason.
Morris Claiborne: B-
Rookie cornerback Morris Claiborne had a solid game and only gave up two short catches to his side. Claiborne finished the game with one pass defensed and two total tackles.
Danny McCray: C
Although Danny McCray finished the game with seven total tackles, he was constantly out of position in the game. McCray was brought in when starting safety Gerald Sensabaugh left the game.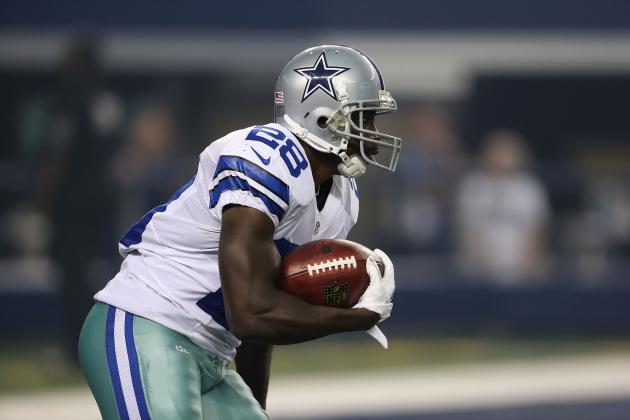 Ronald Martinez/Getty Images

KR Felix Jones: F
Felix Jones fumbled away the opening kick-off and that set the tone for the rest of the game. He was responsible for Seattle jumping out to an early lead and the Cowboys never recovered.
Jones also continues to forgo the touchback without gaining the 20-yard line on his kick returns. He is not making good choices in regards to taking the ball out of the end zone.
P Chris Jones: C-
Punter Chris Jones had his first punt of the game blocked and Seattle returned it back for a touchdown giving them a 10-0 lead. Jones has nobody to blame but himself on that block. It was a good snap, he just took too long trying to angle the punt.
K Dan Bailey: A
Bailey did not have any field goal attempts and made his only extra point. Bailey did have two solid kick-offs and the coverage unit was excellent on both kicks.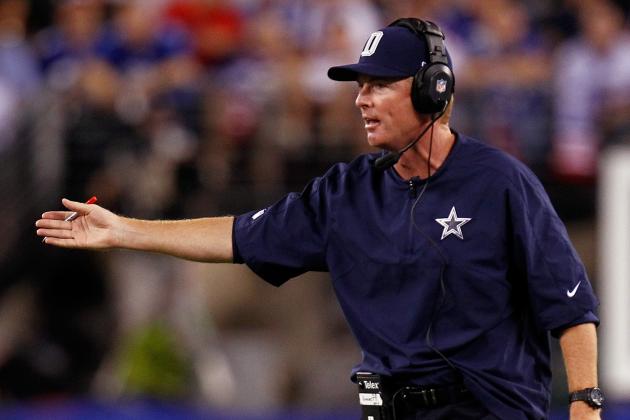 Jeff Zelevansky/Getty Images

Jason Garrett: C-
The biggest problem with Jason Garrett against the Seahawks is that his team was not prepared. They were outcoached and outplayed by Seattle and it did not appear he made any adjustments at half time. He had no answers and displayed zero creativity in answering Seattle's attacking defense. The Cowboys simply looked flat in this game.
That falls squarely on the coach because he had ten days to make sure his team did not go into this game cold and uninspired. What's worse is that Dallas had no answers once they were down 10-0.
Joe DeCamillis: D
Joe DeCamillis' special teams units let him down today. His biggest concern had been the lack of a return game, but against the Seahawks they had bigger problems. His units gave up a fumble and a blocked punt which put the Cowboys in a 10-0 hole to start the game.