Just because we are well past the cancellation of UFC 151 doesn't mean that the fallout from that decision has totally dissipated. If you have been following the UFC for any length of time you know that the half-life of UFC president Dana White's anger is up there with Uranium-238. The latest fighter to be on the receiving end of the bosses vitriol is former UFC Light Heavyweight Champion, Lyoto Machida.
If you recall, upon announcing the cancellation of UFC 151, White informed fight fans that a light heavyweight title scrap between the current champ, Jon Jones and former champ, Machida would headline UFC 152. Unfortunately, Machida turned down the September 22 bout with Jones, making it necessary for the UFC to find another challenger to face Jones. They found that man in Vitor Belfort.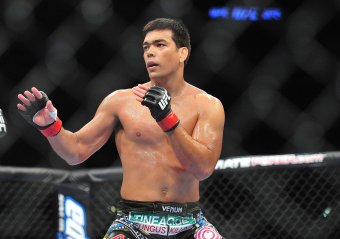 Gary A. Vasquez-US PRESSWIRE
That fight, Jones versus Belfort, got UFC 152 squared away. However, questions still remain as to what's next for Dan Henderson once he heals from the MCL injury that knocked him from his title shot at UFC 151, as well as what's next for Machida, the man that was supposedly next in line for a shot at the light heavyweight title.
If one listens to White, those two will be meeting in the not-too-distant future, and White made it clear that in his mind, Machida made a huge mistake in turning down the fight with Jones at UFC 152. According to MMAFighting.com, White had the following to say about Machida,
"[Machida] should have taken the fight. We've seen it, history always repeats itself. Look how long it took Rashad (Evans) to fight for the title again. So you wanted to fight Jon Jones, you climbed up to the title fight and you don't take it. Now you're fighting (expletive) Dan Henderson. Now you might not even get to the (expletive) title again. You lose to Dan Henderson you're not anywhere near Jon Jones.

You jump on opportunities when they're available. You get a shot at the title, the biggest money fight you can be in, the highest profile fight you can be in. And if you win that (expletive) fight, the whole world changes overnight."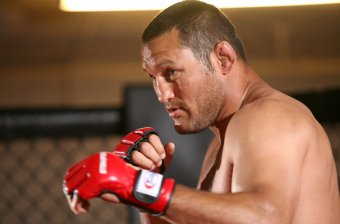 Valerie Macon/Getty Images
While White didn't discuss a possible date for a bout between Henderson and Machida, according to MMA Junkie, Henderson is on the mend and he expects to be ready to fight by the end of 2012.
The UFC's end of year fight card, UFC 155, will take place on December 29 in Las Vegas, and already features a heavyweight title bout that will see Junior dos Santos defend his title against the man he defeated to become champion, Cain Velasquez. Also on the card is a light heavyweight scrap between Chael Sonnen and Forrest Griffin, as well as a middleweight bout between Chris Weidman and Tim Boetsch. If the UFC were able to add Henderson versus Machida to that card it would make for some very happy UFC fans heading into 2013.
In his remarks about Machida, White points out that with a loss to Henderson, Machida would be far removed from a shot at Jones, but he doesn't mention what a win for Machida would mean.
One would presume that a Machida victory would mean he would be next in line to fight for the light heavyweight crown, but you never know. One thing we can say with almost full certainty, a Machida win would mean the likelihood of UFC fans seeing the UFC 151 main event between Jones and Henderson would be very slim.