Alabama vs. Arkansas: Live Scores, Analysis and Results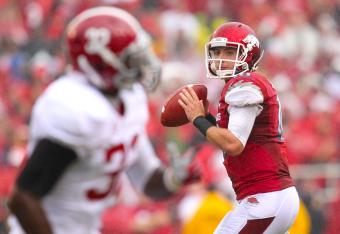 Alabama 52 Arkansas 0 Final
Alabama went on the road for its first SEC game of the 2012 season and returned home with a 52-0 shutout of Arkansas.
What looked like one of the most important early-season matchups of the 2012 season turned into a funeral for the Arkansas program built by Bobby Petrino.
Nick Saban and the Crimson Tide thoroughly dominated the Razorbacks—who were without the services of preseason first-team All-SEC quarterback Tyler Wilson.
After shutting out Western Kentucky last week, the Tide will carry a scoreless streak on defense of nine consecutive quarters into next week's matchup against Florida Atlantic.
Stay glued to B/R for more thoughts on this game coming shortly.
Thanks to everyone for tuning in!
And this one is finally over, Alabama wins 52-0.
Alabama moves to 3-0 on the season while Arkansas drops to 1-2.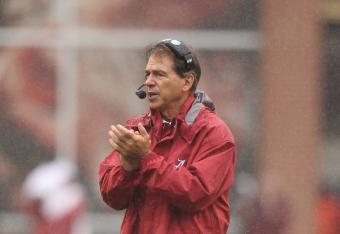 And that is probably why Nick Saban is the best coach in the country.
Up 52-0 and even after witnessing his team likely fend off the last threat to its second consecutive shutout, Saban chewed out true freshman corner Geno Smith for reasons unknown.
Whatever it was, I'm sure Smith will not forget about it anytime soon.
Blake Sims executes a brilliant zone-read fake and scores from 27 yards out and its now 52-0 Crimson Tide.
Funny how two weeks ago, this game was viewed as one of most important early-season matchups with BCS implications.
Instead, the only bit of intrigue that remains in the final six-plus minutes is whether Alabama will earn its second consecutive shutout and extend its streak of scoreless quarters on defense to nine.
Walk-on running back Ben Howell nearly got a first-down on a fourth-and-four play near the red zone.
It appears that Saban may have finally called off the dogs.
At this point, I feel like I'm watching a slow and painful death for the Arkansas program that Bobby Petrino built.
I guess we should have seen this coming, but as bad as last week was, I still did not think they would lay down like this.
However, Alabama is the last team on earth they needed to see after what happened a week ago.
Regardless, you have to feel for the Hogs fan base given what has transpired over the last six months or so.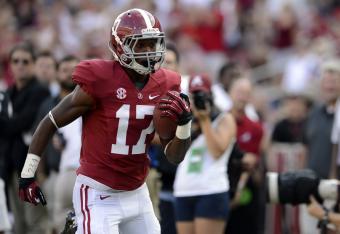 Wow. Kenyan Drake just broke a poor Hogs' defensive back's ankles and found the end zone on a 12-yard touchdown run for the second time in his young career. Alabama now up 45-0.
Mercy, it really is scary to think how deep and talented Alabama is when they can plug in a true freshman as talented as Drake in the fourth quarter of a blowout.
Blake Sims is now in at quarterback, so the Crimson Tide may have a 1A, 1B type of rotation for the spot to backup McCarron.
Despite McCarron playing in the second half and a denial of any injury at halftime by Saban, CBS cameras spotted his right hand getting heavily taped.
It will be interesting to see if McCarron has a normal practice schedule next week.
If he is hurt, its worth noting that Alabama has one of its softest games of the season next week when Florida Atlantic visits Tuscaloosa.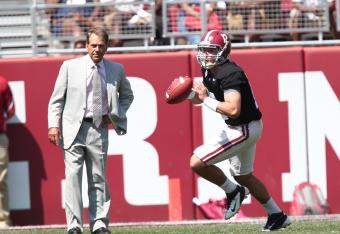 Ely completes his first pass, and Yeldon is playing pinball against the Razorbacks defense.
Alabama has emptied the bench a bit, with players like Dee Hart at running back and Marvin Shinn at receiver jumping in on the action.
Saban is still watching closely because there are a lot of talented young players that just have not had the chance to show what they can do in a game.
Well one of my questions from earlier is answered as McCarron leaves and Phillip Ely enters.
He will likely attempt the first pass of his college career in this game.
Random thought, but I wonder what the Arkansas fan who sang her way to prominence by trying to console her beloved Razorbacks last week is thinking right now.
Personally, I would like to see her cover Journey's "Don't Stop Believing" after this beating.
Thoughts?
The Razorbacks are still fighting and have managed to put together a nice drive that has a chance to result in points.
However, they have self-destructed when they have been in scoring territory so far this afternoon.
Lets see if they can end Alabama's streak of holding its opponents off the scoreboard, which is currently at seven quarters and counting.
On the other hand, witnessing the undressing of their beloved Hogs has to fuel the angst coming from Razorbacks supporters.
As crazy as it seems, there is enough talent on their roster to salvage a respectable season if they can keep it together and get guys like Wilson and Tevin Mitchel healthy.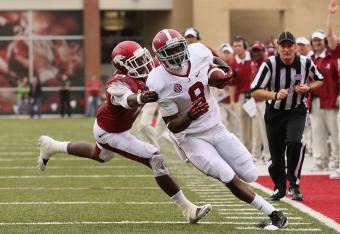 Alabama fans have to be excited about the future of the program after witnessing two true freshmen play a vital role in its latest scoring drive.
Cooper and Yeldon are already making an impact in just the third game in their young college careers.
Scary thought for the Tide's opponents.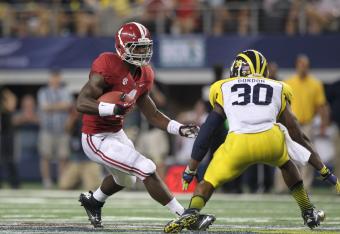 Arkansas fumbles the ensuing kickoff, and the Tide have it on the doorstep of another score.
McCarron hits Cooper for 26 yards and he is making it look easy.
T.J. Yeldon joins the fun with his first score from a yard out, and now its 38-0 Alabama.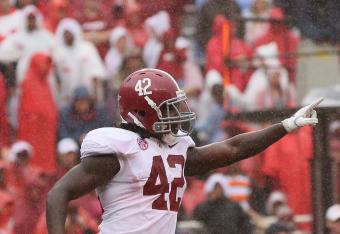 Eddie Lacy saunters into paydirt from 10-yards out and the rout is on. Alabama leads 31-0.
Its his third touchdown on the afternoon.
If McCarron is hurt, it certainly does not seem to be bothering him.
He has looked sharp coming out in the second half, and his passes have some serious zip to them.
The Tide are in scoring position again.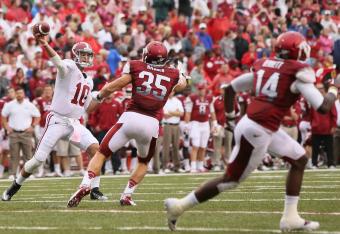 CBS is reporting that A.J. McCarron has a bruised hand or wrist that he suffered sometime in the 2nd quarter.
It will be worth monitoring how long he stays in if the score remains lopsided.
Last week, sophomore Blake Sims was the first quarterback off the bench while freshman Phillip Ely came in against Michigan.
Which one will come into this game, and when?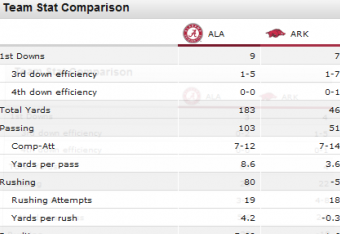 Also, some halftime stats, per ESPN.
Alabama has outgained Arkansas 183-46 in the first half, and have converted both Hogs turnovers into touchdowns.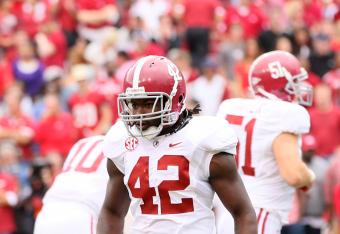 Some halftime observations that I have a feeling will end up in a postgame article or three.
The real Eddie Lacy has finally made an appearance in 2012.
His unofficial stat line of nine carries for 40 yards and two touchdowns (per ESPN) do not tell how physical he has looked, and how much he resembles the back that most observers thought they would see this year.
That nagging ankle injury looks like a thing of the past.
The Tide's defense also looks to be in midseason form, and is as stingy as ever against the run while its youthful secondary has blanketed the Arkansas receivers and forced two picks in the first half.
Arkansas had some opportunities to do some damage in the first half, but they could not get out of their own way.
A missed field goal plus several botched snaps on offense and special teams handcuffed a defense that played well for the most part until the wheels came off late in the second quarter.
The Hogs offense is clearly missing Wilson, but considering the pressure that Alabama is generating up front, it likely would not have mattered if he played.
Knile Davis is doing his best to keep his teammates energy level up, but Arkansas has -11 rushing yards just minutes before halftime.
3rd-and-long against Alabama's defense is like letting Albert Pujols hit off a tee in the big leagues.
The Tide's defense is making this look too easy.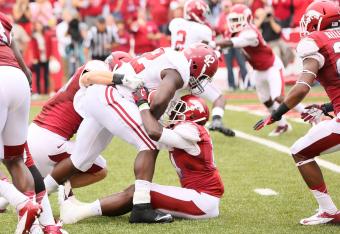 Ha'Ha Clinton-Dix picked off another Brandon Allen offering as if he and Sunseri had some sort of competition before the game.
Ha'Ha wins for a few reasons because its funnier to hear Verne Lundquist pronounce his name, and he returned the ball inside the five-yard line.
Eddie Lacy punched it in a few plays later, and now the Tide have a commanding 24-0 lead.
Cecil Hurt of the Tuscaloosa News probably just summed up the mood of Razorbacks fans in the stands, via his Twitter account.
There is a better chance that Queen Elizabeth will be coaching Arkansas next season than John L. Smith.

— Cecil Hurt (@CecilHurt) September 15, 2012
It will be interesting to observe the home crowd if this one gets out of hand.
This article is
What is the duplicate article?
Why is this article offensive?
Where is this article plagiarized from?
Why is this article poorly edited?

Alabama Crimson Tide Football: Like this team?