Derrick Rose, Allen Iverson and the 5 Sickest Alley-Oops Since 2000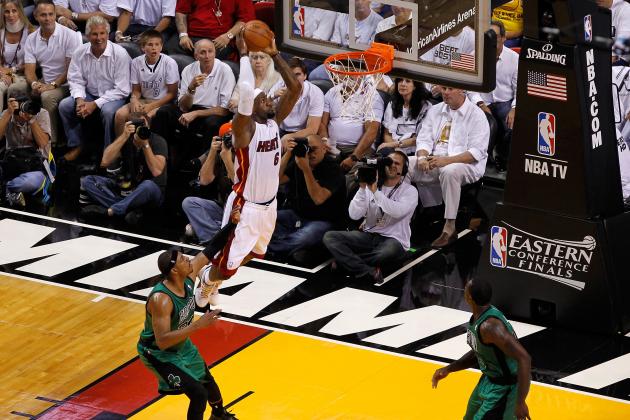 J. Meric/Getty Images

It's everyone's favorite play. It's what brings the fans to their feet. It's recently been given a nickname to a certain Los Angeles team titled "Lob City."
It is the alley-oop.
In the next five slides, I will share some of the sickest, most-exciting lobs from recent memory. Don't worry—there is no shortage.
Begin Slideshow

»
There are so many elements that make this oop awesome.
Is it the fact the Iguodala takes off from the circle and fully extends? Or perhaps the fact that they had the nerve to pull this off even though they trailed by 19 at the time?
Iguodala has been known to throw down some nasty dunks with his freak athleticism; this is no exception.
Derrick Rose on the break is always dangerous. But when he throws down dunks like this, it's downright scary.
Rose leaps off two feet, elevates way above the rim and puts down the one-handed jam.
Hopefully his ACL recovery is going well, so we can see more electrifying plays like this.
It's not necessarily the dunk itself that makes this such a sick dunk. But the whole play makes it worthy.
Fernandez creatively lobs it over his head backwards and without looking to a trailing Faried, who finishes in style.
It looks as though Faried is going to be a solid player. He'll have an even better highlight reel after an impressive rookie year.
Without a doubt, this is the dunk of the year.
The Nets get out on the break, Brooks throws the lob to Green and we all know what happens next.
The dunk is so crazy, it literally doesn't seem real. It feels like we were watching a video game—that a human being couldn't possibly make a dunk look that cool.
Oh, and I love when he throws it down and points to his hand, referring to his missing ring finger on his right hand. You known you've done something incredible when guys on the bench not even involved in the play are high-fiving each other (Farmar and Morrow).
Props to Johan Petro for starting the outlet.
I'm going to miss watching him on my Nets. He was a solid pickup. Best of luck to him on the Pacers.
Vince Carter will undoubtedly go down as one of the best dunkers of all time. From the dunk in the Olympics over 7-footer Federic Weis to his dunk over Alonzo Mourning, he's been spectacular.
This will join those dunks among his best ever.
On the break with Dee Brown, he takes off and pauses in mid air, catches it with one hand and throws it down. Part of what makes Vince Carter's dunks look so spectacular is how effortless he makes it look. For him, this is almost as easy as making a layup.
Carter is coming to the end of his career, but hopefully he can provide us with a few more of dunks to salivate over.