Tennessee Tech vs. Oregon: Live Scores and Analysis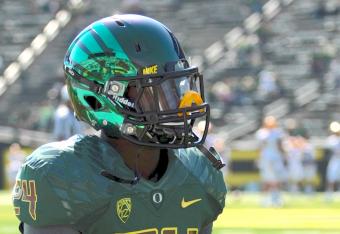 Oregon defeated Tennessee Tech in the ugliest fashion.
However it was only ugly for the Golden Eagles.
The Ducks dominated from start to finish and routed Tennessee Tech to win their third game of the season, 63-14 at Autzen Stadium.
The Ducks totaled 652 yards of total offense while holding Tennessee Tech to 172, and only 62 of those game through the air.
Impressive for a secondary that just lost John Boyett.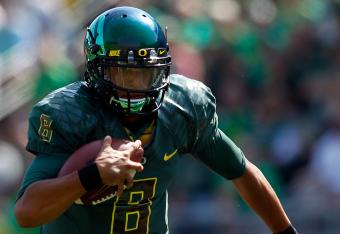 Final Update:
It got so ugly the third string walk-on quarterback had to come in.
By the time the dust had cleared from Oregon's stampede of 652 yards of offense against Tennessee Tech, many are now wondering, can Oregon have the deepest team in the nation?
I think so.
While the Ducks had some issues with penalties and turnovers, I couldn't imagine a better perfromance coming from a team that is realistic.
Key Stats:
62: Passing yards by the Golden Eagles.
Marcus Mariota: 12 of 28 for 307 yards, four touchdowns and one interception. (2.25 quarters of play)
Bryron Marshall: 13 carries for 126 yards and a touchdown.
Da'Rick Rogers has been pretty silent this game since that first touchdown.
Young secondary has done a fantastic job of limiting Tennessee Tech.
Boyett who?
It's a testament to Oregon's coaching staff that their second and third stringers can continue to play well, even if this is a cupcake game.
And Marshall and Bennett ares till keeping the spark going for the offense.
Marshall tallying 105-yards rushing on nine carries while Bennett goes over two defenders for his second touchdown of the game.
Another 50-point game for the Ducks.
And Jackson Rice finally sees the field. That's Oregon's first punt of the day and there's only 3:27 left in the third quarter.
Touchdown Tennessee Tech.
Darrian Stone hits Doug Page for a six-yard touchdown to make it a 49-14 game.
Wonder how many more touchdowns they scout team defense is going to allow.
Stat of the day: Tennessee Tech only has two first downs that weren't a result of a penalty.
I'm not sure if it's good that the Oregon defense can contain an offense that well, or bad that they had so many penalties.
And it's Bennett that threw the intereception this time. Don't think he realized that his receivers are wearing green. Hit that defender right in the number.
Yet another reason why Super MARIO-ta is our quarterback this season.
All of the back-ups are in on defense and Byron Marshall steps in at running back for the Ducks.
I'm excited to get to see more of Marshall this season. Got to watch him play a bit in high school down in San Jose.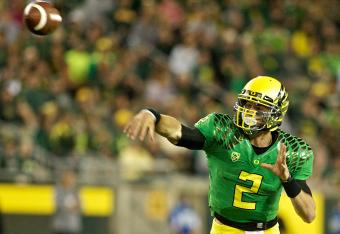 Oregon goes with their back-up quarterback and he runs the ball in for a touchdown.
Tennessee Tech goes with their back-up quarterback and he throws an interception that sets up that touchdown.
The Ducks depth is absolutley amazing.
Mariota has thrown to 12 different receivers. This is what's going to help them latter on against tougher opponents.
Dior Mathis with the Interception return to the four yard line.
It's about time that Dio Mathis starts to contribute for Oregon.
He was unheard of last year.
Congratulations to Keanon Lowe on his first touchdown.
Half-Time Update:
On the surface, it looks like Oregon has been playing a flawless game.
The Ducks have 383-yards of offense, 134 from DAT, and lead 35-7. Their defense has held Tennessee Tech to only 48-yards, three of which came on the ground.
However, Oregon has three turnovers and nine penalties for 80-yards.
What remains to be seen is if the Ducks come out with their starters making adjustments and continuing to keep the momentum going, or if they begin to slow down the tempo and just ride this game out for a win.
We shall see.
Key Stats:
Mariota: 19 of 25 for 266 yards, two touchdowns and one interception.
Thomas: Six touches for 134 yards.
For a guy who weighs 170 pounds, it's amazing how easily defenders bounce off De'Athony Thomas.
— Adam Jude (@A_Jude) September 15, 2012


LaMichael James was able to do the same thing. They may be small guys, but they're not afraid to take a hit as other scat backs would.
Running back coach Gary Campbell can't coach that, these guys have heart. Chip may not always get the blue-chip recruits, but he gets the ones that have heart and then teaches them the game.
Seems to have worked pretty well so far.
Impressed with the guts of Mariota. Took on a linebacker head-on and then throws a 16-yard touchdown to DAT.
Ducks up 35-7 to head into the locker at halftime.
Don't understand why Oregon keeps going for it on fourth down. They're up 28-7 and have one of the best punters in the nation in Jackson Rice.
Doesn't Chip want to get his secondary more reps to prepare them for the season?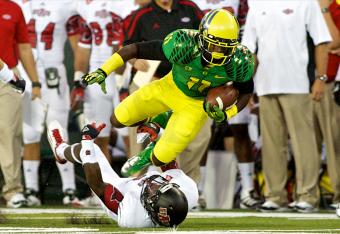 I'm looking foward to seeing more of Bralon Addison in the future.
Imagine the success Oregon is going to have with him, Mariota and incoming freshmen Thomas Tyner.
For those of you who don't know, Tyner ran for 10 touchdowns last night.
Another punt for Tennessee Tech.
DAT could set the record for punt return yards just because he's taking so many kicks back.
Last four first downs for Tennessee Tech has come on penalties.
Oregon needs to calm down and not allow themselves to be having late hits on opposing players. Your up 28-7.
Misread my notes, the INT was actually Mariota's 62nd attempt. RT@duffman57If he throws one INT every 60 throws, i'm a happy Duffman
— Rob Moseley (@DuckFootball) September 15, 2012
I think that speaks enough for itself.
You got to feel sorry for Rob Beard. He rarely sees playing time, and when he does, he misses the field goal.
Glad for two things right now:
1. That DAT is making plays on Special Teams. While it's the smallest third of the game, if you can make plays on special teams, you're golden.
2. Bryan Bennett is seeing some playing time. Lined up in the backfield WITH Mariota.
Pull Mariota from the game. An interception is just unacceptable for him.
Note: That was sarcasm. He's human and only a freshmen. Now he can learn from this and only get better.
In my opinion, Oregon has two seniors that will have NFL careers. Both of them are on defense.
Dion Jordan and Kiko Alonso are absolute monsters. Look for them to be mid-round steals come April.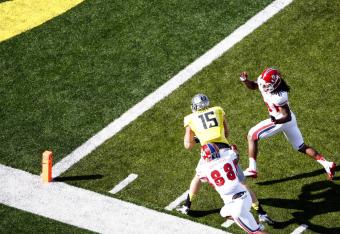 And there's Lyerla, finally getting in on offense. Comes up big with the four yard touchdown from Mariota.
Ducks up 28-7.
Lyerla now with 12 career receptions. Don't think that's impressive for someone with so much hype? Seven of those have been for touchdowns.
This article is
What is the duplicate article?
Why is this article offensive?
Where is this article plagiarized from?
Why is this article poorly edited?

Oregon Ducks Football: Like this team?