The Funniest Fan-Reaction Videos in Sports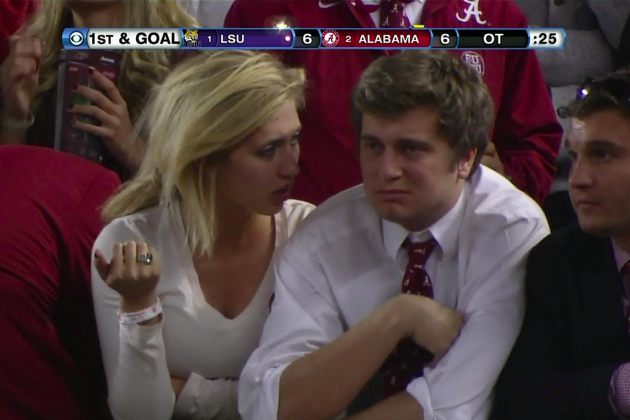 Image via totalfratmove.com
Without fans, sports would be meaningless. The cycle of successful sports franchises begins and ends with the fans.
In honor of all the fans across this great nation, I have found some of the funniest fan-reaction videos on the web.
Warning: Please excuse the language; the fans just love to express themselves.
Begin Slideshow

»
It wasn't the normal fan-reaction video we are used to watching, but this guy is crying. He is CRYING.
As a diehard LSU fan, this is hilarious.
Of all the random videos on YouTube, this is the one that landed on my plate.
How and why I think this video is hilarious might have something to do with the case of beer we all just drank while watching UL-Monroe beat Arkansas.
But this guy finds the time to put on "cool guy" shades before it's over? Only cool in his house.
This guy gets it. All you have to do is love the sport enough to feel the joy that takes you in that one euphoric moment.
If he had to do this all over again, he would react the same way every time. That is just sports.
OK, here are my plans for the day.
Wake up...check
Get dressed...check
Head on over to the PGA Tournament...check
Wait all day for the moment when Tiger Woods will be hitting a golf ball within five inches of your face and jump in front of the camera to give the world a taste of the blueberry polo...CHECK
Grown men crying over a loss shouldn't happen.
Not only that, but this is a Clemson fan. The team that hasn't won a national title since 1981.
What are you crying about?
Mark Johnson is a meteorologist in Cleveland, Ohio. He is a Cavaliers fan, and this was from a few nights after the Miami Heat won the NBA title and LeBron James claimed his first ring.
If only all news media could respond like this guy did. It was like watching a Zach Galifianakis stand-up routine.
It truly hurts to include this video on here, but I tip my hat to the entire Alabama crowd for getting together on this one.
They had to make a joke about how LSU couldn't pass its own 50-yard line in the BCS National Title game just a few days earlier.
Well played, Bama.
If you wanted to enjoy the news, watch this show.
This is exactly how I imagine any news outlet reacting when their local sports team wins the big game. It makes for great TV.
James Brown bobble-head? Priceless.
If Bear Bryant was still alive, he would probably ask this man to find another team to root for.
I know Ole Miss is looking for fans, maybe it could take this guy. Roll Tide.
I love this guy!
This is how you react to a win. Everyone else should strive to live up to this kind of reaction. This is how sports are supposed to make you feel. Love it.