UMass vs. Michigan: Live Scores, Analysis and Results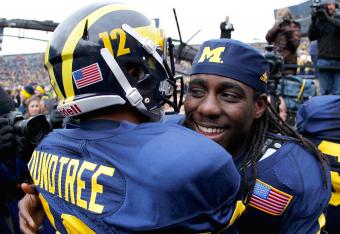 Let's never go that long without hooking up for a touchdown, OK?
Gregory Shamus/Getty Images
Michigan 63, UMass 13 -- final

Michigan's freakishly-fast quarterback Denard Robinson threw for 291 yards and rushed for 106 in the 17th-ranked Wolverines 63-13 victory over the visiting UMass Minutemen.
Robinson spread the ball around to nine receivers; eight players scored.
Seeing Russell Bellomy, Justice Hayes, Thomas Rawls and others get snaps today was the main goal for the Michigan coaching staff, I'm sure.
Follow Bleacher Report's Michigan Wolverines football writer Adam Biggers on Twitter @AdamBiggers81
Check back tonight for my "10 things we learned" piece on today's game.
For one, we learned that Devin Gardner should probably get the ball more often.
We also learned that Michigan's rushing game, even against the likes of UMass, needs to improve or the Big Ten defenses will absolutely shell Robinson.
We should have learned that UMass quarterback Mike Wegzyn is a trooper. Kid got knocked around but played well considering the circumstances.
I predicted a 48-10 win for Michigan today.
What a leg from Will Hagerup. Jeesh. Net of 74 yards.
Let's talk punters: Fenton High's Kenny Allen is a preferred walk-on at Michigan. Bet you didn't know that. OK. Maybe you did.
Russell Bellomy goes deep to Jeremy Gallon. I'm just thinking out loud.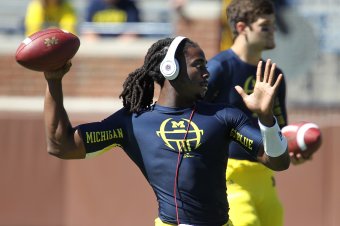 Dave Reginek/Getty Images
Nine receivers have caught balls. Eight players have scored touchdowns.
UMass has scored 13 points. I was going to try to tie together the numbers in some clever, pithy comment, but I can't. Sorry.
Anyhow, is it me, or do Denard Robinson's locks look shampoo commercial-worthy?
Watch out, Troy.
Michigan 63, UMass 13
Justice Hayes finally gets a taste of college-level scoring, dives in for one-yard touchdown. Eight players have scored for Michigan.
Michigan is 6-for-6 in red zone, says BTN. I haven't been keeping track. Michigan scores on nearly every drive... yaaaaaaaaaaaaaawwwwwwwwwwwn.
BTN says Justice Hayes is from Flint and went to Northern.
Nope.
That's Thomas Rawls. Hayes was a Grand Blanc Bobcat.
Grand Blanc's Justice Hayes gets a carry. He's another local kid that I remember from the Flint area. Always thought of him as a MAC player, slot receiver-type.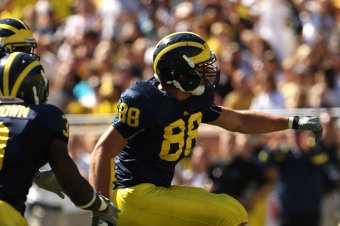 Stephen Dunn/Getty Images
Michigan's defense definitely needed a game like this; it's allowed just 141 yards through the air and 216 total yards of offense.
That's a far cry from giving up over 400 yards in first two games.
Michigan 56, UMass 13
Vincent Smith visits the Promised Land, scores on a nine-yard run. Good for him. He hasn't seen much success this season.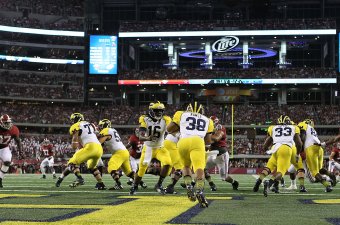 Leon Halip/Getty Images
Let's see more Thomas Rawls in the backfield.
#Flint
OK, here's the extent of my Michigan fandom: Attaboy, Thomas!
I've known Thomas Rawls for a couple years. What a hit on the UMass DB.
From the comments... Yes, someone actually commented.
For those who are familiar with me or my prior work on B/R, it's pretty widely known that I'm actually not a Michigan fan. I know it hurts, but you'll pull through.
However, it's great covering Michigan football because of its passionate fans. Even I thought Delaire's hit on Denard Robinson was cheap. I call it like I see it.
This was from a reader:
i don't know why you were calling that late hit cheap.
he was maybe half a step late, if that. hardly cheap.
try to be unbiased k?
This was from me:
It was definitely cheap. And I'm not a Michigan Man, so please take the "unbiased" stuff elsewhere.
I thought the exchange was funny.
#StuffToDoWhenGameIsOverAndThereIsNoActionToBlogAbout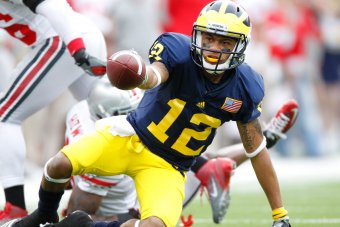 Gregory Shamus/Getty Images
Michigan 49, UMass 13
Holy cow...
He does exist!
Roy Roundtree comes up with a touchdown grab out of nowhere. I didn't even know he dressed for this game (sarcasm).
You know game is over when sideline reporters interview a coach of another sport.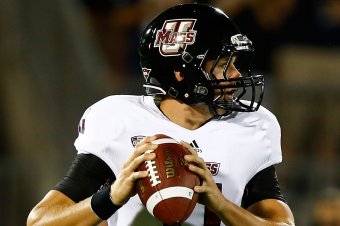 Jared Wickerham/Getty Images
I think you really have to tip your cap to UMass quarterback Mike Wegzyn; he knows his team is overwhelmed by Michigan but he's still calm and looking to complete passes, not just throw bombs.
Games like this are good for guys like Wegzyn and teams like UMass. Scoring 13 on the Wolverines has to be the highlight of UMass' season thus far.
Ronald Martinez/Getty Images
Halftime thoughts...
Yeah, so it's against UMass, but Michigan is spreading the ball around more than it did against Air Force and Alabama.
Seeing guys like Drew Dileo get catches is an encouraging sign -- there are other guys who can make plays other than Denard Robinson.
Devin Gardner needs to be targeted more. He's waltzing around the field, looking for something to do.
Fitz Toussaint's 48 yards on 10 carries aren't overly-impressive, but he's looked steady when carrying the ball.
Again, keep in mind that this is UMass. Michigan is doing what it should be doing against the MInutemen. But give UMass credit for hanging in there.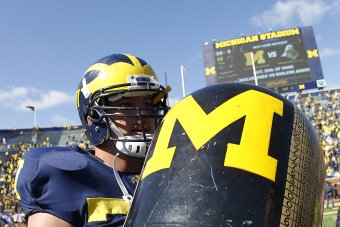 Leon Halip/Getty Images
Michigan 42, UMass 13
Way to get in there for a touchdown.
Taylor Lewan recovers fumble at goal line, helps build on Michigan's huge lead.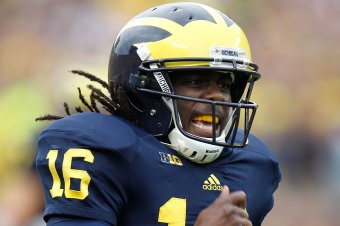 Gregory Shamus/Getty Images
That was super cheap, Mr. Delaire.
Can't beat Denard Robinson, so why not take him out of the game?
Payback with little 16-yard run right there. Get ready for another score.
Drew Dileo, where have you been?!
He's looked good when targeted, speedy little dude, too.
Michigan 35, UMass 13
UMass kicker Brendon Levengood giving his team a little hope by hitting field goal prior to half.

Michigan 35, UMass 10
Denard Robinson had enough time to bend over and tie his shoes on that incredible 36-yard touchdown run. The guy is just a crazy-talented athlete.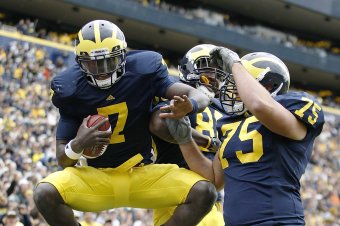 Leon Halip/Getty Images
When you use a hashtag on Twitter, aren't you supposed to Tweet something other than the hashtag itself?!
Checked out Twitter for #UMGardner posts. Not impressed. Step up your game, Tweeters.
Mike Wegzyn is going to have nightmares about Joe Bolden.
Michigan 28, UMass 10
Nice shot on the move from Denard Robinson. Devin Gardner is walking around out there, unchecked for the most part. Great balance along sideline on that 42-yard touchdown grab.
Wolverines might want to work him into game plan instead of wasting time with bubble screens.
Just a thought.
Those screen plays look so forced for some reason. They're ripe for the picking, too.
This article is
What is the duplicate article?
Why is this article offensive?
Where is this article plagiarized from?
Why is this article poorly edited?

Michigan Wolverines Football: Like this team?