Baltimore Ravens vs. Philadelphia Eagles: Live Score, Analysis for NFL Week 2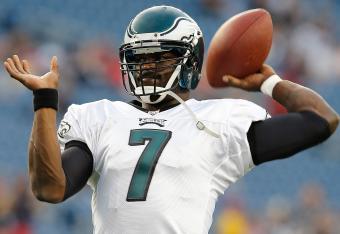 Jim Rogash/Getty Images
The Eagles do it again. A horribly sloppy game, but it doesn't matter. The Eagles turn it over four times to bring their total up to nine for the season. Good news for them is that they are forcing plenty of their own. Six to be exact. A win is a win and a 2-0 start is a 2-0 start. The Ravens can take solace in that they barely lost to a good football team on the road. It wouldn't surprise me to see these two teams face off again in February.
Game Balls
Brent Celek was outstanding today with eight catches for 157 yards. This is the Brent Celek I was hoping to see this season. It also helps that Michael Vick is looking his way a lot this season. That wasn't the case last season.
Ray Rice deserves a game ball too. He was dominant with his 22 touches, going for 152 total yards. It always seems like he is never a big enough part of the offense.
Ravens fans and Eagles fans can both leave this game with a lot of optimism. The Ravens nearly upset a good football team on the road. The Eagles squandered three possessions inside the 30 because of turnovers, but still put up 24 points against a good defense. Just wait unitl they actually take care of the football.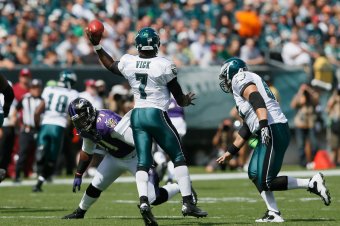 Rob Carr/Getty Images
Flacco misses his man and the Eagles take over. Wow! What a game. Playoff type atmosphere even if the play was incredibly sloppy at times.
Flacco over throws Pitta on a third and two. Fourth down.
Ravens get their first, first down on the drive. Down at their own 34 yard line. Nnamdi Asomugha gets called for illegal contact. Ravens down to their own 39 yard line.
Eagles get the touchdown but the Ravens have enough time to take in a movie before the score. Bad play calling by Marty Mornhinweg on second down.
Regardless of the call, that was a horrible play call. Eagles just need a yard. If they don't punch it in, at least you either take time off the clock or a Ravens timeout.
For some strange reason, the Eagles attempt a pass at the one yard line. Vick is hit as he throws by Ngata. The ref called a fumble but that has to be a pass. Replacement refs are in are form today.
Eagles down inside the 5 after a big catch from Clay Harbor. Michael Vick runs a quarterback draw to the one yard line as we get to the two minute warning. Ravens still have two timeouts left and would have plenty of time. They would only need a field goal.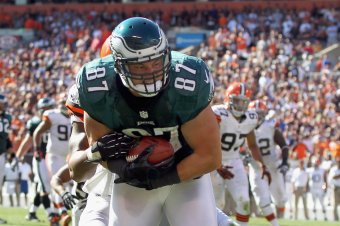 Matt Sullivan/Getty Images
Brent Celek and DeSean Jackson are having monster games with Maclin banged up. Eagles down to the Ravens 25.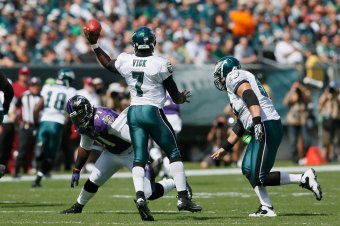 Rob Carr/Getty Images
Kickoff goes for a touchback. Eagles take over at their own 20. It's all or nothing on this drive. If the Eagles punt the ball away or turn the ball over, don't expect them to get the ball back within one score.
After all that, Justin Tucker will have about a 48 yard field goal. His lowest attempt of the game.
Replacements refs loves the dramatics. Ref throws his bean bag instead of his yellow flag. 3rd and 22.
Another big third down coming up. About a third and 12.
Another third and 7, another big first down catch to Ray Rice. The Eagles sent six and Rice was uncovered. Bad time to blitz.
Flacco converts a big third and 7 as the Eagles lost track of Ray Rice.
Eagles drive stalls at midfield. Chas Henry punts a duck 30 yards to the Ravens 22 yard line. Fair catch. 9:26 left, Eagles need a big stop here. This will be a huge test for Joe Flacco. Can he put this game away? Or will he have either another dull drive or a costly pick?
Huge sack by DeMeco Ryans will force the Ravens to attempt a 50 yard field goal. Justin Tucker makes his second 50 plus yard field goal of the game. The Eagles can take solice in the fact that they held the Ravens to just a field goal.
DeSean Jackson was absolutely destroyed by Ed Reed, but made the catch anyway. Brent Celek can't bring on a high and fast pass the next play and it is picked off by Ed Reed. Flacco goes deep to Torrey Smith and finally completes one. What a turn of events. That is how we end the third quarter.
Another three and out for the Ravens. Flacco with just one completion this half.
The Eagles offensive drive stalls as well. Ravens take over at their own 41 yard line.
It was the right decision by Andy Reid to take the points. Losing a timeout on challenge and missing out on any points would have been crushing. The worst case scenario for the Eagles will be a seven point deficit the next time the offense takes the field.
Michael Vick runs just shy of the four yard line. Andy Reid is challenging the spot of the football. If they are short, the Eagles will either kick a field goal or try to convert a fourth and inches.
Joe Flacco throws three straight incompletions. Quick three and out for the Ravens as the Eagles take over at their own 35 yard line. 65 yards away from taking the lead back.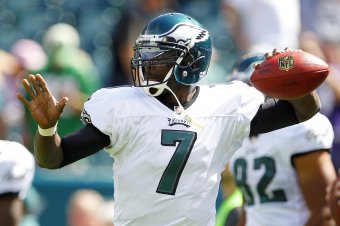 Rich Schultz/Getty Images
Vick rolls out on a play that looked dead, but somehow he found Jeremy Maclin in the back corner of the end zone. Huge play for the Eagles, especially after Jason Kelce gets carted off the Ealges sidelines.
This article is
What is the duplicate article?
Why is this article offensive?
Where is this article plagiarized from?
Why is this article poorly edited?