Louisiana-Monroe vs. Auburn: Live Scores, Analysis and Results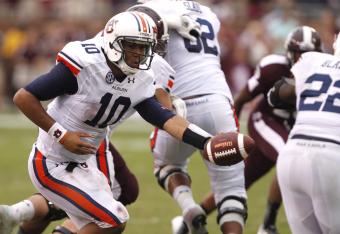 Butch Dill/Getty Images
The Auburn Tigers defeated Louisiana Monroe 31-28 in overtime, earning their first win of the 2012 season.
The Warkawks looked very strong offensively and defensively, but were unable to keep the game within reach when Justin Manton missed a 37 yard field goal attempt in overtime.
Auburn needed this win badly and it took every bit the Tigers had to get it. It will be a long road moving forward for the Tigers with LSU coming to town next week, but this win is one that the Tigers need to relish tonight.
Auburn 31, La-Monroe 28 -- Final
Cody Parkey nails a 35 yard field goal to lift the Tigers over the Warhawks.
Key Stats:
ULM Warhawks
Kolton Browning: 28-of-45 for 237 yards and three touchdowns; 14 rushes for 58 yards and one touchdown.
Jyruss Edwards: 17 rushes for 76 yards.
Je'Ron Hamm: five receptions for 57 yards.
ULM had 10 different receivers in the game, and six different ball carriers.
Auburn Tigers
Kiehl Frazier: 10-of-18 for 130 yards, one touchdown and one interception; five rushes for eight yards; one reception for 34 yards and one touchdown.
Onterio McCalebb: 11 rushes for 128 yards and one touchdown.
Sammie Coates: two catches for 34 yards and a touchdown.
ULM missed the 37 yard field goal after Angelo Blackson got a finger tip on the field goal try.
Auburn takes over the ball with its own shot at points from the 25 yard line. Auburn needs to move the ball to the middle of the field and set up Cody Parkey.
ULM elects to kick the field goal.
Auburn wins the toss and elects defense.
Key Stats:
ULM Total Yards: 406
Auburn Total Yards: 411
Time of Possession:
ULM - 34:17
Auburn - 25:15
Clark's punt lands out of bounds at the 15 yard line. Auburn's defense needs a huge stop.
Better yet for Tigers fans, a turnover.
Auburn is forced to punt with :37 left on the clock. The Tigers are looking to force overtime against the Warhawks.
Auburn played well early, but they have failed to make yards happen late in the fourth. Kiehl Frazier is again missing wide open receivers.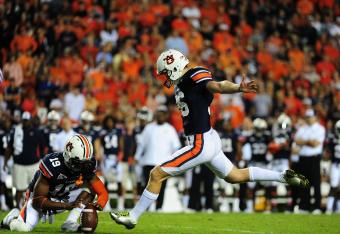 Tre Mason has really shown great field vision in this game maneuvering back and forth gaining a lot of extra yards.
The Tigers coaches are not putting this game into Frazier's hands. Auburn needs to get to around the 32 yard line to be in comfortable field goal range.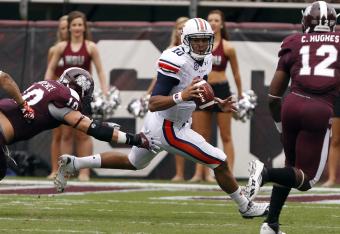 Auburn will need big plays from the offense, but not mistakes from Kiehl Frazier. Do the Tigers coaches put this game in the hands of the young quarterback to win?
Louisiana Monroe has not had a winning season in school history. Auburn looks to be helping them land their first.
TOUCHDOWN WARHAWKS
Kolton Browning continues to impress with his third touchdown toss of the game. ULM has harnessed the comeback. There is less than two minutes left in regulation with the Warhawks looking to force overtime.
Can the Tigers stop the upset?
Key Stats:
Kolton Browning: 26-of-42 for 214 yards and two touchdowns; 13 rushes for 57 yards and one touchdown.
Time of Possession:
ULM: 33:22
Auburn: 24:25
ULM is now on the seven yard line of Auburn. This game is going down to the wire after an amazing catch by Brent Leonard.
The Warhawks are looking strong as the final ticks come off the clock.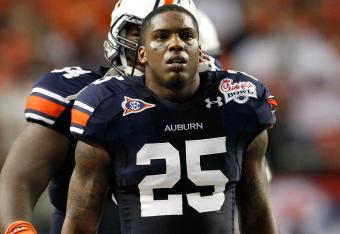 Daren Bates is having a great day with 13 tackles on the day. He has 37 in three games of play.
Auburn has landed two consecutive penalties and they are destroying the Tigers chance of stopping this comeback. Auburn is giving the game to the Warhawks and Kolton Browning is getting ready to take it from the Tigers.
Frazier gets dropped on a long third down play and they are forced to punt. The Tigers are leading the game by one touchdown and facing a hungry ULM team. Auburn has to get it together quick or they will be the second victim of the Warhawks in as many weeks.
TOUCHDOWN WARHAWKS
Harley Scioneaux just made a circus catch for the Warhawks bringing the game within seven points with six minutes left to play.
This is still a game and ULM is pushing for a life-line.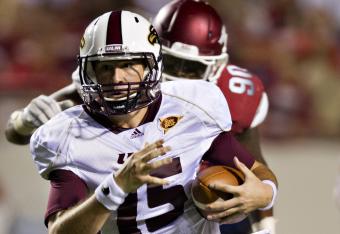 ULM is now 3-of-4 on fourth down.
ULM has a very good player in Kolton Browning. He is easily a Top 25 quarterback right now in the college game.
The Warhawks are now driving inside the red zone looking to draw the game within one score.
Fourth and seven for ULM.
Auburn is starting to get sloppy on defense. Two consecutive penalties are not what the defense needed to give to the ULM offense.
Can the Warhawks capture the magic against the SEC again on the road?
Kiehl Frazier just tossed his first interception of the game. It looked like Frazier just threw the ball to the wrong route with Emory Blake wide open on the post.
Those mistakes will happen with the young quarterback, but those decisions are what turn into multiple turnovers against strong teams. See Mississippi State game for reference.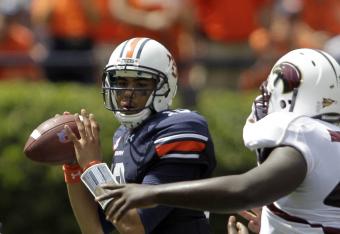 Tre Mason made a crucial fourth down conversion.
Auburn will continue to run the ball, trying to wear down the clock.
Auburn gets stopped short again on third down. They are across the 50 yard line. It is fourth and short and the Tigers are pushing for the first.
Key Team Stats
ULM Warhawks
169 yards passing; 148 yards rushing
Leading rusher: Jyruss Edwards 17 rushes for 76 yards.
Leading passer: Kolton Browning: 19-of-30 for 161 yards and one touchdown.
Leading receiver: Tavarese Maye: four receptions for 45 yards
Auburn Tigers
163 yards passing; 220 yards rushing
Leading rusher: Onterio McCalebb: 10 rushes for 126 yards and one touchdown.
Leading passer: Kiehl Frazier: 10-of-14 for 130 yards and one touchdown.
Leading receiver: Sammie Coates: two catches for 34 yards.
Auburn is playing a little bit softer on the receivers than when the game kicked off. The Tigers are giving room for the intermediate throws, and Kolton Browning is finding the voids.
A gain of 12 in a big first down throw gets ULM across the Auburn 40.
Auburn fails to convert on fourth down inside their own red zone. This is not the opportunity that Auburn wants to give to the Warkhawks.
Kolton Browning knows how to make magic happen in situations they shouldn't. This will be an exciting closing 13 minutes.
This article is
What is the duplicate article?
Why is this article offensive?
Where is this article plagiarized from?
Why is this article poorly edited?

Auburn Football: Like this team?