Texas Football: 10 Things We Learned from the Longhorns' Win vs. the Rebels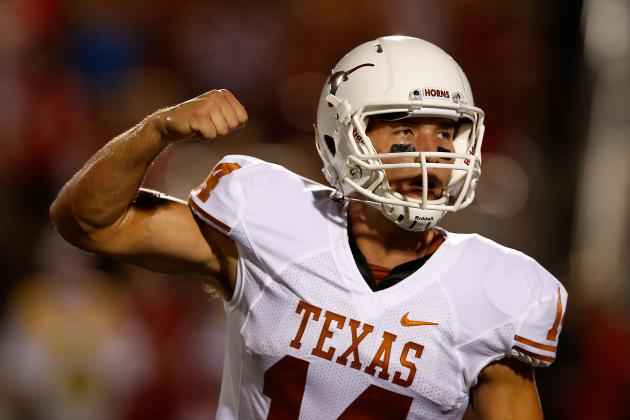 Scott Halleran/Getty Images

The Texas Longhorns poured on the offense against Ole Miss, slashing the Rebels by a 66-31 count in Oxford Saturday night.
Texas jumped out quickly and led 31-10 at the half as it flashed its power running game that gained 350 yards on the night and a passing game that took definite strides down the field.
So, as the Longhorns move to 3-0 on the season and enter their bye week, here are 10 things we learned from their win against the SEC.
Begin Slideshow

»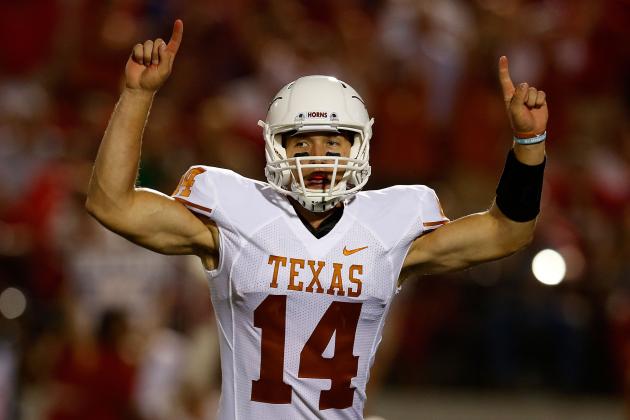 Scott Halleran/Getty Images

The first thing that stood out for Texas is David Ash's development.
It's a tempered progression, yes, but it's improvement nonetheless.
Ash went 10-for-11 for 103 yards and two touchdowns in the first half, as he hit nine passes heading into the break.
Though most of his deep throws were still underthrown, yet completed, Ash's progress was in his reads. His ability to understand when to unleash a deep ball and when to check down to a more consistent throw is something that will drive this offense to its true potential.
And behind this running game that racked up nearly 360 yards, a good passing game will only excite some more.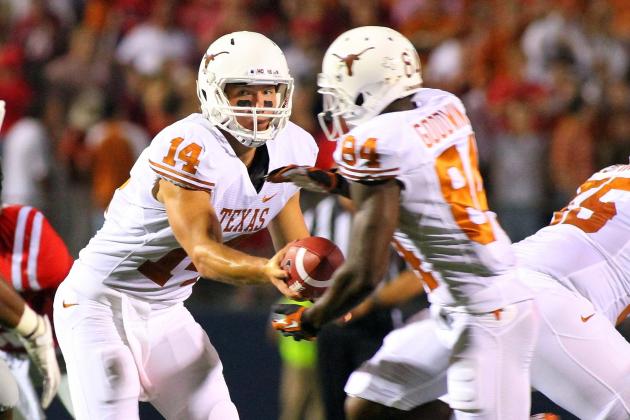 Spruce Derden-US PRESSWIRE

Hopefully not just an aberration, the Longhorns quieted some crowds by jumping out quickly on the road against Ole Miss.
With a 21-point lead at the half, Texas had to have been pleased with the results on both sides of the ball. There were still signs of poor tackling and some lax coverage, but when the Longhorns go into their bend-but-don't-break style of defense, they are really something special.
But for all the nagging about slow starts against Wyoming and New Mexico, Texas did itself a favor by really establishing its offense early.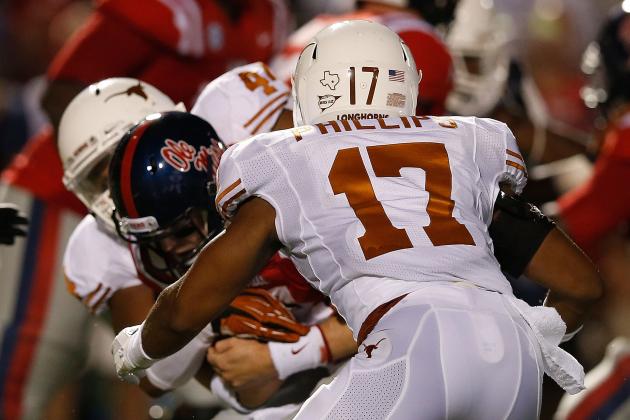 Scott Halleran/Getty Images

With five sacks at halftime, the Longhorns consistently got pressure in Ole Miss' backfield. And against a good, mobile quarterback, like Bo Wallace, the ability to force him into difficult situations will create more opportunities for this defense.
We saw Alex Okafor, Jackson Jeffcoat, Brandon Moore and Reggie Wilson all get in on the action, but the depth in quality hardly stops there.
The second half saw a different look from the line, although it hardly fell short of solid.
The line still got good pressure from multiple angles, but poor tackling behind them bruised up what could have been a more statistically sound evening.
Still, this was a great outing for a group that has as much talent as any program in the country.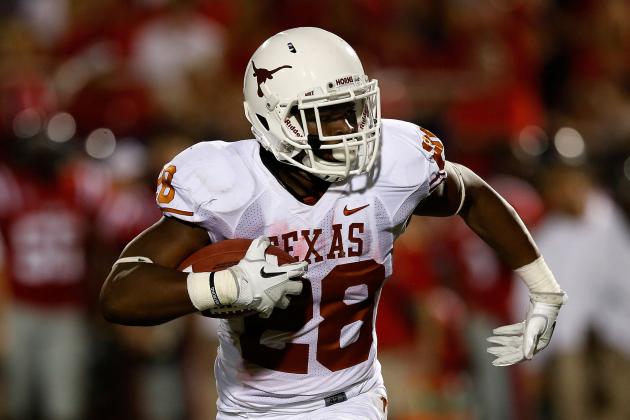 Scott Halleran/Getty Images

With 128 yards on 21 carries, Malcolm Brown had himself quite a game for the Longhorns.
He consistently looked quick, fresh and fast, against a seemingly overmatched Ole Miss defense.
Brown lacked that sideways agility last season when he was dinged up, and combined with his strength and power, he is one of the more dynamic backs in Texas' backfield.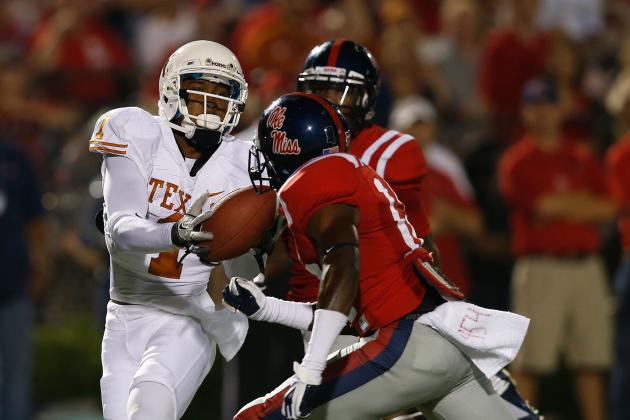 Scott Halleran/Getty Images

For a guy that the Longhorns recruited back in their 2010 class, Mike Davis has rarely showcased the talent that Texas saw in him coming out of high school.
Until now.
With five catches on the night for 124 yards and a touchdown, Davis just made plays. He did not quit on underthrown balls, he was available for good blocks on the edge and he simply flashed the athleticism that caught the Longhorns' attention while he was in high school.
This is the kind of step forward that Davis needed to establish himself as a consistent playmaker on offense.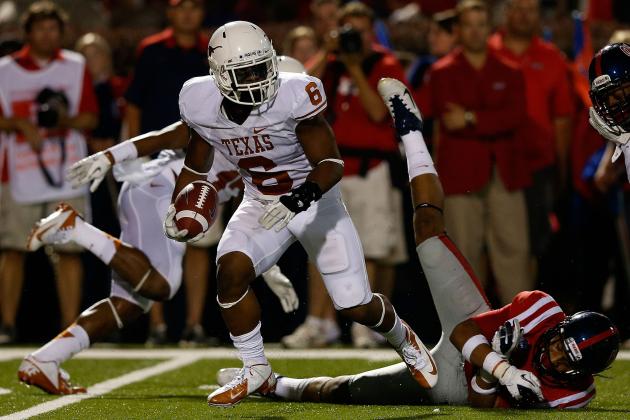 Scott Halleran/Getty Images

If we already did not know that Quandre Diggs is an absolute stud at cornerback, he just reaffirmed it with a two-interception night in Oxford.
Diggs was beat early on by an amazing catch from Rebels receiver Donte Moncrief, but from that point on, Quandre the Giant was lights out.
Diggs' opposite, Carrington Byndom, goes quietly with his business and has not really put in a standout performance. And while Byndom was the defense's No. 1 guy at the position last season, he may very well have been jumped by Diggs.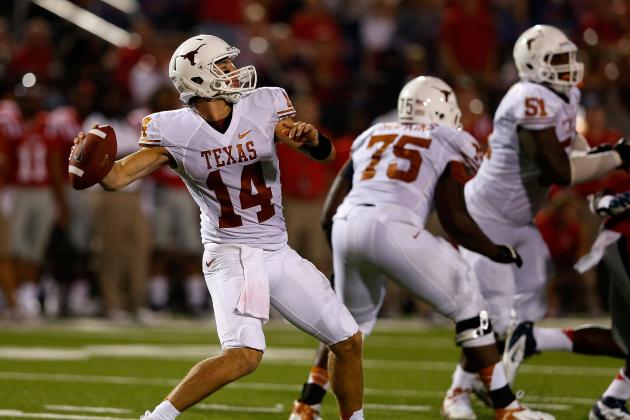 Scott Halleran/Getty Images

While there is little doubt that Texas impressed with its deep game with Mike Davis and Marquise Goodwin, the true strength in the Longhorns' aerial attack is short.
Quick throws to the running backs in the flats or to receivers on screens or quickly over the middle will be what drives the passing game into its full potential.
The Longhorns flashed some of that last night, but that only came after they had forced instability in Ole Miss' defensive schemes.
Texas was able to do whatever it wanted on offense, and the deep game was merely an extension of what the short game was able to accomplish.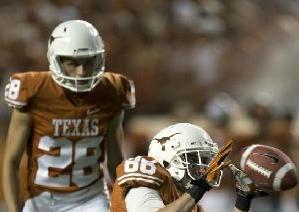 It seems odd to put faith in a kicker that has never taken a live kick for the Longhorns, but at the rate that Texas is missing field goals from distance, the need for a more serviceable kicker is blatant.
Nick Jordan is fine from inside 35 yards, but once beyond that point, Texas just has too many questions about his consistency.
Anthony Fera transferred to Texas over the summer, but he brought a groin injury with him. His availability looks solid for the start of Big 12 play, but the sooner the Longhorns can get him kicking, the better.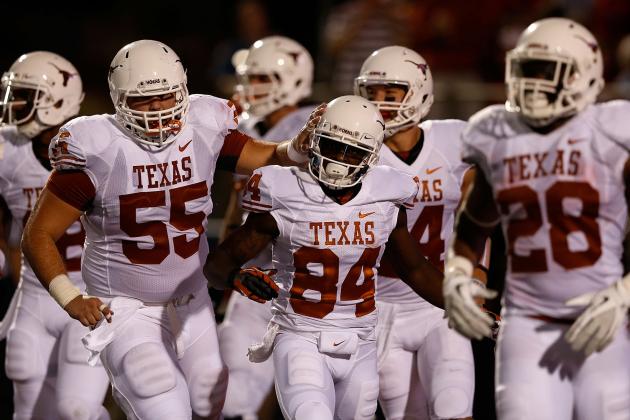 Scott Halleran/Getty Images

For all of the talk of a power running game, the Longhorns just did not deliver to their fullest in their first two games of the season.
However, against the Rebels, the big boys showed up big time in both phases of the offense.
The holes were good enough early on to establish the middle of the field on the ground. And as the game moved towards the sidelines and eventually into the deep pass, the offensive line performed very well to provide the right protection schemes to create time for plays to develop.
This was as close to an A-type of performance from the Texas offensive line that it has gotten in some time.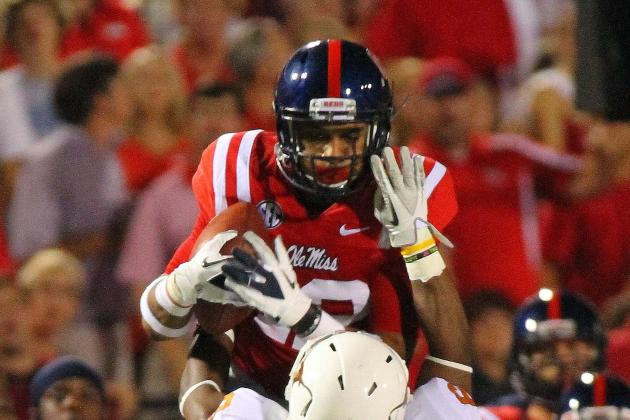 Spruce Derden-US PRESSWIRE

Despite how well the defensive line played, there is still plenty of rust to shake off and issues to refine.
The obvious point is tackling discipline, an area that Texas struggled in last weekend against New Mexico, and it showed again against Ole Miss.
Too many times did missed tackles lead to big gains or touchdowns, and against the elite opponents on their schedule, the Longhorns will have bigger holes to face.
Credit should be given to the Rebels' offense, but at the same time, there were plenty of opportunities to shut down a would-be scorer.