Arkansas State vs. Nebraska: Live Scores, Analysis and Results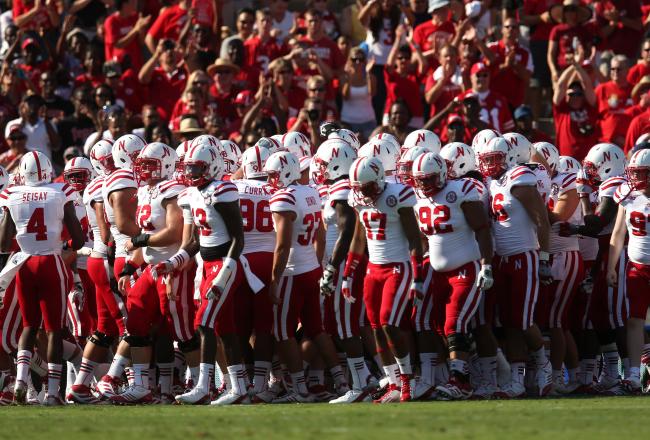 Stephen Dunn/Getty Images
Arkansas State 13, Nebraska 42 FINAL
Taylor Martinez had two scores through the air and one more on the ground as Nebraska bounced back from their loss to UCLA last week in style.
However, the big story of the game is that Nebraska head coach Bo Pelini left the game in an ambulance.Pelini reported flu like symptoms.
Arkansas State drops to 1-2 while Nebraska gets ready for Big Ten play.
OK, we just got an update on Bo Pelini's situation. According to a statement, Bo Pelini is "fine" and he will return to work tomorrow.
That's good news after a big Nebraska win.
Well, that should do it. If I hear anything on the Bo Pelini situation I will post it right here. And, of course, be sure to stay tuned all day to all of the football action going on right here on Bleacher Report!
For Arkansas State, this game shows clearly how far the Red Wolves have to go to be a power in college football.
They just didn't execute when called upon on big plays. They missed a whole bunch of tackles and just couldn't compete with the Husker offensive line.
Remember, this is the same offensive line that got pushed around by UCLA last week.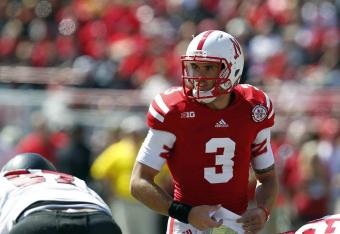 The Nebraska defense definitely stepped up their game from last week. They made adjustments early to the Arkansas State's hurry up and kept the Red Wolves offense out of the end zone in a dominant performance.
On offense, four turnovers is a bit troubling. Against a better team those could have spelled disaster. Still, Taylor Martinez and Ameer Abdullah had good games, ball security questions aside.
But where is Bo Pelini?
We know he was taken away in an ambulance but so far the media has not been able to find him. Nebraska has been tight lipped on the location of their head coach.
Let's hope that he's OK.
And that's the ball game as Aplin's pass falls incomplete.
I really expected better things from the Red Wolves. They got called the Boise State of the South before this game started on ESPN, and I think this loss shows just how far the Red Wolves have to go.
Final thoughts coming up.
Nebraska fumbles the ball again in the red zone and Arkansas State recovers.
Yawn.
You know, Nebraska has given away the ball four time in the second half and Arkansas State only has 13 points to show for it. In fact, the offense hasn't been able to score all day today without help from Nebraska mistakes.
Taylor Martinez is out, Ron Keller III is in and yet Nebraska is still making big plays.
And the seconds tick off the clock toward the Huskers' inevitable victory.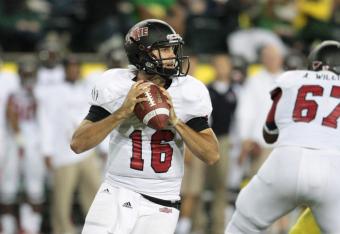 And so, Arkansas State punts again.
The Red Wolves wasted a lot of time on that drive to get nothing. Lots of running plays and swing passes. Aplin isn't taking shots down field and I have no idea why.
After all, what do you have to lose this late in the game when you're down by so much?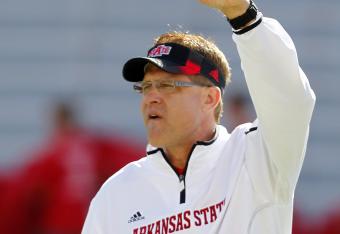 I really don't know why Gus Malzahn is running the ball this late in the game when he's down by so much.
Has he given up?
Or maybe he's not as much of an offensive guru as we were led to believe...
How about defensive coordinator John Papuchis? He's shown that he's one exciting guy to watch on the sideline, and he's had to manage the team as Bo Pelini isn't there.
He deserves a helmet...errrr...headset sticker?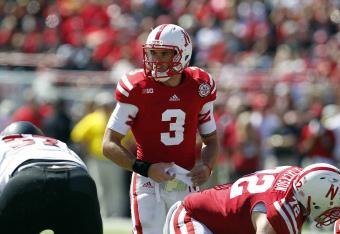 Arkansas State 13 Nebraska 42
Taylor Martinez takes it to the house on his birthday.
Game over, man. Game over.
Gus Malzahn goes for it again on forth down again and once again disater strikes.
Aplin fumbles the ball and the Blackshirt defense holds.
I can understand Malzahn's move here as Arkansas State needed a touchdown late, but once again the Red Wolves can't execute when called upon.
ESPN shows Bo Pelini's interview at the half again. Still no new updates.
Keep it right here!
Taylor Martinez takes a hit, but a silly pass interference Nebraska get the ball first and goal from the 2
And now, it's
Arkansas State 13 Nebraska 35
There's one quarter left, but the big story remains focused on Bo Pelini's health.
Bo Pelini has not been on the sideline since halftime and he's been taken to a local hospital.
I have almost no doubt that the Huskers win the game as the Arkansas State offense has not been able to find the end zone, but this one is worth keeping an eye on for the Pelini situation.
Stay tuned.
ESPN is confirming that Bo Pelini was taken to a local hospital.
Let's hope that he's OK and that there's nothing serious wrong with him.
ESPN is sending a reporter to the hospital. Will update as soon as I hear anything on Bo Pelini's condition.
Arkansas State 13 Nebraska 28
And Nebraska doesn't let Arkansas State to move a single yard after the muffed punt.
That's a win for the Blackshirt defense.
And no Nebraska calls time out and the defensive coordinator John Papuchis is livid. It looks like he's taken over in Bo Pelini's absence.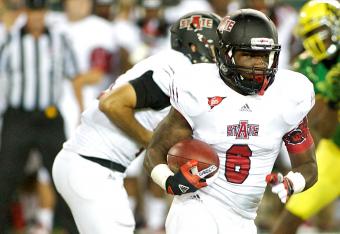 Arkansas State has to burn a time out as they had only ten men in the huddle.
I'm just not sure the Red Wolves can capitalize on this turnover for a touchdown if they make mistakes like that.
The ruling on the field stands. Just not enough on video to overturn the call.
Big momentum swings in the third quarter against Nebraska.
Abdullah muffs the punt and disaster for Nebraska. They are going to review this call. It looks really close, but remember that there must be indisputable video evidence to overturn the ruling on the field.
If anyone has any updates on Bo Pelini's condition, please let me know and I'll post it right here. I've got my ear to the ground on this and I'll let you know the moment I hear something definitive.
And Taylor Martinez just gave up another fumble!
Could turnovers turn the tide in this game? Stay tuned.
Nothing official yet, but there are reports floating around there that Bo Pelini has left the stadium in an ambulance.
Will confirm as soon as I can.
This article is
What is the duplicate article?
Why is this article offensive?
Where is this article plagiarized from?
Why is this article poorly edited?

Nebraska Huskers Football: Like this team?