Cal vs. Ohio State: Live Scores, Analysis and Results
Greg Bartram-US PRESSWIRE
Final Score: Ohio State 35, Cal 28
No. 12 Ohio State (3-0) survived a huge scare from the California Golden Bears (1-2), winning in Columbus 35-28.
Braxton Miller threw for 249 yards with four touchdowns and an interception while adding 75 yards and another touchdown on the ground.
The Buckeyes needed two late touchdowns and a two-point conversion to beat a stubborn Cal team that led 28-20 with eight minutes left in the game.
Live game analysis is posted below:
Cal kicker Vincenzo D'Amato missed three field goals during the game, leaving nine deciding points on the field.
And that's the ballgame folks. Christian Bryant's interception seals the deal for Ohio State.
Big Hank with a huge sack. Guys that big that move that fast break all rules of logic and physics.
After Ohio State's last three drives, my Jim Bollman coached the offense in the third quarter theory has pretty much been verified, right?
Huge touchdown pass from Miller to Smith gives the Buckeyes a 35-28 lead.
Getting that wide open is almost impossible.
Cal's kicker has been comically off target all game. How do you not go for it on fourth and short there? Terrible call.
Cal's kicker is having a bad day. Someone should give him a hug or a more dependable backup.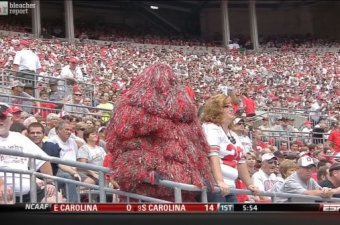 Serious question, if Ohio State loses, does this guy explode into a firework of confetti?
Terrible interception by Braxton gives Cal a golden opportunity. See what I did there?
Cal ties the game up at 28. Seriously, someone check on Urban.
Brendan Bigelow has three carries (for 156 yards) and two touchdowns. What happened on that other carry, dude? Weak sauce.
Buckeyes lead it 28-21 after Miller's successful two-point conversion.
Called it! What do I get? Someone owes me five bucks.
Huge two point conversion coming up for the Buckeyes. What are the chances of Braxton running the ball here?
Braxton Miller just Tim Tebow'd to get Ohio State the lead.
Another flag against the Buckeyes. Someone better check Urban Meyer for heart attack symptoms.
After just a few plays, Ohio State is already in field goal position. Fear can be a great motivator.
I have a working theory that Jim Bollman came back for one quarter to coach Ohio State's offense.
So that's what an Ohio State first down looks like!
Cal takes a 21-20 lead with that rushing touchdown from Zach Maynard. Ohio State's missed extra point earlier has now become that awkward fart in the elevator that everyone is thinking about.
Urban Meyer wants his team to play angry, but playing dumb is almost the same, right?
Ohio State is getting nickel and dime'd to death. What a way to go.
That looked like a catch for Cal. Should be a first down there.
This article is
What is the duplicate article?
Why is this article offensive?
Where is this article plagiarized from?
Why is this article poorly edited?

Ohio State Football: Like this team?