Texas vs. Ole Miss: Live Scores, Analysis and Results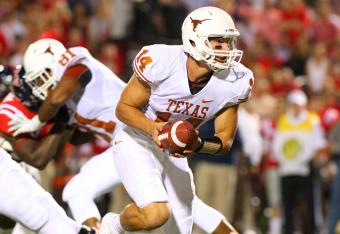 Spruce Derden-US PRESSWIRE
Final: Texas 66, Ole Miss 31

We have gone final in Oxford, and the Longhorns and Rebels found some answers and opened up more questions after testing their respective teams in a Big 12-SEC showdown.
Texas powered by Ole Miss with a balanced attack that had the Longhorns rush for nearly 360 yards.
Keep it here for some quick postgame thoughts from yours truly.
Post game thoughts:
Great, all-around performance from the Longhorns.
Offensively, amazing outing for the ground game. Touches all around to running backs and receivers alike going every which direction.
The passing game took some big strides. Yes, the strength of the air attack looks to be the short game over the middle and to the sidelines, but it was good to see progress down the field.
David Ash still needs to work on his touch, but seeing the receivers work hard to double back to the ball is encouraging for the offense.
Defensively, it was touch-and-go. Texas came out strong in the first half, but it had several breakdowns in the second half that led to several Ole Miss scores.
Ole Miss looked simply overmatched all game.
The Rebels were outworked along the line of scrimmage and virtually anywhere where there were Texas blockers.
The Longhorns just powered over Ole Miss in both phases. They were bigger and faster and had many more big plays.
Malcolm Brown is a boss, finishing with 21 carries for 128 yards and two touchdowns.
Mike Davis, come on down. Five catches for 124 yards and a touchdown.
If you had told me that Jaxon Shipley would have four touches for a total of 42 yards, I would have said that Texas probably struggled.
David Ash made huge strides in the passing game. At one point he converted some 13 passes in a row, I believe. No matter, Ash impressed.
All of this offense really makes me wonder how bad Ole Miss' defense is.
Quandre Diggs gets defensive player of the game with his two interceptions. Ash takes it for the offense.
We've gone final!
Texas 66 Ole Miss 31 FINAL
The coaching staff will have tons of positives to take away from this one. Balance, power and tenacity from start to finish characterized the Longhorns tonight.
Texas ran the ball over twice as many times as it threw the ball, picking up almost 360 rushing yards on 52 carries.
The offensive line has a ton to be proud of after a night like this. That group earned a great performance for the offense, and the box score will tell the tale.
What a great win for the Longhorns going into the bye week.
You can be sure that the coaching staff will want to work on tackling for the next two weeks.
Looking forward to going back and watching #UT OL; felt it had to be BIG tonight, and appears like it was.

— Dustin McComas (@DMcComasOB) September 16, 2012
--Dustin McComas, Orangebloods.com
Johnathan Gray has got to be on the verge of breaking a huge run.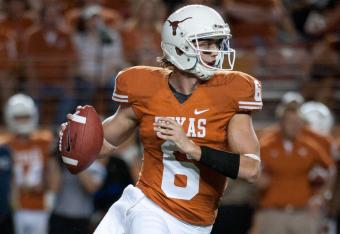 The snaps that these backups are getting right now cannot be overstated. This is absolutely critical for the continued development of this program back to prominence.
Texas has 618 total yards of offense which ranks 10th on the all-time school single-game list. Horns have the ball back on downs.

— MBTexasFootball (@MBTexasFootball) September 16, 2012
Over 1,000 yards of offense between the two teams right now.
As far as penalties are concerned, it has been a pretty smooth second half.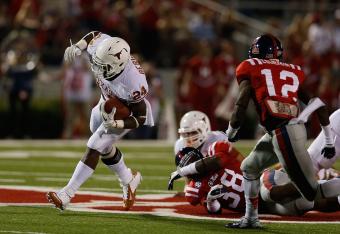 I'm really impressed with the offensive game plan and how the Longhorns really attacked the Rebels from a multitude of angles.
We saw the power running game early on with Joe Bergeron up the middle. Then, Texas really utilized the sidelines in both phases of the offense to squeeze the defense towards the line of scrimmage. That's when David Ash started testing his arm deep, and we saw the results.
Fully expecting to see a bevy of backups now.
Running game is strong, passing game has made huge strides tonight.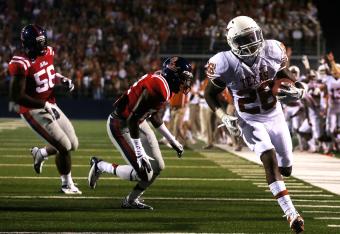 All of this offense has to be a confidence booster going into the bye week for Texas.
With Oklahoma State coming up, knowing that the Longhorns' offense can rack up these kind of numbers, Texas has to be content moving forward.
Touchdown Marquise Goodwin
I can't even get updates in before somebody else scores.
Texas 66 Ole Miss 31 -- Early 4th QTR
Johnathan Gray makes his first appearance. This guy is going to be something special, but it makes me wonder how big his spotlight can get with guys like Malcolm Brown, Joe Bergeron, D.J. Monroe and Daje Johnson surrounding him.
It's no Oklahoma State game, but there is some poor tackling and defensive miscues plastered all over this game's highlight reel.
Touchdown Ole Miss
Yikes. Jaylen Walton takes it back 100 yards for a score.
Texas 59 Ole Miss 31 -- Early 4th QTR
Texas-Ole Miss gm finally in 4th qtr. Announced crowd of 61,797 is 4th largest in Vaught-Hemingway history and largest for a non-con gm.

— Chip Brown (@ChipBrownOB) September 16, 2012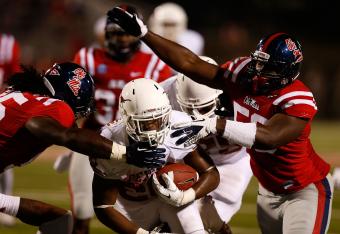 Touchdown Malcolm Brown
The offensive line looked really good on that 12-yard scoring run. In fact, the entire unit has been pretty impressive all night, providing plenty of holes and solid pass protection for Ash's career night.
Texas 59 Ole Miss 24 -- Early 4th QTR
Texas great Vince Young chimes in.
"Bleed Orange Texas"

— Vince Young (@VinceYoung) September 15, 2012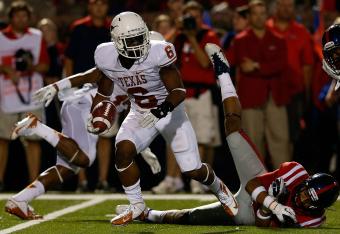 Interception Quandre Diggs
The sophomore corner just made a great break on that ball to jump the route.
What a player.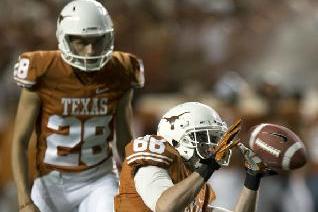 Nick Jordan missed his fourth field goal of the season.
Anthony Fera cannot get healthy quickly enough for this Texas kicking game.
This article is
What is the duplicate article?
Why is this article offensive?
Where is this article plagiarized from?
Why is this article poorly edited?

Texas Longhorns Football: Like this team?