Minnesota Twins fans don't have much left to cheer for in the 2012 season, but as always, we can look towards the future. While the team fell far short of the most optimistic expectations, there have been some bright spots and reason for optimism in 2013.
Over the last few weeks of the season, I am going to look back at what went right and what went wrong during the 2012 season and try to provide some hope for Twins' Territory heading into the offseason.
While it is hard to pinpoint the strongest parts of the Twins' organization, it is easy to find the weakest link: starting pitching.
Yes, Scott Diamond has been above-average for most of the year and is probably the reason our favorite team will avoid losing 100 games, but beyond him there are some serious issues moving forward.
Issue No. 1: Organizational Depth
It may be hard to remember, but Diamond was option seven or eight for the Twins heading into the season. That wouldn't be a bad situation to be in as a contending team, but as Diamond has quickly leaped to be our staff "ace," it shines a light on just how thin starting pitching depth is in the organization as a whole.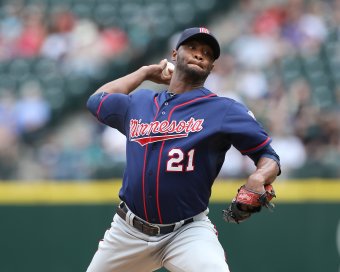 Otto Greule Jr/Getty Images
The Twins had to reach past option seven or eight all the way to players like
PJ
Walters and Cole De
Vries
to fill out the starting rotation. More recently Sam
Deduno
and
Esmerling
Vasquez have been called upon as starting options.
While De Vries and Deduno have shown that they are capable of pitching at the major league level, calling these players up from the minors has completely depleted any depth in the lower levels to the point where there are truly no players in Triple-A or Double-A who could be called up in September.
Issue No. 2: Reduction in Payroll
Whether we like it or not, in 2013 the Twins' payroll will be going down from 2012 levels. This isn't necessarily a bad thing, but the major cost savings will be coming from the starting rotation.
The Twins spent roughly $24 million on starting pitching in the 2012 season, with $15 million of that going to Carl Pavano and Scott Baker, who both are free agents when the season is over. The Twins do hold a $9.25 million team option on Baker's contract, but are unlikely to pick that up for a pitcher coming off of elbow surgery.
As we all know, the Twins do not like to spend big money on starting pitching. Top-of-the-rotation pitchers like Zach Greinke will command too much money on the open market for the Twins to make an offer. That leaves mid-to-low level pitchers like Jason Marquis in the Twins' price range to try to fill out the rotation.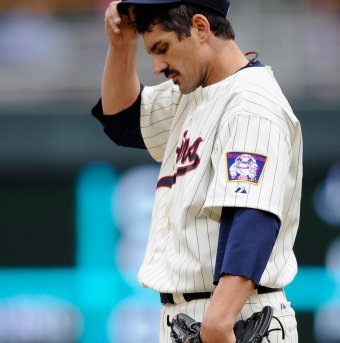 Hannah Foslien/Getty Images
As of today, Nick Blackburn is the only starting pitcher the Twins will owe more than $1 million to next season. That definitely will create some flexibility, but also a lack of uncertainty heading into 2013.
Issue No. 3: No "Ace"
As stated earlier, Scott Diamond has easily been the Twins' best pitcher this season. That, however, does not make him an "ace" pitcher. While there should be no doubt he would be a member of nearly every major league team's starting rotation, he would be a No. 2 starter at best on a playoff-caliber team.
The same can be said for the rest of the starting pitchers who should be under contract for the Twins heading into the 2013 season. Deduno, De Vries and Liam Hendriks all have shown the ability to get batters out, but not to dominate every time they toe the rubber.
The most intriguing pitcher in the organization is undoubtedly Kyle Gibson. He may be the one pitcher the Twins use in 2013 who has the stuff to be an "ace." Unfortunately, Gibson is coming off of Tommy John surgery and probably will not be ready to anchor a pitching staff going into the 2013 season.
Outlook
Heading into 2013, the only pitcher who will be in the starting rotation for sure is Scott Diamond. Sam Deduno has done enough to where he will get every opportunity to make the team out of spring training and the same can be said for Liam Hendriks.
While no one can be sure, I would bet the Twins re-sign either Carl Pavano or Scott Baker this offseason to a contract with a lower salary and also try to get lucky with a veteran free-agent pitcher as well.
Cole De Vries and Nick Blackburn will also be competing to make the rotation, with Blackburn also pitching to regain a spot on the 40-man roster this spring, as he was taken off the roster in August.
Minor league players with an outside shot of making the rotation out of spring training should be Kyle Gibson, as long as there are no setbacks in his recovery, and Pedro Hernandez. Hernandez is the 23-year-old lefty that the Twins acquired from the White Sox in the Francisco Liriano trade.
Of course there is the outside chance the Twins surprise us all and sign a top-level free agent or make a trade for a top-of-the-rotation pitcher.
Starting pitching will undoubtedly be the main question mark heading into the 2013 season. There are plenty of opportunities for young players to step up and grab one of the five spots.
If the Twins are to make an improvement in 2013, it will start with better starting pitching. How Terry Ryan and Ron Gardenhire plan to make that improvement remains to be seen.