WWE News: Chris Jericho Gets Huge Tattoo on Arm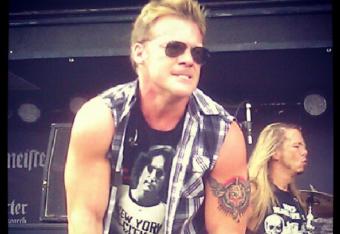 Photo courtesy of Chris Jericho's Twitter account

Chris Jericho has entertained us since 1990 as a pro wrestler and from 2000 as the Fozzy frontman.
As much of a renaissance man as he is, though, it is his durable WWE persona that most fans identify with.
From his days as the "Lionheart," to his tenure as the "Ayatollah of Rock 'n' Rolla," to his WWE debut as "Y2J," followed by his pretentiously sartorial run, to finally his just-completed stint as a light-up jacket-wearing cheese-grinner, Jericho has always been clean-cut.
Notwithstanding the occasional beard, as well as the recent "F" (denoting Fozzy) and wedding band tattoos on his left hand and ring finger, respectively, Jericho's appearance has been largely unmarked as a reminder of his old-school wrestling heritage.
But now, for better or worse, the 41-year-old Jericho has conformed to the (inked) signs of the times.
In a move inspired by Fozzy's latest album Sin and Bones (h/t loudwire.com), notably its cover art, Jericho's left arm now sports a winged skull and bones emblem (h/t Chris Jericho's Twitter account).
The tattoo is colorful, eye-catching and resembles The Expendables logo art (h/t IMDB.com).
In some ways, it is also reminiscent of what a hybrid version of the 1988-1998 WWE title belt and Steve Austin's custom design would look like.
Tattoo aesthetics and comparisons aside, however, one can't help but wonder if Jericho is betraying his image that a majority of fans have come to familiarize themselves with over the course of the last two decades.
That being said, many would argue that, coincidentally, if The Expendables' star Sylvester Stallone can successfully revamp his image by tattooing his arms and chest after 35 years in Hollywood (h/t filmschoolrejects.com), then so can Jericho.
Follow me on Twitter @ImaanJK
This article is
What is the duplicate article?
Why is this article offensive?
Where is this article plagiarized from?
Why is this article poorly edited?