Tom Izzo: Who Could Eventually Replace the Michigan State Basketball Legend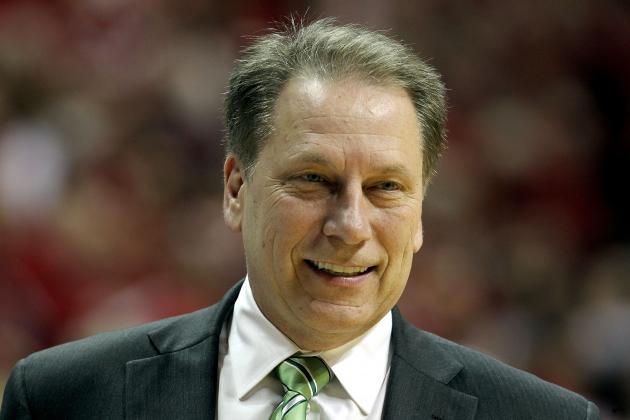 Andy Lyons/Getty Images

There's no doubt that Michigan State's Tom Izzo is one of the most successful coaches in college basketball history. At only 57 years old and with a $3.5M salary, 25 personal hours per year on MSU's private plane, six Final Fours and an NCAA Championship, Izzo probably isn't even thinking about retirement right now.
However, Izzo's day to retire will come. He could one day decide he simply wants more time with his family or may just want to go out on top after a winning season.
Here are five coaches who could be next in line to succeed the great Tom Izzo.
Begin Slideshow

»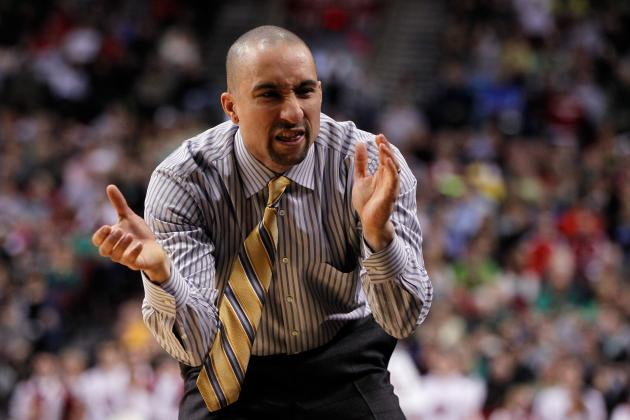 Jonathan Ferrey/Getty Images

Virginia Commonwealth coach Shaka Smart is one of the hottest coaching names in the nation at the moment. When Tom Izzo decides to retire, the Spartans should aggressively pursue him.
Smart led VCU to one of the most improbable Final Four runs in tournament history. His Rams took out Georgetown, Purdue, Florida State and top-seeded Kansas in the 2011 tourney. Not bad for a 34-year-old.
Most importantly, Smart won these games not as a result of his team's talent, size or skill but purely through chemistry and coaching. Teams had no answer for his inside-out offensive game-plan.
Smart is a young, energetic and a rare coaching talent. He would undoubtedly be a "Smart" choice for the Spartans.
Yeah, I went there.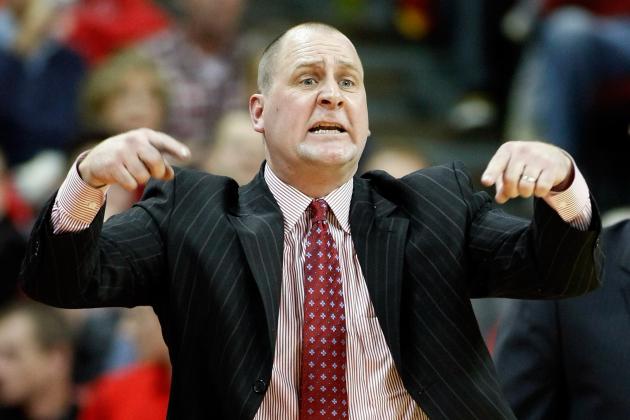 Ethan Miller/Getty Images

In the summer of 2010, Tom Izzo strongly considered a move to the NBA. After Mike Brown was fired, the Cleveland Cavaliers offered Izzo about $6 million per season—a significant raise over his salary at Michigan State—according to the Desert News.
Izzo later spurned the Cavaliers, declaring himself a "lifer" in East Lansing. Izzo hasn't spoken to any other teams since.
During this hectic time, Jim Boylen was named Izzo's most likely successor. Boylen at the time was head coach of the Utah Utes and previously served as an assistant coach under Izzo from 2005-2007. Boylen was widely considered one of the best assistants in the nation.
Boylen is now an assistant coach for the Indiana Pacers. He surely has his ears open for better gigs, and could receive one of the first calls MSU makes to potential suitors.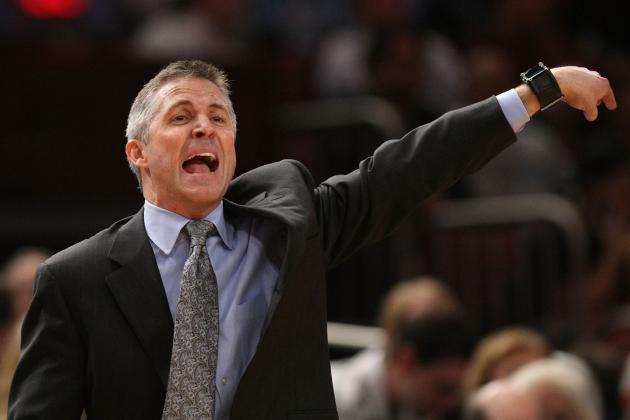 Nick Laham/Getty Images

Brian Gregory, like Jim Boylen, was considered a favorite for State's coaching job in 2010.
Gregory served as one of Izzo's top assistants from 1999-2003. During those years, MSU punched three tickets to the Final Four and won a national championship in 1999.
In 2010, Michigan State was looking to hire an Izzo protege and they'll surely look for one again when Izzo retires. Gregory fits the bill.
Additionally, Gregory is not just some average assistant. He served as the Dayon Flyers head coach from 2003-2011. His teams finished above .500 every season, made the NCAA tournament twice and compiled a 172-94 record.
Gregory recently left Dayton and accepted the head coaching job at Georgia Tech.
While Georgia Tech head coach is a great job in a great conference, it's not Michigan State. If the Spartans came calling, Gregory would listen.
Andy Lyons/Getty Images

While Shaka Smart's trip to the Final Four was miraculous, Brad Stevens is not impressed. He did it twice—in a row.
Stevens is only 35 and has led Butler to three straight tournament appearances, including two straight Final Fours in 2010 and 2011.
Simply put, Stevens is just a great coach. This may sound oversimplified, but it takes a true coaching genius to lead two teams with middle-tier talent to two straight Final Fours, including a national championship game.
He's been described as defensively and statistically oriented, with an uncanny ability to "gel" teams together.
Imagine what Stevens could do with some more talent. Michigan State would be a great fit for him, and if things don't work out long-term in Butler, Stevens may look for a change in scenery. Why not East Lansing?
Joe Murphy/Getty Images

Doug Wojcik, the new College of Charleston coach, was another one of Izzo's top assistants in the early 2000s.
In 2010, Wojcik was widely considered more of a secondary option to Jim Boylen and Brian Gregory but would be an excellent competitor for the next MSU coaching spot.
Througout his coaching career, Wojcik has been all over the map. He has served as an assistant coach at Navy (where he played college ball) Notre Dame, North Carolina and Michigan State. He also served as the head coach at Tulsa from 2005-2012 and was recently named head coach at Charleston.
Wojcik not only knows Izzo's system and coaching style, but also has ample experience in a variety of systems and environments. His head coaching experience could give him an edge when the Spartans come calling down the road.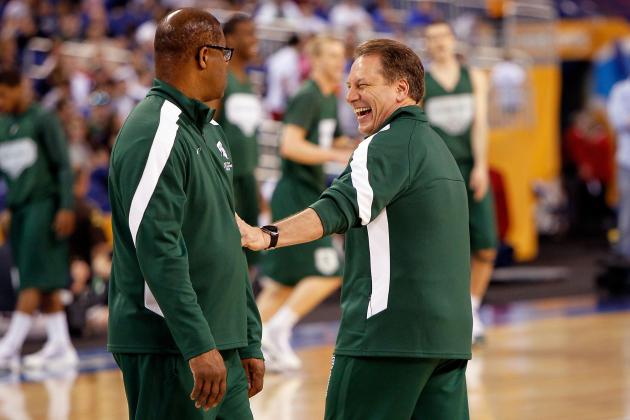 Kevin C. Cox/Getty Images
Garland (left) with Tom Izzo
Mike Garland is currently one of Michigan State's top assistants and would definitely get a long look for the next coaching job.
Garland served as an assistant coach at MSU until 2003. He then took a head coaching job at Cleveland State until 2006, and is once again an assistant under Izzo.
Garland only has a 23-60 career coaching record, but it came at Cleveland State where good recruits are hard to lure. He understands Izzo's system and is more than capable of replicating it as head coach.