Memphis Grizzlies: Could Next Season Be Josh Selby's Coming-out Party?
Josh Selby: a star in waiting?
Jayne Kamin-Oncea-US PRESSWIRE
Meet Josh Selby, a second-year guard for the Memphis Grizzlies.
Selby was picked with the 49th overall pick by the Grizzlies in the 2011 NBA Draft, and made very little noise. He played 8.5 minutes per game across 28 games in his first season in the NBA, also spending time with the Grizzlies' D-League affiliate, the Reno Bighorns. He averaged 2.3 points per game on 34.7 percent shooting from the field.
Safe to say, Selby was nothing special last year. He was just another scrub; one of many players in the NBA that did not do much more than fill out his team's roster.
This year, however, could Selby flip the script? As unremarkable as he has been throughout his NBA career thus far, there's signs of hope yet for the Baltimore product.
Coming out of high school back in 2010, Selby was a widely anticipated player. During his senior season at Lake Clifton High School in Baltimore, Selby had averages of 32 points, seven assists, five rebounds and two steals per game. He played in both the 2010 McDonald's All-American Boys Game and the 2010 Jordan Brand Classic—two of the most high profile high school all-star games in the nation.
It should come as no surprise that Selby was a highly recruited prospect. Rivals.com ranked him as a 5-star prospect and the best prospect in his class overall. Scouts.com also ranked him five stars, and ESPN gave him a 97 grade out of 100—both sites pegging him as the fifth best prospect that year.
However, Selby lost all of his momentum in college. He committed to the Kansas Jayhawks, joining a stacked team that included eventual NBA lottery picks in the Morris twins, Markieff and Marcus, and Thomas Robinson.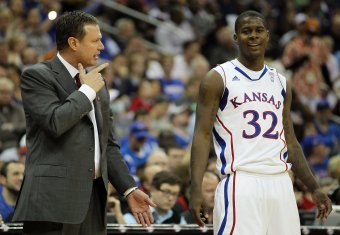 In spite of all the hype, Josh Selby didn't see too much playing time with the Kansas Jayhawks.
Jamie Squire/Getty Images
While things were looking good for a while with the young star Selby primed to join a powerhouse team, everything fell apart for him. Selby was suspended for nine games by the NCAA, whom cited "improper benefits" that he had received ($4607.58 overall) from Robert "Bay" Frazier, the business manager for Carmelo Anthony.
Selby was unable to rejoin the Jayhawks until December 18th, 2010. When he did, he struggled to crack a Jayhawks rotation that was leading the nation in many statistical categories and playing at a very high level overall. Injuries were also a problem for Selby, and he ended up missing 12 games in total. For this season, he only averaged 20.4 minutes per game. As a result, his draft stock plummeted.
After being drafted by Memphis following his freshman season, Selby didn't show any of the talent that made him a nation-wide sensation during high school in the NBA. After getting sent down to Reno to play in the D-League, however, Selby quietly played a bit better.
With the Bighorns, Selby averaged a very respectable 25.1 points per game on 47.5 percent shooting from the field and 45.5 percent shooting from beyond the arc. The rest of his stats picked up, looking relatively familiar to his high school stats: 6.3 rebounds, 4.9 assists and 1.6 steals.
Selby only played eight games for the team, but among those included a triple-double performance in which he scored 32 points and a 38-point outburst in his final game with the Bayhawks. He recorded five or more boards six times, and managed that five times with assists. While he couldn't replicate that success in any sort of capacity after rejoining the Grizzlies, it did serve as a reminder of Selby's talents.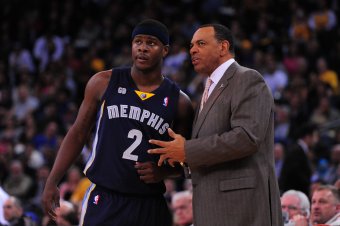 Josh Selby didn't see too much playing time with the Memphis Grizzlies, either.
Kyle Terada-US PRESSWIRE
Why could this season be Selby's breakout year, however? He could very well spend this season fluttering in between the NBA and the D-League like he did the last, but there are reasons Selby could succeed.
Unlike last year, Selby has an opportunity to crack the rotation. A former third overall pick and the Grizzlies' sixth man last season, O.J. Mayo parted with the team this offseason to join the Dallas Mavericks. Most of the playing time for guards off of the bench were given to Mayo, who could play both guard positions—just like Josh Selby.
With Mayo out of town, there are suddenly a lot of minutes in the backcourt that need to be claimed by somebody. It could very well be Selby, who offers a lot of the same things that Mayo did off of the bench like his scoring or the ability to run the point.
Memphis did bring in a few new guards into the fold, former first-round picks Jerryd Bayless and Wayne Ellington and their first-round pick from this year, Tony Wroten. While Ellington projects as a non-factor, Bayless and Wroten, combo guards like Mayo and Selby, could give Selby a hard time in earning the majority of playing time in the backcourt off of the bench.
Bayless was picked 11th overall in 2008 (the same year Mayo was drafted), and while he has been mostly inconsistent throughout his career, he has shown glimpses of his potential. He isn't quite as talented as O.J. Mayo, but it wouldn't be surprising to see him get something around 18-22 minutes per game.
Wroten, the rookie picked 25th overall by Memphis, isn't to be underestimated either. While he's regarded as more of a project player than an instant-impact player, the same could be said of Selby. Wroten has undeniable talent, and he could very well cement himself above Selby on the depth chart.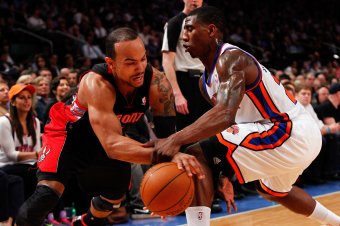 Jerryd Bayless is just one of the players Selby will have to compete with for playing time.
Debby Wong-US PRESSWIRE
With that said, however, Selby hasn't sat pat this offseason. He played in the Summer League during the offseason, and wound up winning co-MVP honors with Portland rookie Damian Lillard. Selby's stats were very strong, particularly in terms of his scoring.
Selby averaged 24.2 points per game, the third most in the Summer League, on eye-popping percentages: .557 from the field, .643 from the three-point line and .889 on free throws. He also averaged 2.4 rebounds, 3.2 assists and a stellar 2.4 steals.
Players that have excelled in the Summer League have not always succeeded in the NBA. The last four Summer League MVPs are John Wall, Blake Griffin, Jerryd Bayless and Nate Robinson. While Wall and Griffin both went on to have highly successful rookie seasons, both of them were the first overall pick in their respective draft classes, and the other two, Bayless and Robinson, had modest seasons after winning MVP honors in the Summer League.
Selby will have to prove to head coach Lionel Hollins that he is worthy of being given reliable playing time. Inconsistency is almost a given with a developing player like him, but the opportunity is there and if Selby can claim it, he could put himself on the fast track to eventually replace the incumbent starter at shooting guard, the aging Tony Allen.
What Selby has managed thus far makes it extremely difficult to call him a lock to do anything this season. But, the talent has always been there, and this offseason was nothing less than successful for him. The competition in the backcourt is stiff, but he has as good a shot as anybody does to secure himself a job in the Memphis backcourt.
If Selby can put it together, we may just get to see the five-star premier prospect that we saw coming out of high school.
This article is
What is the duplicate article?
Why is this article offensive?
Where is this article plagiarized from?
Why is this article poorly edited?

Memphis Grizzlies: Like this team?