Results and Recap from the Opening Episode of the Ultimate Fighter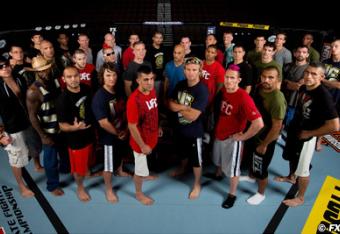 Photo credit: FX

It's time. Time to bring it. Time to leave it all in the cage. Time to leave it anywhere except in the hands of the judges. This is the biggest moment of your entire career.
That's right. It's time once again for The Ultimate Fighter. For the 16th time, UFC President Dana White looked over a small sea of mohawks, cowboy hats and nodding faces and laid out exactly what was at stake. You may call them cliches but I call them hard truths. Eternal truths, if I may.
As always, the fighters responded in kind. This year, 32 welterweights fight for that vaunted six-figure contract. At the end of the day, they have a job to do. Once that cage door closes, no more Mr. Nice Guy. It's like a switch gets flipped. They know it's time to go to work because that's their cage, and this is their dream. That guy standing across the cage? He's just another obstacle that must be overcome. And they're not going to let anybody take their goal away from them.
Also, they like the chance to hit people in the face without getting arrested. That's my favorite one.
I think the point is made. Yeah, the show has gotten a little formulaic. Yeah, the catch phrases are a little thick. In fact, there are now so many cliches that it's almost a cliche to bring up the cliches.
But in my opinion, despite the show's, eh, commitment to its format, the thing still works. And this should be an interesting season. With heavyweights Shane Carwin and Roy Nelson coaching them up this season, you've got one guy in Carwin willing to carry on that platitude-spouting tradition. In Nelson, however, you've got a Dana White gadfly who is going to cut through the treacle with his humor and his haircut, which may or may not exist as the result of a family of zombie pigeons taking up residence on Nelson's head.
There were still some standout moments from the two-hour season premiere that aired Friday night. There was clean-cut stockbroker Mike Ricci, who despite fighting in swim trunks and looking like he was 14 managed to emphatically knock out his much more menacing opponent. There was Cameron Diffley, who served as Forrest Griffin's jiu-jitsu coach during Griffin's coaching stint on The Ultimate Fighter 7 but will now be a competitor himself.
James Chaney, who, as Carwin put it, was "like an anaconda" in out-muscling his opponent for a submission win. Nasty. And in the last fight of the evening, "Smilin'" Sam Alvey gets his work done in under a minute, thanks to a single devastating hook.
There were plenty of others. Full results and team rosters are below.
Fight Results
Dom Waters def. Kevin Nowaczyk by TKO, Rd. 1
Michael Hill def. Lev Magen by TKO, Rd. 1
Bristol Marunde def. George Lockhart by Submission (guillotine choke), Rd. 1
Mike Ricci def. Jason South by TKO, Rd. 1
Julian Lane def. Diego Bautista by Unanimous decision
Igor Araujo def. Cortez Coleman by Sub (triangle choke), Rd. 3
James Chaney def. Jerel Clark by Sub (triangle choke), Rd. 1
Cameron Diffley def. Zane Kamaka by Sub (armbar), Rd. 1
Neil Magny def. Frank Camacho by Unanimous decision
Jon Manley def. Ricky Legere, Jr. by Unanimous decision
Colton Smith def. Jesse Barrett by Unanimous decision
Matt Secor def. Max Griffin by Sub (triangle choke), Rd. 3
Eddy Ellis def. David Michaud by Sub (arm triangle), Rd. 2
Joey Rivera def. Saad Awad by Majority decision
Nic Herron-Webb def. Tim Rubert by Sub (armbar), Rd. 1
Sam Alvey def. Leo Kuntz by TKO, Rd. 1
Team Rosters
Carwin
Sam Alvey
Bristol Marunde
Mike Ricci
Neil Magny
James Chaney
Eddie Ellis
Igor Araujo
Matt Secor

Nelson
Dom Waters
Michael Hill
Cameron Diffley
Colton Smith
Jon Manley
Nic Herron-Webb
Joey Rivera
Julian Lane
Follow Scott Harris on Twitter.
This article is
What is the duplicate article?
Why is this article offensive?
Where is this article plagiarized from?
Why is this article poorly edited?