Both the Cleveland Browns and Cincinnati Bengals are on the hunt for their first divisional win of the 2012 season, and both suffered embarrassing losses in Week 1.
Though the Browns are on the road to take on the Bengals in Cincinnati this week, and though few think they have a chance to notch a win, they can most certainly emerge victorious in this contest.
Here are three ways the Browns should approach Cincinnati if they want to head out of town with a win on Sunday.
Have a Conservative—But Not Predictable—Offense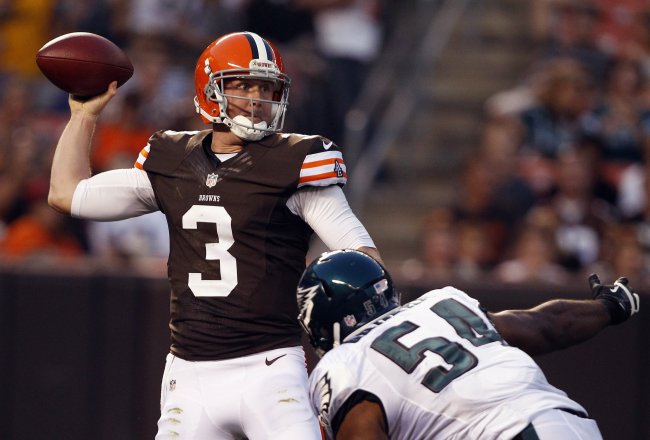 Matt Sullivan/Getty Images
One of the problems with Brandon Weeden's passing last week was that he was trying to do too much in an environment with which he has little familiarity. This week, Weeden needs to be on a shorter leash, but that doesn't mean Browns head coach Pat Shurmur needs to limit his effectiveness.
What Weeden needs to do is complete passes. He doesn't have to throw the deep ball (into double or triple coverage), he just needs to get the ball out quickly and gain yards. The Bengals pass rush will be coming for him every time he drops back, so his only option is fast passing and play-action throws.
The Browns need to keep the offense simple without making it predictable. They have a lot of receiving weapons when they're all in sync, and the addition of versatile running back Trent Richardson, who should get a lot more usage now that he's fully healthy, will add dimension to this simple approach.
The whole point is to not just gain yards out of the passing game but to build Weeden's confidence even in the face of pressure. Simple is often better when you're talking about rookie quarterbacks.
Put Pressure on Andy Dalton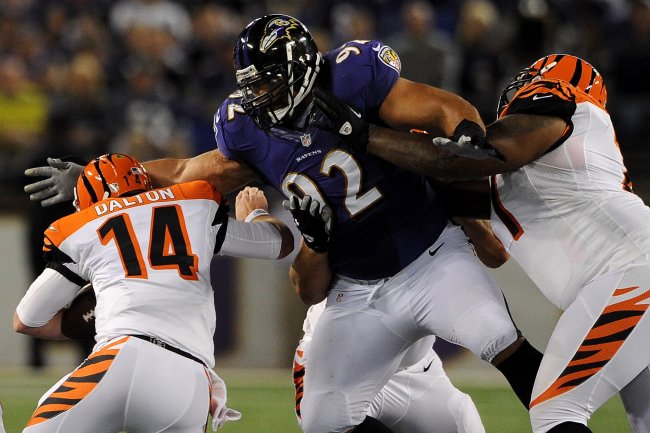 Patrick Smith/Getty Images
Brandon Weeden won't be the only quarterback on the field in Cincinnati with trouble under pressure. Bengals quarterback Andy Dalton struggles when faced with the pass rush. In fact, when facing the Baltimore Ravens' pass rush last week, Dalton had nine dropbacks, took four sacks and completed no passes.
The Browns defensive front, while still weak against the run game, did manage to get in the face of Eagles quarterback Michael Vick for much of last week's game. The result was 40 passes in which Vick was either facing a blitz or was under pressure with just 15 completions, four interceptions and four sacks on those particular plays (subscription required).
Again, the Browns will attempt to close off an offense by keeping the pressure near constant on the quarterback. This could backfire. Cleveland gave up 150 rushing yards to the Eagles last week, and chances are the Bengals will run more to help mitigate some of this pressure.
But if the Browns can manage to bring it to Dalton, that's the first step in holding Cincinnati's points to a minimum. Even if Weeden struggles to score, making Dalton struggle similarly will keep the game close and thus winnable for Cleveland.
Cover Midfield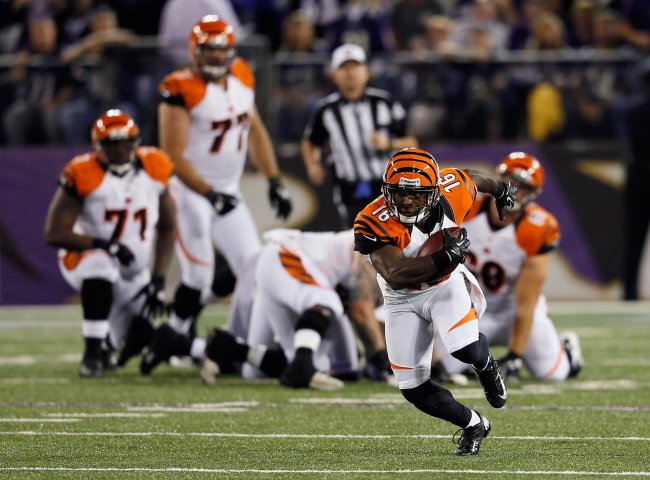 Rob Carr/Getty Images
The two safety valves the Bengals employed against the Ravens' defensive pressure were the run game and over-the-middle and screen passes to slot receiver Andrew Hawkins.
Hawkins caught eight of the nine passes thrown his way last week. Five of them were thrown behind the line of scrimmage netting him 66 yards and 80 yards after the catch (subscription required). Three more for 20 yards and 10 yards after the catch were thrown between zero and nine yards downfield.
The middle of the field was also the province of running back BenJarvus Green-Ellis. Instead of coming off the edge, most of his runs were up the middle, netting him 91 total yards. He also had a few passes thrown his way in the same manner in which Hawkins was targeted.
This means extra work for coverage linebackers like D'Qwell Jackson, Kaluka Maiava, L.J. Fort and Scott Fujita, as well as more pressure on safety T.J. Ward and likely nickel corners Buster Skrine and Trevin Wade.
Hawkins had the most yards after the catch by any receiver last week, and he and Green-Ellis were the lone offensive bright spots for the Bengals against Baltimore. With the Browns likely looking to employ a similar defensive strategy as the Ravens did, it will be important to close off the middle of the field to these two threats.