One Area Every 2012 NBA Lottery Pick Must Improve Before 2012-13 Season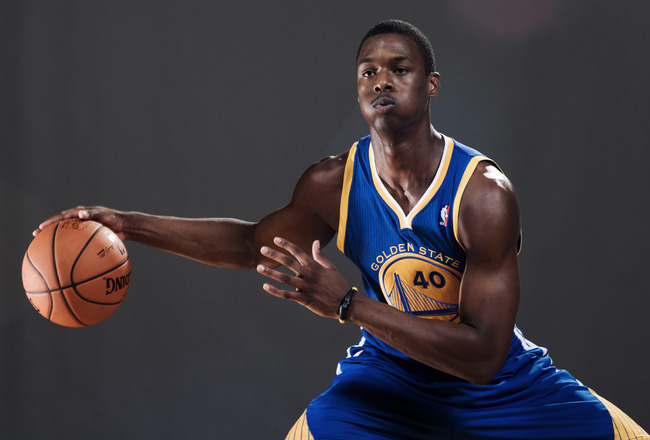 Harrison Barnes needs some improvement, but he's not alone.
Nick Laham/Getty Images
No rookies enter the NBA as finished products, not even the members of the 2012 lottery class. Each of those 14 players has a lot of work left to do as they attempt to maximize the success of their rookie seasons.
Some players need to work on their offensive games, others on their defense. For a select few, mental hurdles are the biggest issues at the moment.
Regardless, each lottery pick has one area for improvement that stands out above the rest.
Let's find out what they are.
Anthony Davis: Strength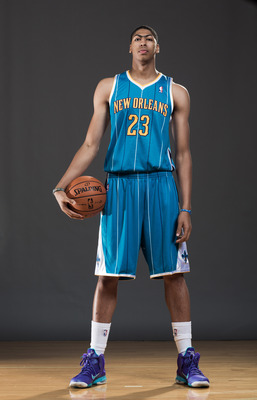 Doesn't Anthony Davis need some facial hair below his eyes?
Nick Laham/Getty Images
With a wingspan that's been measured at 18.125 unibrows from fingertip to fingertip, length most certainly won't be an issue for Anthony Davis. Between his size and athleticism, he'll make a huge impact on defense for a long time, starting when he first steps onto the court.
However, Davis must add a good bit of strength to his lanky frame if he's going to be able to bang around with the more physical big men in the NBA. This league is a physical one, and a grueling 82-game schedule can take its toll on those without the muscle mass to keep up.
Davis' length was able to cover up his lack of power while he was at Lexington. That said, he occasionally struggled against his bigger opponents, like Cody Zeller in the Kentucky Wildcats' loss to Indiana.
There are a few players he'll be guarding who possess even more physicality than Zeller.
Michael Kidd-Gilchrist: Perimeter Shooting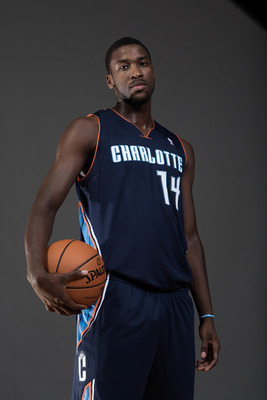 Michael Kidd-Gilchrist is talented enough to make news while in Charlotte.
Nick Laham/Getty Images
Michael Kidd-Gilchrist can affect a basketball game in a multitude of ways, but he doesn't yet have the ability to take over a contest by using his jumper. Well, he could take it over in negative fashion if he used it too often right now, but that's not what anyone wants.
If MKG has been hellbent on improving before his rookie campaign with the Charlotte Bobcats begins, he'll have spent the offseason in a gym with a rack of balls and someone to rebound for him. A consistent jumper is a necessity if he's going to become more than a perimeter defender and transition threat.
A coach's dream, this former Kentucky Wildcat has always done the little things on the court to perfection. He does whatever is necessary for his team to get a victory, no matter how little recognition he may get.
Maybe the Bobcats need to convince him that shooting from the perimeter is one of those "little things."
Bradley Beal: Shot Creation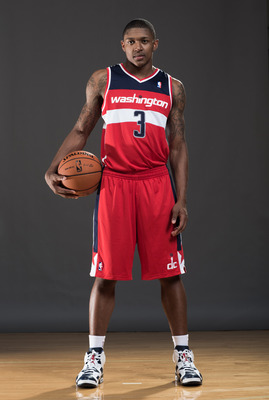 Bradley Beal looks pretty comfortable with the ball in his hand here.
Nick Laham/Getty Images
Bradley Beal has a terrific all-around game on the offensive end of the court, but it could still get significantly better.
The undersized shooting guard can drill shots from the outside with the best of them, drive to the rim and finish with a creative flair and score in transition. However, he struggles to create his own shot off the dribble and often hoists up some bad attempts as a result.
Playing alongside John Wall will help to mask this deficiency as the former No. 1 pick possesses some nice facilitation skills. That said, Beal can't make the next step as a player if he's too dependent on the passes of his teammates to set him up.
Dion Waiters: Less Heat Checks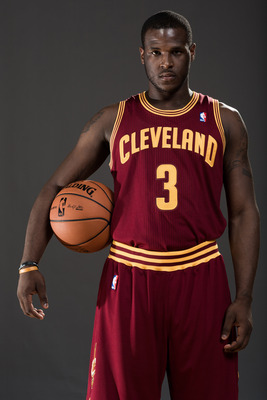 Dion Waiters is already drawing the "bust" whispers.
Nick Laham/Getty Images
Dion Waiters can slash a defense to pieces, finishing at or around the rim with a remarkable level of ease when he's playing at full strength. He also possesses a solid jumper that allows him to keep his defender honest.
It's tough to sag off Waiters because you have to respect the jump shot, but it's also perilous to play him too tight and risk the blow-by.
Waiters does have a tendency to take some of the pressure off the men guarding him by choosing his shots poorly. He likes to throw up quite a few heat checks after he's made a bucket or two, and they often mess with the flow of the offense.
In the NBA, every point is valuable. This is especially true on an up-and-coming team like the Cleveland Cavaliers as Kyrie Irving and company strive to finish significantly higher in the standings.
Excessive heat checks by rookies just aren't going to fly.
Thomas Robinson: Playing to Strengths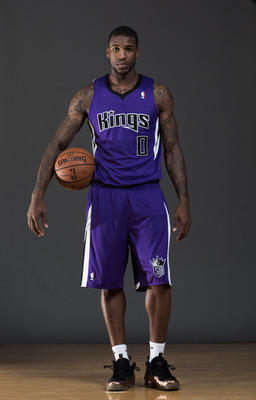 Thomas Robinson is NBA-ready, but he's not without flaws.
Nick Laham/Getty Images
Thomas Robinson often looked like a man amongst boys during his year in the spotlight at Kansas. He was a tremendous physical presence, corralling rebounds and overpowering defenders without even batting an eye.
He won't have the same advantage at the next level, but Robinson is already developed enough that he can push quite a few defenders around in the paint. Therein lies his biggest strength on offense: utilizing his strength and technique around the hoop.
Robinson can't get caught in the jump-shooting trap that occasionally reared its ugly head during his collegiate career and Summer League.
He's capable of knocking down 15-footers—and even shots from further out—but doing so takes away from his bread and butter, as well as his ability to crash the boards alongside DeMarcus Cousins.
Damian Lillard: Gambling and Off-Ball Defense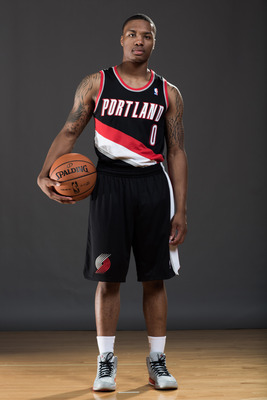 Damian Lillard is my ROY pick.
Nick Laham/Getty Images
Damian Lillard isn't a finished product on offense—not by any stretch of the imagination—but he has more work to do on defense in his quest to become a well-rounded contributor to the Portland Trail Blazers.
While the Weber State product is a capable on-ball defender, he struggles to control his aggressiveness and often gambles too much. Racking up steals is a good thing, but not if it's at the expense of preventing points.
Monta Ellis is a great example of this dichotomy. The Milwaukee Bucks shooting guard is a tremendous thief, but he's a lackluster defender who allows a lot of points.
Lillard also needs to improve his off-ball defense, as he tends to get caught out of position and struggles to fight over, through and around screens while pursuing a mobile offensive player.
Harrison Barnes: Passing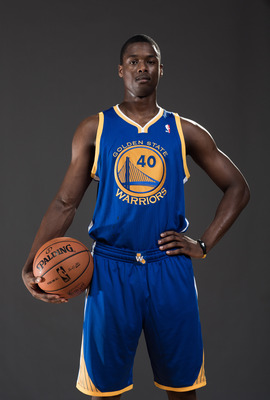 Harrison Barnes definitely has a great shot.
Nick Laham/Getty Images
Harrison Barnes is a deadly shooter. His spot-up jumper can only be described as pure, and his form is just picture-perfect. It's quite apparent that this former North Carolina Tar Heel has spent a lot of time honing his craft.
However, not even the best shooters can loft up the ball each and every time it's in their hands. Passing is a vital part of the game, much to the chagrin of some players.
Barnes is one of those players, because distributing the rock to his teammates is a craft that he has yet to hone.
Until this changes, he's going to be a one-dimensional threat and won't make more than a superficial impact towards the success of the Golden State Warriors.
Terrence Ross: Aggression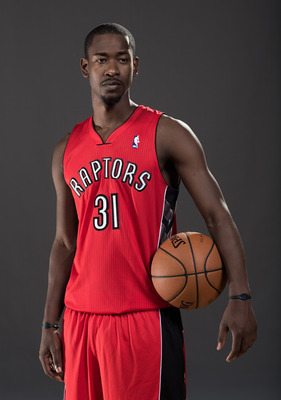 Terrence Ross must be more aggressive.
Nick Laham/Getty Images
Terrence Ross has a beautiful jump shot, tremendous athleticism and a knack for creating his own shot, but he must attack the rim more often. Right now, defenders know that he's going to pull up for a jumper whenever he drives to the basket.
The Toronto Raptors need a perimeter threat, and Ross fills that roll perfectly. However, he must develop into more than an outside shooter and become less reliant on his ability from long range if he's going to take the next developmental step.
When Ross does drive, he tends to use an effective spin move and elevate for an awkward attempt instead of bulling his way towards the iron. Part of this stems from a lack of strength on his frame, but his mentality is an issue as well.
A more aggressive nature would enable Ross to earn more trips to the charity stripe while inserting a bit of hesitance into the defenders attempting to slow him.
Andre Drummond: Defensive Rebounding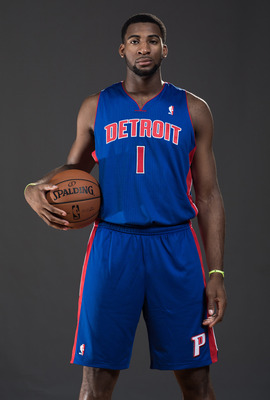 Andre Drummond has quite a bit to work on right now.
Nick Laham/Getty Images
Not much is expected from Andre Drummond during his rookie season with the Detroit Pistons. He's almost universally acknowledged as a project player, and many are already starting to call him a potential bust.
I won't deny that I'm one of those people.
Drummond has a lot to work on, but his first priority should be improving his positioning and effort level on the defensive glass. It's all but certain that the one-and-done Connecticut Husky won't make an impact on offense, but his defense will be overrated by the glamour of blocked shots if he can't at least control the boards.
As a freshman under Jim Calhoun, Drummond averaged 7.6 rebounds per game in 28.4 minutes of action per contest. However, only 4.2 of those came on the defensive end of the court.
Drummond's defensive rebounding percentage—percentage of available defensive rebounds that Drummond corralled, via Sports-Reference—was just 15.5 percent. Believe it or not, that's worse than 6'3" shooting guard Bradley Beal's 18.8 percent.
As a reference point, here are the defensive rebounding percentages for the other lottery big men and true forwards: Anthony Davis (23.8), Michael Kidd-Gilchrist (16.0), Thomas Robinson (30.6), Harrison Barnes (11.0), Meyers Leonard (23.5) and John Henson (25.1).
At this point, it should be pretty clear that this is a bigger issue than Drummond's ineptitude from the free-throw line.
Austin Rivers: Shot Selection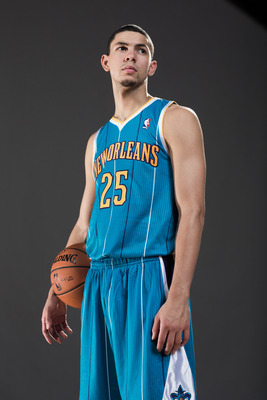 Austin Rivers has the most obvious area for improvement.
Nick Laham/Getty Images
Now we come to the most well publicized area for improvement of all the lottery players.
By now, most NBA fans know that Austin Rivers is an exceptional talent on the offensive end of the court, but that he struggles mightily with his shot selection.
Rivers is so confident in his own scoring prowess that it occasionally borders on cockiness. Actually, it is cockiness a lot of the time.
It's of paramount importance that the New Orleans Hornets' newest guard recognizes that he's playing alongside a number of potent offensive options. He'll be allowed to shoot the ball, but he must recognize the necessity of letting Eric Gordon and Ryan Anderson touch the rock as much as their hearts desire.
Rivers isn't a bad passer, just an unwilling one when he's stroking it from all areas of the court. This isn't a physical hurdle at all, but rather a mental one.
Meyers Leonard: Offensive Range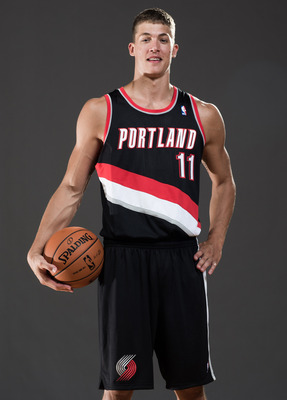 Meyers Leonard will not be the best rookie for the Blazers.
Nick Laham/Getty Images
Meyers Leonard can score the basketball, but only when a teammate creates an easy look for him or he's free to slam home a follow-up attempt or put-back after an offensive rebound.
If Leonard has to do the shot creation and put the ball through the hoop, then points will not be the result of the possession. His footwork needs a lot of work and he struggles when the ball is in his hands, whether he's facing the defender or putting his back to the basket.
Essentially, Leonard needs to work on adding range to his offensive game so that he's not limited almost entirely to the painted area of the half-court set.
Versatility is important, especially on a team that will feature Damian Lillard driving to the basket and kicking out or finishing the play. If Leonard can't move outside the paint, then he'll just clog up the middle and prevent his team from running the offense smoothly.
Jeremy Lamb: Aggression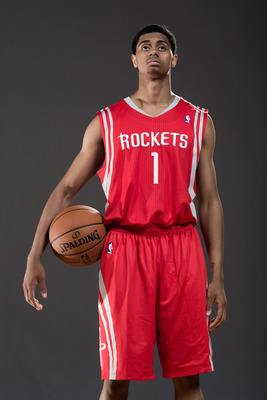 Jeremy Lamb can often ooze indifference.
Nick Laham/Getty Images
Jeremy Lamb is a tremendous basketball talent in full possession of a wonderful arsenal of tools to be used when plying his trade on the hard court. The ladder that is his potential reaches all the way up to the metaphorical sky.
How many rungs he ascends during his NBA career is up to him. Cliche as that may be, it's particularly true for the Houston Rockets' newest shooting guard.
Lamb has never lacked in the talent department, but he's displayed an alarming lack of motivation and an overwhelming sense of passivity during his time on the court. His off-court interviews and workouts haven't done much to change that perception either.
The Connecticut product is often content to sit out on the perimeter and allow his teammates to do the heavy lifting while he declines to assert himself into the offense. The same can be said for his defense, as Lamb shows the potential to be a true lock-down perimeter defender but has lacked consistency.
Eliminating this passivity, thus proving that he wants to be a star, is the first thing that Lamb must change about his game.
Kendall Marshall: Defensive Quickness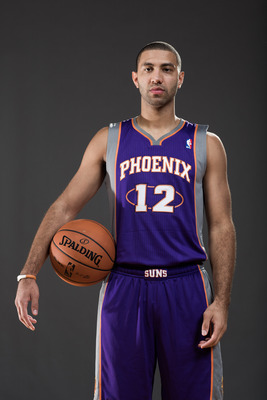 At least Kendall Marshall has insane passing skills.
Nick Laham/Getty Images
Kendall Marshall might be a great distributor, but he won't be able to stay on the court if he can't play defense. Rajon Rondo has proven that lackluster scorers can be effective offensive options, so improving his shot is currently a secondary shot for the lefty.
The bigger concern is that Marshall is a defensive sieve. I've often called him a matador, seeing as he loves ushering his man into the interior of the defense while waving an imaginary red cape.
A lack of lateral quickness is the primary culprit here, but Marshall's defensive intensity also wavers from time to time. He's a smart enough player to blend in well when playing team defense, but Marshall is going to be massacred whenever he gets caught in an isolation set against a quick or athletic point guard.
Improving his quickness on the defensive end is goal No. 1 for Marshall's NBA career. Biting on less fakes and advanced moves will allow him to at least give off a facade of nimbleness.
John Henson: Strength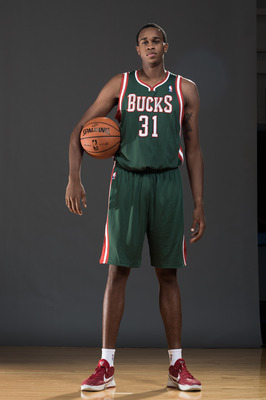 Jeremy Lamb needs to pack on a few more pounds.
Nick Laham/Getty Images
It's hard not to love the versatility of John Henson's defensive game. He has the quickness and athleticism to lock down more versatile big men on the perimeter, and his length enables him to block shots on the interior.
However, he's going to get bullied on the blocks until he can add more strength to his skinny, undeveloped frame. That length won't be enough to compensate for a severe difference in power when he's matched up with a big-bodied NBA center.
Hitting the weight room and adding muscle should be Henson's top priority right now. Without it, he'll have to spend more time on the bench and only be used in select situations as a rookie for the Milwaukee Bucks.
Keep Reading