Toronto Maple Leafs: Can James Reimer Make Believers of the Leafs' Fans?
Use your ← → (arrow) keys to browse more stories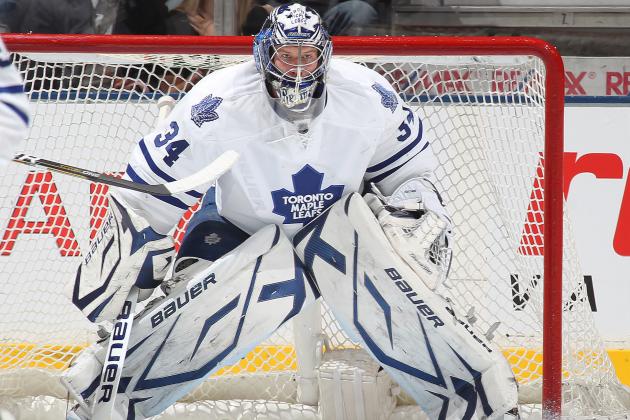 Claus Andersen/Getty Images

Is he the Toronto Maple Leafs' goalie of the future or a one-year wonder?
That is what Leaf fans want to know about Reimer, who has gone from the savior of the Maple Leafs to a goalie that needs to be replaced as soon as possible.
It's time for a little history lesson. Reimer began his career as a member of the Maple Leafs when he was drafted in the fourth round (99th overall) of the 2006 NHL Draft. Although, he wasn't the most successful goalie for the Red Deer Rebels of the WHL, Toronto decided to take a shot on the young goaltender.
In 2008, Reimer signed his first contract with the Leafs. For the 2008-09 season, he spent most of his time in the ECHL with the Reading Royals and the South Carolina Stingrays. In that season's playoffs, he led the Stingrays to the Kelly Cup championship, being named the ECHL Playoffs MVP award.
In 2009, he broke through with the Toronto Marlies, playing the majority of the season there. It was in the 2009-10 season that Reimer received his first call-up to the Maple Leafs, although he never played in a game.
Reimer became what Leaf fans thought was the goalie of the future in the 2010-11 season. With Jonas Gustavsson and J.S. Giguere struggling, Reimer was given the chance and he ran with it.
In 37 games with the Maple Leafs, he recorded 20 wins, a 2.60 GAA and a .921 save percentage. Everything was going so right for Reimer, and he earned a new three-year contract worth $5.4 million.
What is your opinion on James Reimer?
However, everything fell apart six games into the 2011-12 season. After receiving an elbow to the head from Montreal's Brian Gionta, Reimer missed all but 34 games. His win total went down to 14, his GAA went up to 3.10 and his save percentage dipped to .900. Leaf fans started to worry that their goalie of the future was a dud.
Do they have reason to? Maybe. Throughout the Leafs history, they have had some good to great goalies. From Johnny Bower to Terry Sawchuk, Turk Broda to Jacques Plante, Grant Fuhr to Felix Potvin, to more recent names like Curtis Joseph and Ed Belfour, Leafs fans are used to excellence. Recently, that's not what they have been getting.
Do the names Andrew Raycroft, Vesa Toskala, Martin Gerber and Jonas Gustavsson ring a bell? Since the last lockout, the Leafs goaltending has been more than abysmal and a huge reason why they have not made the playoffs. With all the problems Reimer had last season, it looked like he could join that group.
The Leafs' fans are a peculiar group. If a player plays well and shows that he can be a consistent force for the team, they will cheer for him. They can be the best fans in the game and will be behind them for as long as he plays up to their standards. The problem is that if they set that standard too high and don't reach it, the fans quickly turn.
When Leaf fans turn on a player, they know it. Gustavsson was the last player to feel the wrath of the fans and now he is gone. If Reimer doesn't rebound this year he could be the next player on the list of players that fans have run out of town.
Reimer has the potential this season to win back Toronto's fans. He should be 100 percent recovered from the injuries he suffered last season. There is no way that Reimer won't be motivated to succeed this season. He will be taking back the reins he lost last season and will be looking to never lose them again.
Say what you will about small sample sizes, but what Reimer did in the five full games he played before his injury last season leads me to believe that he will get back to the standard he played in the 2010-11 season.
Even if Reimer gets back to the standard he set, it will take a while before fans will be willing to take Reimer back. After an offseason full of speculation that the Leafs might acquire Roberto Luongo, Jonathan Bernier, Tim Thomas, Miikka Kiprusoff or any other goalie on the market, Leafs fans will be disappointed that they were unable to acquire a new goaltender.
If the Leafs are in a playoff position come New Years, fans should start to turn around their opinions on Reimer. Not that it should affect Reimer's confidence, but not having the fans booing you every night would do him some good.
I would like to think that the Leafs fans will give Reimer another chance to be a goaltender they can cheer for. Entering his third season, this will be the year that determines what kind of goalie Reimer will be and he should more than likely prove that he is the Maple Leafs' goalie of the future once again. If he does, the fans should come around.