Golden State Warriors: 3 Reasons Why Stephen Curry Will Dominate This Season
If Curry (No. 30) stays healthy, the Warriors are in for a treat.
Ezra Shaw/Getty Images
Golden State Warriors fans: Stephen Curry is a future—but is he the future?
In recent estimations, one would point to the contrary. Curry played in just 26 games in 2011, due to his seemingly interminable ankle injuries.
He did improve his field goal and three-point percentage in limited action. However, it was his fragility in the face of so much immense skill that turned many people off.
His laudable character notwithstanding, Warriors fans want to see more.
Will that happen in 2012?
Let's err on the side of yes and provide the three reasons why Stephen Curry will actually dominate next season.
Barnes and Thompson Factor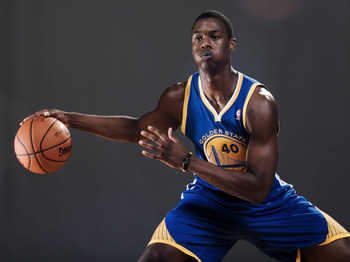 Barnes will operate as a great scorer in the NBA.
Nick Laham/Getty Images
So what happens to a player when he makes the transition from the NCAA to NBA and is a great shooter?
Better yet, what happens when he receives crisp and timely passes from a field-general point guard on a game-to-game basis?
Harrison Barnes will showcase what it means to be the recipient of a highly sought out NBA point man. The .430 shooter from North Carolina will receive passes more consistently that he ever had in college.
And, for Curry's sake, the former Davidson product will receive his due credit when Barnes makes the shot. Assists are the accolade every point guard wants on his resume.
Second-year shooting guard Klay Thompson will also convey the passing acumen of Mr. Curry.
Thompson and Curry did not develop a tangible rapport last season due to the timing of the latter's injury and the former's playing time after the fact.
In 2012, however, both will form a tandem much smoother than Monta Ellis could have ever facilitated. Curry will play a pure facilitator role while Thompson operates as the prototypical shooting guard.
Each other's roles will not be confused.
This will be one fine one-two combination from the backcourt.
A Viable Big Man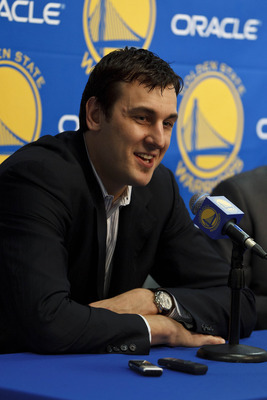 Say hello to Mr. Andrew Bogut.
Jason O. Watson-US PRESSWIRE
Curry has yet to play with a high-functioning center since he entered the league in 2009.
Even without that viable scorer in the paint, Curry has still averaged nearly six assists per game in his three-year career.
Enter Andrew Bogut.
The three-year double-double machine from Australia rarely played with a point guard of Curry's status. In fact, aside from T.J. Ford back in the day, Bogut has never really had that true luxury in the backcourt.
A backcourt without a legitimate frontcourt, a frontcourt without a proficient backcourt—these two will profit off each other in ways like never before in their respective careers.
For Curry, he will no longer have to compensate for the lack of a scoring big man. He can pick his spots, dish out to the perimeter shooters and find his scoring-capable center in the paint.
If Bogut can produce a 65-plus game season, as he's done five out of his seven years in the league, Curry will benefit to the tune of a career year.
Complete Team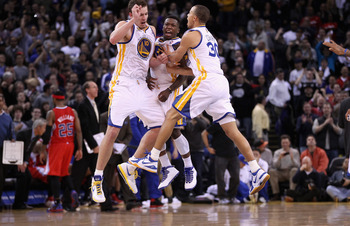 Minus Nate Robinson, the Warriors sport a roster as good as they've had in years.
Ezra Shaw/Getty Images
Simply put, this will be the best team Stephen Curry has ever played on.
It has both youth and experience, and legitimate scorers or rebounders at every position on the floor.
Not to beat a dead horse, but the Ellis-Curry combination was nothing but a conflicted duo—no matter how awesome either was individually. Ellis was a pure scorer that masqueraded unnecessarily as an assist-minded shooting guard.
Now Curry can perform his necessary role at point with Thompson and Barnes on the wings, David Lee in the low post and Bogut in closest proximity to the rim.
He can also exercise his rightful abilities as a deadly shooter when the time permits. The 25.3-points-per-game scorer, that shot .467 from the floor and .412 from three-point range in college, can absolutely do the same at the NBA level.
With a thoroughly talented team around him, Curry will be able to occupy the appropriate role—game in and game out.
Follow on Twitter @jlevitt16
Keep Reading

Golden State Warriors: Like this team?