Cincinnati Bengals: Week 2 Position-by-Position Preview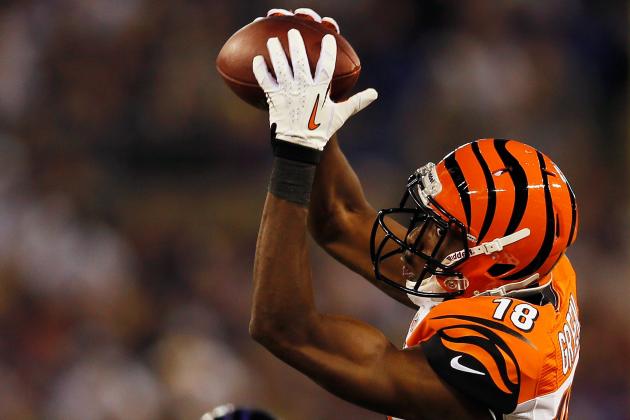 Rob Carr/Getty Images

The Cincinnati Bengals were run-over by the Baltimore Ravens on Monday Night Football. The Bengals were stagnant on both sides of the ball and left with a 44-13 loss to show for it.
Week 2 brings another divisional matchup. This time, Cincinnati hosts the Cleveland Browns in their home opener, a team who also faced their fair share of struggles in Week 1.
The Bengals will be hoping for a stronger performance on Sunday in a game that they are the favourites to win.
One week removed from a crushing season opener, let's take a look at what to expect from each positional unit this weekend.
Begin Slideshow

»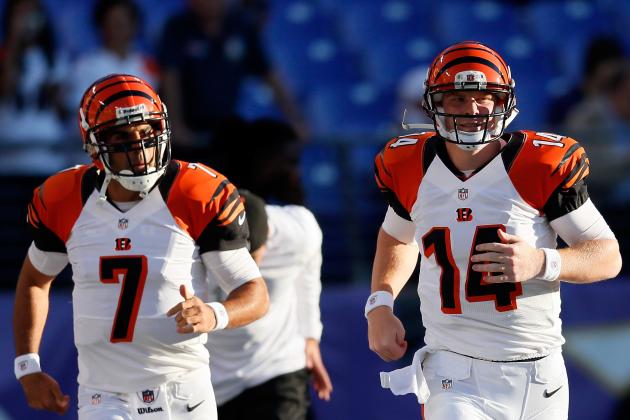 Rob Carr/Getty Images

It would be fair to say that Andy Dalton had a distinctly average Week 1.
With the Bengals defense doing little in the way of stopping Joe Flacco and Ray Rice, it was down to the offense to keep up in what turned into a shootout.
Unfortunately, the Bengals couldn't get much going offensively. Andrew Hawkins and BenJarvus Green-Ellis provided what little spark the Bengals conjured up, but neither are game-changers.
Dalton managed to find his Pro Bowl receiver A.J. Green with five passes for 70 yards, but they failed to produce any magic against an imposing Ravens defense.
The Bengals' second-year QB should fare better against Cleveland on Sunday. With an opposing defense missing Joe Haden, one of its key weapons in the battle against A.J. Green, Dalton's passing game could get some breathing room.
Given Brandon Weeden's 5.1 QB rating in Week 1, it's likely that Andy Dalton won't have too much competition when it comes to putting points on the board.
Expect a low-scoring affair, but for Dalton to spread the ball around his receivers a little more.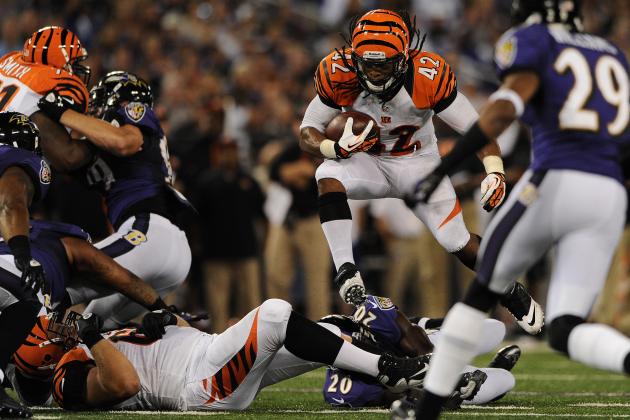 Patrick Smith/Getty Images

BenJarvus Green-Ellis proved to be one of the few positives that emerged from the Bengals' 44-13 loss on Monday night.
The former New England Patriot took 18 carries for 91 yards and one TD on the night.
Green-Ellis made easy work of finding holes in the newly thrown-together offensive line in what was his first field-action with them.
It was clear that the Bengals coaching staff have a lot of faith in Green-Ellis, who was tasked with and converted on fourth down on two occasions.
Jay Gruden went into Baltimore with the intention of focusing on the pass, but with BJGE producing in the ground game, we could see a shift this weekend.
Green-Ellis was never tasked with carrying the offense under Tom Brady in New England, but this Sunday could bring his first opportunity to do just that.
Bernard Scott has practiced for two days in a row this week, and he seems to be on the road to recovery; however, his status for Sunday remains a mystery.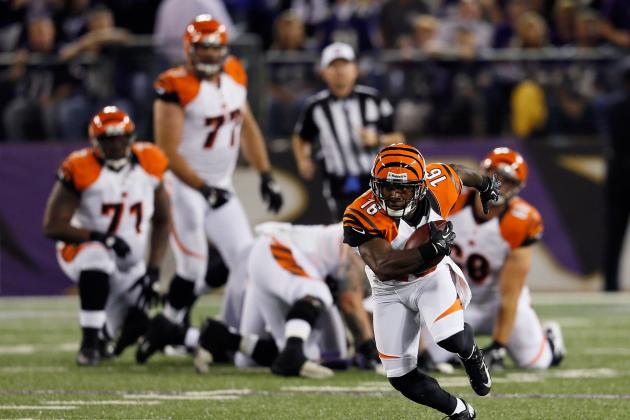 Rob Carr/Getty Images

The Bengals receivers struggled to produce much of anything on Monday night.
Andrew Hawkins provided the sparkle with an eight-reception, 86-yard performance.
In a game that saw A.J. Green drowning in double coverage, Hawkins proved to be the reliable pair of hands and was consistent in moving the chains, averaging 10.8 yards per carry.
However, this Sunday, Green will be without the attention of Browns standout CB Joe Haden, who is suspended. Haden was able to handle him for the most part in 2011, but Green remains head-and-shoulders above his replacements and should have a big game on Sunday.
Don't hold your breath for much from Brandon Tate and Armon Binns. They combined for five receptions and 31 yards on Monday, and they don't look to be on Andy Dalton's radar at this point.
With Hawkins playing well and Green hoping to exploit a depleted Browns secondary, the receiving corps could have a much better outing this week.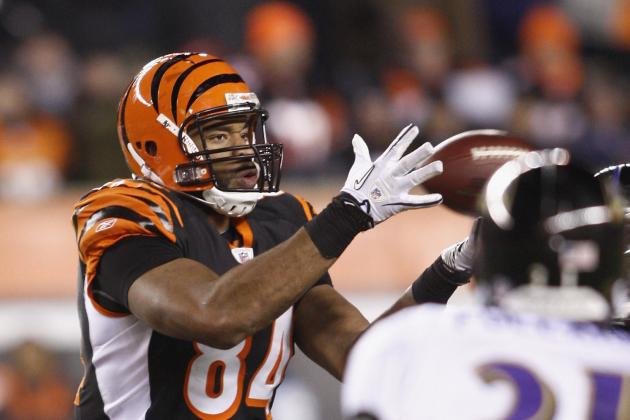 John Grieshop/Getty Images

Jermaine Gresham has been a non-factor so far this year.
Once thought to be a game-changing tight end, Gresham has yet to live up to his first-round tag.
He had three receptions for 30 yards in Baltimore, but he has yet to get on the same page as Andy Dalton.
This could all change on Sunday.
With A.J. Green likely to see some serious coverage and with Andrew Hawkins now registering in opponents' game plans, Gresham could get a lot more looks from Dalton.
Gresham's quiet season opener has left him somewhat flying under the radar this week, and the Bengals will be hoping to use that to their advantage on Sunday.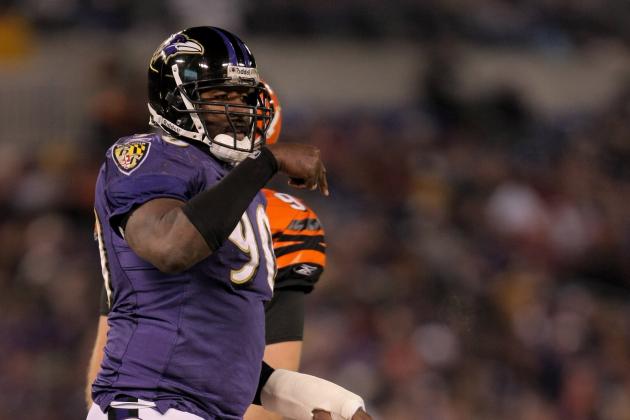 Doug Pensinger/Getty Images

Going into Monday's clash, the offensive line was one of the biggest concerns.
Following the game, it wasn't even a worry.
Jeff Faine stepped in at center with a rookie to his right and a guy making only his fourth start to his left.
Yet the Bengals offensive line thrived against a tough Ravens defensive line.
They did a solid job of making running lanes for BenJarvus Green-Ellis until the gap in the score forced Gruden to abandon the running game.
Paul Dehner Jr of CBSSports.com noted:
Whitworth and Boling played particularly well. Neither allowed a sack, hit or hurry while Boling moved Ravens defenders so easily he finished the week rated as the top guard in the NFL, according to ProFootballFocus.com.
With an impressive first performance under difficult circumstances, there is no reason to think the O-line won't have an equally strong outing against the Cleveland Browns.
Their only danger is fatigue, Andre Smith in particular.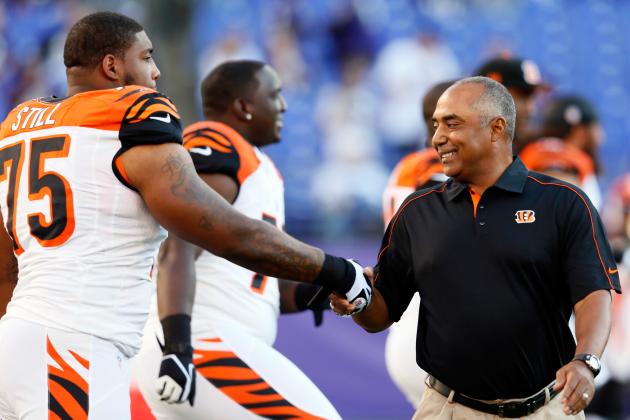 Rob Carr/Getty Images

The defensive line is sorely missing Carlos Dunlap from the lineup; he is still recovering from a knee injury sustained in the preseason opener.
Geno Atkins was characteristically impressive on Monday, but he can't carry the line all by himself. He had two tackles and two sacks on the night.
His backup Devon Still had a poor first outing, being largely manhandled by the Ravens offensive line and spending a lot of time in the dirt. He was perhaps a victim of Atkins' reputation, as the Ravens capitalized on his absence, but he still needs to step his game up fast, or Cleveland will do the same.
Other performances were serviceable but not spectacular. You can normally count on Domata Peko to show up for the divisional matchups, but he was a wallflower in this one.
The defense will have been chewed-out by Mike Zimmer this week, and you can expect a tighter performance all around. Carlos Dunlap's status remains unclear for Sunday, but his presence would certainly lift the team.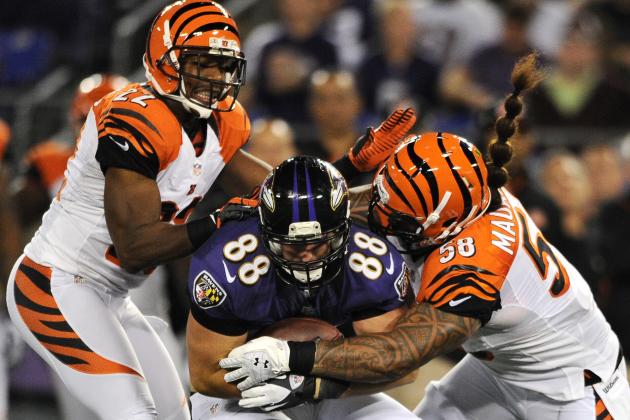 Patrick Smith/Getty Images

The Bengals are often criticized as not being able to stop the run, and that theme continued on Monday.
Add to that Rey Maualuga's assertion this week that Trent Richardson is "nothing spectacular," and you have a calamity waiting to happen.
Maualuga was blown out, beaten up and pushed aside against the Ravens, and he needs to stay on his feet consistently. His comments about Richardson have certainly drawn the battle lines for Sunday, and it will be put-up-or-shut-up time for Rey.
Manny Lawson had six tackles against the Ravens and was beaten only by Reggie Nelson. Lawson and his counterpart Thomas Howard are robust tacklers—consistent and dependable. Expect more of the same in the home opener.
The main storyline here continues to be Maualuga versus Richardson. No prizes for saying where the smart money is.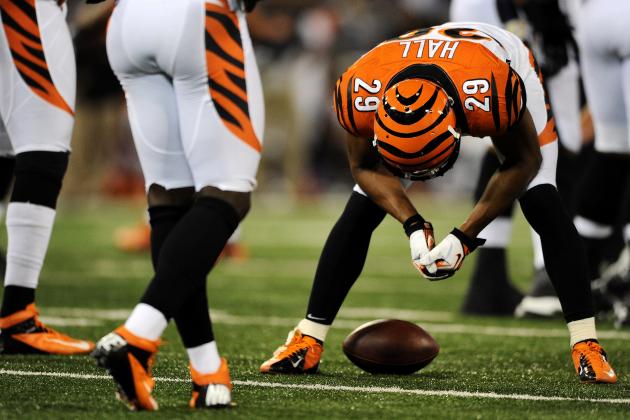 Patrick Smith/Getty Images

The Bengals secondary was the main focus in the loss last week.
Joe Flacco and the high-powered Ravens offense had their way with them for the most part, and they exposed the units flaws.
Leon Hall played angry on Monday—and not in a good way. He put in a gutsy and unflinching performance, but he appeared slow and somewhat rusty as he continues to strengthen his newly repaired Achilles.
Elsewhere, the Bengals recent haul of cornerbacks continue to disappoint. After a dismal performance from Terence Newman that saw the veteran beaten by just about everybody, the Bengals will be praying for the speedy recovery of Jason Allen, who could return to the field soon.
Adam Jones looked like Adam Jones, while Nate Clements grabbed three tackles in a so-so, run-of-the-mill performance.
Dre Kirkpatrick continues to rehab from injury, but he has yet to see any action and likely won't be able to contribute for some time.
The Browns will be looking to exploit a weakness here. The Bengals veterans will tighten their game ahead of the clash, but speed remains a concern. Leon Hall has to be the fastest corner on the team, but he has yet to appear back to full speed.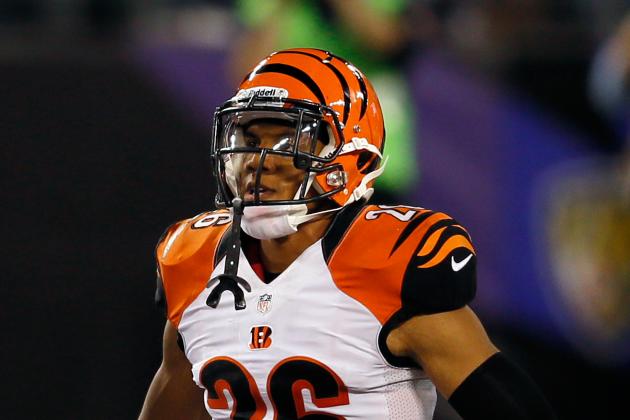 Rob Carr/Getty Images

A picture says a thousand words.
Taylor Mays struggled monumentally this week. He was beaten by Anquan Boldin for a TD, laid down a horrendous helmet-to-helmet hit and subsequently got pulled from the game.
George Iloka clocked out with an ankle injury, but he appears to be practicing ahead of Sunday's clash.
Jeromy Miles was left to plug the hole left by Mays and put in a valiant effort. He finished the day with two tackles and one assist.
Marvin Lewis has since commented on the irrelevance of his depth chart, implying that we could see either Mays or Miles start on Sunday.
Miles and Mays both have impressive athleticism that shone on special teams in 2011, but it seems Miles is the more capable of reigning in that power and playing safety effectively.
Reggie Nelson continues to be a force in the secondary and will be integral against Cleveland, given the uncertainty beside him.
Nelson lead the team with seven tackles and one assist on Monday in an impressive display. However, the stats don't show just how many plays Nelson ran himself out of or took a bad angle on. There were many.
The former first-rounder will be relied upon to make some big stops this weekend, but he needs to make sure that his impulsiveness doesn't prove costly.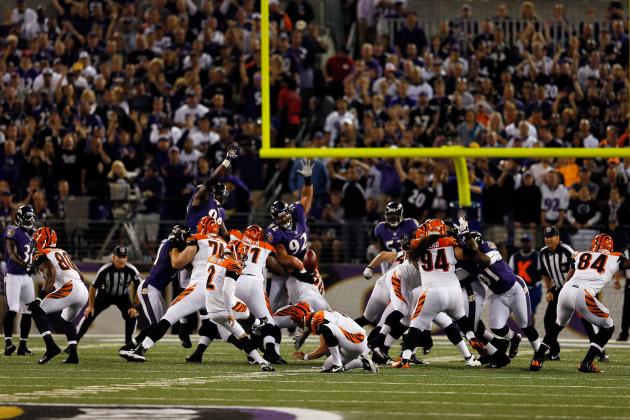 Rob Carr/Getty Images

Dan Skuta almost blocked a punt in Baltimore and will hope to recreate some of the Bengals' preseason special-teams magic this week.
Similarly, Jeromy Miles can be relied upon to make plays on special teams, though a promotion at safety might cause some disruption.
The Bengals kickoff-return game will prove interesting this week. Brandon Tate made some awful decisions at Baltimore, and he was then rightfully screamed down by blocker Chris Pressley for much of the game.
The Bengals should consider an alternative to Tate this week, with Marvin Jones being a possibility.
Mike Nugent was 2-of-2 in the season opener, and if the offense continues to struggle, he will be looked to often when the Bengals host the Browns.
Kevin Huber remains serviceable in the punting game, but he needs to do more when facing tougher teams. He gets a break against Cleveland, but his output remains somewhat disappointing.