Even with Peyton Manning's move to Denver, Tim Tebow's move to the Jets was arguably the biggest quarterback move of the offseason, in terms of publicity.
For the last few months, sports fans were treated to an endless barrage of Tebow-centred programming (thank you First Take) debating whether or not Tebow would be successful for the New York Jets.
Whether you liked Tebow or not, the consensus among fans was that Tebow would eventually usurp Sanchez and take control of the Jets offense.
It may be too early to call at this moment, but Sanchez looks quite safe as the starting quarterback for the Jets, with Tebow only being used in his "special" packages.
With Sanchez seemingly entrenched as the starter, it looks like Tebow has found himself wanting to leave New York, with rumors spreading that he will request a trade at the end of the season.
According to Gary Myers of the New York Daily News, Tebow will request a trade if his playing time does not increase.
If that's the case, Tebow better hope that Sanchez gets injured or starts playing horribly because, as Rex Ryan and Mike Tannenbaum have said ad nauseam, Tebow is at the Jets to be Sanchez's backup.
You could feel sorry for Tebow, but at the end of the day, he was given the choice to be traded to either the Jets or his hometown team, the Jacksonville Jaguars.
He chose New York, when almost everyone agreed that it was better for him to go to the comfy confines of his hometown and play for the Jags.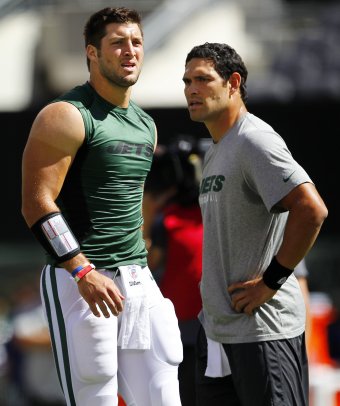 Rich Schultz/Getty Images
The owner wanted him, the fans wanted him and it would have provided excitement to what is one of the least supported teams in the NFL.
Alas he chose the Jets, and now it looks like he is regretting that decision.
The fact is that Tebow would've had a much better chance of winning the starting gig over Blaine Gabbert than Mark Sanchez.
Neither Sanchez nor Gabbert is going to be confused for Aaron Rodgers or Tom Brady, but Sanchez is a lot further down in his development than Gabbert and far more entrenched as the starter.
Furthermore, the people of Jacksonville would almost certainly have applied the same kind of pressure on the front office and coaches to start Tebow as Denver fans did last season.
Also playing in his hometown would have given Tebow a comfort level that he would not have in any other place in the NFL.
If Tebow does indeed request a trade, he will essentially have wasted an entire year of development that he desperately needed.
Expecting to usurp Sanchez was going to be a tough task, and while he should be applauded for accepting the challenge, going to Jacksonville was always a better move for him personally and professionally.
A lot of people said that Tebow's move to the Jets was based on publicity and not football, and as of this moment it looks like they could be right.