Bears vs. Packers: 7 Things We've Learned from Green Bay's 23-10 Win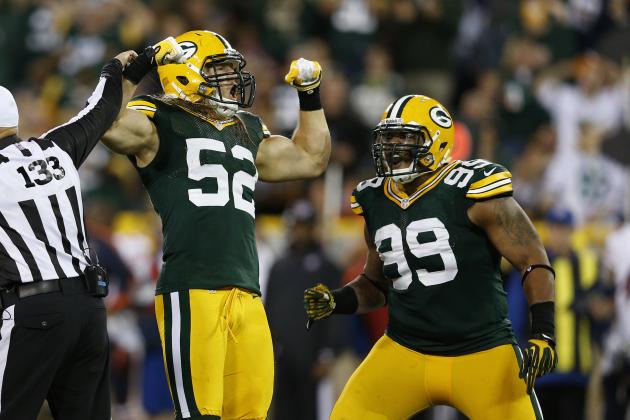 Joe Robbins/Getty Images

Some say that how you respond to pressure is a key component of what separates a great team from a good team. If that's the case, then the Green Bay Packers are looking real good.
After a 30-22 loss to the San Francisco 49ers, the Packers had a short week coming into Thursday Night Football, as did the Chicago Bears.
In a night when offenses were supposed to dominate, it was often the defenses that came up with the biggest plays.
In the end, the Packers came out decisively on top, 23-10.
Here are seven observations on the Packers.
Begin Slideshow

»
Jonathan Daniel/Getty Images

Last week, the Packers didn't have a response for the 49ers offense. They couldn't force turnovers and couldn't stop Frank Gore.
This week, it was much better.
The defense got pressure at will due to the Bears' poor offensive line and Jay Cutler's tendency to hold the ball too long, and also created turnovers.
It was a well-rounded defensive effort.
Packers fans can only hope the defense stays this good.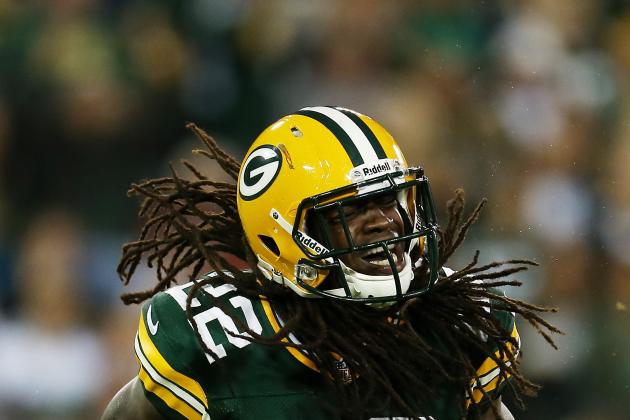 Jonathan Daniel/Getty Images

The rookies on defense played a big part in this victory.
The two rookie defensive lineman, Jerel Worthy and Mike Daniels, each recorded a sack.
Nick Perry was held off the stat sheet, but he took some attention away from Clay Matthews and almost came up with a sack.
Jerron McMillian was OK, but he recorded an interception. Some fans may point out that it would've been better had McMillian knocked the ball down since it was fourth down, but can you really blame a rookie playing in his second game?
The rookies were great.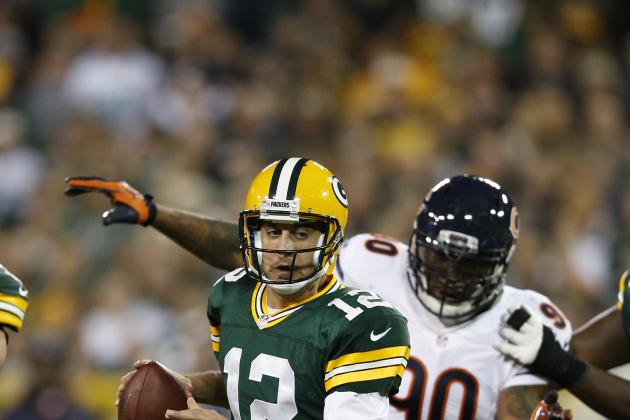 Joe Robbins/Getty Images

Though most aspects of the game were positives for Green Bay, the passing game had mixed results.
For the second straight game, Rodgers was limited to throwing underneath, as the Bears took away everything deep.
On multiple occasions, No.12 and his receivers weren't on the same page. James Jones broke off his route early, and the miscommunication led to an interception.
Rodgers wasn't helped by the drops and miscommunication, but he should've been picked by Bears linebacker Lance Briggs near the end of the first half.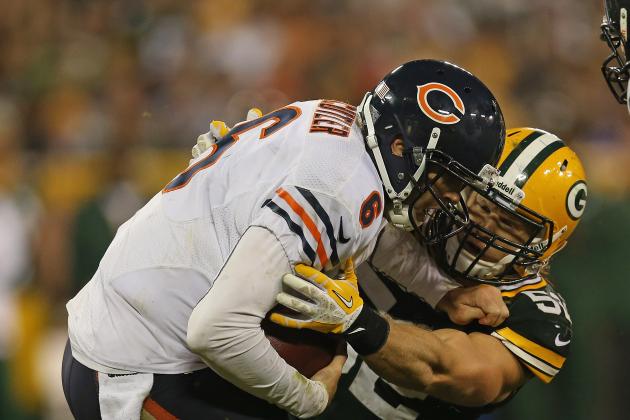 Jonathan Daniel/Getty Images

After leading the league in sacks after Week 1 with 2.5, Matthews elevated his game and recorded 3.5 sacks. He also chipped in with seven tackles and a pass breakup.
Although the Bears offensive line was horrible, Matthews already looks like he's benefiting from the elevated play of those around him.
Whether it be rushing the passer, playing the run or going into coverage, Matthews makes his presence felt.
He's got to be the front-runner for Defensive Player of the Year.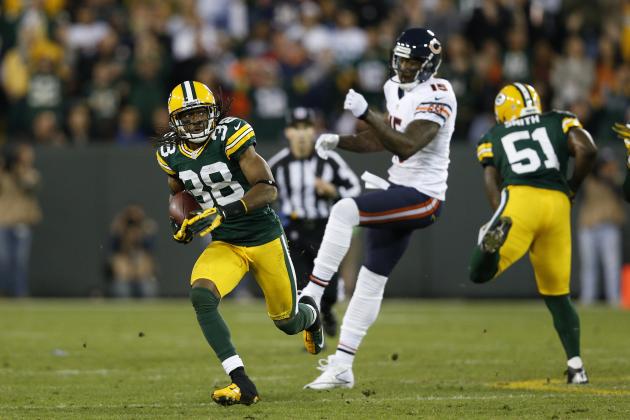 Joe Robbins/Getty Images

After the national media talked up how Bears wide receiver Brandon Marshall's size was going to cause problems for Green Bay, Tramon Williams went out on the field and shut him down.
In fact, Williams had as many catches as Marshall. While Marshall had two receptions for 24 yards, Green Bay's No. 1 cornerback recorded two interceptions for 38 yards.
While he had help from a safety all night, Williams was the one primarily responsible for shutting Marshall down.
It was truly an excellent performance.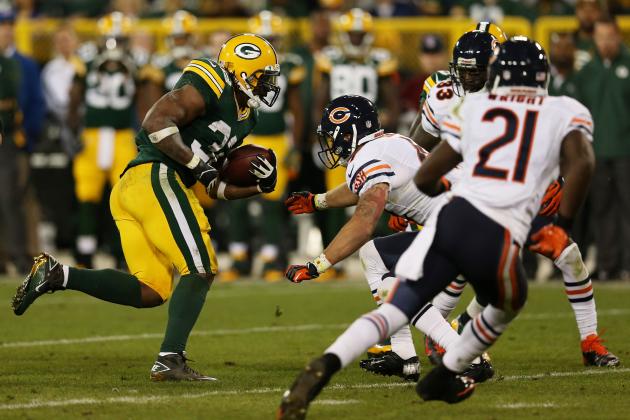 Jonathan Daniel/Getty Images

The free-agent signing is looking like a move of sheer genius by Ted Thompson.
Cedric Benson proved he still has life in his 29-year-old legs, showing some burst and nice vision.
The Packers opened up the game trying to establish the run, and the result was Benson receiving as many carries in the first quarter as he did last week.
He also uncharacteristically showed up big as a receiver, reeling in all four of his targets for 35 yards.
Randall Cobb also received two carries out of the backfield, although one was called back by a penalty.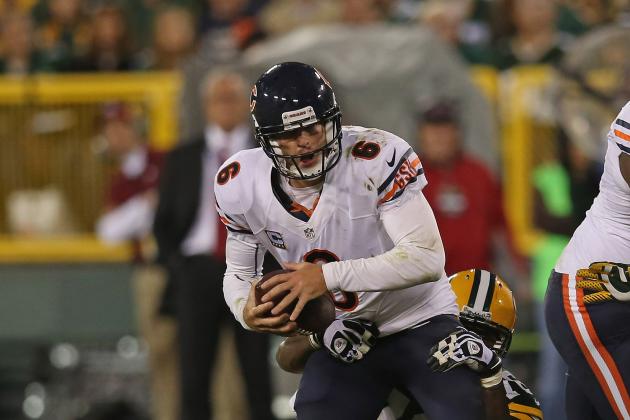 Jonathan Daniel/Getty Images

There's no doubt this game will boost the Packers' confidence. However, they shouldn't let this game go to their heads.
The Bears offensive line is terrible, and Cutler was making bad decisions all night. Any defense with a few quality pass-rushers could have had success against the Bears on Thursday night.
After a short week, the team has a long layoff. They next play on Monday in over a week.
Let's hope they stay focused.