USC vs. Stanford: Why This Will Be Matt Barkley's 'Heisman Game'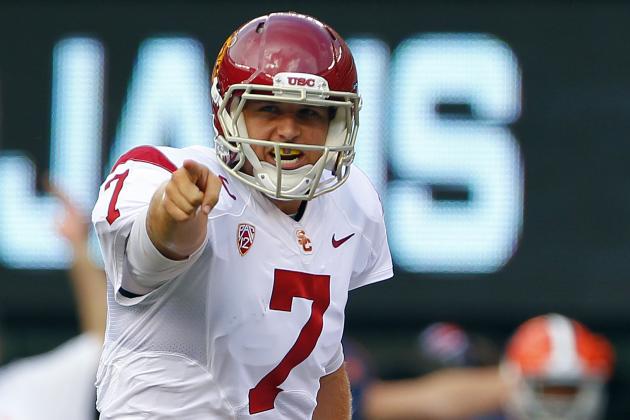 Rich Schultz/Getty Images

Matt Barkley has never beaten Stanford.
Heisman favorite Barkley has accomplished a lot in his years at the helm of USC's offense but he has never managed to beat the Farm. All that will end on Saturday when Barkley and the USC Trojans march into Stanford Stadium and lay an epic beatdown on the Cardinal.
It is time for USC to put Leland Stanford, Jr. University back in its rightful place as a Pac-12 also-ran. The offensive display Barkley will put on will cement the 2012 Heisman early in the season.
As Matt Barkley passes to his world-class tandem wide receivers Marqise Lee and Robert Woods, records will fall. Barkley has beaten every team in the Pac-12—including two that were just added last year—but is 0-3 versus Stanford during his USC career.
In 2011, Stanford beat USC in triple overtime 56-48 in one of the most thrilling games I've ever personally witnessed. In 2010, the Cardinal eked out a last-second 37-35 victory and in 2009, USC was routed 55-21 by the Farm.
Andrew Luck is gone. Jim Harbaugh is gone. The Trojans are loaded with talent and on a quest to play for and win the 2012 BCS National Championship.
Stanford is just one of the steps along the way, but one Barkley will take seriously. He will not finish his career never having beaten Stanford.
Begin Slideshow

»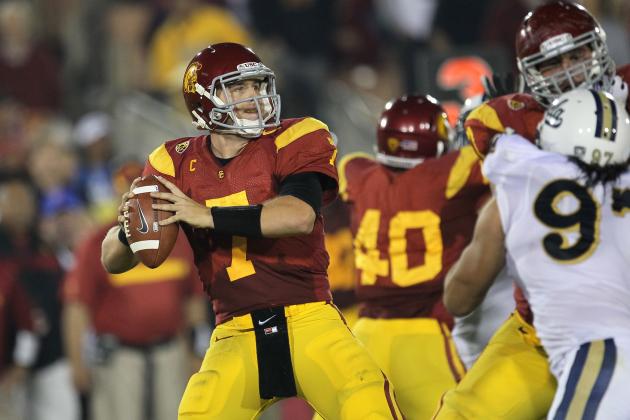 Stephen Dunn/Getty Images

Last week against Syracuse, Barkley braved a raging storm and the threat of lightning as well as crazy humidity (not to mention leers from the very odd Otto the Orange) to tie his own school record with six touchdown passes.
Oh, and by the way, he did that while also only having 187 yards on the day.
In Week 1, Barkley routed Hawaii with 377 yards passing and four touchdowns.
Barkley has thrown 119 consecutive passes against five or more pass-rushers without an interception dating back to September 24, 2011. In this same time period, Barkley has thrown for 18 touchdowns against the blitz and has had four games with at least three touchdown passes.
Since the start of his sophomore season Matt Barkley has thrown 37 touchdowns and three interceptions against the blitz.
What I'm saying is, he is prepared and USC has a game plan not just to beat the Farm, but to cement Barkley's Heisman Trophy on Saturday.
Matt Barkley amassed a stellar USC and Pac-12 career under center including the following records:
3rd on USC's all-time career passing list with 755 completions and total offense (9,013 yards) lists behind Heisman winners Carson Palmer and Matt Leinart.
5th on the Pac-12 career touchdown pass (80) list.
2nd on the USC career touchdown pass list.
16th in pass yardage (9,054) in the Pac-12.
3rd in pass yardage on the USC list.
16th in total offense on the Pac-12 list
Barkley has thrown at least one touchdown pass in 32 of his 36 career games to date. He has thrown at least two touchdowns in 21 games, at least three touchdowns in 13 games, at least four touchdowns seven times and at least five touchdowns five times.
He has had a school-record six touchdowns in one game twice, including versus Syracuse in Week 2.
Barkley has thrown for at least 200 yards in 24 career games with 10 games over 300 yards and two games over 400 yards. He has 36 career starts (he is 27-9 as a starter).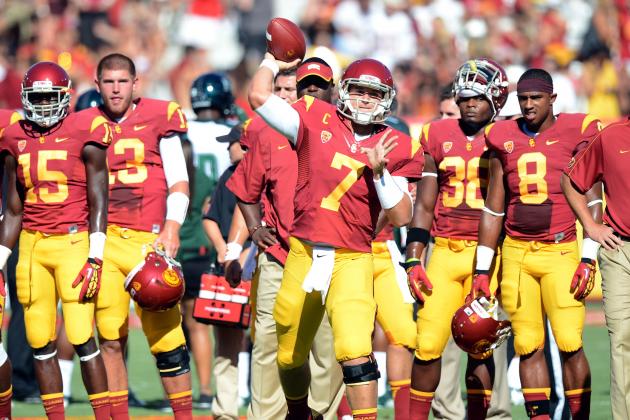 Harry How/Getty Images

Although Stanford has won the past three games versus USC, it is worth mentioning that the last two games have come down to the last play of the game.
It is also worth mentioning that the architect of the Cardinal offense, Andrew Luck, now plays for the Indianapolis Colts. Advantage: Barkley.
In the all-time history between the Trojans and the Cardinal, USC leads the series 59-28-3.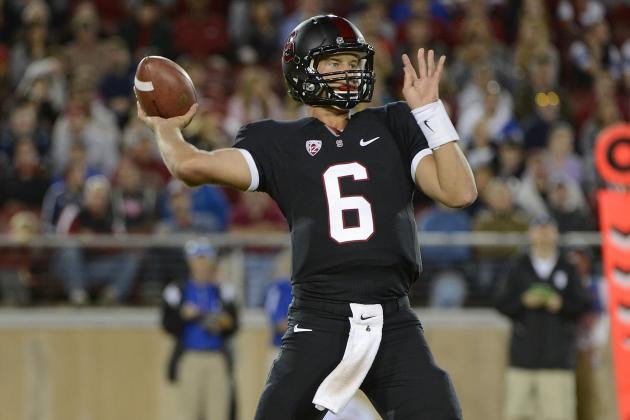 Thearon W. Henderson/Getty Images

Stanford replaced Andrew Luck with sophomore Josh Nunes who will be making his third career start for Stanford when he faces off against the Trojans.
Nunes has narrowly escaped San Jose State and routed cupcake Duke in his first two starts. USC is a very different opponent than those two teams, and Nunes and the rest of the Farm are in for a serious wakeup call on Saturday afternoon.
Meanwhile, despite going 0-3 so far versus Stanford, in the past two seasons Barkley has hammered the Stanford secondary with ease. The Cardinal defense, while decent, is not known for their pass defense. The Trojan offense, while loaded, is especially gifted in the wide receiver department with Robert Woods and Marqise Lee. The duo combined will make a strong case for their own Heisman inclusion as well as solidify Barkley's trophy.
Stanford is 25-3 on its home field in the Cardinal's last 28 games, a record that dates back to 2007.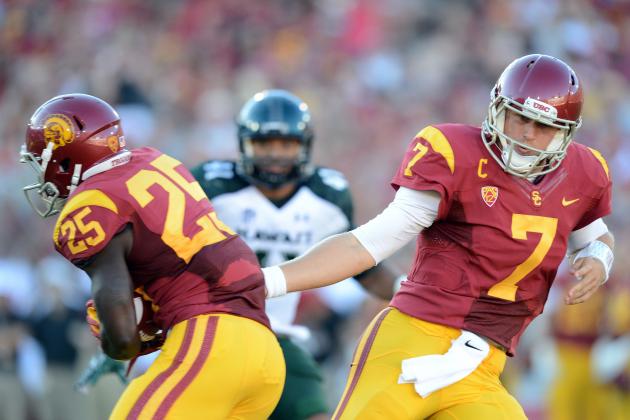 Harry How/Getty Images

The USC offense behind Matt Barkley is exciting and volatile. Barkley has his choice of weapons and knows how to use them. In the first two games of the season he's tossed touchdown after touchdown, shredding opposing defenses on his way to another win.
So far, Barkley is off to the exact start he needs to stay at the top of the Heisman discussion. He has 10 touchdowns in his first two games of 2012, setting an impressive pace that shouldn't be hard to maintain with the talented receiving corps and tailbacks the Trojans possess.
As USC's running game advances, Barkley's numbers will only get better and he should end the season at the top of every important USC list and record.
On Saturday, Barkley has the opportunity to avenge those three losses to the Cardinal and put the final touches on his Heisman campaign. Not that future games won't help, but I expect him to be so far ahead of the field after Saturday that the Heisman race will be essentially over.