MLB's 10 Most Incredible September Rookie Performances of Last 25 Years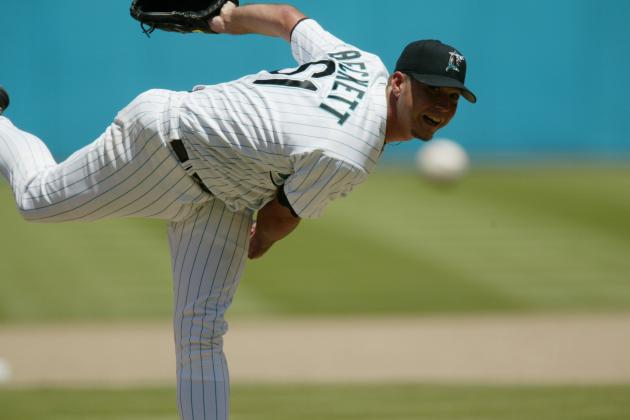 Eliot J. Schechter/Getty Images

Every season on Sept. 1, big league rosters expand from 25 to 40 active players, therefore allowing teams to potentially call-up a host of prospects. Not every call-up is a future star, however, as a majority of the promotions involve older, organizational role-players just happy to finally reach the Show.
Over the last 25 years, there have been countless examples of September call-ups who make a dynamic impact in a short period of time. So, as we prepare for a second wave of September call-ups, I thought it would be interesting to look back at some of these spectacular performances, by both pitchers and hitters.
For hitters, I sorted September performances by wRC+ (adjusted overall runs created where anything higher than 100 is considered above average) to eliminate each player's defensive value. I'm only interested in offensive production.
Similarly, I sorted pitchers by ERA-, which is essentially a version of wRC+ for pitchers. But unlike with hitters, the lower the ERA- the better, as a 100 ERA- represents the league average.
So, here is a look at the top five performances by September call-ups in each major category, hitting and pitching, since the start of the 1987 season.
*All stats used in this article courtesy of Fangraphs.com.
Begin Slideshow

»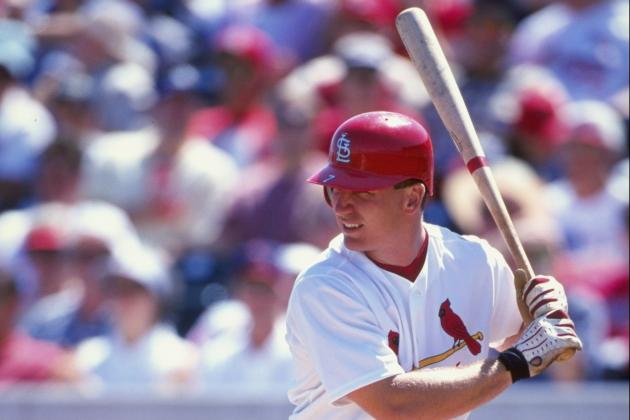 Matthew Stockman/Getty Images

1. J.D. Drew, St. Louis Cardinals
September: 260 wRC+ (14 games)
Career: 127 wRC+ (1,566 games)
Making his highly anticipated big league debut with the St. Louis Cardinals on Sept. 8, 1998, Drew batted .417/.463/.972 with five home runs and 13 RBI over 14 games.
He did strikeout 10 times in 41 plate appearances, which was offset by a .455 batting average on balls in play.
2. Craig Wilson, Chicago White Sox
September: 228 wRC+ (13 games)
Career: 81 wRC+ (139 games)
Playing his first career game with the White Sox on Sept. 5, 1998, Wilson batted .468/.490/.766 with three home runs, 14 runs scored and 10 RBI in 13 games.
3. Chris Parmelee, Minnesota Twins
September: 187 wRC+ (21 games)
Career: 127 wRC+ (72 games)
Most people overlooked Parmelee's stellar September last season, probably because he's a 24-year-old first base prospect who plays for the Twins. Regardless, the left-handed hitter batted .355/.443/.592 with four home runs and 14 RBI in 21 games after debuting on Sept. 6.
4. Daric Barton, Oakland Athletics
September: 187 wRC+ (18 games)
Career: 104 wRC+ (475 games)
A September call-up by the A's in 2007, Barton batted .347/.429/.639 with 16 runs scored, nine doubles, four home runs, eight RBI and 10 walks in 18 games.
5. Mark Quinn, Kansas City Royals
September: 175 wRC+ (17 games)
Career: 98 wRC+ (293 games)
Quinn burst onto the scene with the Royals in 1999 when the outfielder batted .333/.385/.733 with six home runs and 18 RBI in 17 games.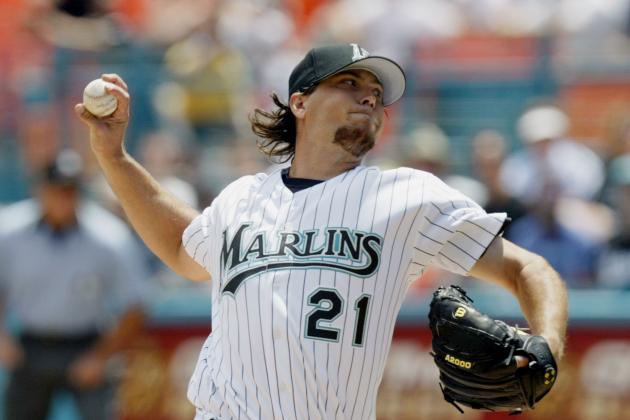 Eliot J. Schechter/Getty Images

1. Josh Beckett, Florida Marlins
September: 36 ERA- (24 IP)
Career: 90 ERA- (1,867.2 IP)
Starting four games for the Marlins in September of 2001, Beckett allowed 14 hits and 11 walks while tallying 24 strikeouts in 24 innings.
The high strikeout total also led to a 78% strand rate, and he held opposing hitters to a .161 batting average.
2. Jack McDowell, Chicago White Sox
September: 43 ERA- (28 IP)
Career: 90 ERA- (1,889 IP)
Making his big league debut on Sept. 15, 1987 for the White Sox, "Black Jack" somehow managed to squeeze in four starts before the end of the regular season.
The right-hander finished the season with a 3-0 record, 15 strikeouts and six walks in 28 innings. He held hitters to a .168 batting average while stranding 79.7% of runners.
3. Eric Gagne, Los Angeles Dodgers
September: 49 ERA- (30 IP)
Career: 83 ERA- (643.2 IP)
Three years before emerging as one of the more dominant closers in baseball history, Gagne was a struggling starter for the Dodgers. Making his major league debut on Sept. 7, 1999, Gagne ultimately made five starts that season, recording 15 walks and 30 strikeouts over 30 innings.
Gagne also limited opposing hitters to a .173 batting average while posting a ridiculous 86.8% strand rate.
4. Rich DeLucia, Seattle Mariners
September: 50 ERA- (36 IP)
Career: 110 ERA- (624 IP)
Called up on Sept. 8, 1990, Delucia made five starts for the Mariners en route to his historically-good 50 ERA-. The right-hander allowed thirty hits and nine walks with 20 strikeouts in 36 innings.
It would turn out to be the high point of his career, as Delucia was used strictly as a reliever by the 1993 season.
5. Dillon Gee, New York Mets
September: 56 ERA- (33 IP)
Career: 108 ERA- (330.1 IP)
Toeing a big league mound for the first time on Sept. 7, 2010, Gee ultimately went 2-2 in five impressive starts for the Mets. Logging 33 innings, the right-hander allowed 25 hits and issued 15 walks while notching 17 strikeouts. His high walk rate was essentially offset by an 80.7% strand rate.