Ravens vs. Eagles: 10 Keys for a Philadelphia Win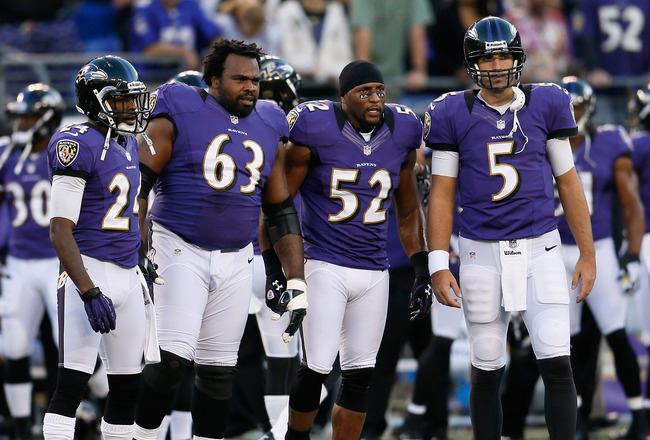 Rob Carr/Getty Images
Sunday's matchup between the Philadelphia Eagles and the Baltimore Ravens is my favorite of the week, and I'm no just saying that. How good can each of these teams become this season? Both teams are on a short list of serious Super Bowl contenders, but neither has been to the Super Bowl since 2005.
Both these teams have really good defenses. Everyone knows about the Ravens defense. If you have a TV, you have seen Ray Lewis in the last 20 minutes. Ed Reed was all over the highlight reel from their Monday night victory over the Bengals. Oh, and I didn't even get to their best defensive player, Haloti Ngata.
The Eagles have a really good defense, but most people don't believe it just yet. Part of the problem is that their defensive coordinator is their former offensive line coach, Juan Castillo. Most people aren't ready to accept that Castillo can be a good defensive coach. With the depth the have in the secondary and defensive line to go along with leader and Pro Bowler DeMeco Ryans, it will be hard to mess this up. This defense is for real.
This matchup is great because it is a potential Super Bowl matchup. The Ravens were a field goal away from sending last year's AFC Championship game into overtime, while the Eagles won their last four games by a very convincing margin. These two teams aren't the two obvious Super Bowl teams, but they are certainly in the conversation.
Game plans are going to be crucial in this matchup. Both of these offenses can be very explosive and both defenses will punish you for the smallest mistakes. Here are 10 keys for an Eagles victory.
1. Manage Michael Vick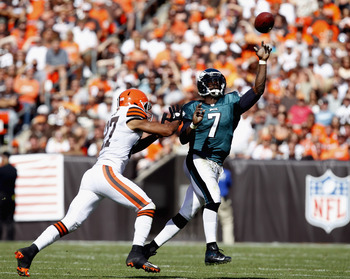 Matt Sullivan/Getty Images
Michael Vick is a special player that has to be managed properly. He makes plays that no one else can even dream of, but he is also one of the most mistake-prone quarterbacks in the NFL. If he isn't managed properly, he will hurt the offense.
Vick threw the ball 56 times last week against Cleveland. That is far too many for Vick. As a coach you have to limit the amount of shots Vick takes. You also have to limit his throws. Last season Vick averaged an interception once every 30 passing attempts.
Thirty passes is a good number for Vick. You can't keep that number around 30 without a running game, or at least a desire to run the football. If the Eagles can stick to their ground attack for four quarters, they can limit the amount of shots Vick takes and at the same time limit the amount of mistakes he makes as well.
2. 35-Plus Touches for the Running Backs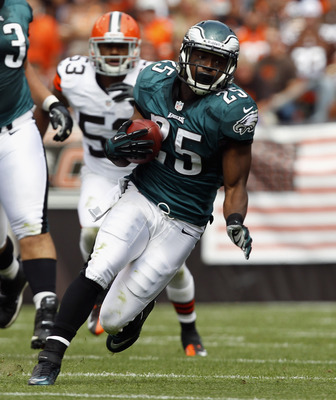 Matt Sullivan/Getty Images
What is the point of keeping four running backs and one fullback on your final 53-man roster if you aren't going to use them? The Eagles have to utilize all their active backs on Sunday against the Ravens. We already know what LeSean McCoy can do. But what about the other two running backs and his fullback, Stanley Havili?
McCoy had 20 carries for 110 yards last week to go along with six receptions for 26 yards. Bryce Brown had just two carries for three yards and no other back had any other offensive touches. Balance is the key for the Eagles offense going forward.
Brown is a terrific running back. He is a lot of speed and good size at 220 pounds. He is also an effective receiver. He needs to get his share of touches as well. The Eagles also need to get the third running back involved as well. Whether it is Dion Lewis or Chris Polk, the offense can get plenty out of its third back.
When the Eagles can control the game on the ground, they are at their best. It forces opposing safeties to cheat up, which opens up the deep ball for DeSean Jackson and Jeremy Maclin. When they give up on the run too early, it allows the opposing defensive line to pin their ears back and get after Vick. It also allows the safeties to stay back and prevent any big plays from the passing game.
An unbalanced Eagles offense can't beat some of the elite defenses in the NFL like the Ravens. Balance will be key on Sunday.
3. Utlize the Tight Ends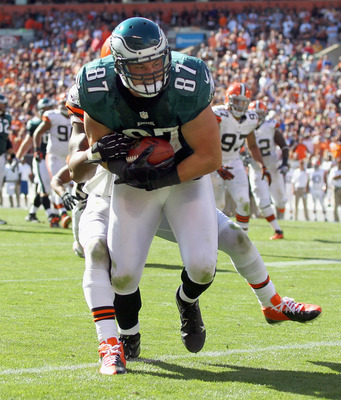 Matt Sullivan/Getty Images
The Eagles have one of the best tight end duos in football. They aren't as flashy as Rob Gronkowski and Aaron Hernandez, but Brent Celek and Clay Harbor get the job done. They block well, they are both excellent route-runners and they rarely drop the ball. They just flat out consistently get the job done whenever their number is called.
No one is going to admit it, but the Eagles tight ends are the key to their success on offense. Both Harbor and Celek are great in pass protection and will need to be in the early portion of this season. Both of the Eagles offensive tackles really struggled last week. The Eagles will need to utilize a lot of max protection schemes in order to give Vick plenty of time to either find his outside wide receivers or decide to tuck it and run. You give Vick protection and eventually he will burn you one way or another.
Celek and Harbor combined to haul in seven catches for 81 yards, including that game-winning touchdown grab by Harbor. These guys, along with slot receiver extraordinaire Jason Avant, can really control the middle of the field. It's important for this offense to spread the ball around the entire field. Defenses in the NFL are too good these days to rely on too many outside throws. Tight ends can be a quarterback's best friend.
4. Attack the Outside
Matt Sullivan/Getty Images
Not in the way you think. I am not referring to the outside receivers. I am talking about the running game and getting Michael Vick outside of the pocket. When one of the most dominant defensive players in the game is coming off a two-sack performance, you have to be ready for him to impact the game like that again.
Defensive tackle Haloti Ngata was dominant against the Bengals last Monday. The Eagles have to run a lot of plays away from him. This is a defense that is without Terrell Suggs who was lost to an offseason Achilles injury. You want to expose a defense's weakness and take away its strength. Running away from Ngata on the inside and attacking on the outside should be a primary focus for the Eagles offense.
5. Pass Protection from the Interior Line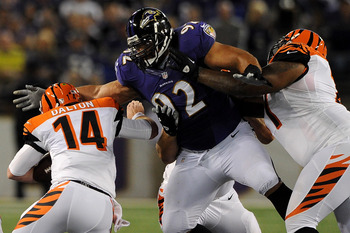 Patrick Smith/Getty Images
Haloti Ngata is such a force on defense that he takes up two keys. Jason Kelce and Danny Watkins have never faced a player like Ngata before. Mathis was with the Cincinnati Bengals before he came to Philadelphia. He should be somewhat familiar with him. All three players will have to be on their games as they will all be used at times to help block the 340-pound monster.
I predicted that the interior line of the Eagles could be a strength of this offense, and it didn't disappoint last week. There was a handful of penalties and a couple bad plays from Evan Mathis, but for the most part they were solid.
Ngata is a player you have to point out before every snap. He can line up all over the 3-4 defensive line as an end or tackle. He will require two blockers on every single play. This is Kelce's first year calling out the protection schemes before the snap. This will be his biggest test to date and maybe the toughest one he will face all year. Shutting out Ngata will go a long way in securing a huge win for the Eagles.
6. Get the Lead Early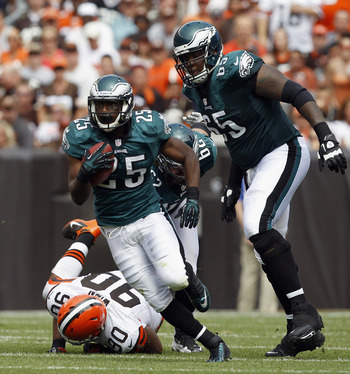 Matt Sullivan/Getty Images
This will be a top 10 key every single week for the Eagles. They are built for the lead. They have the running game to hold it. They have the secondary to cover the pass all day long, and they have the defensive line that will thrive during obvious passing downs. Nobody in the NFL is better served to gain an early lead.
It will be huge for the Eagles if they can march down the field and score a touchdown on their opening possession. After that all the pressure falls squarely on Joe Flacco's shoulders. Every drive he doesn't answer back, more pressure is added on.
The Ravens have a pretty mediocre offensive line at this point. It isn't a huge liability, but it isn't best served to let their quarterback drop back 40 or 50 times a game. It especially isn't served to do that against as deep of a defensive line as the Eagles have.
If the Eagles can get out to an early 7-0 lead, it will set the tone for the entire game. They can then establish the run and pick and choose when to get more aggressive on offense. That is the perfect scenario for the Eagles, and that is the worst thing the Ravens can do after such a brilliant performance last Monday.
7. Contain Ray Rice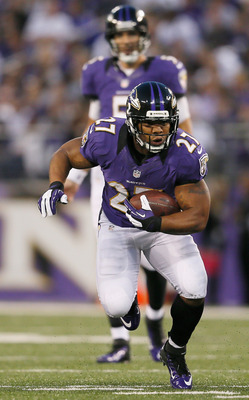 Rob Carr/Getty Images
For my money it doesn't get any better at running back than Ray Rice and LeSean McCoy. For the Eagles, it will be key to contain Rice. He only had 13 touches against the Bengals last week, but still managed to rack up 93 total yards and two touchdowns.
Rice and McCoy are the two backs in the NFL that do everything great. They can pound the football inside or bounce it out to the outside. The can make plays as a receiver in the flat or lined up as an actual wide receiver. They are both also outstanding in pass protection. They flat out do it all.
That means the Eagles have to find a way to contain Rice and not let him take over the game. This is going to be a huge test for new Eagles linebackers DeMeco Ryans and Mychal Kendricks. Both players were fantastic last week against Cleveland. There were several plays were Ryans stuffed Trent Richardson behind the line of scrimmage, while Kendricks was flying all over the field.
Having that type of success against a rookie, albeit a top-three pick, is one thing. Shutting down an All-Pro-caliber back is another. Keeping Rice under 100 total yards and out of the end zone changes the Ravens offense. It forces them to pass the ball more. That plays right into the hands of the Eagles defense. If they want to let their pass rush pin their ears back and get after Joe Flacco, it starts with shutting down Rice.
8. Take Away the Ravens Tight Ends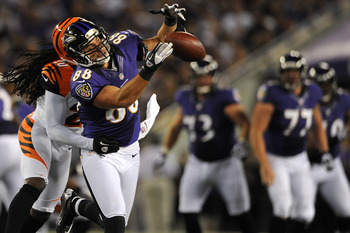 Patrick Smith/Getty Images
Like the Eagles, the Ravens also have a very good duo at tight end. Last week Joe Flacco targeted Dennis Pitta and Ed Dickson on 12 of his 29 passes including seven completions for 95 yards and a touchdown. For many years Todd Heap was the focus of the Ravens passing attack over the middle of the field. It has been difficult for one player to fill his shoes. That is why they will utilize two physical tight ends.
We already know how good the Eagles' corners are. Nnamdi Asomugha is the best press corner in the game and Dominique Rodgers-Cromartie isn't far behind coming off his two-interception performance. If the linebackers can take away the tight ends as well, who is Flacco supposed to throw to?
It will be especially important to take away the tight ends on third downs and in the red zone. That is when quarterbacks look for their tight ends as security blankets. When they aren't there, that is when they start to force the issue and then mistakes happen.
9. Stay the Course with Press Coverage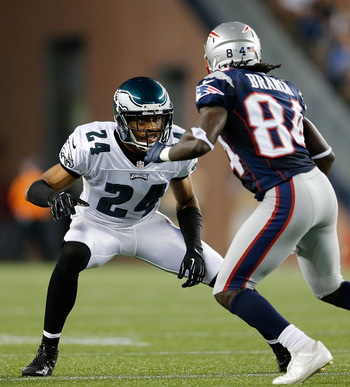 Jim Rogash/Getty Images
It's important for the Eagles defense to stick with press coverage the majority of the time. Occasionally you are going to mix up your coverage schemes to try and throw off the offense, but the press coverage has to be the main focus of the defense.
It's really easy for a young defensive coordinator to stray away from a primary coverage scheme after a bad play or two. The Eagles aren't built for off or zone coverage. They need to press. We all learned that last season. Nnamdi Asomugha isn't Charles Woodson. He needs to press his man right at the line of scrimmage. He can do it out of the slot or on the outside, but he can't be a roaming safety or play off his man.
Juan Castillo has to stick with this coverage all game long and all season long. The second they try and be something that they are not they will get burned for it. A defensive coordinator has to know who is defense is and how to best utilize it. Overthinking is a bad thing in the NFL 99 times out of 100. If this defense keeps it simple, it should have a lot of success against the Ravens offense on Sunday.
10. Prevent the Big Plays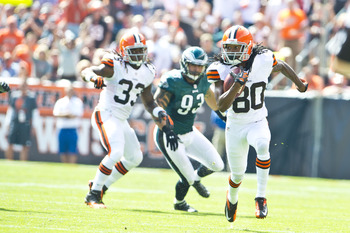 Jason Miller/Getty Images
Big plays will always play a huge role in the game of football. It's tough to maintain drives in football. Giving up the big play just makes it that much easier for the opposing offense. It also completely changes momentum. Eagles fans are no stranger to this. Brent Celek's 65-yard touchdown catch against the New York Giants in "The Miracle at the New Meadowlands" completely changed that game. It allowed the Eagles to erase a 21-point deficit in less than eight minutes.
The Eagles defense only gave up one play of at least 25 yards against the Browns last week. It came on a end around play by wide receiver Travis Benjamin. The play changed momentum until Brandon Weeden threw one of his four picks. That play could have been the difference in that game. Still, allowing just one play of at least 25 yards is a pretty good statistic in this day and age.
The Eagles defense will get a much stiffer test against the Ravens' big-play ability. They had a play of at least 25 yards by five different players, including a 52-yard pass to wide receiver Torrey Smith. That is what really dug the Bengals defense into an early hole. The Eagles don't want to fall into the same circumstances.
The play of the safeties and linebackers will be huge on Sunday. It was Akeem Jordan who bit on that end around play that lead to the 35-yard scamper by Benjamin last week. Discipline and the awareness of your assignment are the basic principles that prevent the big play.
Keep Reading

Philadelphia Eagles: Like this team?