2013 NFL Mock Draft: Most Ideal Picks for Every Team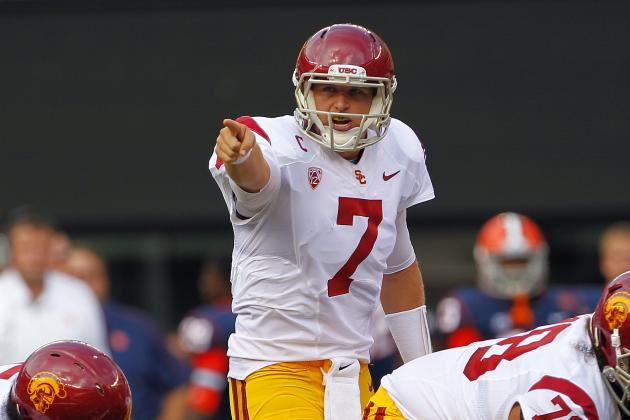 Rich Schultz/Getty Images

NFL teams are always looking ahead to next season's NFL draft. Front offices send out their scouts to evaluate talent all year long, looking for the answers to their team's roster deficiencies.
Even the best teams need to continue improving their rosters. If you're not getting better, you're getting worse.
There is no in between.
With that in mind, here is my first mock draft of the 2012 season.
Begin Slideshow

»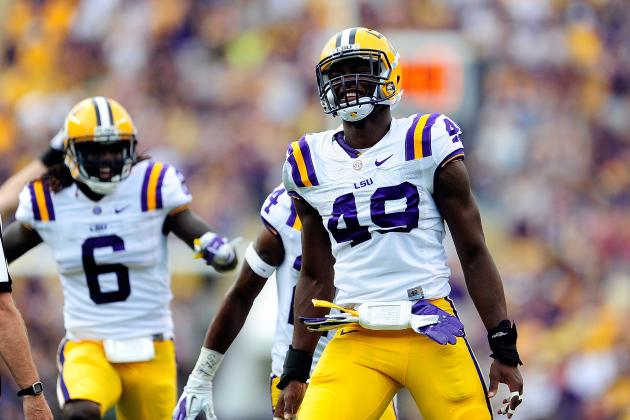 Stacy Revere/Getty Images

Barkevious Mingo, Defensive End, LSU
Mike Holmgren doesn't have any plans to leave the Browns after this year, and I'm betting on new owner Jimmy Haslam III to keep him around for at least one more season.
Brandon Weeden has looked like the worst rookie quarterback in years, but I'm not convinced he's actually going to stay that way.
I'm looking for big improvements from him going forward.
The Browns are built first and foremost around a solid defense. Bringing in this year's top pass-rusher will only improve upon an already-solid group.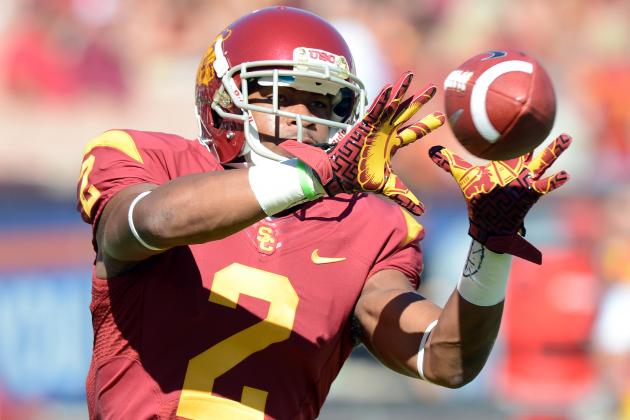 Harry How/Getty Images

Robert Woods, Wide Receiver, USC
It's clear that rookie quarterback Ryan Tannehill would greatly benefit from a competent receiver, and Woods would give him and the rest of the Miami Dolphins offense a huge boost.
Woods is the best receiver in his class.
He has excellent top-end speed, quickness, hands and intelligence, and if he isn't taken here, it won't be long before another team snatches him off the board.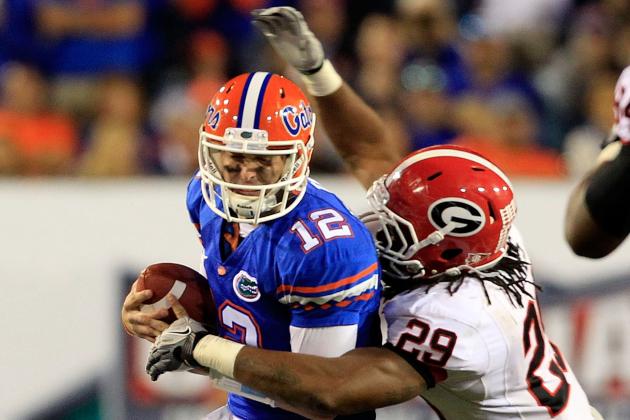 Sam Greenwood/Getty Images

Jarvis Jones, Outside Linebacker, Georgia
The Indianapolis Colts will be looking to upgrade their depth at the outside linebacker position, as Dwight Freeney and Robert Mathis (former 4-3 defensive ends) are their No. 1 options right now at the position.
The team's biggest weakness is their defense, and Jones would be an instant impact player for them.
Jones may already be a better 3-4 outside linebacker than Freeney right now, and given the fact that Freeney is already 32 years old, Jones will push for starting duties immediately.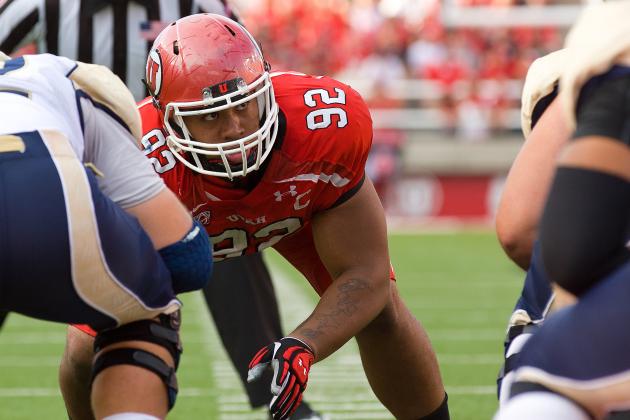 Russ Isabella-US PRESSWIRE

Star Lotulelei, Defensive Tackle, Utah
Ever since Pat Williams retired, the Minnesota Vikings haven't been the same on defense. Kevin Williams needs someone else to take double-team pressure away from him, and Lotulelei is just the man for the job.
Lotulelei is a beast in the middle of Utah's defense, and at 6' 3" and 320 pounds, he moves like a man half his size.
He is powerful, quick and agile, and he'd make the Vikings better on defense from Day 1.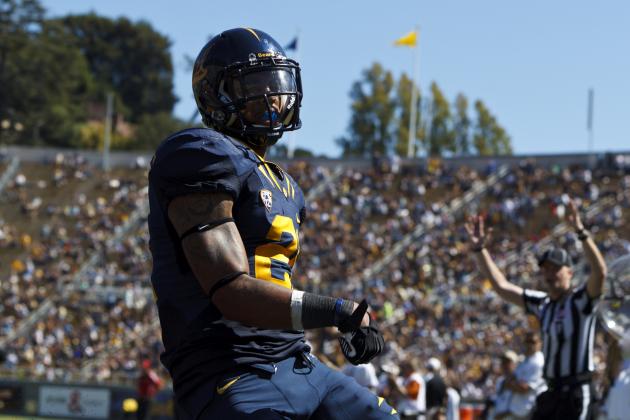 Jason O. Watson/Getty Images

Keenan Allen, Wide Receiver, California
Adding Justin Blackmon was a huge step in the right direction for the Jacksonville Jaguars, and adding Allen to the mix would suddenly give Blaine Gabbert one of the best young duos at wide receiver in the NFL.
Allen is a bigger target than Blackmon, and he has good hands and excellent athleticism to offer, if not elite speed.
His best attribute is his ability to make plays after the catch, much like Blackmon, and the two of them would be a nightmare for opposing defenses to cover for an entire game.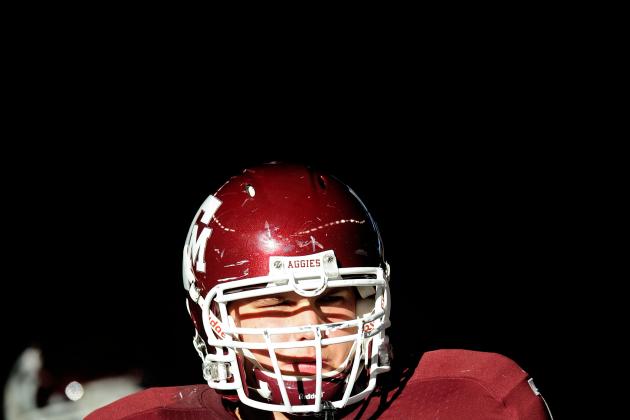 Mark J. Rebilas-US PRESSWIRE

Luke Joeckel, Offensive Tackle, Texas A&M
Sam Bradford still needs help at the offensive tackle position, and the latest injury to Rodger Saffold only makes this glaring need more of a priority.
Joeckel is this year's top tackle prospect, and his combination of size, agility, and strength will be a welcome addition to the St. Louis Rams on offense in 2013.
He is excellent in pass-protection and serviceable in the running game, giving the Rams just what they need.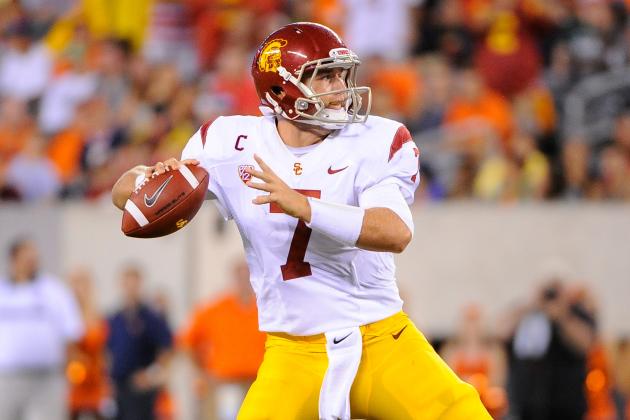 Rich Barnes-US PRESSWIRE

Matt Barkley, Quarterback, USC
Ken Whisenhunt, Larry Fitzgerald and the Arizona Cardinals will be leaping for joy to see Barkley still on the board at No. 7. After a couple of years of utter mediocrity at the quarterback position, Fitzgerald will finally have someone competent throwing him the ball.
Barkley appears to have everything a franchise NFL quarterback needs to succeed.
He's smart, accurate, makes quick reads and decisions, and can make every throw. He has good size, at 6' 2" and 230 pounds, and has enough athleticism to escape pressure.
He will be an instant starter, and the Cardinals will be better for it.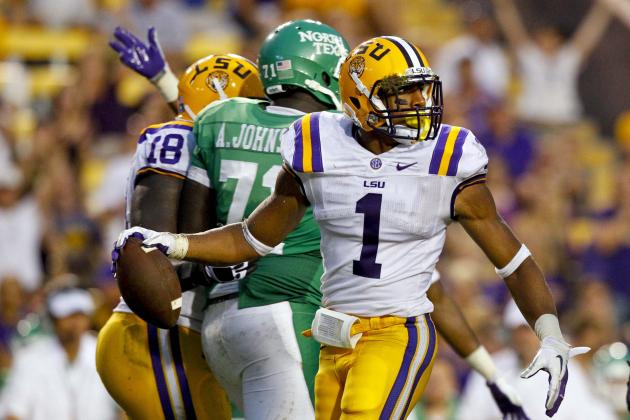 Derick E. Hingle-US PRESSWIRE

Eric Reid, Free Safety, LSU
The Carolina Panthers are starting Haruki Nakamura, a career backup, at free safety this year. This team desperately needs a true center fielder to play behind what's turning into a really good front seven, and Reid is the best free safety in this year's draft class.
Reid can cover a ton of ground in a hurry, and his ability to tackle big wide receivers and running backs in the open field is impressive.
He'll be an important addition to a developing defense that needs his particular skill set.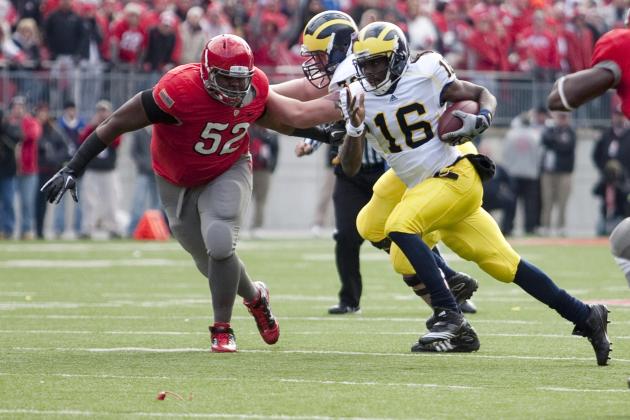 Greg Bartram-US PRESSWIRE

Johnathan Hankins, Defensive Tackle, Ohio State
The Seahawks already have a stout front line, but their defensive tackles are not exactly adept at pass-rushing.
Hankins, at 6' 3" and 320 pounds, is a strong man with agility who plays as well against the run as he does as a pass-rusher. He has excellent quickness and knows how to use his hands to great effect, and he'll make the Seahawks much more dangerous on defense than this team already is.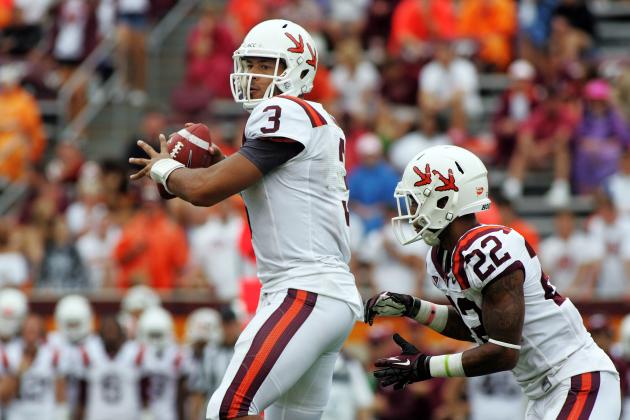 Peter Casey-US PRESSWIRE

Logan Thomas, Quarterback, Virginia Tech
Oakland Raiders offensive coordinator Greg Knapp loves athletic, mobile quarterbacks, and Thomas fits his offensive philosophy to perfection.
Thomas has a live arm in addition to his athletic prowess, and his entire repertoire will remind many people of Cam Newton.
Carson Palmer won't be around much longer, and the Raiders would be smart to draft his replacement sooner rather than later.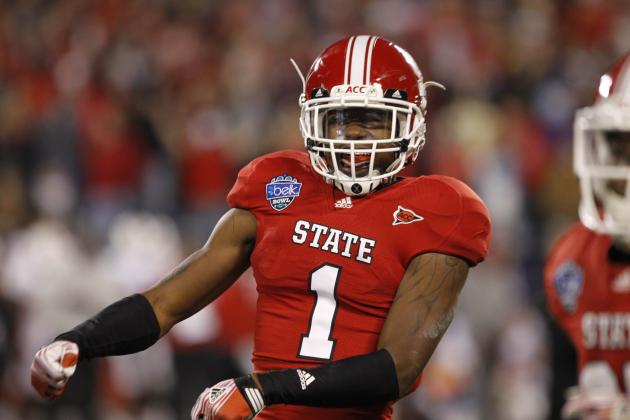 US PRESSWIRE

David Amerson, Cornerback, North Carolina State
After losing Cortland Finnegan to free agency, the Tennessee Titans will be happy to see Amerson's name still on the board at this point in the draft.
Amerson, at 6' 2" and 194 pounds, is a physical cornerback with excellent ball skills.
He made an incredible 13 interceptions as a sophomore in 2011, and though he isn't blessed with sprinter's speed, he is fast enough to hang with most receivers one-on-one.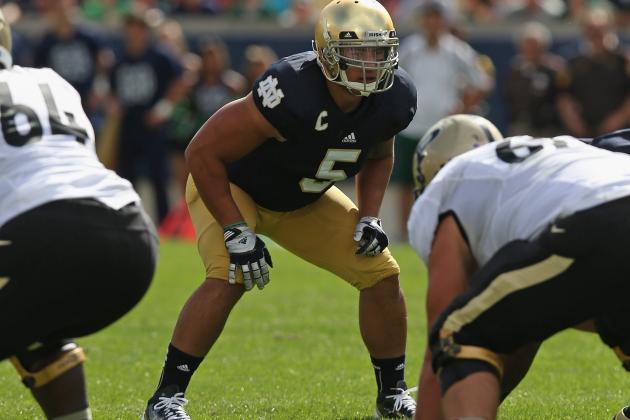 Jonathan Daniel/Getty Images

Manti Te'o, Middle Linebacker, Notre Dame
Tampa Bay Buccaneers new head coach Greg Schiano puts an emphasis on physicality—something Te'o brings to the table in massive portions on a regular basis.
Te'o is the perfect centerpiece for the Bucs young defense, and drafting him would allow Mason Foster to move to the outside, where he's better off anyways.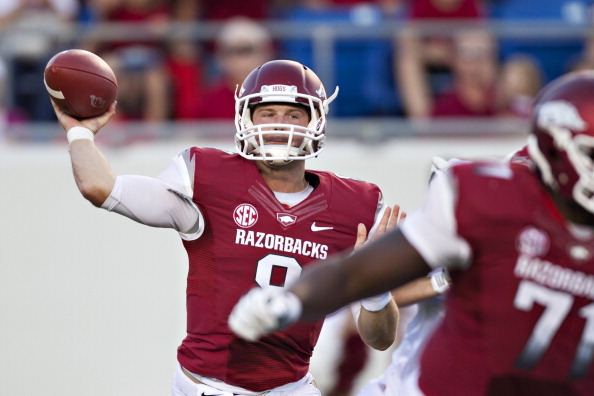 Wesley Hitt/Getty Images

Tyler Wilson, Quarterback, Arkansas
Matt Cassel continues to prove, time and time again, that he isn't a reliable starting quarterback. He isn't the long-term answer for the Kansas City Chiefs, and the sooner they realize this truth, the better off the team will be.
Wilson has a strong, accurate arm and is an athletic quarterback who can run if needed.
The Chiefs have a bevy of weapons on the outside, and Wilson's athleticism could be used to similar effect as what we've seen Mike Shanahan draw up for Robert Griffin III.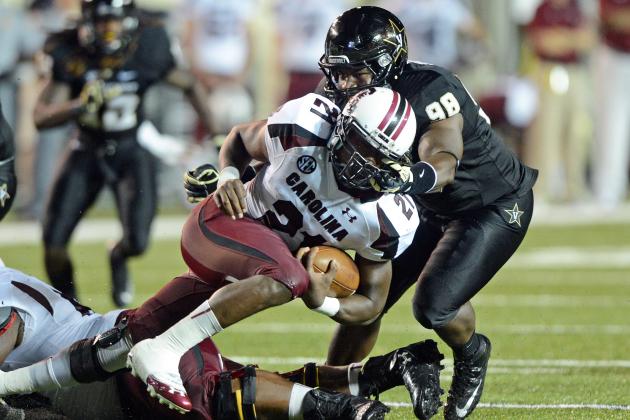 Don McPeak-US PRESSWIRE

Marcus Lattimore, Running Back, South Carolina
Lattimore is just the kind of physical running back the Buffalo Bills need to take pressure off of Ryan Fitzpatrick—a quarterback the Bills overpaid a year ago, but who won't be going anywhere because of the guaranteed money in his contract.
Lattimore has a knack for getting into the end zone, and since Fred Jackson can't stay healthy and C.J. Spiller is more of a third-down back, he's the perfect man for this team.
Matthew Emmons-US PRESSWIRE

D.J Fluker, Offensive Tackle, Alabama
It's no secret that the New York Jets have issues on the offensive line. Their line has trouble protecting the passer and paving lanes for running backs, and Fluker can help on both counts.
Fluker's specialty, though, is in the running game.
He is a true mauler who loves to drive defenders back into the second level, and he's going to be dominant doing so at the pro level. To me, this is the biggest need for the Jets, and therefore he's the perfect man for them here in the first round.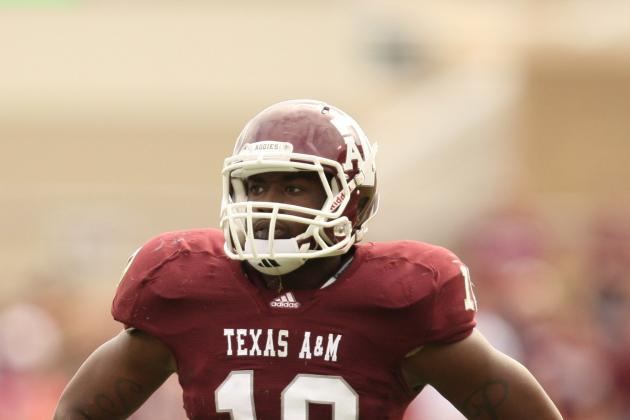 Thomas Campbell-US PRESSWIRE

Sean Porter, Outside Linebacker, Texas A&M
After seeing Von Miller find success as a 4-3 outside linebacker, it's easy to envision a similar role for Porter. The Philadelphia Eagles would be absolutely stacked at the linebacker position by drafting this young man to play next to DeMeco Ryans and Mychal Kendricks.
Porter is a pass-rushing specialist, but he's athletic and quick enough to cover tight ends and running backs in space.
He's a perfect fit for the Eagles, and he'd make an instant impact.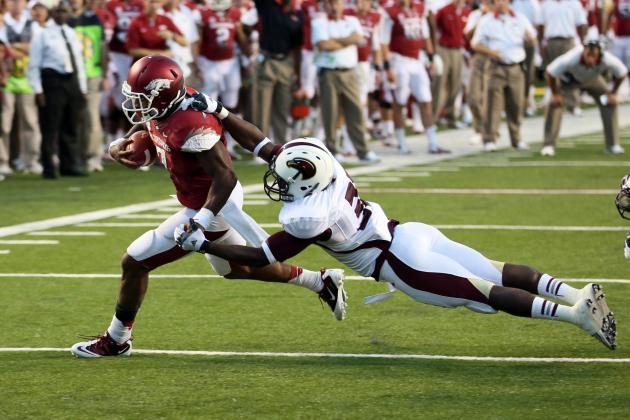 Nelson Chenault-US PRESSWIRE

Knile Davis, Running Back, Arkansas
Davis is a bell-cow running back who is built like a tank.
He has enormous thighs, and at just under 6' 0" and 225, he's more than a load for opposing defenders. Davis has excellent power and burst, though he isn't going to challenge Chris Johnson in a 40-yard dash competition any time soon.
He has good feet and can maneuver deftly in traffic to avoid would-be tacklers.
He's just what the Cincinnati Bengals have been missing the last few years, and his addition to this young offense would be a boost to Andy Dalton and the passing game.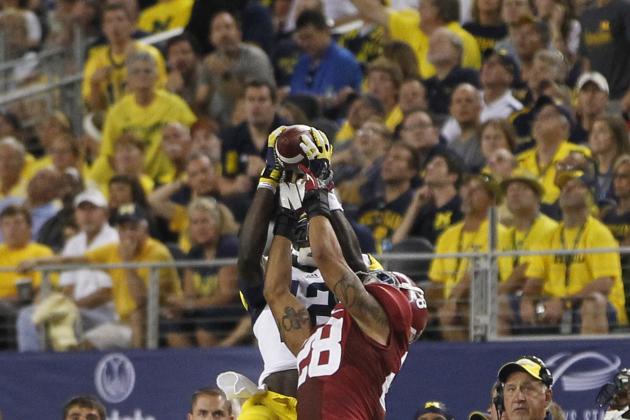 Tim Heitman-US PRESSWIRE

DeMarcus Milliner, Cornerback, Alabama
Champ Bailey isn't going to play forever, and it would behoove the Denver Broncos to look for his replacement before it's too late.
Milliner has good size (6' 1" and 198 pounds), above-average speed, is a physical cornerback who loves a challenge, and has excellent ball skills. He'd be a perfect addition to a young, up-and-coming Broncos defense that has the look of a unit set to terrorize the AFC West for years to come.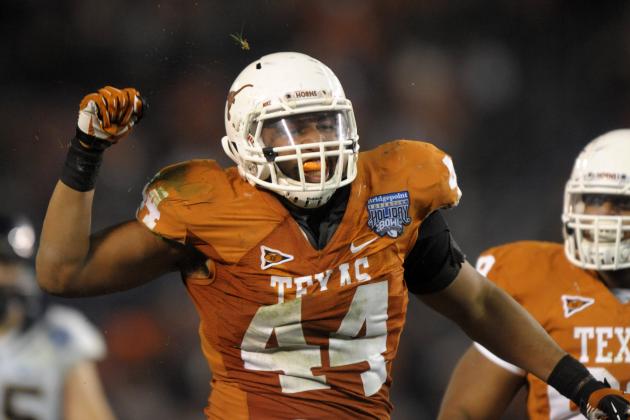 Kirby Lee-US PRESSWIRE

Jackson Jeffcoat, Defensive End, Texas
Jeffcoat has played with his hand in the dirt throughout his college career, but this young man has the look of a prototypical 3-4 outside linebacker.
If he slides to this spot in the draft, DeMarcus Ware will be doing backflips.
Jeffcoat is a natural pass-rusher who is still quite raw as it pertains to technique, but he'll be an absolute monster once he gains a bit more strength and learns how to play like a pro.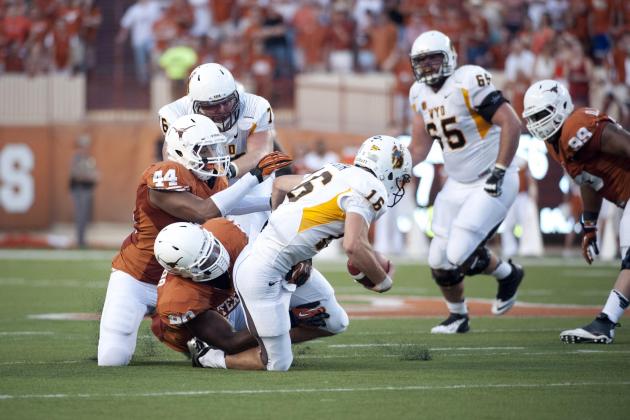 Brendan Maloney-US PRESSWIRE

Alex Okafor, Defensive End, Texas
Cliff Avril is going to be expensive to keep next year, and even if the Detroit Lions decide he's worth a huge contract, Kyle Vanden Bosch is nearing the end of his career.
The Lions need another young, stud pass-rusher, and Okafor would be a nice addition to an already-solid front line.
Okafor was strong enough already as a sophomore to play defensive tackle. His power on the outside will be a formidable test for any offensive tackle at the next level, and he'll be darn near unguardable next to Ndamukong Suh.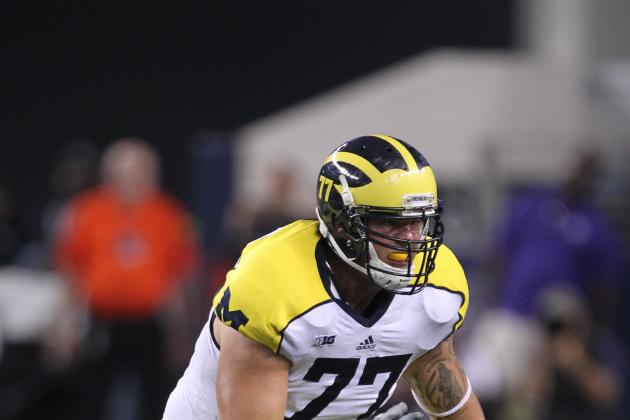 Matthew Emmons-US PRESSWIRE

Taylor Lewan, Offensive Tackle, Michigan
A.J. Smith and the San Diego Chargers have put off drafting an offensive tackle with a high pick for far too long, and this will finally be the year that he makes the move.
Lewan has excellent size (6' 7" and 310 pounds) and athleticism. He moves his feet laterally and knows how to use his hands properly to keep leverage on his opponent. He'll challenge for starting time right off the bat, and I'd expect to see him guarding Philip Rivers' blind side in Week 1 of the 2013 NFL season.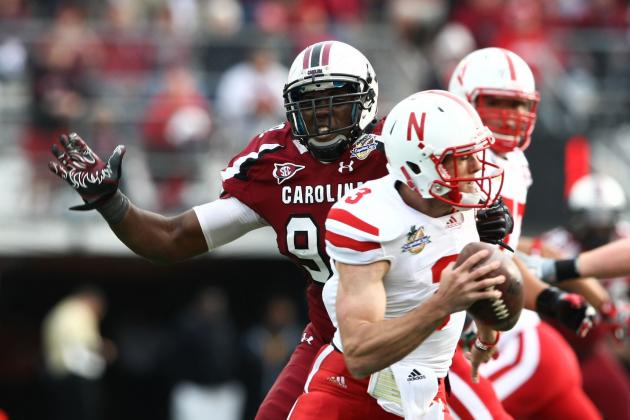 Douglas Jones-US PRESSWIRE

Devin Taylor, Defensive End, South Carolina
When I watch Taylor play, I'm reminded of a young Julius Peppers. At 6' 8" and about 270 pounds, Taylor is a massive man with massive athletic abilities.
Drafting Taylor would allow the New Orleans Saints to get more pressure on quarterbacks without blitzing—something this team struggles with now.
It's a perfect blend of need versus talent on the board, and Taylor would challenge for a starting spot from the start of training camp.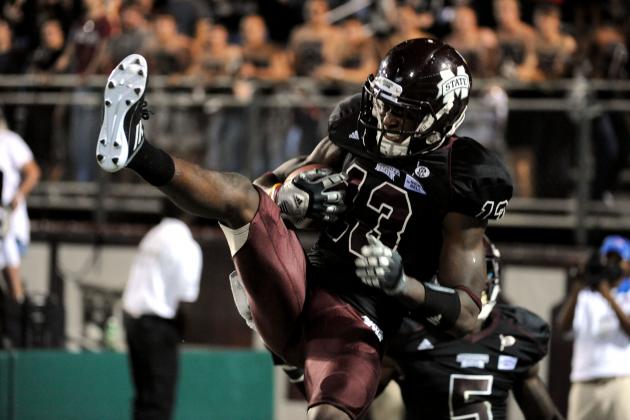 Chuck Cook-US PRESSWIRE

Jonathan Banks, Cornerback, Mississippi State
The biggest area of need for the New York Giants is at the cornerback position. Banks provides an answer to the team's woes, and he's one of the most underrated players right now in college football.
At 6' 2" and 185 pounds, Banks represents a new mold of cornerback that has evolved due to the rise of beastly wide receivers like Calvin Johnson, Demaryius Thomas and Stephen Hill. He is fast enough to keep up with them and tall enough to defend them up top.
He'll be a welcome addition to a Giants team that seems perpetually short at this position.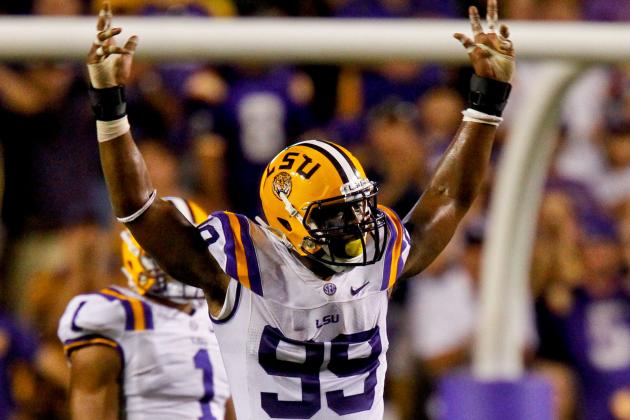 Derick E. Hingle-US PRESSWIRE

Sam Montgomery, Defensive End, LSU
Montgomery is a prototypical 3-4 outside linebacker prospect, and picking him up here would be an absolute steal for the Pittsburgh Steelers.
Blessed with a sudden burst of explosion that's rare, Montgomery has a first step that could turn him into one of the NFL's premier pass-rushers. At this point, technique is the biggest issue for him, as his repertoire of moves is still lacking.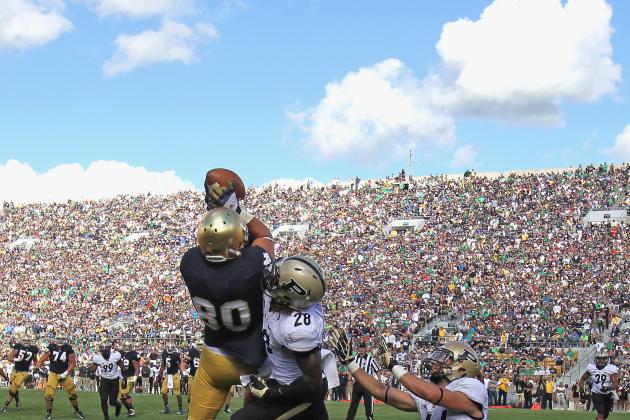 Jonathan Daniel/Getty Images

Tyler Eifert, Tight End, Notre Dame
The best thing any franchise can do to help their young quarterback develop (besides making sure the offensive line is competent) is to provide weapons for them in the passing game.
Eifert is another guy who people will compare to Jimmy Graham and Rob Gronkowski, and rightly so.
At 6' 5" and 252 pounds, he's capable of dominating the middle of the field and will be an excellent target down near the goal line.
In addition to his size, Eifert is fast enough to beat most linebackers and possesses excellent hands. He'd become Sam Bradford's best friend in short order, and the two of them would give defensive coordinators nightmares.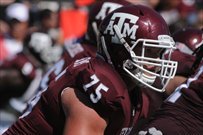 NFLDraftWizard.com
Jake Matthews, Offensive Tackle, Texas A&M
Every year I wonder why the Chicago Bears don't invest in their offensive line, and every year Jay Cutler gets abused. Matthews will be too tempting to pass up (or should be), and the Bears will finally make a move to protect Cutler's blind side.
Matthews is equally good in the running game, and his best attribute is that he usually keeps his feet moving and uses good technique.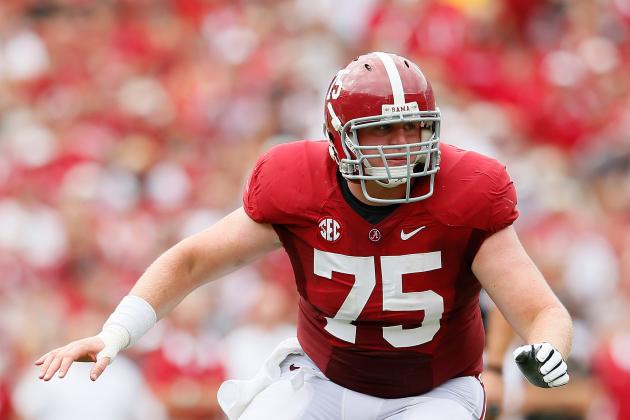 Kevin C. Cox/Getty Images

Barrett Jones, Offensive Guard, Alabama
Jones isn't a huge guy compared to most top-level offensive line prospects these days, but he is one of the most technically-sound blockers in this year's draft class.
He has the ability to play at tackle, though he'd likely stay on the right side, and Jones' best attribute is that he's so versatile. Teams love guys that can play multiple positions, and the Falcons need the help on the line.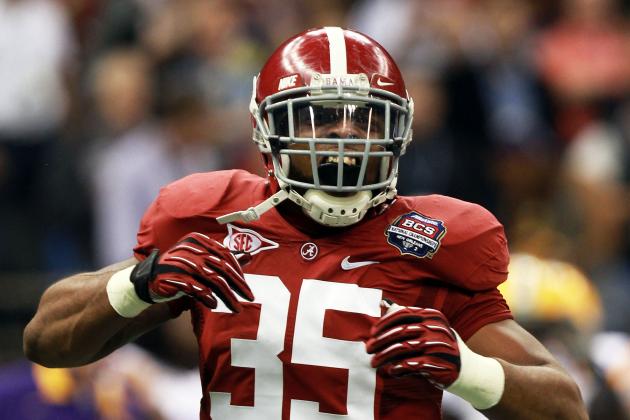 Ronald Martinez/Getty Images

Nico Johnson, Outside Linebacker, Alabama
I think I've heard somewhere that there's a Bill Belichick/Nick Saban connection, but those are probably just rumors...
Johnson would be the cherry on top of the burgeoning, young defense for the New England Patriots, and he'd challenge Rob Ninkovich for playing time right off the bat as an edge pass-rusher.
Kevin Liles-US PRESSWIRE

John Jenkins, Defensive Tackle, Georgia
The Green Bay Packers need some more beef in the middle of their 3-4 defense, and Jenkins is the beefiest dude you're going to find in the first round.
At 6' 3" and about 360 pounds, Jenkins would be the plug in the middle the Packers have been missing, as B.J. Raji could move to the outside to form a dynamic duo of mass and power at the core of this defense.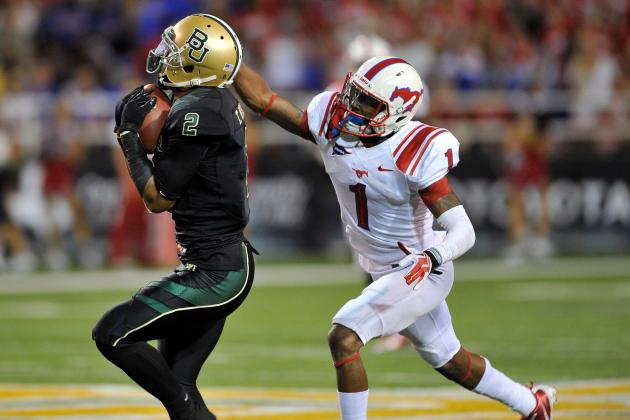 Jerome Miron-US PRESSWIRE

Terrance Williams, Wide Receiver, Baylor
Perhaps Williams is the Baylor wide receiver for the Houston Texans instead of Kendall Wright—the player I thought this team would take in last year's draft.
Williams is a lanky, fast, tough receiver who isn't afraid of a little contact, and his physical tools alone would make him a contender for the No. 2 or No. 3 wide receiver. Matt Schaub has needed another legitimate receiver for a couple of seasons now, and Williams makes perfect sense here.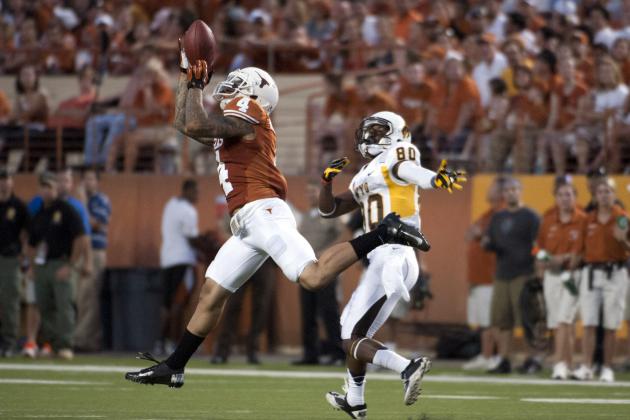 Brendan Maloney-US PRESSWIRE

Kenny Vaccaro, Safety, Texas
Ed Reed may not be back for another season, and the Baltimore Ravens need another stud to replace him. Vaccaro is extremely underrated, but by the time the 2013 NFL scouting combine is finished, he'll be one of the top players at his position.
Vaccaro is extremely instinctual, much like the aforementioned Reed, and has excellent range.
Even if Reed sticks around for one more year, Vaccaro will make a big contribution on special teams, as he's extremely quick and is a terrific tackler.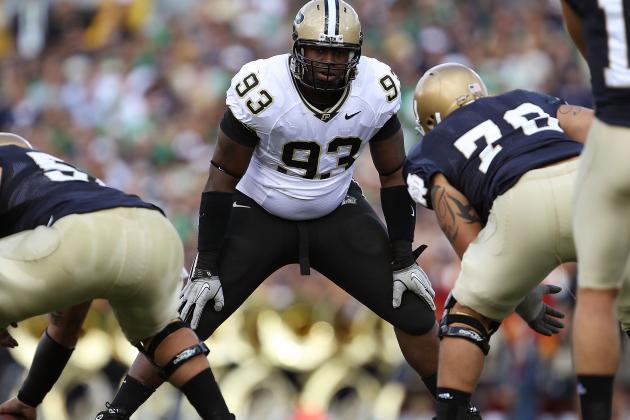 Jonathan Daniel/Getty Images

Kawann Short, Defensive Tackle, Purdue
One of the only areas of concern I have for the San Francisco 49ers is that they don't have much depth on the defensive line.
Will Tukuafu is the only player currently serving as a backup to Ray McDonald and Justin Smith, and if something should happen to either one of them, the team will be stretched thin.
Short is a massive man who could learn a thing or two from those two guys, and given a little push in the right direction, he could become the next major force at defensive end for the 49ers in their 3-4 scheme.
Follow me on Twitter @JesseReed78