Wake Forest vs. Florida State: Complete Game Preview
Jeremy Brevard-US PRESSWIRE
Florida State looks to avenge 2011's 35-30 loss at Doak.
I heard on the radio that Wake Forest will give Florida State a tough game.
This, I partially believe. Yes, Wake Forest has beaten the Seminoles four out of the last six times they have played. Yes, Jim Grobe snatches up talented Florida high school players and delivers them to Wake as if he's the football stork. And, yes, the Demon Deacons are confident after making a bowl game last year.
The first half might make Seminole fans nervous, but Florida State will not be looking ahead to Clemson. After playing only a half of football against Savannah State, Jimbo Fisher has pushed his team this week, knowing it will need the discipline to play four quarters to be ready for the Demon Deacons.
Grobe might be a great coach, but Fisher has a great program.
Here's a look at Saturday's Wake Forest-Florida State game.
Begin Slideshow

»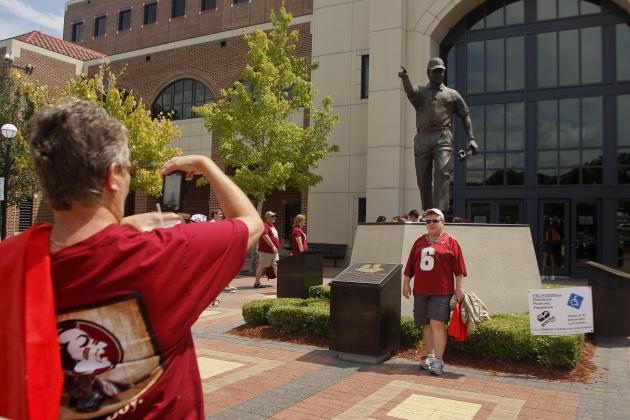 Phil Sears-US PRESSWIRE
Where to go, what to do?
Who: Wake Forest at Florida State
When: Saturday, 12:00 p.m. ET. (Be there early to make sure you see the flyover! It's Military Appreciation Day.)
Where: Tallahassee, Fla.
Stadium: Bobby Bowden Field at Doak Campbell Stadium (82,300)
TV: ESPN, ESPN 3D, ESPN Mobile TV (Finally, some big-time coverage!)
Radio: Sirius XM (with other game listings)
Locally: Check out Seminoles.com's listings to the left
Internet Stream: watchespn.com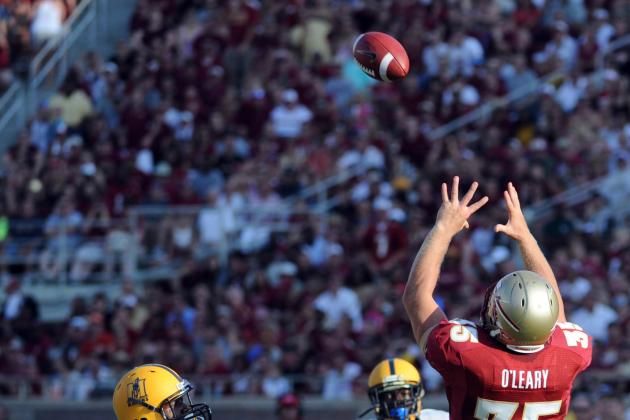 Melina Vastola-US PRESSWIRE
Nick O'Leary should be active against Wake Forest.
Injuries
Nick O'Leary, Bryan Stork and Anthony McCloud will return to the lineup against Wake Forest. O'Leary and Stork are tight ends. McCloud is a defensive tackle.
According to orlandosentinel.com, right tackle Menelik Watson supposedly had two rough days of practice stemming from a bad ankle, but how debilitating this might be won't be known until game time.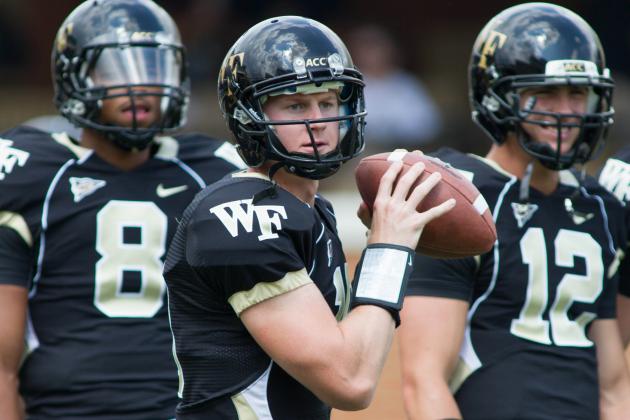 Jeremy Brevard-US PRESSWIRE
Can QB Tanner Price upset Wake's second ACC opponent?
Injuries: According to bloggersodear.com, Nose tackle Nikita Whitlock (ankle) is doubtful. Defensive end Zach Thompson (eye) is probable. Offensive tackle Devin Bolling (patella tendon) is doubtful. Cornerback Kevin Johnson (concussion) is probable. Offensive lineman Steven Chase (knee) is out.
Savannah State was the most lopsided game of the year. FSU had a 35-0 lead at halftime and triumphed 55-0. If God didn't have mercy on Savannah State and send down lightning bolts midway through the third quarter, the win would have been much uglier.
Quarterback E.J. Manuel went 11-of-13 for 161 yards and a touchdown while playing only one minute into the second quarter. It was much of the same for all the Seminoles, who kept coming in and out of the game as if in a revolving door.
Like FSU, Wake Forest is 2-0, but it has a leg up on the Seminoles. The Demon Deacons are 1-0 in the ACC after last week's narrow win over North Carolina.
Quarterback Tanner Price will be an aerial threat, as the Demon Deacons are 37th in passing yards. Unfortunately, the team reeks in the rushing game.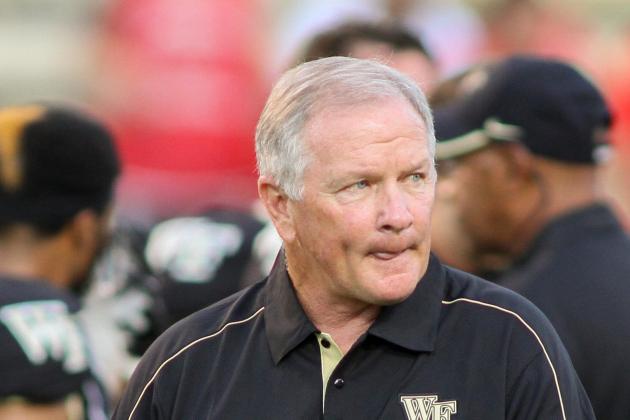 Jeremy Brevard-US PRESSWIRE
Jim Grobe is underrated, even six years after Wake's ACC title.
Florida State: The Seminoles do not want to fall victim to the upsets that befell Big Ten teams last week (Wisconsin vs. Oregon State, UCLA vs. Nebraska). Also, who can forget the Shock in Little Rock?
Florida State can't afford a letdown if it wants to compete for a national championship. A loss would also leave the Seminoles 0-1 in the ACC before hosting a talented Clemson team next week.
The lack of real smash-mouth play by FCS competition has not prepared FSU for the physical rigor of the FBS. Beating Wake Forest would also get a monkey off the Seminoles' back, as they have lost four of the past six meetings with the Demon Deacons.
Wake Forest: After beating FCS Liberty by a field goal and UNC by one point (both at home), Jim Grobe's team wants to show it is not a pushover in serious games. By defeating Florida State, Grobe would send a huge recruiting statement and also get a leg up on the Seminoles in the ACC's Atlantic Division.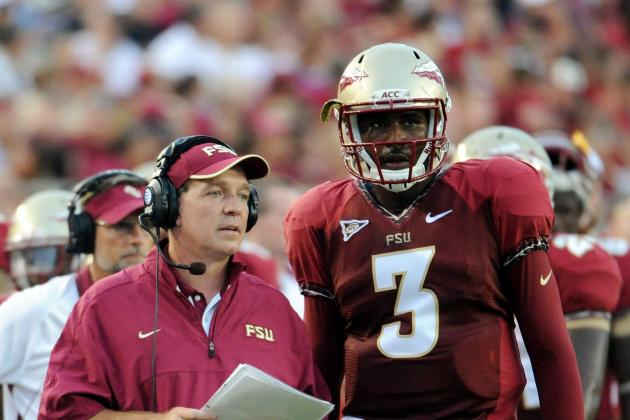 Melina Vastola-US PRESSWIRE
Quarterback E.J. Manuel is on the spot.
As always, E.J. Manuel determines if the Seminoles will succeed on the ground and in the air. His passing skills improved in last year's Champs Sports Bowl, but he has thrown a couple of risky passes against subpar competition this season.
Manuel must prove he will not be nervous or prone to interceptions against FBS teams. This will determine how excellent a quarterback he can be against stellar defenses such as Virginia Tech's or Florida's.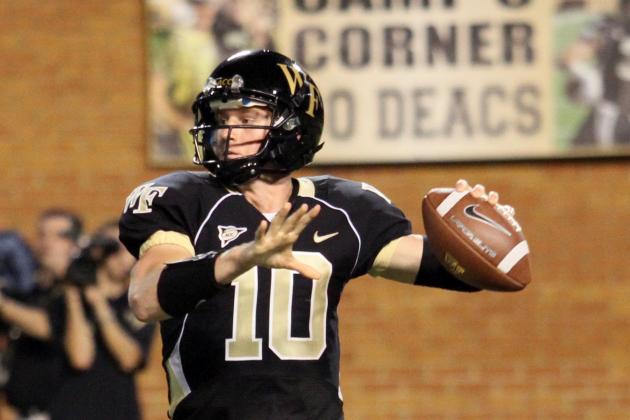 Jeremy Brevard-US PRESSWIRE
Wake Forest QB Tanner Price has to throw more TDs.
Tanner Price has been effective, yet has only thrown for only one touchdown this season. Five of Wake Forest's touchdowns have come in the red zone, but FSU has the best defensive line in the nation, making that an even more difficult task.
Price will have to raise the level of his game against the Seminoles to stand a chance against Bjoern Werner and Tank Carradine.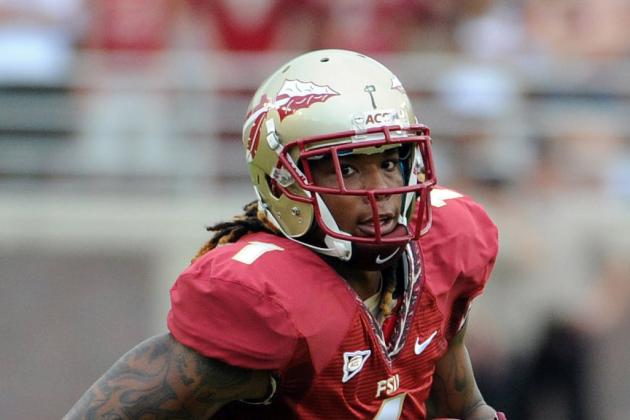 Melina Vastola-US PRESSWIRE
Kelvin Benjamin continues to wow people with his game.
1. E.J. Manuel does not throw interceptions.
2. Manuel throws to his most dynamic and tall receiver, 6'6" Kelvin Benjamin, who will catch throws that others might miss due to his height.
3. Keep the lanes open for running backs, any of them.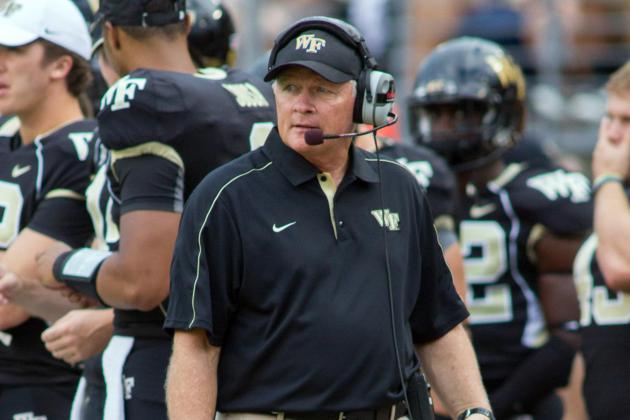 Jeremy Brevard-US PRESSWIRE
Defense, someone?
1. Tanner Price throws like Matt Barkley.
2. The defense capitalizes on Manuel's bad throws.
3. The Demon Deacons use the option and trick plays in the red zone. They can't take on the Seminoles' line up front.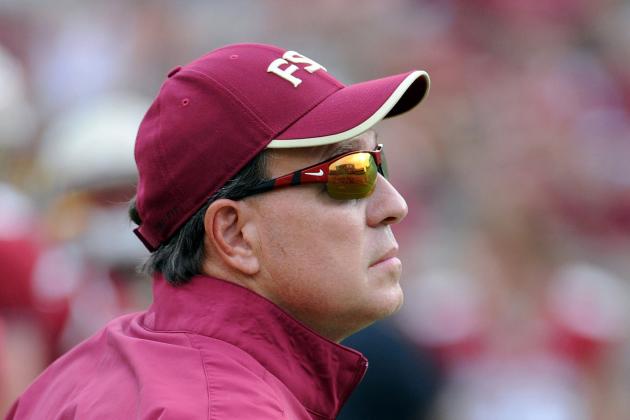 Melina Vastola-US PRESSWIRE
Jimbo has his victory shades on.
Florida State 49, Wake Forest 14
The Deacons always play their hearts out. E.J. Manuel didn't even play most of the second quarter last week, so that will probably be when he commits a turnover.
After hanging close in the first quarter, Wake's effort will wane after its offense fails to capitalize on Manuel's mistakes.
It will be 28-7 by halftime and Jimbo Fisher's team will cruise to 3-0.