TNA: The Best Matches of the 2012 Bound for Glory Series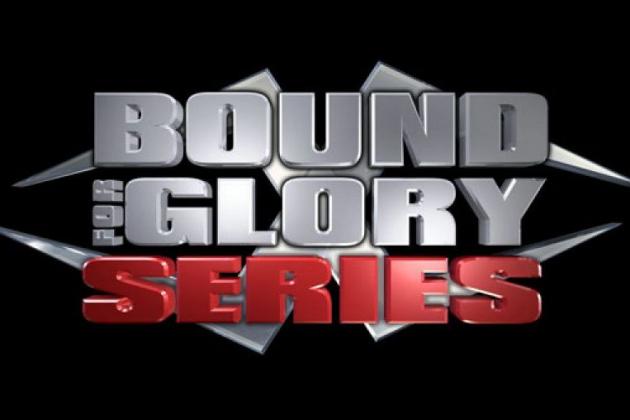 IMPACTWrestling.com
As we've seen at No Surrender, the 2012 Bound For Glory Series came to a dramatic end. "The Charismatic Enigma" Jeff Hardy defeated Bully Ray in order to cement his place in the main event of Bound for Glory when TNA ventures to Phoenix, Ariz. on October 14.
The BFG Series has presented some tremendous matches. Ever since the 12-man battle royal to kick off the tournament, all the way until the closing matches between the final four participants.
The BFG Series has been a major hit since 2011, and this year was only better. What lies behind this slide is a list of all the greatest matches the 2012 BFG Series had given us.
Begin Slideshow

»
This is the match that started the Bound For Glory Series. All 12 participants in this year's event would be revealed within one match and the winner of the gauntlet would be awarded with 20 points, giving them a huge lead out of the starting gate.
James Storm, Samoa Joe, Daniels, AJ Styles, Kurt Angle, Jeff Hardy, RVD, The Pope, Bully Ray, Magnus and Robbie E took part in this gauntlet.
James Storm emerged victorious, earned himself 20 points and delivered a powerful promo following his big win.
This was a great way to start the Series off. Besides, who doesn't like a good battle royal?
One week following Storm's battle royal win, Samoa Joe would call him out to test The Cowboy's luck.
These two were early-on favorites to win the entire BFG Series and, as expected, both guys finished in the final four of the tournament.
Storm and Joe really set the bar for the BFG Series with the match they had here. Nice back-and-forth action, the crowd was into it and neither man was willing to give in and accept defeat.
Joe's own greed over point values would end up costing him. Storm was a sitting duck on the top rope for Joe's Muscle Buster, but instead, Joe opted to go for a submission. Storm would break Joe's hold and nail a Last Call super kick for a smooth seven points.
What could you say about Jeff Hardy and Rob Van Dam?
They were X-Division before there was an X-Division, they're former World Champions and neither one was called out on the July edition of TNA's Open Fight Night.
Hulk Hogan admitted that these two were his personal favorites to win the BFG Series, at the time.
What made this match stick out was the final sequence between Hardy and Van Dam. Whether it was RVD going for a 450 Splash or doing his best impression of a tree after getting spiked with a DDT, this match was fun to watch.
Shortly after their awesome performances (and wins) on Open Fight Night, James Storm and Jeff Hardy would be Hogan's go-to guys when he needed a strong main event.
Did Storm and Hardy deliver? I'd like to think so.
Jeff Hardy handed the favorite to win the tournament, James Storm, his first defeat in the BFG Series. Hardy picked up a much-needed victory, and Storm kept his dominant lead over the other 11 competitors.
The first pay-per-view match of the 2012 BFG Series would revisit one of TNA's greatest rivalries of all time: Samoa Joe vs. Kurt Angle.
Kurt Angle came into TNA and quickly made an impact by ending Samoa Joe's 18-plus-month undefeated streak. Samoa Joe picked up his first and only World Heavyweight Championship win against Kurt Angle in 2008. To make it simple, there's a lot of history between these two.
As the sign says, "Joe vs. Angle VIII." Not one of those eight matches was boring.
Joe and Angle are wrestling machines. They had one of the best matches at Destination X, and it could possibly be a Match of the Year candidate.
Speaking of TNA's greatest rivalries revisited, how's Anderson vs. Angle sound?
Kurt Angle was one of Mr. Anderson's first major feuds when he first joined TNA. A feud centered around respect, which saw its conclusion come in the form of TNA's best match of 2010, Angle vs. Anderson at Lockdown.
Several near-falls, several finishers, only one result. After a hard-fought match, Angle picked up seven points with the Angle Slam. He's a machine, I said!
Ah, good to finally see "P1" AJ Styles featured.
AJ Styles and James Storm are the only two active wrestlers on the roster who have been with TNA since its very first show. If that's not an impressive feat, I don't know what is.
They've seen everyone come and go, they've been through highs and lows and they've stuck with TNA through it all. You can't get much more "TNA original" than AJ Styles or James Storm.
There's never a dull moment when James Storm or AJ Styles are together, against each other or in between. They've evolved into some of TNA's biggest stars. Unfortunately, Aces & Eights would run in and ruin one of the best matches in the BFG Series.
Talk about evolving into one of TNA's top stars...Here's Bully Ray's debut on the list!
Bully Ray and Kurt Angle are two wrestling veterans who could still put on a great match. I don't recall many singles matches between the two, which is a shame, but thankfully, we got one through the BFG Series.
At least Aces & Eights was kind enough to attack after the match rather than during it. Angle vs. Bully is definitely a one-on-one feud that I'd be interested in.
In the midst of the Aces & Eights accusations, James Storm kept looking for ways to prove himself innocent. It didn't help that loads of evidence weighed against him and top heels such as Bully Ray and Bobby Roode continuously blamed "The Cowboy."
This is a very short clip of the match but, between Storm and Angle, you should know what to expect (awesomeness). The clip here promotes a future rematch between Bobby Roode and James Storm more so than anything else.
Sticking with the theme of history, AJ Styles and Kurt Angle have a very colorful history. At one point they were friends in the Angle Alliance; at one point they were bitter rivals; now they have a mutual respect for one another and have even become tag team champions.
If I had to describe AJ and Kurt in four words I'd have to say, "Best in the world." That's no gimmick, that's the truth. Nobody can wrestle quite like Kurt Angle or AJ Styles.
AJ and Angle make up the majority of this list, the majority of TNA's greatest rivalries of all time and the majority of TNA's greatest matches of all time. They're that damn good.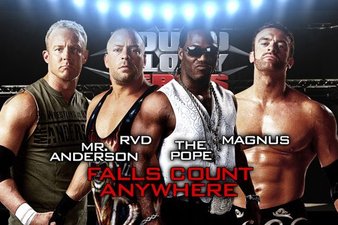 Ken-Anderson.org
Prior to their match, Aces & Eights attacked The Pope backstage, thus making him unable to compete. The four-way turned into a triple threat, still with 20 points on the line.
RVD and Mr. Anderson are pretty well known for some hardcore matches. They've had their fair share of hardcore action throughout their careers. Magnus, however, has not.
From what I remember, Anderson and Magnus had some good chemistry in the ring together. RVD seemed rather dangerous in the hardcore environment, but he ultimately won the match.
Should be pretty good to watch for those fans who like a hardcore matches. And who can forget Magnus yelling, "Gimme a [expletive] chair!"?
The quality may be bad, but it's the best I could find.
As a Robbie E fan, I liked watching this match. Who could forget the moment when Robbie E was standing tall over Jeff Hardy, Bully Ray and James Storm? Robbie E really showed a much more serious side during this match, which probably took some people by surprise.
Bully Ray and Jeff Hardy have some well-documented history with tables, and they always work well together. This match really furthered the accusations toward James Storm, too.
Entertaining action, people going through tables and storyline progression? I'll take it.
How do you make the old feud between AJ Styles, Daniels and Samoa Joe better? Add a ladder. How do you make it even better? Add Kurt Angle.
This match was the IWC's collective dream—four of the best wrestlers in TNA and quite possibly the world.
All four guys had history with each other and had put on great matches in the past (AJ vs. Daniels, Joe vs. Angle, Joe vs. AJ vs. Daniels, AJ vs. Angle, etc.)
This was one of the primary reasons as to why I bought Hardcore Justice live on pay-per-view. It's freakin' AJ Styles vs. Kurt Angle vs. Samoa Joe vs. Daniels! That's match-of-the-year material!
Come on...It's AJ Styles vs. Daniels. Do I really need to list any other reasons?
These guys have been rivals since TNA first started, it seems. They never fail to impress and have had one of the greatest rivalries TNA has ever seen.
They have such great chemistry and never work the same match twice. They're definitely two of the best wrestlers TNA has ever seen. You should expect to see AJ vs. Daniels on any "Best Matches of...." list.
If you don't think this match belongs (for some reason), remember, I'm a Robbie E fan.
I like how Robbie was booked in this match, AJ looked phenomenal and everyone worked nicely together, for the most part. RVD seemed kind of "out of it," which brought some downfalls to the match.
I added this match because, "Twelve points bro! Twelve points bro!" Robbie E won. I'll be honest.
Around this time last year, I thought Mr. Anderson was overrated. I thought he was mediocre at best, couldn't produce anything special and lost his passion for wrestling.
After some strong performances in the BFG Series, I can safely say I like Mr. Anderson again (it's been a real hot/cold relationship up until now, but I like him).
Anderson looks reinvigorated and showed a much more athletic side in this match. Bully Ray and Mr. Anderson have good chemistry, and it was cool watching them revisit their old feud from Bound for Glory last year.
This was a critical match in the BFG Series. We were nearing the end of the Series and RVD needed a win here to almost solidify a spot in the final four.
When RVD leaped toward Storm for a monkey flip, "The Cowboy" met him with a Last Call superkick. Storm picked up the win and cemented his spot at No Surrender.
As an added bonus, Storm hit the Eye of the Storm during this match, which is always cool. Plus, RVD's latest impression of a tree. His way of selling a DDT is awesome, yet painful.
This was a match I was highly anticipating when TNA announced the new rule of how "Everyone must face each other once" in the BFG Series.
Both guys are so similar despite there being about a 65-pound weight difference. They're quick, they're strong and they can work the mat and know their way around submissions.
In this match, AJ needed to pick up a submission win in order to clinch a spot in the final four. Samoa Joe was wrestling more of a defensive style since his ticket to No Surrender was already guaranteed.
In the end, Joe would reverse AJ's arm bar into a roll-up pin, thus knocking AJ Styles out of the Bound for Glory Series.
Kurt Angle and Jeff Hardy were two guys on the brink of the final four. Only one of them could win this match and move that much closer to No Surrender.
After a hard-fought match with plenty of near-falls, finishers and excitement, "The Charismatic Enigma" would seal Angle's fate and eliminate him from the Series.
Jeff Hardy picked up a much-needed victory in a match that left Taz saying, "What a match...good God."
Having history since their days in ECW, Bully Ray and RVD met in another crucial BFG Series match. I believe both guys were tied in the Series at the time, or close to it.
In this clip, Bully Ray does take a beating, but as he says, "It's not about where you start, it's about where you finish."
Bully Ray pulled a victory out of thin air. Well, first he managed to catch RVD in midair with a Bully Cutter...so, yeah, pull a victory out of thin air.
Just like his match with AJ Styles, Samoa Joe was on thinking all defense here. His spot at No Surrender was already a guarantee.
Just like his match with Kurt Angle, this was a must-win for Jeff Hardy. If Hardy lost, he would've been gone from the BFG Series.
Just days before No Surrender, these two met on IMPACT and Hardy actually forced the "Samoan Submission Machine" to tap out.
Hardy's win gave him 10 points and a well-deserved spot at No Surrender. Who would be Hardy's opponent on Sunday?
As result of James Storm selecting Bully Ray as his opponent for No Surrender, Samoa Joe and Jeff Hardy would have a rematch against each other.
Their rematch would be better than the previous match, but end with the same result.
Jeff Hardy beat Samoa Joe again and earned his spot in the finals of the 2012 BFG Series. From there, Jeff Hardy would defeat Bully Ray in the main event and secure his spot in the main event at Bound for Glory.
Or so he thought...
Upset about his loss at No Surrender, Bully Ray dared Hardy to fight him in a rematch. Same match, same rules—winner goes to Bound for Glory and gets a World title shot.
To me, this match was better than the one at No Surrender.
The match on Sunday felt slow in comparison to this one, mainly because they were playing up Hardy's shoulder injury. Plus, the match on Sunday had an overkill amount of finishing moves in it.
Jeff Hardy once again beat Bully Ray and proved who the rightful winner of the BFG Series truly is. Arm injury or not, Jeff Hardy was the better man in both instances.
And with that, Jeff Hardy looks to challenge Austin Aries for the TNA World Heavyweight Championship when they head to Phoenix, Ariz. for the very first time on October 14, 2012.
Bound for Glory.
Did I leave any matches off the list? Surely, there was some great BFG Series matches I didn't list, but those could've been at live events or someplace.
Whether or not Jeff Hardy should've won the BFG Series could be debated for days. Let's just agree to disagree and enjoy watching the quickest match of the 2012 BFG Series...
Let's go, Robbie!