Raiders vs. Dolphins: Sketching out a Game Plan for Miami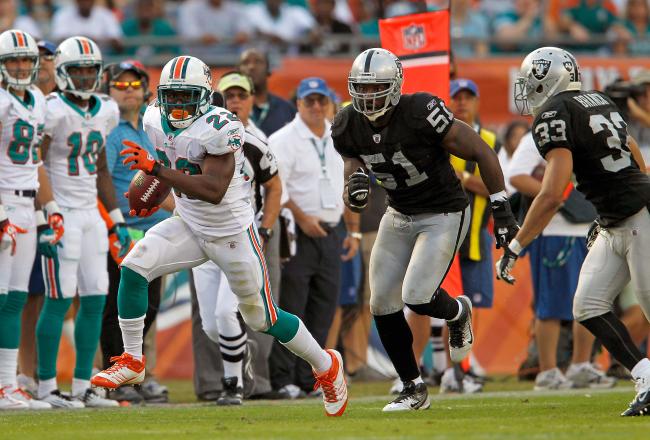 Catch him if you can.
Mike Ehrmann/Getty Images
The Miami Dolphins had a tough go of it last week against the Houston Texans, but if there's one team ripe for them to rebound against, it could be the Oakland Raiders.
But they won't win the game simply by taking the field. Regardless of their talent level relative to the Raiders, they have to come out with a game plan and execute it.
Here's how they can do it.
Dolphins Offense vs. Raiders Defense
The Dolphins didn't have a hard time getting in rhythm vs. the Houston Texans, it was staying in rhythm that was the problem. They started out doing exactly what they want to do on offense, running a lot of plays at a high tempo. They ran eight plays for 31 yards on their first drive in 3:20 on the game clock and ran eight plays for 37 yards in 3:58 on their second.
Ryan Tannehill was 2-for-3 for 14 yards on the first drive before a botched center-quarterback exchange on 3rd-and-6 killed their drive. He was 2-for-2 for 18 yards on the second drive before a 3rd-and-2 run lost the Dolphins five yards, and nearly lost them the ball once again.
He was 2-for-3 for 37 yards on the fourth drive, before being sacked by Texans defensive end J.J. Watt and then throwing an interception to cornerback Jonathan Joseph while staring down his receiver.
If the Dolphins can find a way to convert third downs and avoid the negative plays that plagued their early drives, they might be able to find a rhythm against the Raiders' defense. The Dolphins picked up 102 yards on eight completions to backs, while the Raiders gave up 69 yards on 12 completions to Chargers running backs.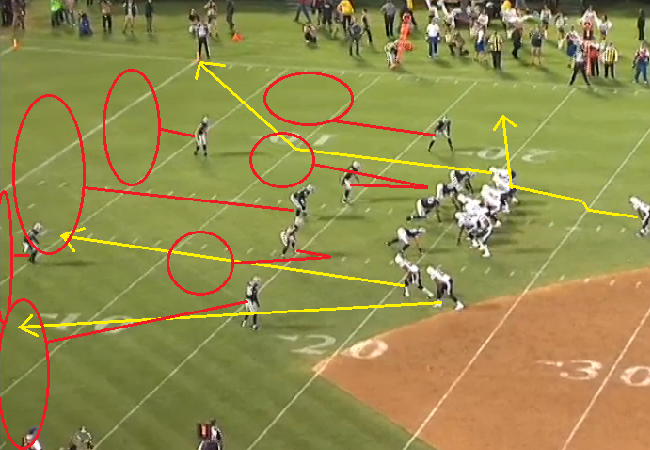 On 1st-and-10 from the Raiders 20-yard line, the Chargers come out in their 12 personnel grouping with one running back, two tight ends and two wide receivers. The Raiders respond by sending out their base 4-3 personnel.
The Raiders do a great job of taking away the deep ball from Rivers, who might have liked to hit Gates on the corner route.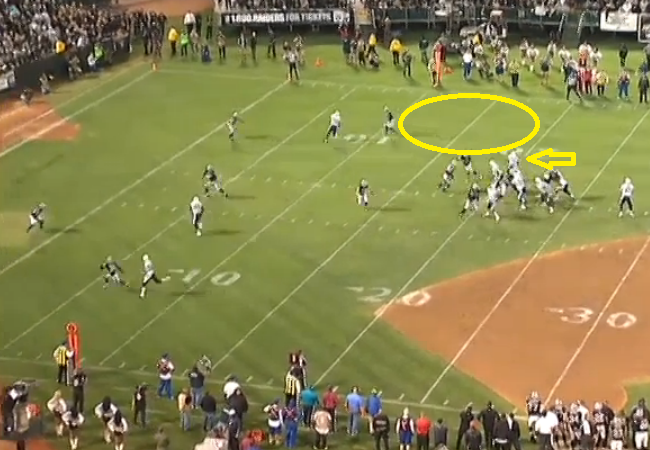 Instead, they let running back Curtis Brinkley slip out underneath on the right side. There's plenty of green in front of him.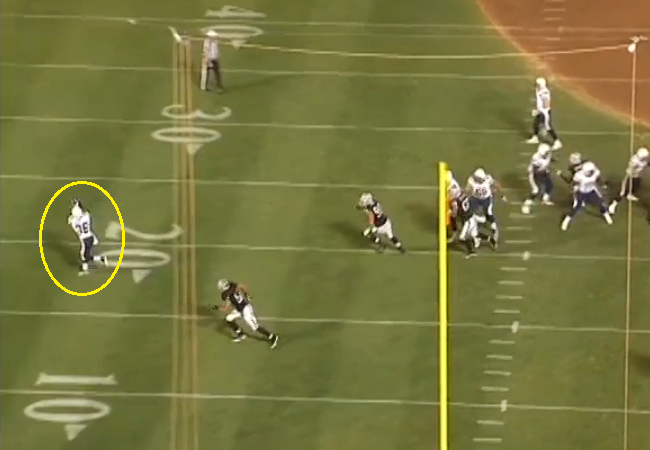 Rivers makes the safe throw, the one that is sure to pick up yards, and is rewarded with a first-and-goal from the eight-yard line.
Bleacher Report AFC West lead writer Christopher Hansen had this to say about how the Chargers attacked the Raiders, and how Oakland defended them:
A rebuilt Oakland secondary allowed Philip Rivers to dink and dunk his way down the field, but only allowed him to get it in the end zone once. The Raiders took away the deep pass and made Rivers uncomfortable enough in the pocket to force him to throw to his running backs. Half of Rivers' completions went to running backs Ronnie Brown, Curtis Brinkley and Le'Ron McClain.

The Raiders' defensive line made Rivers uncomfortable, but they had just one sack and didn't do enough to force Rivers to make mistakes. It's somewhat of a miracle Rivers wasn't able to find more room in Oakland's secondary, but if the Raiders don't start to get more pressure, it's only a matter of time.
Perhaps Tannehill is primed for a better outing than the one he had in Houston against a Raiders defense that struggles getting pressure on the quarterback (Tannehill was under pressure on 13 of his 39 drop-backs according to Pro Football Focus, while the Raiders got pressure on just 10 of Rivers' 34 drop-backs).
Now, the Raiders probably were more fearful and mindful of the deep ball with Rivers at quarterback, since the Chargers love to take deep shots (23.7 percent of Rivers' throws traveled 15 or more yards in the air, according to Advanced NFL Stats; the Raiders held him to just 18.2 percent such throws on Monday).
But he may still have success if he targets his backs. Four of Tannehill's first eight completions were to running backs, and eight of his 20 total completions went to backs; six of them to Reggie Bush.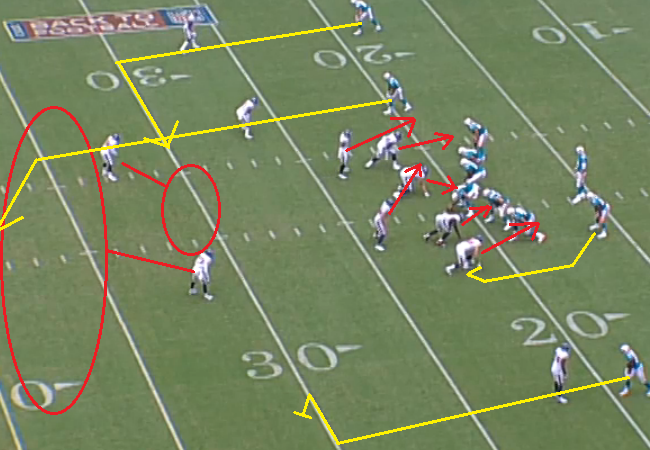 On 1st-and-20 from the Dolphins' 21-yard line, Tannehill came out in the shotgun with 11 personnel—one running back, one tight end and three wide receivers. Reggie Bush lined up to Tannehill's left. The Texans came out in the sub package with three linemen, three linebackers and five defensive backs.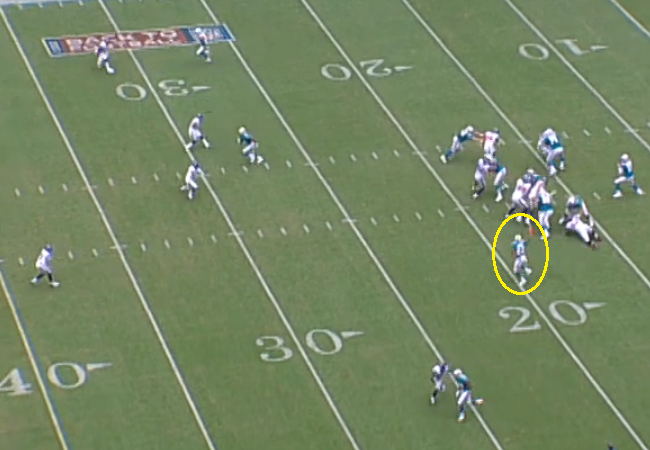 The Texans brought the blitz, as they did for much of the day on Sunday (17 of Tannehill's 39 drop-backs for 43.6 percent), rushing six defenders at Tannehill. The openings at the second level allow Bush to come open on a short pattern, and Tannehill makes the quick throw.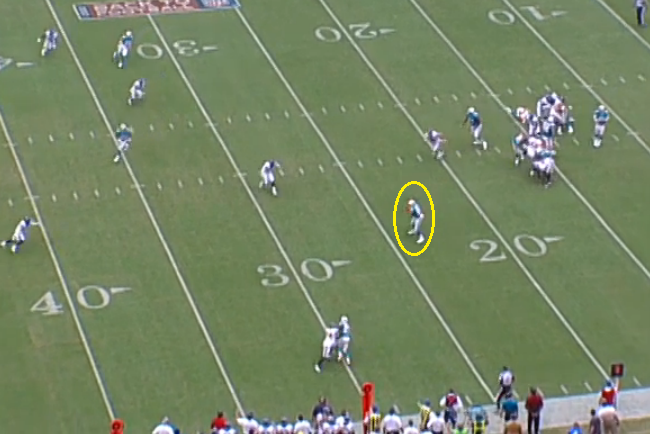 From there, Bush picked up the extra yardage with plenty of real estate in front of him. The play totaled 19 yards, and set up a manageable 2nd-and-1.
The Raiders don't blitz as much as the Texans do, only sending a fifth rusher nine times on 34 of Chargers quarterback Philip Rivers' drop-backs. However, their linebackers will be responsible for Bush in coverage, and Rivers proved that there could be opportunities for Tannehill to expose some susceptibility there.
The Raiders will need linebacker Rolando McClain at full health if they want to slow down running back Reggie Bush, but he injured his ankle in the opening game against the Chargers (via Paul Gutierrez of CSN Bay Area). If he's not at 100 percent, the Dolphins could attack him.
Dolphins Defense vs. Raiders Offense
The game plan should be simple: Shut down Darren McFadden, and take away the deep ball.
That's exactly what the Chargers tried to do on Monday, but the Raiders will do whatever is necessary to get the ball into McFadden's hands. That includes getting him the ball 13 times on receptions.
They wasted no time whatsoever in that regard.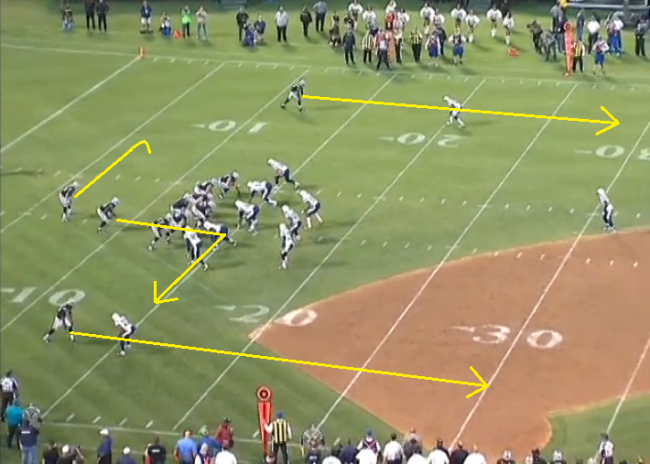 On 1st-and-10 on the Raiders first play from scrimmage of the game, the Raiders ran a screen pass to McFadden that picked up nine yards.
McFadden lined up in the backfield next to quarterback Carson Palmer, and ran to the left for the screen.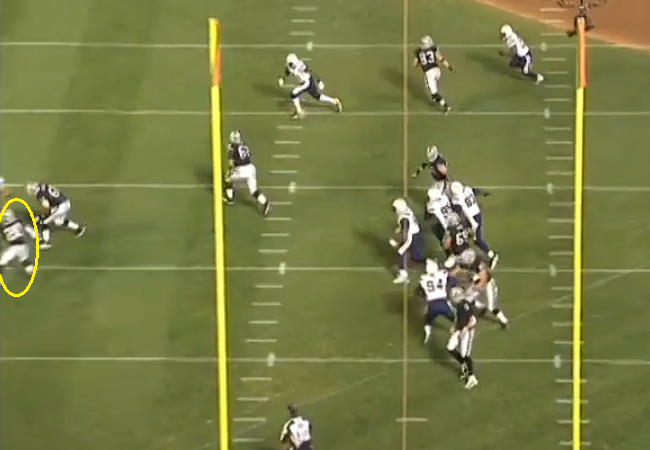 He had blockers out in front of him, but center Alex Parsons didn't get quite as good of a block as he probably wanted. Still, McFadden's gain of nine is a good start to the game.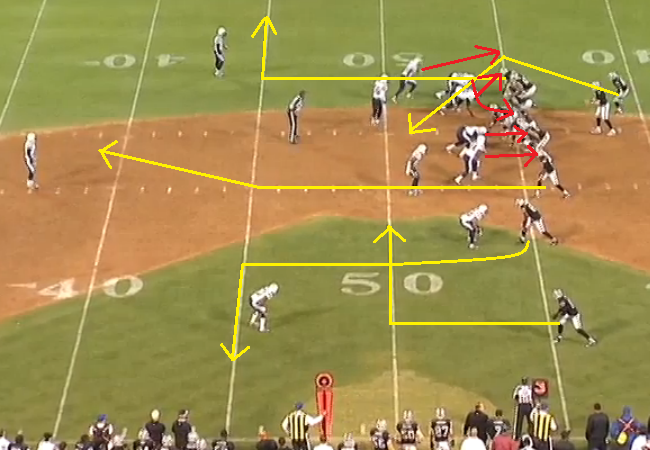 The Raiders turned to their workhorse on 3rd-and-6 from the Raiders 46-yard line, with less than two minutes to go in the first half, lining up with 11 personnel.
The route concept is designed to get McFadden open underneath in front of the middle linebacker (Chargers linebacker Donald Butler).
The Chargers send a five-man blitz with man coverage across the board and the safeties in a deep zone.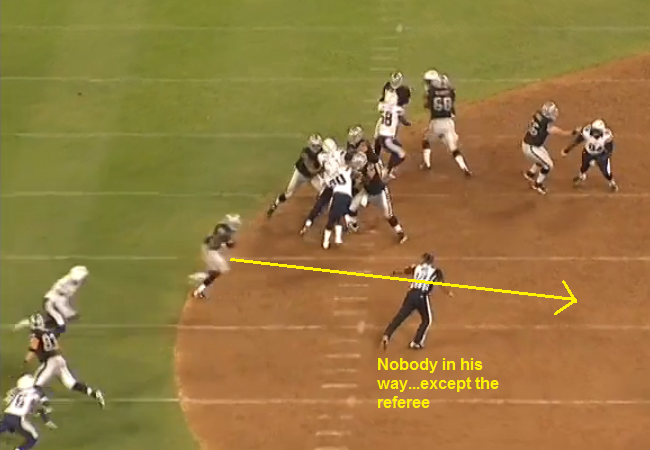 McFadden caught the ball after passing Butler, and took off with the other linebackers and defensive backs preoccupied with their man in coverage.
The idea was to get McFadden the ball in space with an opportunity to make a big play, while also minimizing the wear-and-tear on the team's most valuable offensive weapon.
What the Dolphins must to do stop him is keep linebackers in spy duty on him. The problem with most of Miami's linebackers is that they're not especially skilled in coverage, and most of them aren't fast enough to keep up with McFadden.
The way the Raiders were utilizing McFadden in the screen game, it will be important for them to maintain gap discipline and get their pre-snap keys right.
The Dolphins should also be aware of what the Chargers did on the back end—they took away the deep half of the field, forcing Carson Palmer to take those short throws.
Regardless, McFadden will be the go-to guy in big situations, since he's their most reliable offensive threat. From there, it's up to the Dolphins to contain him.
Erik Frenz is the AFC East lead blogger for Bleacher Report. Be sure to follow Erik on Twitter and "like" the AFC East blog on Facebook to keep up with all the updates. Unless specified otherwise, all quotes are obtained firsthand.

This article is
What is the duplicate article?
Why is this article offensive?
Where is this article plagiarized from?
Why is this article poorly edited?