Julio Cesar Chavez Jr. vs. Sergio Martinez: Five Reasons Why Chavez Will Win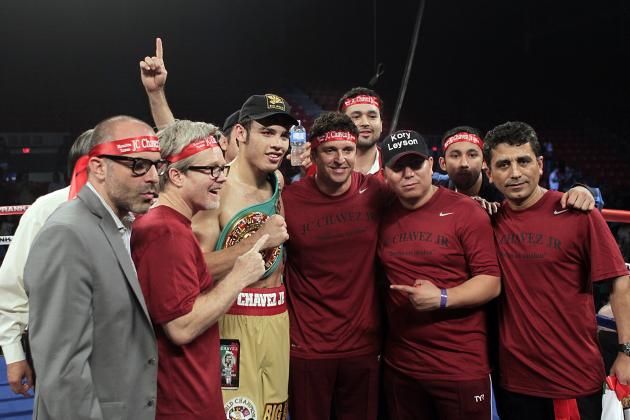 Bob Levey/Getty Images
From his pedigree to his youth, all signs point in favor of a Chavez victory Saturday night.
We are now just a little more than 48 hours from the middleweight super-fight between Ring Magazine Champion Sergio "Maravilla" Martinez and WBC Champion Julio Cesar Chavez Jr. The fight has taken on a very personal feel in recent weeks, with both fighters shooting daggers of bold criticism at each other.
But on Saturday night at the Thomas and Mack Center in Las Vegas, all the talking will stop. It will just be two men inside a ring fighting it out for middleweight supremacy. The majority of the boxing media is predicting a tremendous action-packed fight between the two, with most favoring Martinez by late stoppage or decision.
Here's why they're wrong. Julio Cesar Chavez Jr. will shine on Saturday night in Las Vegas, and in so doing, will step out of his legendary father's shadow.
Begin Slideshow

»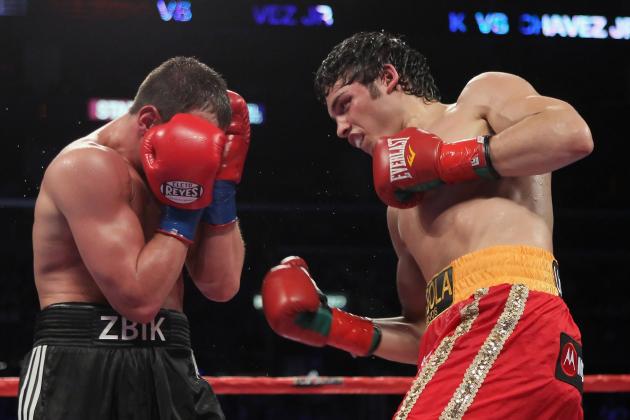 Jeff Gross/Getty Images
Chavez will enter the ring on Saturday 11 years the junior of Sergio Martinez.
Julio Cesar Chavez Jr. (46-0-1, 32 KO) is 11 years younger than his opponent. Despite this drastic age gap, he only has five fewer fights on his resume.
Chavez was brought along slowly in his career and many have criticized him for being overly cautious. This will turn out to be an advantage entering the ring Saturday night.
In boxing, many desire immediate gratification. The minute you make a name for yourself, you need to jump into the deep end. This type of thinking ended many a career prematurely—how good was Fernando Vargas when he was younger?—and can be dangerous.
Chavez has honed his skill set in recent years, and in so doing, has moved from a bit of a joke in many eyes to a legitimate middleweight champion. He will be the stronger, faster and fresher fighter coming into the ring Saturday night. In a bout that could be this close, that will pay huge dividends.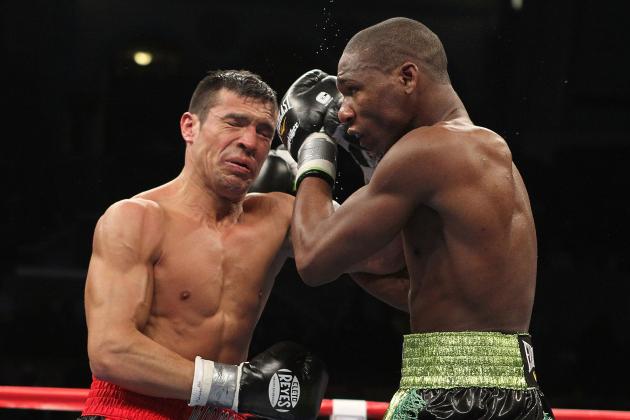 Al Bello/Getty Images
Martinez is a top-three pound-for-pound fighter, but has looked vulnerable his last few times out.
Sergio Martinez is easily one of the best pound-for-pound fighters in the sport. He has dominated the middleweight ranks since winning The Ring Magazine title from Kelly Pavlik in 2010. He looked spectacular defending his title with knockouts over Paul Williams and Serhiy Dzinziruk.
But in his last two fights against little-known European fighters, Martinez has looked rather pedestrian.
Darren Barker, whose defensive style gave Sergio fits, was in the fight on the scorecards at the time of the 11th-round stoppage of their October 2011 fight.
And Matthew Macklin dropped Martinez in the seventh round of a highly competitive fight before being stopped in the 11th round in March of this year.
Is is possible that Martinez just wasn't motivated for those fights? Certainly. But at 37 years old and coming off two less-than-spectacular performances against underwhelming opposition, this could be just the opening Julio needs.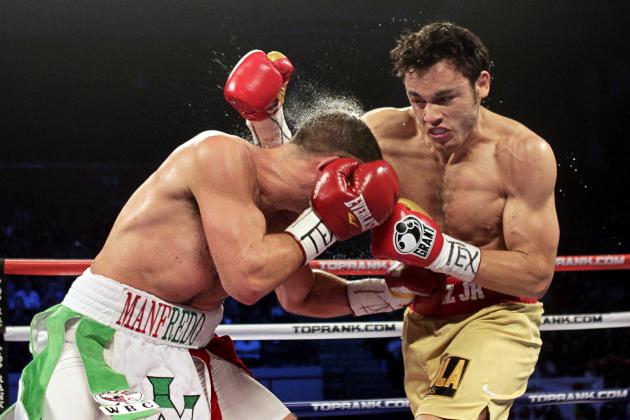 Bob Levey/Getty Images
Chavez Jr. often enters the ring well above the middleweight limit.
Julio Cesar Chavez Jr. is likely to enter the ring as a big light-heavyweight or even a cruiserweight on Saturday night. His struggles at making the 160-pound middleweight limit have been well documented in recent years.
Chavez will use this size advantage, particularly in the later rounds of a close fight. He is known for his solid chin and ability to go to the body early in fights. While Sergio Martinez is a tremendous puncher, the impact of his blows will be negated by this size advantage and Chavez's improved defensive posture.
Expect Chavez to struggle a bit in the early rounds. As the fight goes on, he will use his physical size advantage to put Martinez into positions where he can land his body shots and zap some of his opponent's will.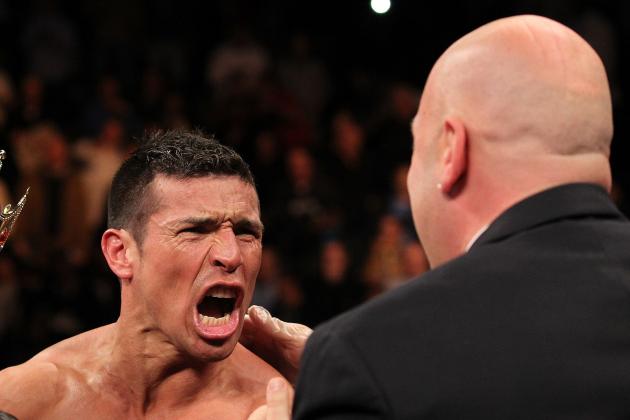 Al Bello/Getty Images
Sergio Martinez is usually reserved and classy. But this time someone got under his skin.
Sergio Martinez really hates Julio Cesar Chavez Jr. Or so you'd think if you listened to his words in the leadup to the fight (via ESPN).
Martinez, usually very reserved and content to let his fists do his talking, has made several statements that indicate he's taken this fight very personally.
These have included promises to punish Chavez, break his face and stop him in spectacular fashion. These type of statements are indicative of the heat that this fight has generated and the genuine dislike between the fighters.
Chavez Jr., on the other hand, has remained relatively calm and collected. He's responded to Martinez on several occasions but with nothing close to the same fervor. In short, Sergio just seems like an angry fighter.
Angry fighters make mistakes, and those mistakes will cost him Saturday night.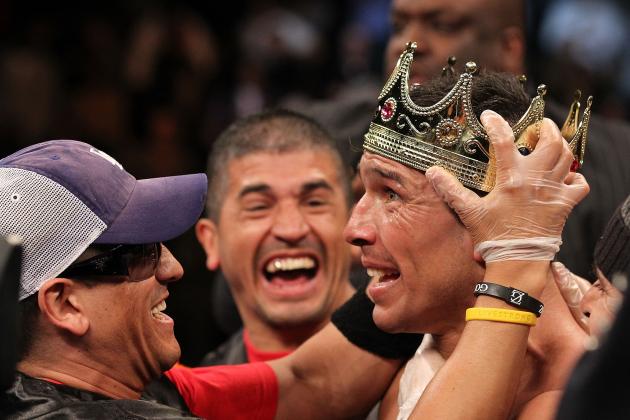 Al Bello/Getty Images
Martinez might be the King, but he's only fought in Las Vegas twice.
This may seem odd given the fact that Sergio Martinez is the recognized middleweight champion and has faced significantly better competition than Julio Cesar Chavez Jr. But Chavez has had more big fights than Sergio on the biggest stage of boxing.
Chavez Jr.'s entire career has been under the spotlight. He's never fought in obscurity—not one time. He's no stranger to Las Vegas and big events.
Sergio Martinez, on the other hand, has only fought on this stage twice in his career: a 2000 loss to Antonio Margarito and a 2008 four-round decision over unheralded David Toribio.
Sergio has had his share of huge fights, but it's one thing to be fighting in Atlantic City and another thing entirely to be headlining a PPV from Las Vegas. This is new territory for Martinez, who has had the benefit of competing for most of his career outside the spotlight.
Chavez Jr. has had the spotlight on him since he first laced up a pair of boots. This experience will help carry him through in the later rounds to a close, and perhaps controversial, unanimous decision.
Look for Martinez to come out aggressive in the early rounds and bank a few of them. But as Chavez Jr. gets more comfortable in the fight, and Martinez realizes his power punches aren't denting the younger fighter, look for Julio to take over.